Dive deep into the world of Japanese-inspired graphics with Densho, a captivating online slot brought to life by the renowned developer, Hacksaw Gaming. Released in September 2023, this game showcases a mesmerizing blend of cultural artistry and innovative game mechanics that sets it apart in the vast ocean of online slots. Its design paints a vivid picture of an intricate Japanese landscape, seamlessly immersing players into a realm where tradition meets modernity.
Beyond its aesthetic allure, Densho packs a punch with its unique features, offering players a chance to unlock lucrative rewards. With medium to high volatility and potential for massive wins, this slot offers a gaming experience that's both thrilling and visually compelling. This article serves as your comprehensive guide to understanding and exploring the Densho slot, with insights on its demo version and an in-depth review that unveils its many layers. Embark on this virtual journey and discover what makes Densho a standout in the world of online slots.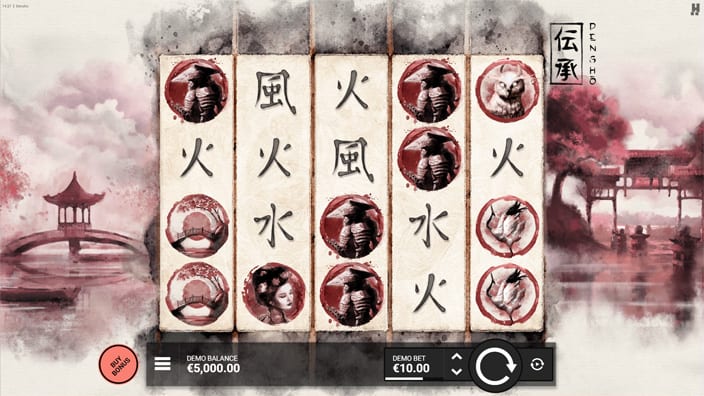 Demo Spotlight of Densho by Bonus Tiime
The Top 3 Casinos to Play Densho and Win Real Money
Stake Casino
Eager to dive into the Densho slot experience? Head over to Stake casino immediately to indulge in this captivating game. Stake offers an unparalleled gaming environment, perfect for enjoying Hacksaw Gaming's latest masterpiece.

Cresus Casino
Can't wait to spin the reels of Densho? Cresus casino is your destination. Renowned for its vast game library, Cresus is now featuring the enthralling Densho slot by Hacksaw Gaming for instant play.

Horus Casino
The excitement of the Densho slot awaits you! Venture into Horus casino to discover this gem from Hacksaw Gaming. With Horus's smooth user interface, you're in for an unmatched slot gaming session.

Hacksaw Gaming Online Slots Provider
Hacksaw Gaming has swiftly risen as a pivotal player in the online gaming industry. Renowned for its innovative slots and scratch card games, this developer seamlessly blends captivating graphics with robust game mechanics. Dive into a world where quality meets creativity, and experience the signature touch of Hacksaw Gaming.
Specifications of Densho Online Slot
Densho, a standout online slot from Hacksaw Gaming, boasts a meticulously crafted 5-reel design with 4 rows, underpinned by 10 paylines. This intricate configuration ensures a vast array of winning combinations, enhancing the thrill of each spin.
Drawing parallels with games like Wanted Dead or a Wild and Gladiator Legends, Densho takes a page from their playbooks, offering players familiar mechanics with a fresh twist. When venturing onto Stake, enthusiasts can enjoy Densho's versatile betting range, accommodating both cautious spinners and high-rollers.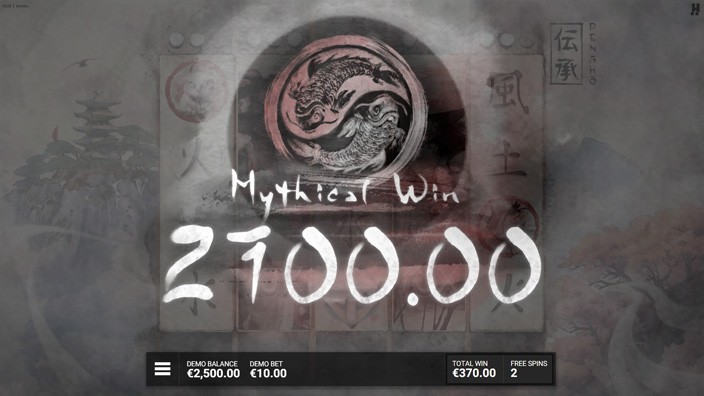 RTP
Boasting an impressive 96.33% RTP, Densho ensures players get excellent value for their spins. This above-average return to player percentage signifies greater chances of seeing returns, making it an attractive choice for discerning slot enthusiasts.
Volatility
Densho's high volatility is a siren song for thrill-seekers. With this level of variance, players can anticipate sizeable wins, albeit less frequently, creating an exhilarating gaming experience full of suspense and anticipation.
Max Win
The allure of Densho is further amplified with its staggering max win of 10,000x the bet. To put it in perspective, a mere 1€ stake can potentially yield a whopping 10,000€, turning a modest bet into a life-changing payout.
Theme
Densho's theme immerses players in a beautifully crafted Japanese-inspired landscape. Its serene and intricate design is reminiscent of cinematic masterpieces like Studio Ghibli's Spirited Away, blending tradition and fantasy into a captivating gaming experience.
Features of Densho's Online Slot
Densho online slot isn't just a visual marvel; it's a powerhouse of engaging features designed to elevate gameplay. Hacksaw Gaming has intricately woven a tapestry of bonuses and unique mechanics that promise both thrill and substantial rewards to players.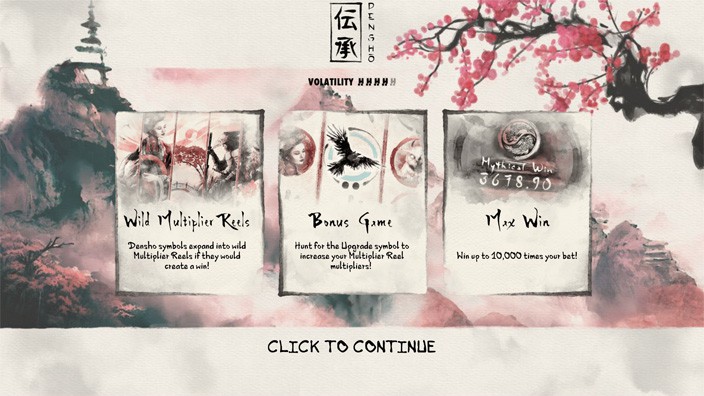 Bonus Hunt Feature Spins
This enticing feature amplifies the suspense, as players get enhanced chances of triggering the main bonus games. It's a tantalizing chase, heightening the overall excitement and anticipation during gameplay.
Densho Feature Spins
A signature touch of the Densho slot, this feature ensures that players witness at least two Densho symbols landing during their spins. This promises enhanced engagement, more dynamic gameplay, and higher potential payouts.
Wild Multiplier Reels
When a Densho symbol graces the reels, it can expand into a Multiplier Reel. Not only do these act as wilds, substituting for other symbols, but they also carry multipliers. This feature can dramatically amplify the winning combinations, making each spin a potential treasure trove.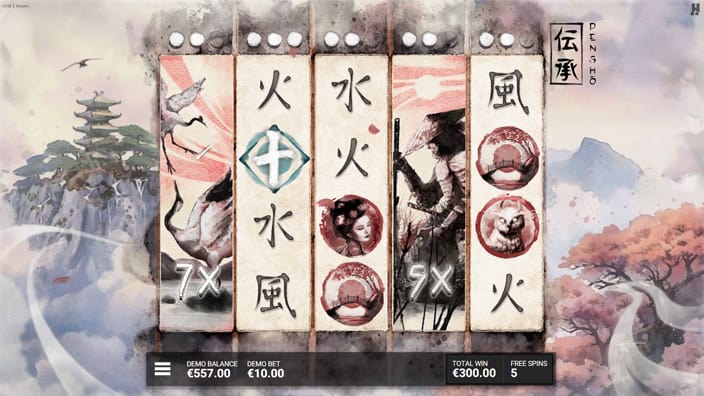 Free Spins
A staple yet indispensable feature, Free Spins in Densho come packed with additional surprises. With progression trackers and the potential for more spins, this feature can extend gameplay and magnify winning chances exponentially.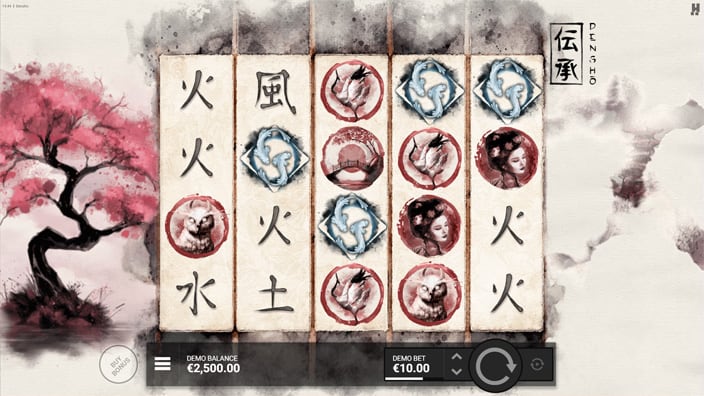 Bonus Buy
For those who prefer to cut to the chase, the Bonus Buy option allows direct access to the game's prime features. By investing a set amount, players can instantly dive into the main bonus rounds, bypassing the base game's wait time.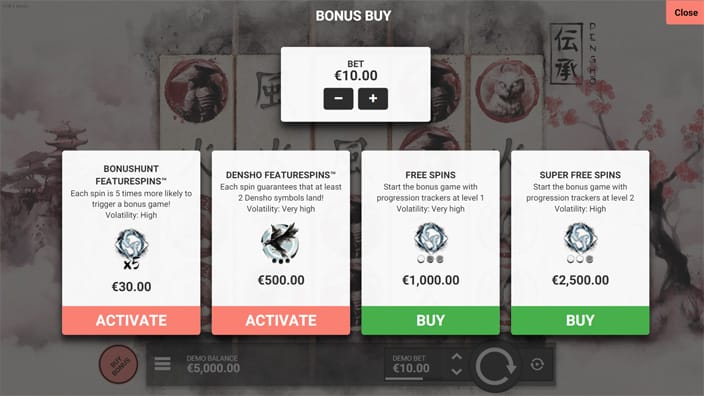 How to Play to Densho's Online Slot
Engaging with the Densho slot begins with a simple yet strategic process. First, players should familiarize themselves with the paytable, understanding the value of each symbol. In Densho, symbols have been meticulously crafted, reflecting the game's theme while also representing different payout values. The low-paying symbols, often depicted as brush-stroked icons, offer modest rewards, while the premium picture symbols, adorned in detailed artwork, promise higher returns. Knowing the difference between these symbols and their corresponding payouts can be instrumental in devising a gameplay strategy.
As gameplay unfolds, players will quickly recognize the significance of special symbols like the Wild Multiplier Reels and Densho icons. These symbols not only substitute for other icons but can dramatically increase winnings with their multiplier attributes. Adjusting the bet amount using the in-game controls allows players to set their preferred stake, and once set, the spin button sets the reels in motion. It's essential to keep an eye out for winning combinations from left to right, as these sequences dictate payouts and potential bonus rounds.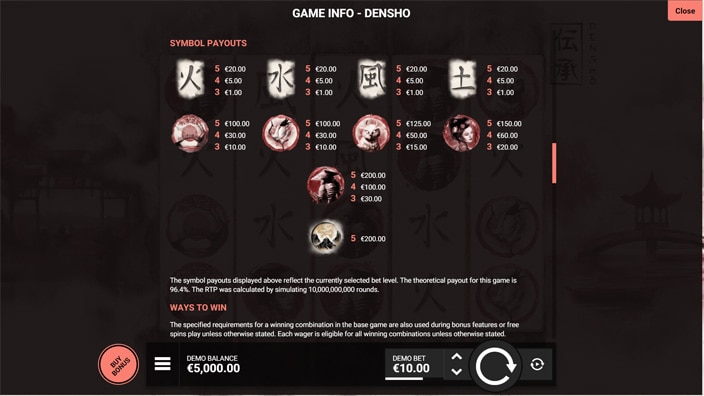 Review of the Online Slot Densho by Bonus Tiime
Densho, a mesmerizing offering from Hacksaw Gaming, masterfully captures the essence of a serene Japanese-inspired world. The slot's theme, steeped in notions of legacy and continuity, pulls players into a realm where tranquility meets the thrill of chance. The artwork, with its watercolor-esque presentation, stands as a testament to Hacksaw's commitment to delivering a visually captivating experience, making Densho a distinct departure from the usual slot game environment.
The allure doesn't stop at aesthetics. Densho packs a punch with its potential max win of 10,000x the bet. Such a staggering reward proposition keeps players on the edge, marrying the calm of the design with the exhilaration of significant wins.
Drawing parallels with the mechanics of 'Wanted Dead or a Wild', Densho enhances the experience by introducing an improvement mechanism. Players can now boost the game setup to chase higher multipliers. This innovative twist, combined with the game's ambient universe, strikes a harmonious balance between serenity and thrill, making Densho an unforgettable slot experience.
Advices and Tips to Play Densho
Get ready to improve your online slots experience! We offer a range of tutorials and articles for both beginners and seasoned players. These invaluable resources will guide you towards a more strategic and enjoyable gaming session. So, dive in and boost your online slot prowess today!