Step into the ruthless world of the Wild West with Hacksaw Gaming's online slot game – Wanted Dead or a Wild. This captivating slot game plunges players into a uniquely thrilling setting, shrouded with mystery and full of perilous pursuits. Revolving around the iconic Wild West era, Wanted Dead or a Wild merges Hacksaw Gaming's signature gameplay mechanics with the untamed allure of the Old West, creating an immersive gaming experience.
From the darkened 5×5 game grid set against a smoldering sunset, to the intriguing array of features, Wanted Dead or a Wild keeps players on their toes. Features such as full reel wild multipliers and three gripping bonus rounds contribute to an exciting and unpredictable gaming journey. With its uncanny blend of aesthetics, soundtrack, and dynamic gameplay, Wanted Dead or a Wild has set a benchmark for Western-themed online slot games. The narrative weaves a story that allows the player to choose their own Wild West adventure, thereby crafting a unique and engaging gaming journey.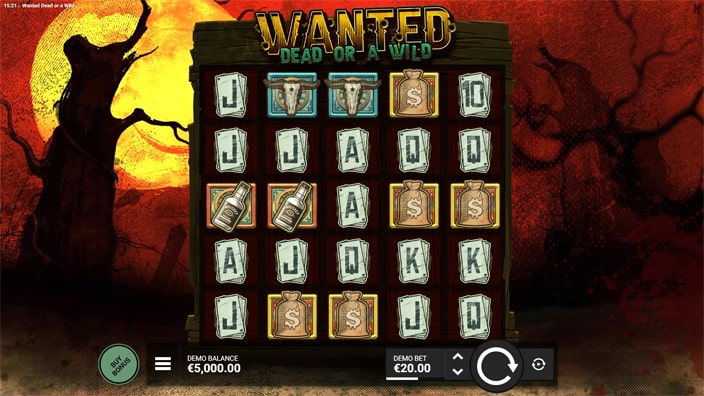 Hacksaw Gaming Online Slots Provider
Harnessing cutting-edge technology and innovative game design, Hacksaw Gaming is a renowned provider in the online casino industry. Best known for their visually stunning and engaging slot games, Hacksaw Gaming seamlessly merges immersive gameplay with striking aesthetics, setting new standards in the world of online gambling.
Specifications of Wanted Dead or a Wild Online Slot
Venture into the daring realm of the Wild West with Hacksaw Gaming's Wanted Dead or a Wild. This enthralling online slot game features a 5×5 reel grid and 15 fixed paylines, presenting players with multiple opportunities to strike it rich with each spin. The gameplay mechanics masterfully intertwine risk and reward, creating an exhilarating gaming experience.
Significantly, Wanted Dead or a Wild draws on successful elements from Hacksaw Gaming's previous hit, Chaos Crew. The game employs similar mechanics and payline structure, adding an extra layer of familiarity for seasoned players. This intricate fusion of old and new is clearly evident on platforms like Stake, where players can adjust their stakes from 20c to €1500, adding another dimension of strategic depth to the game.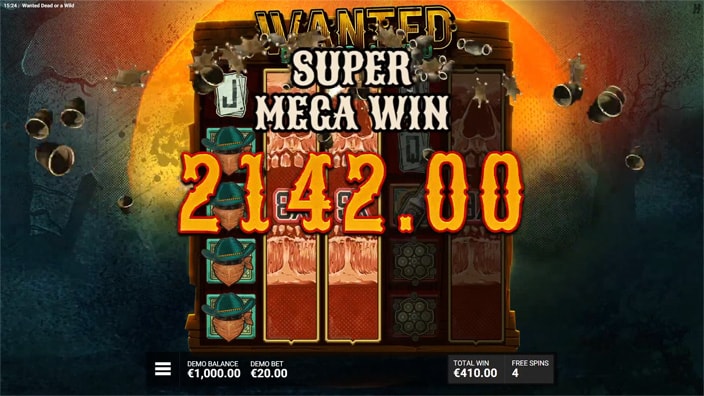 RTP
The 96.38% RTP (return to player) of Wanted Dead or a Wild is a significant attraction for players. This generous RTP, above the industry average, offers players the possibility of getting a higher return on their wager over time, adding to the game's appeal.
Volatility
Wanted Dead or a Wild is a game of high volatility. This means that while wins may not occur as frequently, the potential payouts can be substantial when they do happen. High volatility games like this are perfect for thrill-seekers who enjoy the prospect of sizeable winnings.
Max Win
The maximum win in Wanted Dead or a Wild is a staggering 12,500 times the stake. For instance, if a player stakes €1, they stand a chance of winning up to €12,500. This substantial potential payout adds an extra layer of excitement to the game, making every spin a thrilling adventure.
Theme
Immerse yourself in the rugged world of the Wild West with Wanted Dead or a Wild. This captivating online slot takes players on a thrilling journey, evoking the dark and mysterious aesthetics of the Wild West. Just like the classic spaghetti western film The Good, the Bad and the Ugly, the game captures the essence of high-stakes duels and the treacherous nature of the frontier. With its captivating theme and immersive gameplay, Wanted Dead or a Wild stands out as a truly engaging experience in the realm of online slots.
Features of Wanted Dead or a Wild's Online Slot
Dive into the adventurous world of Wanted Dead or a Wild online slot, packed with intriguing features designed to enhance your gaming experience. From full reel wild multipliers to thrilling bonus rounds, this slot game by Hacksaw Gaming offers a blend of excitement and potential rewards that is hard to resist.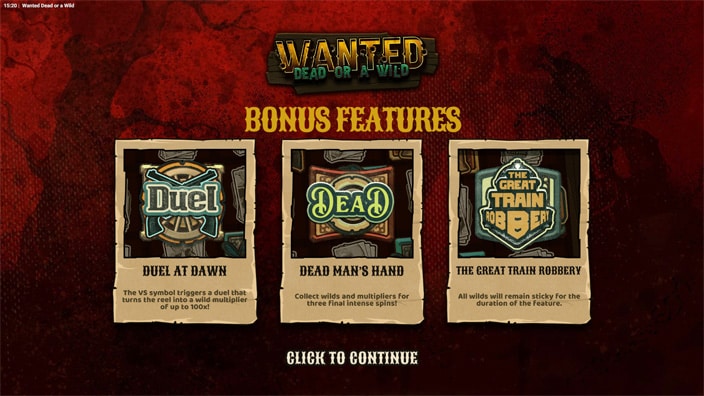 Wild and Multiplier Symbols
In Wanted Dead or a Wild, wild symbols can replace any pay symbols, boosting your chances of winning. The multiplier symbols enhance wins, potentially multiplying them up to 100 times.
VS Symbols
The VS symbols in Wanted Dead or a Wild are unique features that expand to cover entire reels, turning into wilds. They also carry win multipliers ranging from x2 to x100.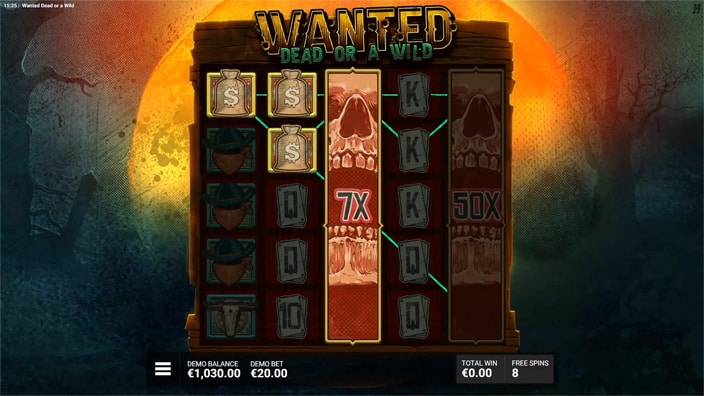 The Great Train Robbery
The Great Train Robbery feature in Wanted Dead or a Wild is activated by landing three or more Train Robbery symbols. This offers ten free spins with all landed wilds remaining sticky.
Duel at Dawn
Duel at Dawn bonus in Wanted Dead or a Wild is triggered by three or more Duel symbols, offering ten free spins with a significantly increased chance of landing VS symbols.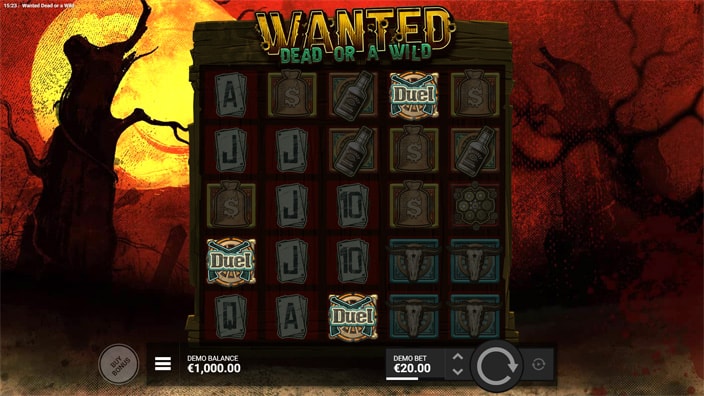 Dead Man's Hand
Dead Man's Hand bonus in Wanted Dead or a Wild is activated by three or more DEAD symbols. It includes two parts, both offering unique chances to collect wilds and multipliers.
Bonus Buy
The Bonus Buy option in Wanted Dead or a Wild lets players directly purchase the Great Train Robbery, Duel at Dawn, or Dead Man's Hand features for 80x, 200x, or 400x the bet respectively.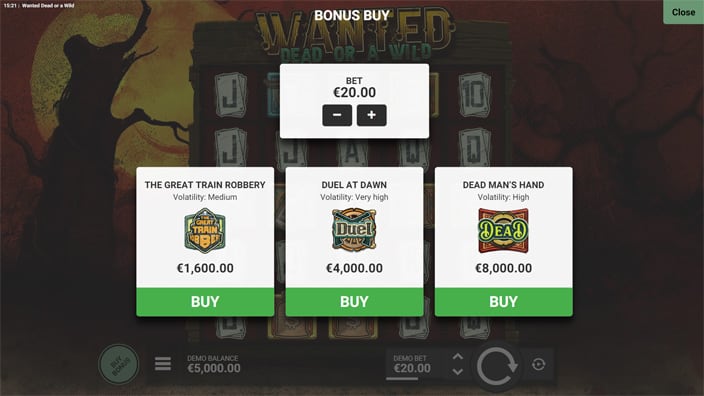 How to Play to Wanted Dead or a Wild's Online Slot
Playing Wanted Dead or a Wild slot is an easy and engaging experience. To begin, select your preferred stake from a range of 20 p/c to £/€100. Once you've set your stake, hit the spin button to start the game. The goal is to align matching symbols along one of the 15 fixed paylines on the 5×5 grid. The more symbols you line up, the higher your potential win.
The game features ten regular pay symbols, including 10-A card ranks and themed icons such as skulls, outlaw getups, money bags, liquor bottles, and bullet chambers. Five of a kind premium picture symbols can net you a payout ranging from 5 to 20 times your stake. Wilds, which can land in any position and replace pay symbols, are worth 20x the bet when a line of five wilds hit. Each symbol has a unique value, and understanding these values can help you strategize your gameplay for maximum returns.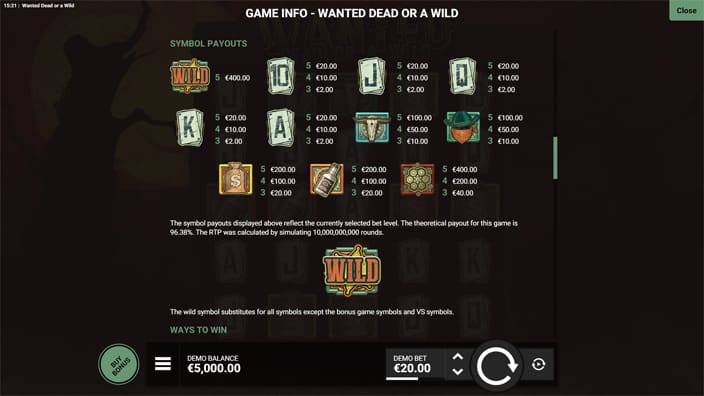 How to Win Real Money with Wanted Dead or a Wild Online Slot
If the thrills of Wanted Dead or a Wild online slot have piqued your interest, why wait? Experience the captivating gameplay and potential big wins today at Stake casino, your premier destination for the best in online slots.

Review of the Online Slot Wanted Dead or a Wild by Bonus Tiime
Wanted Dead or a Wild by Hacksaw Gaming has revolutionised the online slot scene with its unique Wild West theme. The dark, atmospheric setting combined with meticulously crafted features captivates players from the get-go. The 12,500x bet max win is an irresistible lure, promising substantial rewards that inject a healthy dose of excitement into each spin.
Since its release, Wanted Dead or a Wild has had a significant impact on the reputation of Hacksaw Gaming, elevating the provider to a respected status in the online gaming industry. This masterfully designed slot has been a game-changer, distinguishing Hacksaw Gaming as a creator of innovative, high-quality slots that provide a thrilling gaming experience.
Its popularity is not limited to casual gamers; renowned streamers like Roshtein and Trainwreckstv have heavily promoted Wanted Dead or a Wild, drawing in a larger audience. Their endorsement further affirms the slot's position as an engaging, high-stakes game that promises both excitement and potential windfalls.
Wanted Dead or a Wild has been ranked Top 1 by our expert in our Top 10 Wild West Slots in 2023.
Advices and Tips to Play Wanted Dead or a Wild
1. Try Out Demo Mode on Bonus Tiime
Like most online slots, Wanted Dead or a Wild comes with the option of playing free in demo mode. This opens up the game to potential players who wish to see what it is all about without having to risk any actual money. Demo mode is not just for the curious newbie, though. It gives any player an opportunity to discover the game mechanics and its special features for themselves. In this way, before a single cent is bet, a player can be familiar with Wanted Dead or a Wild's scatters and wild cards – and how these have an impact on the overall game. This leads us to the next pre-game tip for canny players: take a look at the pay table.
2. Relax and Entertain Yourself
Trying first the free slot demo is the perfect way to unwind, relax, and simply enjoy playing Wanted Dead or a Wild – without losing money or the stress to catch chasing wins.
3. Always Study the Paytable of the Slot
The pay table is the slot's equivalent of a price list. You will find here a complete list of all the symbols in the game, along with their value. You will also be able to discover the properties of all the wilds and golden wilds. Combined with spending a little time in demo mode, this preparation will allow players to place their first bet with confidence when beginning the proper game.
4. Plan a Betting Budget and Stick to it
Anybody concerned with promoting Responsible Gambling will offer one piece of advice first and foremost: don't bet more than you are prepared to lose. When it comes to play online slots for real money, then this manifests itself through sticking to a pre-agreed budget. If a player reaches their betting ceiling without a big win then it is time to call it a day. Stop playing as soon as you reach the budget limit.
5. Don't Be Dazzled by Huge Jackpots
Some expert gamblers spend their time online chasing those mega-jackpots. While there is nothing wrong with that, it is a fact that slots offering huge progressive jackpots normally have higher odds and less chance of paying out.