For aficionados of online casinos and slot enthusiasts, J-POP by ELK Studios is poised to be your next obsession. Transporting players into the whimsical world of Jellon, this slot not only stands out for its vivid design and intriguing theme but also for the myriad of features it offers. Beyond the catchy J-pop inspired soundtrack, you'll find yourself navigating through a vibrant universe, replete with candy, intriguing characters, and fascinating tools like Porta-loos that bridge Jellon with our Earth.
The gameplay of J-POP online slot is as mesmerizing as its design. With an impressive 4,096 to 262,144 paylines and a dynamic grid system, there's always a new way to win. Coupled with features like walking wilds, avalanches, and the intriguing Grid Flip, players are in for an engaging experience. This article delves into a comprehensive demo and review of the J-POP slot, ensuring that both newcomers and seasoned players get a grasp of the game before diving into the thrilling world ELK Studios has crafted.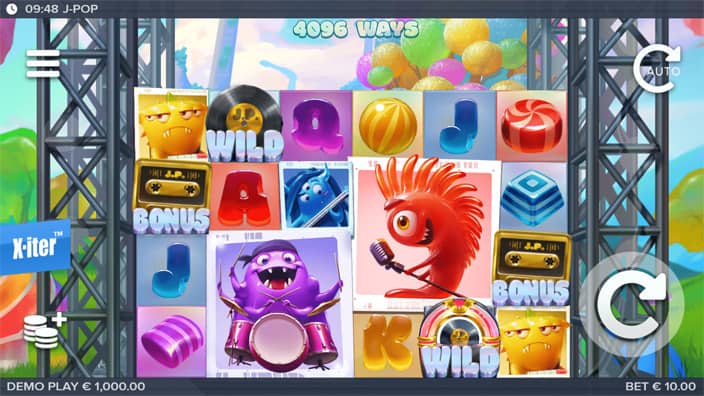 Demo Spotlight of J-POP by Bonus Tiime
Top Casinos to Play J-POP and Win Real Money



ELK Studios Online Slots Provider
ELK Studios, a premier name in the online casino industry, consistently delivers high-quality slot games. With cutting-edge graphics, innovative gameplay mechanics, and a keen understanding of player preferences, this provider has solidified its reputation among the elite in online gaming. Dive into their vast portfolio for a top-notch casino experience.
Specifications of J-POP Online Slot
J-POP online slot, developed by ELK Studios, boasts a dynamic 6×4 reel layout that captivates players right from the start. With a range from 4,096 to a staggering 262,144 paylines, the game offers myriad ways to claim victory, ensuring every spin holds potential.
Drawing inspiration from the world of music, J-POP aligns with hits like DJ Wild, offering melodious gameplay reminiscent of fan-favorites such as Valhall Gold. Whether you're a high roller or prefer conservative bets, J-POP's stakes on Stake cater to every player's strategy and budget.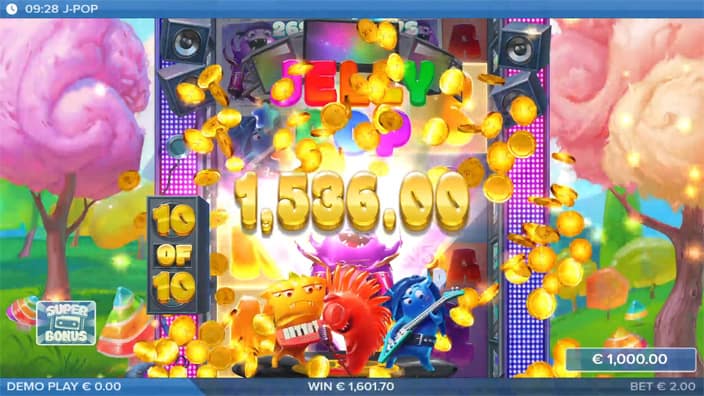 RTP
With an RTP of 94%, J-POP online slot assures players a competitive return-to-player rate. This figure indicates a promising potential for rewards, making each spin worthwhile and boosting the overall gaming experience.
Volatility
The volatility of J-POP is described as medium (7/10). This means players can expect a balanced mix of frequent smaller wins and occasional larger payouts, offering a gameplay that caters to a broad spectrum of risk preferences and strategies.
Max Win
The allure of J-POP's max win stands at an impressive 25,000x the bet. For perspective, if a player stakes just 1€, they have the potential to walk away with a whopping 25,000€ from a single successful spin. This showcases the game's high reward potential.
Theme
The theme of J-POP delves into a vibrant, whimsical world reminiscent of movies like series like Adventure Time. Navigating a universe filled with candy, intriguing characters, and captivating tunes, it's a visual and auditory feast that takes players on a one-of-a-kind journey.
Features of J-POP's Online Slot
Diving deep into the J-POP online slot, players are welcomed by a slew of innovative features designed to elevate the gaming experience. From transformative wild symbols to unique bonus buys, each element is meticulously crafted to maximize thrill and potential rewards.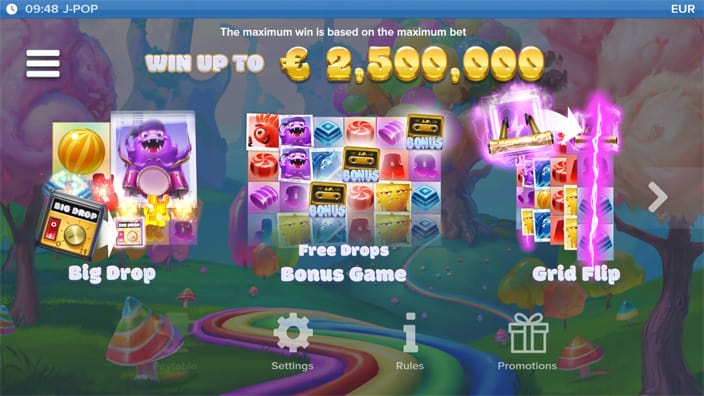 Wild Symbols
Wild Symbol: This acts as a replacement for any regular pay symbol, aiding in forming winning combinations.
Wild Box: A special wild that, when contributing to a win, places a random number of wild symbols on the grid, replacing only empty spaces or pay symbols.
Walking Wild: This wild moves to an adjacent position, increasing its multiplier value by +1 every time it's involved in a win. The symbol also takes the size of any symbol it moves to.
Avalanche
When players secure winning combinations, the successful symbols are whisked away from the grid. Taking their place, fresh symbols cascade down, almost like a waterfall, offering players another bite at the cherry. This continuous motion of symbols replacing winners provides multiple consecutive chances to hit big. But it doesn't go on forever; the Avalanche ceases when no fresh winning combos are formed.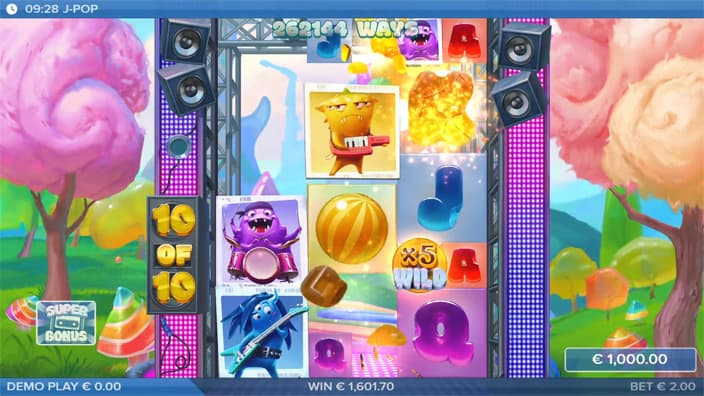 Big Symbols
Within the expansive world of J-POP's grid, symbols of varying sizes make their grand entrance. These aren't your regular symbols. They can materialize in three impressive dimensions: Super 2×2, Mega 3×3, and the mammoth Epic 4×4. These colossal icons are essentially clusters of the standard 1×1 symbols, grouped together. Their larger size not only makes them hard to miss but also significantly boosts players' odds of securing more lucrative wins.
Big Drop
Every so often, players might trigger the Big Drop, a truly cinematic moment in the game. When activated, grand symbols descend from the heavens, exerting their force on any puny 1×1 symbols that dare stand in their path. They don't just disappear, though. These crushed symbols undergo a magical transformation, morphing the Big Drop symbol into a dynamic wild, ready to play its part in the next winning formula.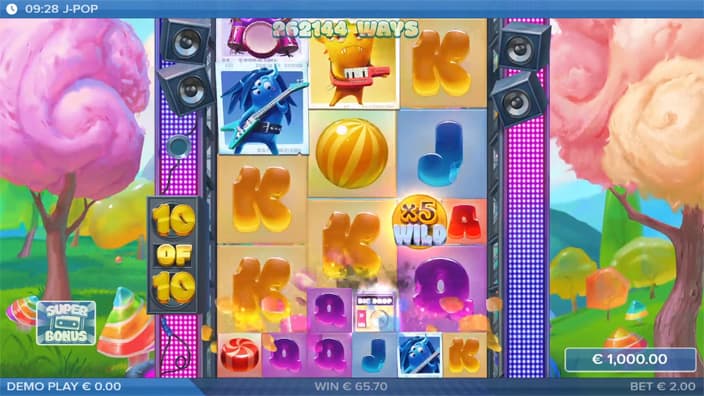 Grid Flip
At times, the J-POP slot likes to shake things up a bit, ensuring players are always on their toes. The Grid Flip feature is a testament to this. With a flip that would make a pancake chef jealous, columns on the grid switch places, creating fresh configurations and, consequently, new avenues for wins. And that's not all; once the columns have settled into their new positions, the Grid Flip symbols take on a new role, becoming wild symbols to increase win potential.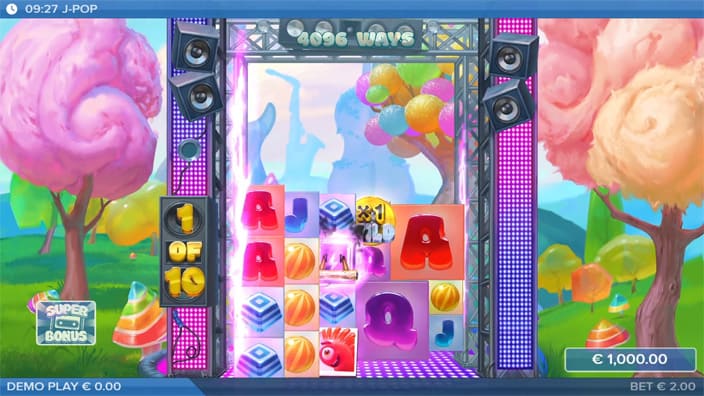 Free Drops Bonus Game
The rain of rewards doesn't stop with the features mentioned above. When players successfully land a specific number of scatter symbols, they're ushered into the Free Drops Bonus Game. Here, depending on their scatter tally, players are bestowed with a set of free spins. But the generosity doesn't end there. Within this bonus realm, players have opportunities to re-trigger additional spins, continuously piling on the rewards. It's a bonus game that truly keeps on giving!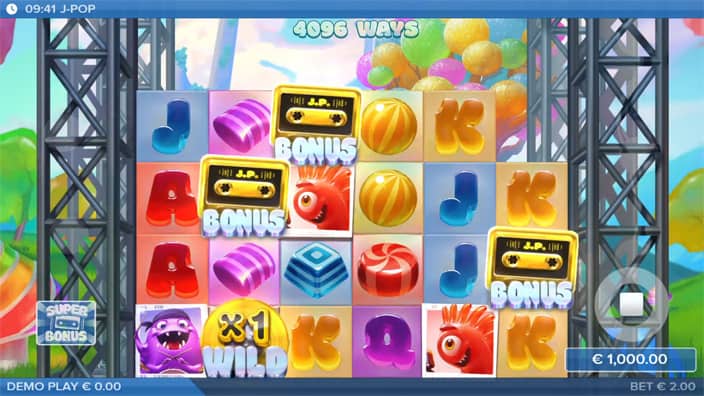 X-iter Bonus Buy
Bonus Hunt: For 3x the bet, players have a heightened chance of triggering a bonus during the next game round.
Big Drop: A 10x bet guarantees a Big Drop symbol in the next round, providing substantial win potential.
Walkin Wild: Investing 25x the bet ensures a walking wild during the forthcoming spin, enhancing win possibilities.
Bonus: A 100x bet allows players to directly access the free spins game without waiting for a natural trigger.
Super Bonus: For 500x the stake, players get to experience free spins complemented by a guaranteed walking wild, magnifying win chances.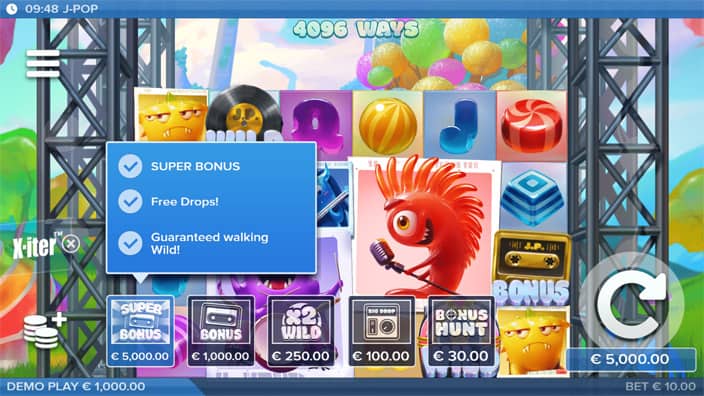 How to Play to J-POP's Online Slot
Engaging with the J-POP Slot
Venturing into the exhilarating world of the J-POP slot is an experience that combines simplicity with thrill. For novices and seasoned players alike, the gameplay mechanics are straightforward. Begin by setting your preferred wager amount, ensuring it aligns with your gaming strategy and budget. Once settled, hit the spin button to set the reels in motion. As they whirl and eventually come to a halt, players should keep their eyes peeled for the array of vibrant symbols, each holding a distinct value. Aligning these symbols in the right combinations across the slot's paylines is the key to unlocking rewarding payouts.
Understanding Symbol Values
In J-POP, the value hierarchy of symbols is integral to strategizing your gameplay. From the base symbols, which might comprise classic card values or thematic icons, to the more coveted ones like wilds and scatters, each has a unique worth. Wilds often serve dual roles, substituting other symbols to create winning combinations while also often carrying hefty payouts of their own. Scatters, on the other hand, are your gateway to bonus features, with their primary function being to trigger free spins or bonus rounds. Understanding the worth of each symbol and aiming to align the higher-value ones on your paylines can significantly enhance the thrill of the game and, of course, the potential rewards.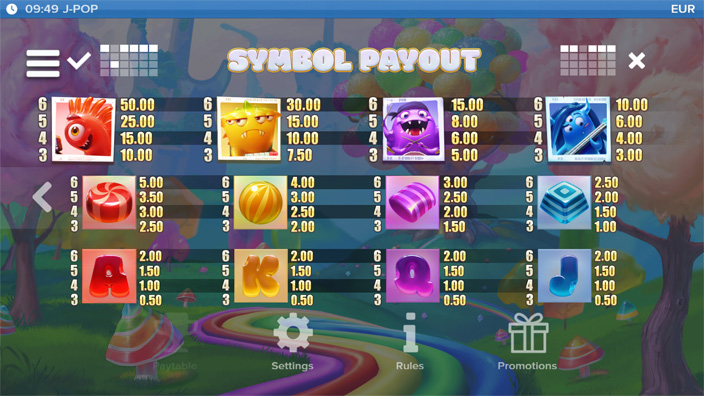 Review of the Online Slot J-POP by Bonus Tiime
Diving into the vibrant world of J-POP, players are immediately enveloped by a theme that resonates with pulsating energy and dynamism, reminiscent of Japan's iconic pop culture scene. The visuals and audio elements are harmoniously combined, providing an immersive experience that captures the essence and flair of J-pop music.
The real crescendo in J-POP's gameplay, however, is the staggering max win of 25,000x the bet. Such a monumental potential payout makes every spin feel like a high-stakes performance, giving players an electrifying incentive to continue their journey through the dazzling world of J-POP.
ELK Studios continues to showcase its prowess in creating captivating game universes. Their previous successes with quirky titles like Pirots and Cluster Slide bear testament to their innovative approach. J-POP, with its unique blend of theme and massive winning potential, might just be another feather in their cap, possibly echoing the illustrious Gold legacy. Only time, and the players' reels, will tell.
Advices and Tips to Play J-POP
Get ready to improve your online slots experience! We offer a range of tutorials and articles for both beginners and seasoned players. These invaluable resources will guide you towards a more strategic and enjoyable gaming session. So, dive in and boost your online slot prowess today!