Dive into the mystical world of Valhall Gold, the latest online slot by the renowned developer ELK Studios. Immerse yourself in an intricately designed gaming experience inspired by the legends of the Old Norse, where the anglicized term 'Valhall' means 'hall of the slain'. This compelling slot journey beckons players to explore the mesmerizing realm of Asgard and the fabled hall overseen by Odin.
Packed with immersive features, Valhall Gold is the perfect culmination of ELK Studios' beloved Gold slot series, which began its successful streak with the launch of Ecuador Gold back in 2019. This article offers a detailed review of the game and a chance to try the demo for free. Get insights into the game's design, mechanics, and bonus features, and discover why Valhall Gold is a must-play for slot enthusiasts.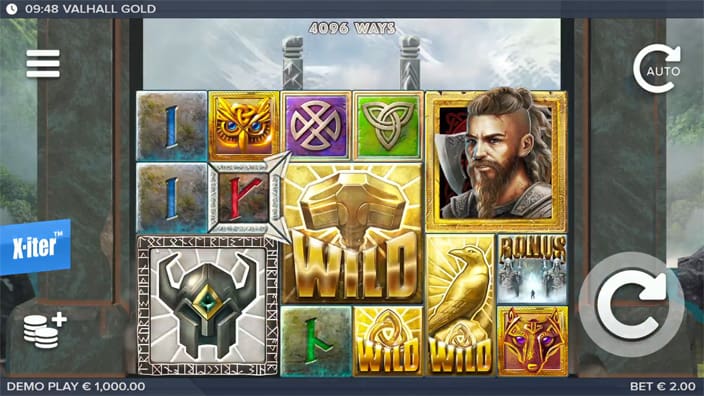 Demo Spotlight of Valhall Gold by Bonus Tiime
Top Casinos to Play Valhall Gold and Win Real Money



ELK Studios Online Slots Provider
ELK Studios stands as a powerhouse in the online gaming industry, renowned for crafting high-quality, innovative slot games. With cutting-edge graphics and immersive gameplay, this provider has consistently delivered hit titles, securing its reputation as a leader in digital casino entertainment and captivating players worldwide.
Specifications of Valhall Gold Online Slot
Step into the captivating world of Valhall Gold, an online slot boasting 6 reels and a dynamic grid ranging from 4 to 9 rows. With an impressive 4,096 to 531,441 ways to win, it promises an enthralling gaming experience for every player.
Part of ELK Studios' esteemed Gold series that commenced with the iconic Ecuador Gold, Valhall Gold holds its own distinct charm. When placing your bets on Stake, players can venture between 0.20 and 100, ensuring stakes that cater to every preference.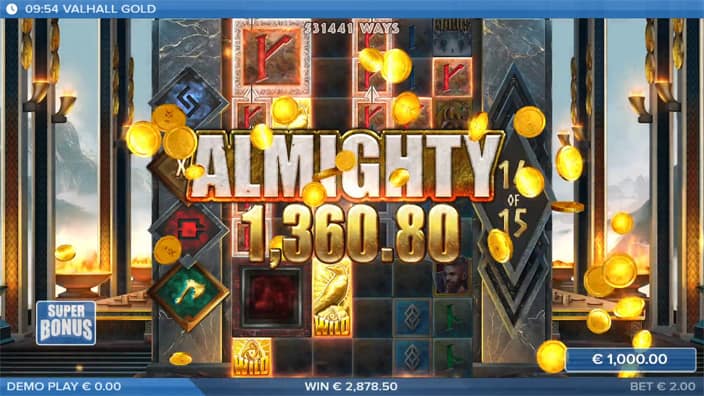 RTP
Boasting a 94% RTP (Return to Player), Valhall Gold ensures a consistent and rewarding gaming experience. This RTP signifies that players can expect a return of €94 for every €100 played, making it a favorable choice for those seeking a balanced gameplay dynamic.
Volatility
Valhall Gold's high volatility guarantees an exhilarating slot journey. This means that while wins might be less frequent, when they do occur, they're often substantial. Players seeking those high-risk, high-reward moments will find Valhall Gold to be a thrilling choice.
Max Win
With Valhall Gold, players can aspire to achieve an astonishing max win of 25,000x their stake. For instance, a player wagering just €1 could potentially walk away with a whopping €25,000. This staggering multiplier adds an extra layer of excitement to every spin.
Theme
Drenched in Norse mythology, Valhall Gold transports players to a realm reminiscent of the hit series Vikings. The slot captures the essence of legendary tales, heroes, and deities, crafting a mesmerizing atmosphere where ancient legends come alive, much like the dramatic portrayals in the popular TV show.
Features of Valhall Gold's Online Slot
Delve into the riveting realm of Valhall Gold's gameplay dynamics, where each feature amplifies the excitement. From cascading symbols to the divine intervention of Norse gods, these features ensure a rich and immersive slot experience.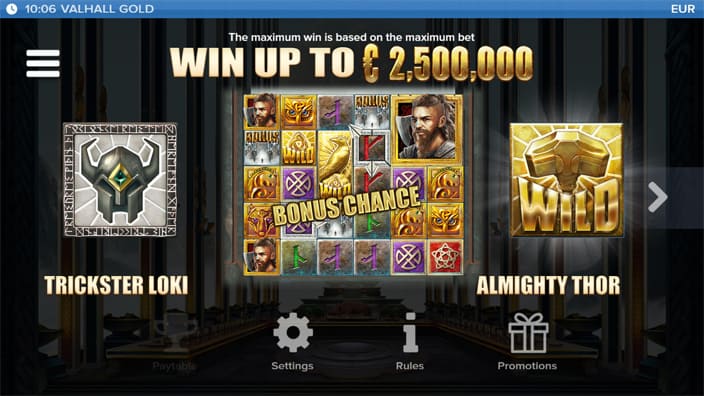 Avalanche
A feature where winning symbols vanish, allowing new ones to drop from above, potentially creating successive wins. This cascading effect can boost your chances of achieving more wins on a single spin.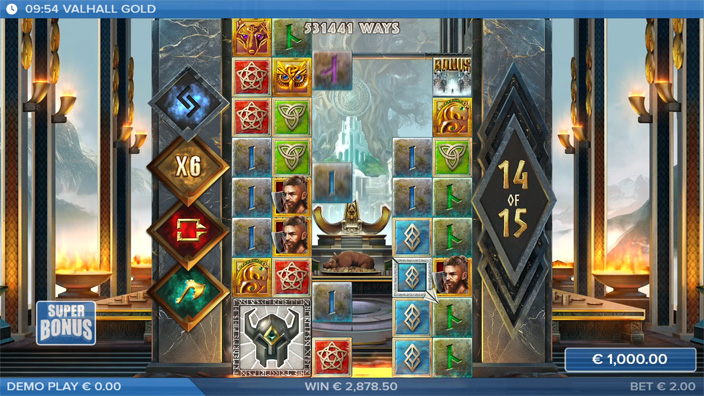 Big Symbols
These are oversized symbols that occupy multiple positions on the reels, increasing the potential for bigger winning combinations.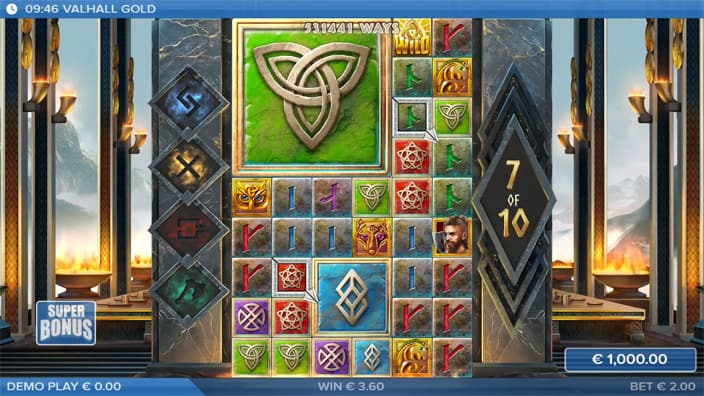 Spike Symbols
When part of a winning combination, Spike Symbols clone themselves in the direction their spike points, enhancing the win potential on the grid.
Wild Symbols
Versatile symbols that substitute for any regular pay symbol, augmenting the chances of forming winning combinations.
Thor Symbol
A mighty 2×2 wild symbol that stays sticky during a single drop, magnifying your opportunities for wins.
Odin's Ravens
Initially acting as blockers, when two or more appear on the grid, they transform into wilds, further augmenting win potential.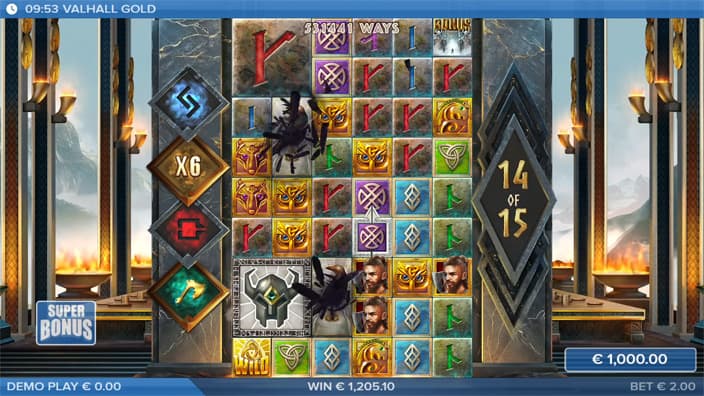 Trickster Loki
A mysterious and multifaceted feature represented by the god Loki. His powers include:
Both Ways: Activates wins from both left to right and vice versa.
Multiplier: Boosts your current win with multipliers of x2, x3, x5, or x10.
Spike Storm: Introduces spike frames on symbols, transforming them into spike symbols.
Axe Fury: Upgrades a random set of symbols into the same symbol.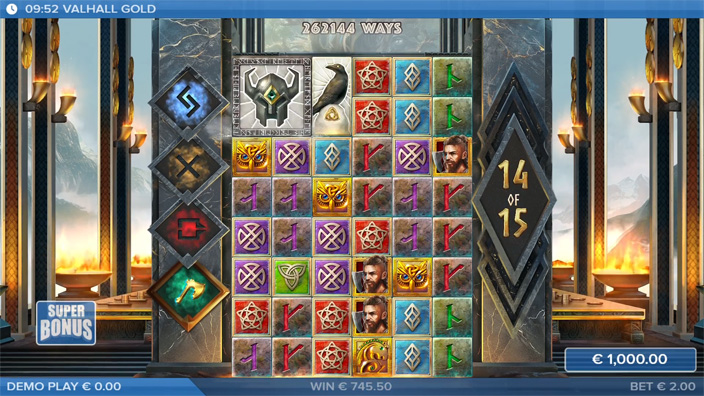 Free Spins
An electrifying feature that awards players extra spins. It encompasses:
Bonus Symbol: Landing these symbols triggers the free spins.
Safety Level: Represents the minimum starting reel height during spins, with the potential to grow.
Loki's Inventory: During free spins, Loki's features can be activated and stored, enhancing the gameplay dynamics.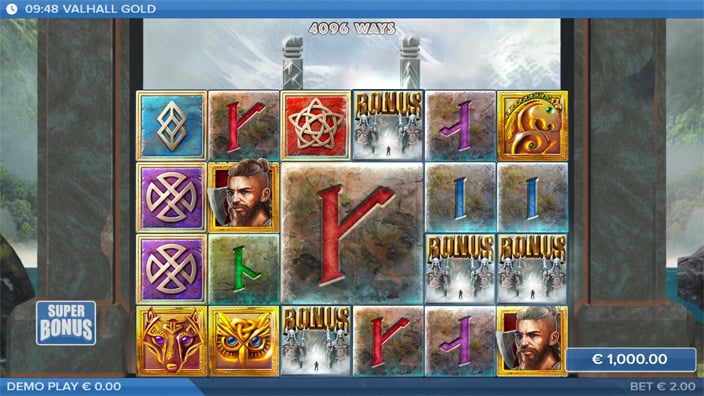 Bonus Buy
A feature for those eager to dive straight into the action, allowing players to directly purchase access to the bonus rounds, bypassing the standard play.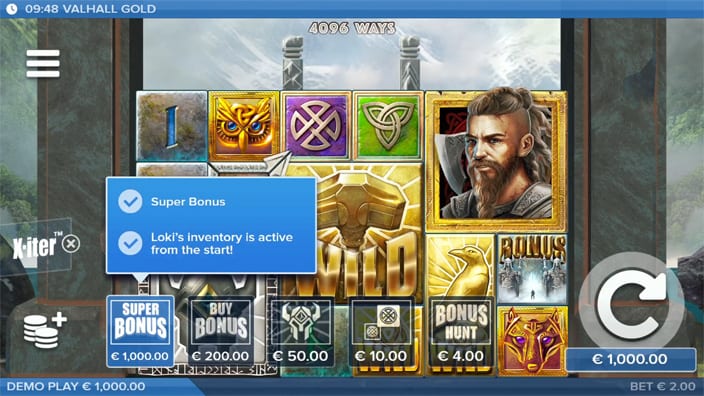 How to Play to Valhall Gold's Online Slot
Embarking on the majestic journey of Valhall Gold slot is a straightforward experience, even for beginners. To kick-start the game, select your preferred bet size from the options available, ensuring it aligns with your gaming budget. Once your stake is set, press the spin button to set the reels in motion. As the reels whirl, the symbols will land in unique combinations on each spin. These symbols, reminiscent of the glorious Norse pantheon, each carry distinct values.
From the lesser-valued symbols like ornate runes to the more premium ones representing gods like Thor and Odin, understanding their worth is pivotal to gauging potential payouts. Often, special symbols like the Thor and Loki icons can trigger bonus features, amplifying your win potential. Always keep an eye on the paytable to familiarize yourself with each symbol's value, ensuring you are always aware of the stakes and potential rewards of every spin.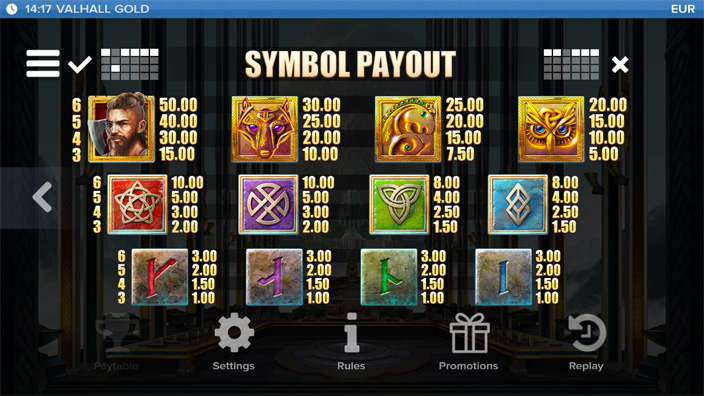 Review of the Online Slot Valhall Gold by Bonus Tiime
Valhall Gold, the latest release from ELK Studios, is a spellbinding journey into Norse mythology, allowing players to immerse themselves in the legends of old. With stunning visuals and evocative soundscapes, the game effortlessly captures the ambiance of Valhalla, the grand hall of Odin, where heroes are received.
One of the standout features of Valhall Gold is its tantalizing max win of 25,000x the bet. This impressive potential keeps players on the edge of their seats, as every spin could culminate in a life-changing reward. It's not just about the grandeur of the theme but also the genuine possibilities of massive returns that makes this slot irresistible.
Concluding the famed Gold Series by ELK Studios, Valhall Gold brings the adventurous saga of Kane to a thrilling climax. After globetrotting adventures in slots like Tahiti Gold, Katmandu Gold, and Dead Man's Gold, our intrepid explorer Kane finds his final frontier in the legendary Valhall Gold. This slot is not only an end to a beloved series but also a testament to ELK Studios' commitment to high-quality gaming experiences.
Advices and Tips to Play Valhall Gold
Get ready to improve your online slots experience! We offer a range of tutorials and articles for both beginners and seasoned players. These invaluable resources will guide you towards a more strategic and enjoyable gaming session. So, dive in and boost your online slot prowess today!