Venture into the mystical realms of the legendary wizard in Power of Merlin Megaways, a captivating online slot game developed by Pragmatic Play. Embodying the arcane magic and enchanting mysteries, this game takes you through the dense woodlands that are steeped in ancient lore. With 6 reels, varying rows, and offering up to a staggering 117,649 paylines, this title is a testament to Pragmatic Play's unwavering commitment to innovative design and immersive gameplay.
Immerse yourself in a magical realm filled with potent symbols, ranging from Lightning Bolt wild transformations to the flaming book scatter, all cascading against the backdrop of moss-draped trees. The enchanting design isn't just aesthetic – every feature in Power of Merlin Megaways weaves a tale of mystery and adventure. With its high volatility, RTP reaching up to 96.08%, and a spell-binding maximum win of 40,000x your stake, this slot game is set to bewitch both casual gamers and seasoned punters. The Power of Merlin Megaways was ranked at the 1st place by our experts in the Top 10 Megaways Slots in 2023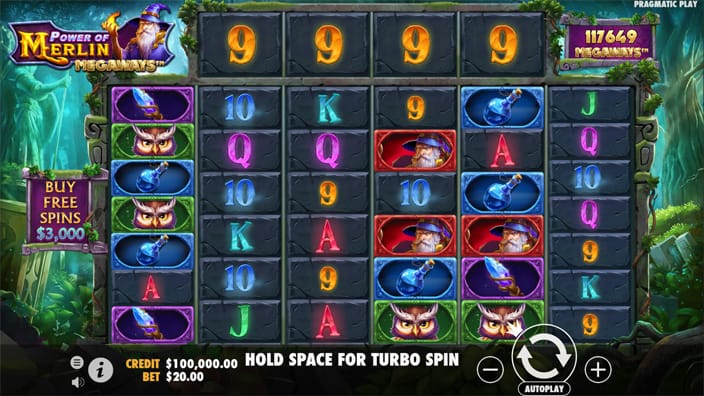 Demo Spotlight of Power of Merlin Megaways by Bonus Tiime
Pragmatic Play Online Slots Provider
Pragmatic Play, a world-class provider of digital casino gaming solutions, consistently raises the bar with their expansive portfolio of high-quality slots. Known for their unique storytelling, immersive gameplay, and innovative features, they've etched their name in the annals of online gambling. Power of Merlin Megaways is yet another testament to their ability to weave enchanting narratives within cutting-edge gaming experiences.
Specifications of Power of Merlin Megaways Online Slot
In the enchanting universe of Power of Merlin Megaways, players are met with an impressive layout featuring 6 reels, varying between 2 and 7 rows, and a staggering 117,649 ways to win. This dynamically changing grid system offers thrilling gameplay, promising riveting unpredictability with each spin.
Carrying forward the exciting gamble mechanic from its magical predecessor, Power of Thor Megaways, this online slot further enhances the Merlin universe like Spellbinding Mystery. With stakes ranging from 0.20 to a maximum of 1000, it promises an exhilarating ride for casual gamers and high-rollers alike, catering to a broad range of risk appetites.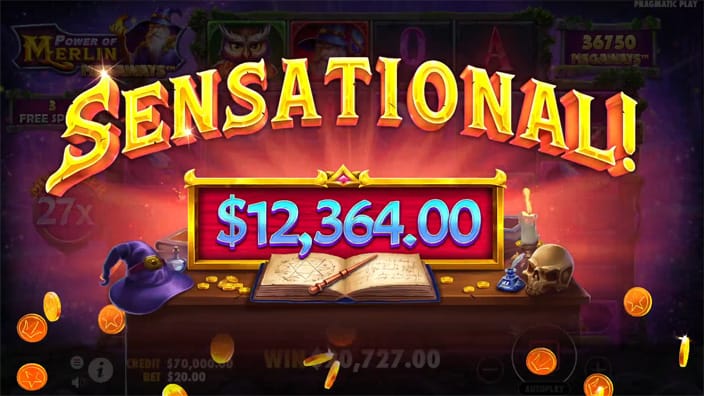 RTP
Power of Merlin Megaways touts an impressive 96.08% RTP (return to player), making it a rewarding choice for gamers. This above-average return to player rate suggests frequent winning opportunities, making each spin a potential gateway to treasure.
Volatility
Navigating through Power of Merlin Megaways, players will experience high volatility. This means big wins may not occur often but when they do, they're significantly large, offering a thrilling rollercoaster of a gaming experience.
Max Win
The maximum win in Power of Merlin Megaways is a mesmerizing 40,000x the bet. So, if a player stakes €1, they stand a chance to conjure a whopping €40,000 win, demonstrating the game's massive win potential.
Theme
The theme of Power of Merlin Megaways is akin to the popular series Merlin. Both delve deep into the mystical world of the legendary wizard, featuring enchanting forests, arcane symbols, and the quest for magical treasures, promising an immersive fantasy gaming experience.
Features of Power of Merlin Megaways's Online Slot
Power of Merlin Megaways is not just an online slot. It's a world filled with enchanting features designed to enhance your gaming experience. These engaging mechanics range from Tumble Feature and Lightning Bolt to Free Spins, a Gamble Feature, and even a Bonus Buy.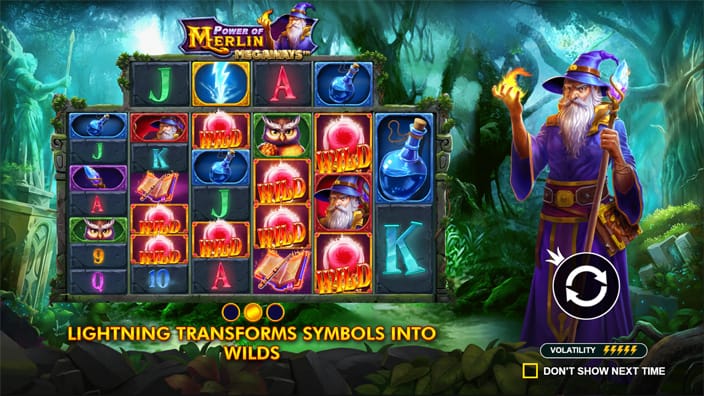 Tumble Feature
The Tumble Feature triggers when winning combinations are formed. The winning symbols disappear, and new ones tumble down, giving players an additional chance to form new wins in a single spin.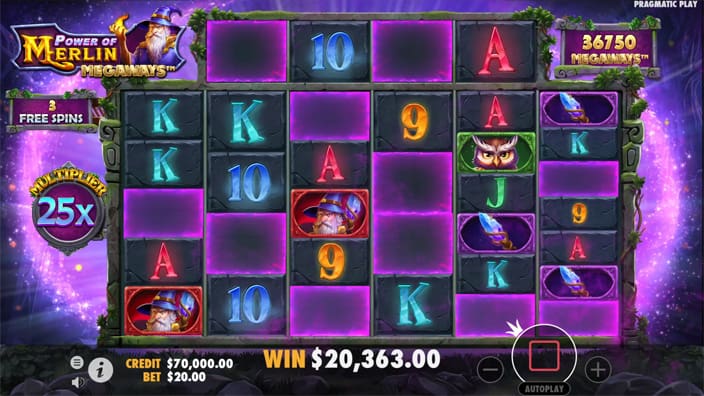 Lightning Bolt
The Lightning Bolt symbol adds a spark to the game. When landed, it randomly selects a pay symbol type and transforms all instances of that symbol into wilds on reels 2-5.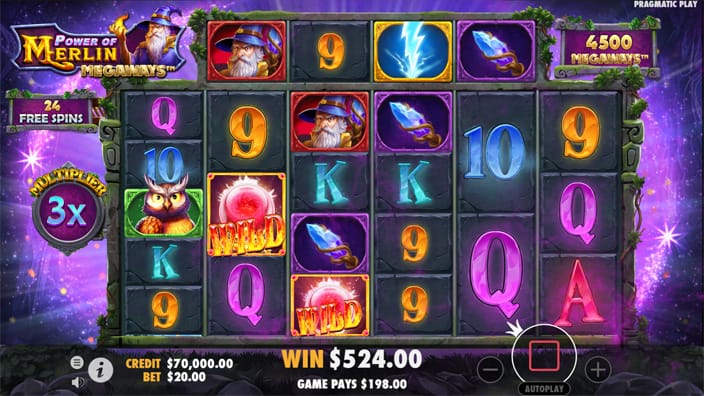 Free Spins
The flaming book scatter can trigger Free Spins. The number of Free Spins awarded is based on the number of scatter symbols landed, enhancing the thrill of the game.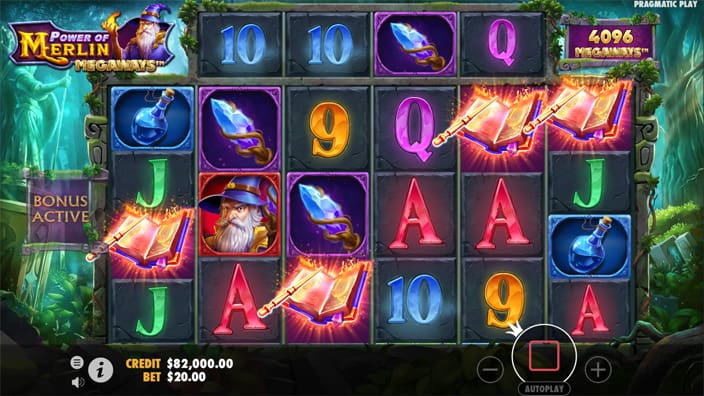 Gamble Feature
With the Gamble Feature, players have the chance to increase their free spins by risking them on a prize wheel. However, failing the gamble can result in loss of spins.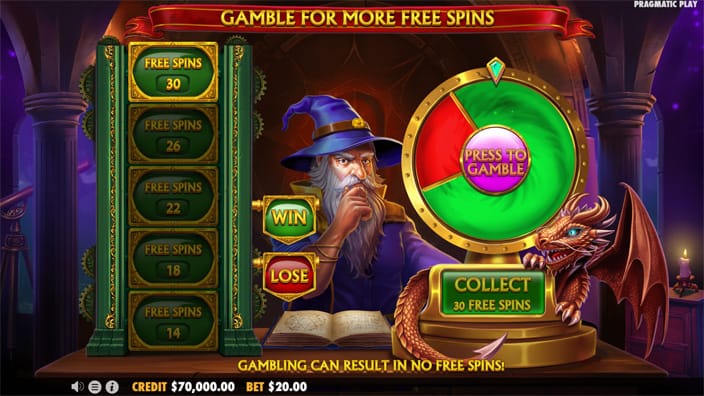 Bonus Buy
The Bonus Buy feature allows players to instantly trigger the Free Spins round for 150 times their stake, offering immediate access to the game's rewarding bonus round.
How to Play to Power of Merlin Megaways's Online Slot
Embarking on your mystical journey with Power of Merlin Megaways is a straightforward process. First, select your bet size, ranging from 0.20 to 1000 per spin, which caters to a broad range of bankrolls. Once your bet is set, you simply click on the spin button to start the game. Your aim is to land winning combinations on the reels, and with up to 117,649 ways to win, there are numerous opportunities to score. Remember, the game's high volatility means wins might not be frequent, but they have the potential to be significant when they occur.
The symbols in Power of Merlin Megaways have varying values and are inspired by the theme of mystic wizardry. Low-value symbols include the classic card symbols from 9 to A, while high-value symbols feature a potion bottle, a staff, an owl, and Merlin himself. The most valuable of these is the Merlin symbol, offering up to 20 times the bet for a six-symbol combination. The red orb acts as the wild symbol, substituting for any regular pay symbol to help form winning combinations. Lastly, the lightning bolt and flaming book symbols act as the game's special symbols, offering unique game features and enhancing the overall excitement of the game.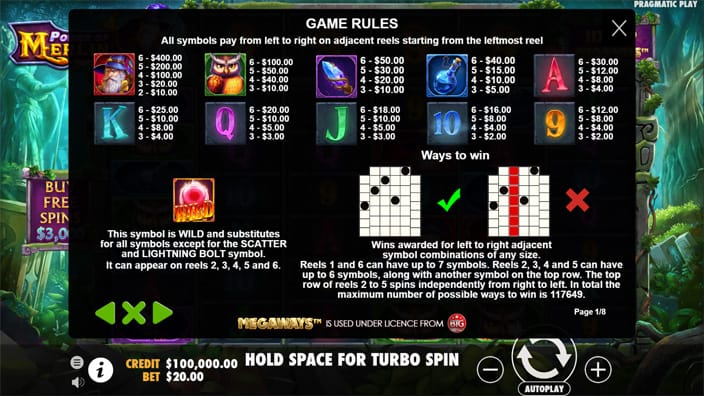 How to Win Real Money with Power of Merlin Megaways Online Slot
If you're eager to dive into the mystical world of Power of Merlin Megaways, there's no need to wait. Stake casino, a renowned online gambling platform, offers this spellbinding slot game. Sign up, stake your bet, and begin your magical journey with Merlin right away!

Review of the Online Slot Power of Merlin Megaways by Bonus Tiime
Power of Merlin Megaways is an enchanting slot game that takes players into the mystical world of the legendary wizard, Merlin. The well-executed theme, coupled with a captivating backdrop of an ancient woodland, instantly immerses players in a magical adventure. The game's high-quality graphics, intriguing symbols, and atmospheric sound effects amplify the fantasy experience, ensuring every spin is an engaging escapade.
The standout feature of this slot is undoubtedly the maximum win potential of a whopping 40,000x your bet. Such a significant win potential, coupled with high volatility, adds an exciting edge to the game. The thrill of potentially hitting this astronomical win keeps players on their toes and injects a level of suspense that elevates the overall gaming experience.
However, Power of Merlin Megaways isn't just about the max win; it also features an intriguing gamble feature. The bonus game offers players the chance to increase their free spins, thus potentially boosting the multiplier. However, it's a double-edged sword – gambling your spins can result in a higher payout, but it also means you risk losing your bonus altogether. This blend of risk and reward makes Power of Merlin Megaways a thrilling slot game, perfect for those who love a gaming experience filled with magic and suspense.
Advices and Tips to Play Power of Merlin Megaways
1. Try Out Demo Mode on Bonus Tiime
Like most online slots, Power of Merlin Megaways comes with the option of playing free in demo mode. This opens up the game to potential players who wish to see what it is all about without having to risk any actual money. Demo mode is not just for the curious newbie, though. It gives any player an opportunity to discover the game mechanics and its special features for themselves. In this way, before a single cent is bet, a player can be familiar with Power of Merlin Megaways's scatters and wild cards – and how these have an impact on the overall game. This leads us to the next pre-game tip for canny players: take a look at the pay table.
2. Relax and Entertain Yourself
Trying first the free slot demo is the perfect way to unwind, relax, and simply enjoy playing Power of Merlin Megaways – without losing money or the stress to catch chasing wins.
3. Always Study the Paytable of the Slot
The pay table is the slot's equivalent of a price list. You will find here a complete list of all the symbols in the game, along with their value. You will also be able to discover the properties of all the wilds and golden wilds. Combined with spending a little time in demo mode, this preparation will allow players to place their first bet with confidence when beginning the proper game.
4. Plan a Betting Budget and Stick to it
Anybody concerned with promoting Responsible Gambling will offer one piece of advice first and foremost: don't bet more than you are prepared to lose. When it comes to play online slots for real money, then this manifests itself through sticking to a pre-agreed budget. If a player reaches their betting ceiling without a big win then it is time to call it a day. Stop playing as soon as you reach the budget limit.
5. Don't Be Dazzled by Huge Jackpots
Some expert gamblers spend their time online chasing those mega-jackpots. While there is nothing wrong with that, it is a fact that slots offering huge progressive jackpots normally have higher odds and less chance of paying out.