Venture into the world of Zap Attack, the latest online slot sensation from renowned developer Thunderkick. Set against the backdrop of a whimsical alien invasion, this game effortlessly fuses nostalgic sci-fi aesthetics with cutting-edge slot features. As you journey through the retro town of Roswealth, you'll encounter eerie soundtracks reminiscent of the golden age of sci-fi, transporting you straight into the middle of a gripping extra-terrestrial narrative.
This article dives deep into the gameplay of Zap Attack, offering avid slot enthusiasts an opportunity to explore the game via a demo version. Furthermore, with an in-depth review, we aim to guide players through the myriad of features packed into this slot. Whether you're eager to understand the mechanics behind the Expanding Multiplier Wild or curious about the iconic ray gun shootouts, we've got you covered. Join us as we unravel the mysteries of Thunderkick's Zap Attack, and prepare to be zapped into a world of thrilling slot adventures.
Demo Spotlight of Zap Attack by Bonus Tiime
Top Casinos to Play Zap Attack and Win Real Money



Thunderkick Online Slots Provider
Renowned in the world of online gaming, Thunderkick stands out as a leading software provider, crafting innovative and immersive slot experiences. Known for their cutting-edge graphics and dynamic gameplay mechanics, this Swedish developer has solidified its reputation, consistently delivering top-tier online casino games that captivate and engage players worldwide.
Specifications of Zap Attack Online Slot
Dive into the dynamic realm of Zap Attack, a standout online slot characterized by its 5 reels, 5 rows, and an impressive 25 fixed paylines. This design ensures a myriad of ways for players to secure wins, keeping the gameplay exhilarating with every spin.
Drawing inspiration from celebrated slots like Pink Elephants and its successor, Pink Elephants 2, Zap Attack introduces familiar yet distinct gameplay dynamics. For those looking to heighten the thrill, stakes on Zap Attack are finely tuned, catering to both casual players and high-rollers on the Stake platform.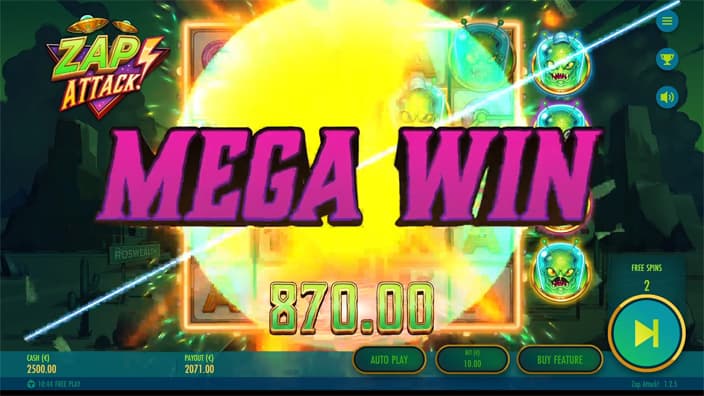 RTP
With a generous RTP of 96.15%, Zap Attack stands among the favorable choices for slot enthusiasts. This return to player percentage indicates a promising payout potential, ensuring players can expect consistent returns over extended play, making the gaming experience both enjoyable and rewarding.
Volatility
Zap Attack's medium volatility ensures a balanced gameplay experience. This means players can anticipate a mix of smaller frequent wins and occasional bigger rewards, making it ideal for those who prefer a steadier, more predictable rhythm in their slot adventures.
Max Win
The allure of Zap Attack is further amplified by its potential max win of 5,000x the bet. To put it into perspective, a player staking just 1€ stands a chance to bag a whopping 5,000€ in a single spin, showcasing the game's enormous reward potential.
Theme
Drenched in a nostalgic sci-fi ambiance, Zap Attack transports players to a retro alien invasion narrative. For fans of classic sci-fi, the theme is reminiscent of popular series like The Twilight Zone, providing a thrilling blend of otherworldly encounters and slot gaming adrenaline.
Features of Zap Attack's Online Slot
Dive into the heart of Zap Attack's allure with its intriguing range of features. Tailored to enhance user engagement, these elements not only elevate the gaming experience but also boost winning potentials, making every spin in Zap Attack a thrilling adventure.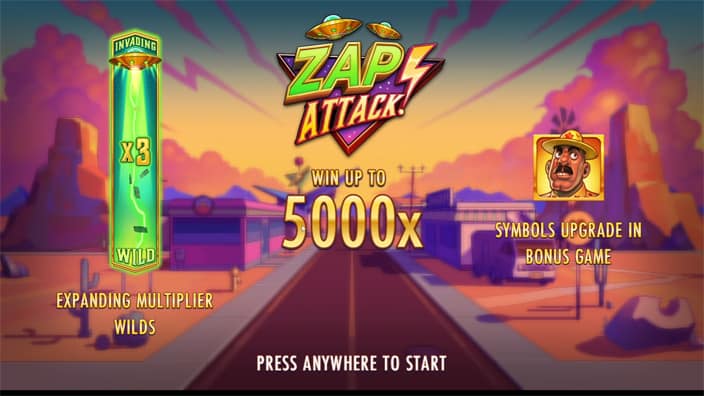 Wild Symbol
Central to many slot games, the Wild Symbol in Zap Attack acts as a chameleon. It substitutes for most other symbols, aiding players in forming winning combinations, thereby increasing the chances of bagging impressive rewards.
Expanding Multiplier Wild
A unique twist to the conventional wild, the Expanding Multiplier Wild in Zap Attack stretches to cover the entire reel when part of a win. What's more enticing? It comes with multipliers ranging from x2 to x5, multiplying your wins substantially when they pass through this special wild.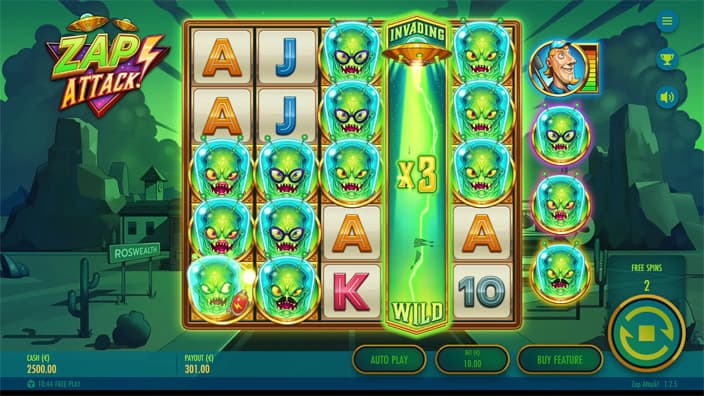 Free Spins
Unlock a realm of extra gameplay with Zap Attack's Free Spins feature. Triggered by landing specific scatter symbols, these free spins allow players to continue their gaming streak without staking additional credits, offering more opportunities to amass wins.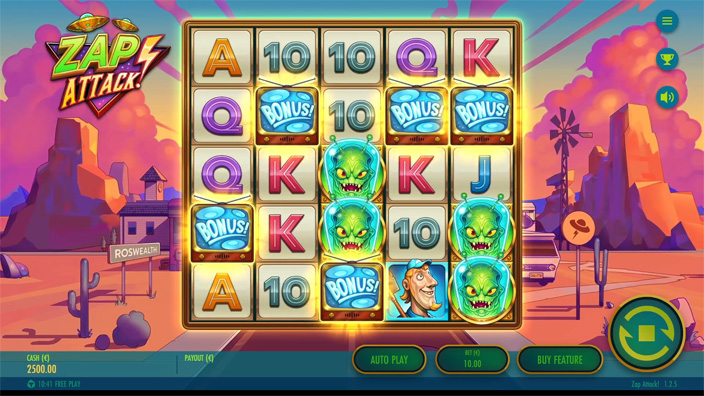 Bonus Buy Feature
Zap Attack's Bonus Buy Feature is a shortcut to excitement, letting players jump directly into the bonus round. By choosing a specific bet multiplier, you can dictate the number of scatters in play. Here's how it works:
3+ Scatters: By staking an amount equivalent to 60 times their original bet, players can instantly trigger the bonus game with a minimum of three scatter symbols on the reels.
4+ Scatters: Those looking for heightened action can opt to pay 125 times their initial bet, guaranteeing a bonus game launch with at least four scatter symbols present.
5+ Scatters: For the ultimate Bonus Buy experience, players can invest 250 times their bet. This ensures the bonus game starts with a grand five scatter symbols, maximizing the potential for colossal wins.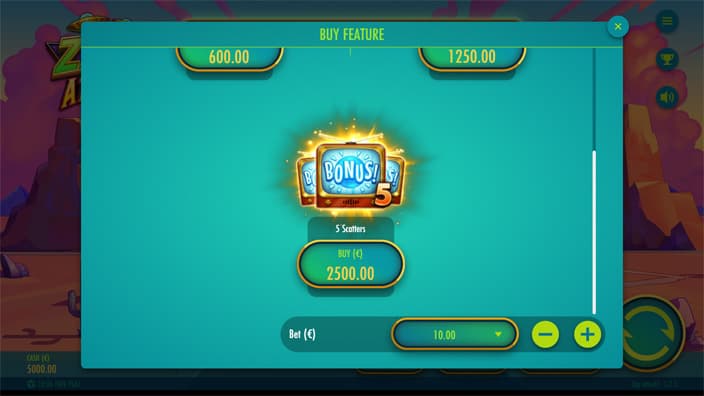 How to Play to Zap Attack's Online Slot
Embarking on your intergalactic journey with Zap Attack is a straightforward process, designed to be both user-friendly and immersive. To begin, players should set their desired bet amount, ranging from a modest 0.10 to a more adventurous 100. Once the stakes are set, simply hit the spin button to set the 5×5 reel grid in motion. The goal? Align matching symbols on one of the 25 fixed paylines. Remember, consecutive symbols from the left of the grid create winning combinations.
While the 10 to A card symbols represent lower values, the human character symbols offer mid-range payouts. However, the true star of the show is the alien symbol, promising the highest rewards. Being acquainted with symbol values is paramount. Not only does it provide clarity on potential wins, but it also amplifies the overall gaming experience. With its diverse symbol hierarchy, ranging from card ranks to intriguing characters, Zap Attack offers a rich tapestry of winning opportunities awaiting every player's spin.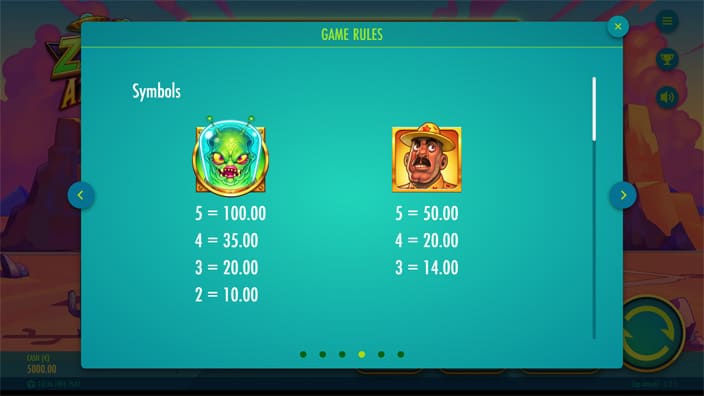 Review of the Online Slot Zap Attack by Bonus Tiime
Journeying into the realm of Zap Attack, players are instantly captivated by its innovative sci-fi theme. Set against the backdrop of an eerie town named Roswealth, the slot artfully combines extraterrestrial mysteries with thrilling gameplay. The aesthetic, complemented by an enchanting reverberated guitar soundtrack, evokes a retro sixties space-age ambiance, making each spin a nostalgic trip to an era of classic science fiction.
At the heart of its appeal lies the whopping 5,000x max win potential. Such a lucrative payout ensures that every spin holds the promise of grand rewards. This potential, combined with dynamic features and rich graphics, places Zap Attack in the league of high-reward slots that are both entertaining and rewarding.
While Zap Attack is undeniably unique, its mechanics and allure are reminiscent of other notable slots in the market. Games like Curse of the Werewolf by Pragmatic Play and Rock Bottom by Nolimit City have treaded similar ground, yet Zap Attack stands out with its distinct thematic execution and rewarding features.
Advices and Tips to Play Zap Attack
Get ready to improve your online slots experience! We offer a range of tutorials and articles for both beginners and seasoned players. These invaluable resources will guide you towards a more strategic and enjoyable gaming session. So, dive in and boost your online slot prowess today!