Money Train 2 has been ranked Top 8 by our experts in our Top 10 Wild West Slots in 2023
Money Train 2 is a high-stakes online slot from industry innovator Relax Gaming, building on the successful foundation of its predecessor, Money Train. This five-reel, 40-payline slot released in 2020 features a tantalizing mix of intense gameplay and captivating graphics, drawing players into a unique blend of the Wild West and steampunk aesthetics. With an impressive max win of 50,000x and a generous RTP of 96.4%, it's not just the design that's exciting the slot gaming community.
Dive into the steampunk-infused Wild West universe of Money Train 2 where every spin is a thrilling journey. This sequel has enhanced every aspect of the original, from its meticulously detailed theme to the beefed-up features that keep players on the edge of their seat. The game's volatile, high-intensity action, coupled with advanced features such as the Respins and Money Cart Bonus Round, ensures an engaging gaming experience that fans of online slots and especially the Money Train series won't want to miss.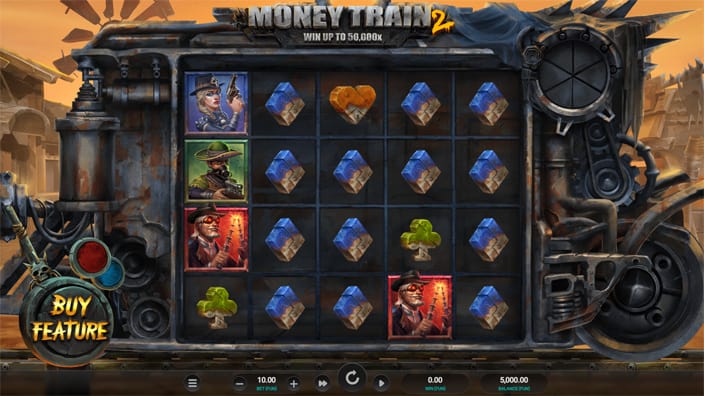 The Top 3 Casinos to Play Money Train 2 and Win Real Money
Stake Casino
Can't wait to try out Money Train 2? Head straight to Stake Casino and start your journey on this action-packed slot. With high volatility and immersive gameplay, Stake Casino provides the ideal platform for you to experience this captivating Relax Gaming masterpiece.

Cresus Casino
If Money Train 2 has piqued your interest, there's no better place to hop aboard than at Cresus Casino. Offering a seamless gaming experience, Cresus Casino lets you delve into the thrilling world of this Relax Gaming slot and its abundant features.

Horus Casino
Ready to embark on a steampunk Wild West adventure? Jump right into the engaging world of Money Train 2 at Horus Casino. Known for its user-friendly interface and robust game library, Horus Casino provides the perfect setting to explore this exceptional slot game.

Relax Gaming Online Slots Provider
Relax Gaming is a leading provider of innovative online casino games. With a diverse portfolio of high-quality slots, this award-winning developer combines unique themes, stunning graphics, and advanced features to create immersive gaming experiences that captivate players worldwide. It's a name synonymous with creativity and reliability in the iGaming industry.
Specifications of Money Train 2 Online Slot
Experience the thrill of the Wild West with Money Train 2, a unique online slot game by Relax Gaming. Featuring 5 reels and 4 rows, this game offers an exciting 40 paylines, amplifying your chances to win big. With high volatility and a max win of a staggering 50,000x, every spin promises to be an adrenaline rush.
Money Train 2 builds upon the success of the original Money Train slot, further enhancing the captivating gaming experience. Whether you're a low-stakes casual player or a high-roller, this game caters to all with a betting range of 0.20 to 20. Try it out on Stake Casino for an unmatched gaming experience.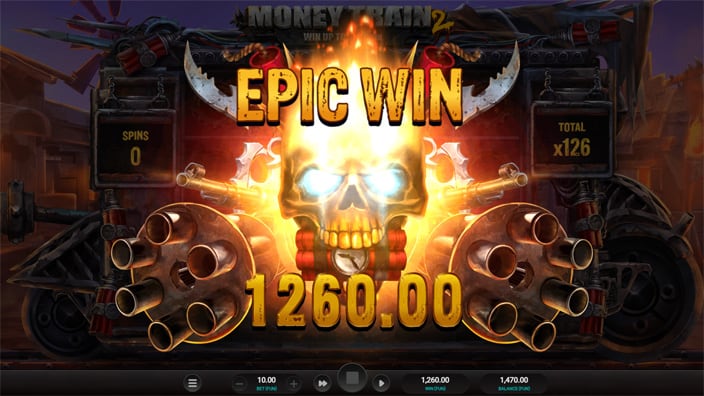 RTP
Money Train 2 boasts an impressive RTP (return to player) of 96.4%, putting it above average in the online slot market. This advantageous Return To Player rate enhances your potential winnings, further enriching your gaming experience and promising a potentially rewarding ride on the Money Train 2.
Volatility
The very high volatility of Money Train 2 brings an exhilarating level of unpredictability to every spin. This feature adds an element of suspense and excitement, promising significant payouts for the daring players who love the thrill of high-risk, high-reward gameplay.
Max Win
Money Train 2 presents a breathtaking max win of 50,000x the bet. Imagine betting 1€ and securing a whopping win of 50,000€! This enormous potential payout reflects the high stakes and intense excitement this Relax Gaming slot offers to its players.
Theme
Embark on a journey through a steampunk-infused Wild West in Money Train 2. This slot's theme echoes the gritty aesthetics of the hit series Westworld, blending a traditional Wild West setting with futuristic elements, creating a unique and immersive gaming environment.
Features of Money Train 2's Online Slot
Money Train 2 by Relax Gaming comes packed with an array of dynamic features that amplify the excitement and potential rewards of your gaming journey. From respins and unique character abilities to the thrilling Money Cart Bonus Round, each feature brings its own flavor, making every spin a new adventure.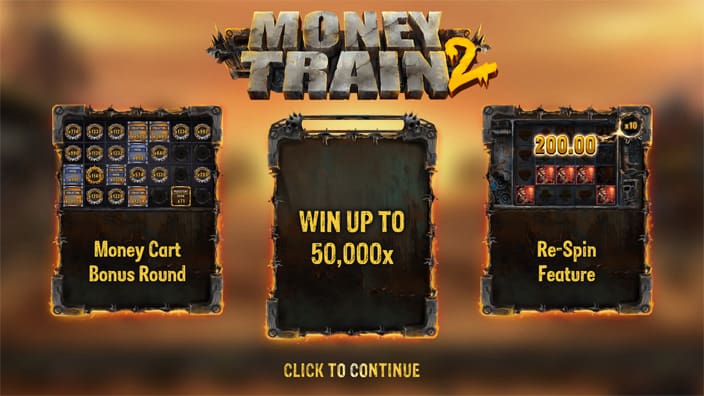 Respins Feature
Triggered by landing two scatter symbols on the reels, the Respins feature offers an instant thrill. Each scatter reveals a multiplier, which is added together, followed by a respin. This process continues until a winning combination appears, all the while accumulating multipliers on each non-winning spin.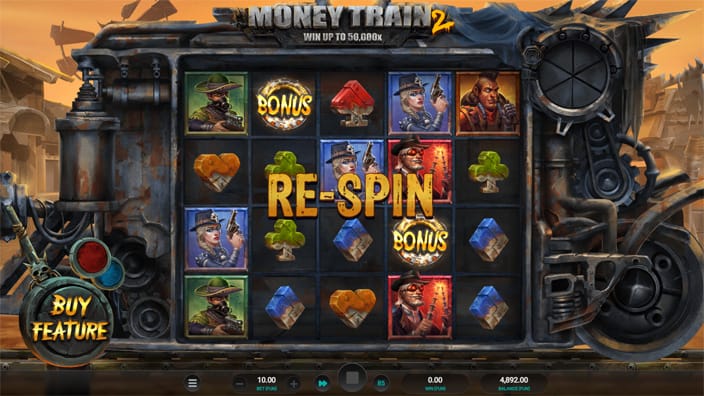 Free Spins – Money Cart Bonus Round
The Money Cart Bonus Round is initiated when three or more scatter symbols appear. Night falls, and a special grid rolls in, filling only with unique symbols. The bonus game begins with three spins, with each new symbol landed resetting the spins count to three and its value added to the win multiplier.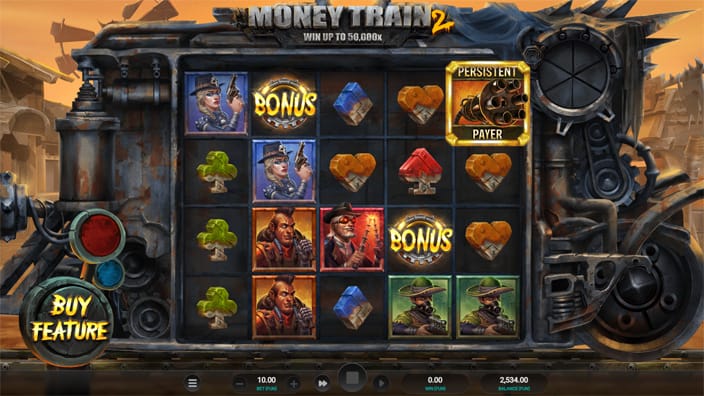 Payer: The Payer symbol adds its value to all other visible symbols on the reels, enhancing the total multiplier.
Collector: The Collector character collects the values of all visible symbols and adds them to its own, further increasing the potential win.
Collector/Payer: A combination of the two previous, the Collector/Payer adds the sum of all other visible symbols to its own value, then updates all other symbols with this increased value.
Sniper: The Sniper doubles the value of 3 to 8 other bonus symbols, and it can act on the same symbol more than once, providing a boost to the overall multiplier.
Necromancer: The Necromancer can revive 1 to 6 already used symbols, giving another round of usage for Collector, Payer, Collector/Payer, or Sniper symbols.
Reset Plus: The Reset Plus increases the starting value of spins by one, thus providing more opportunities to land winning combinations.
Persistent Payer: The Persistent Payer adds its value to all other symbols on every subsequent spin, constantly growing the total multiplier.
Persistent Sniper: The Persistent Sniper doubles the value of 3 to 8 symbols on every spin that follows, contributing significantly to potential wins.
Persistent Collector: The Persistent Collector collects all other values on each spin and adds them to its own, leading to an ever-growing potential reward.
Bonus Buy
Bonus Buy feature allows players to bypass the base game and jump straight into the Money Cart Bonus Round for a cost of 100x the stake. This feature provides an instant shortcut to the high-reward bonus game, making it an attractive option for those seeking immediate action.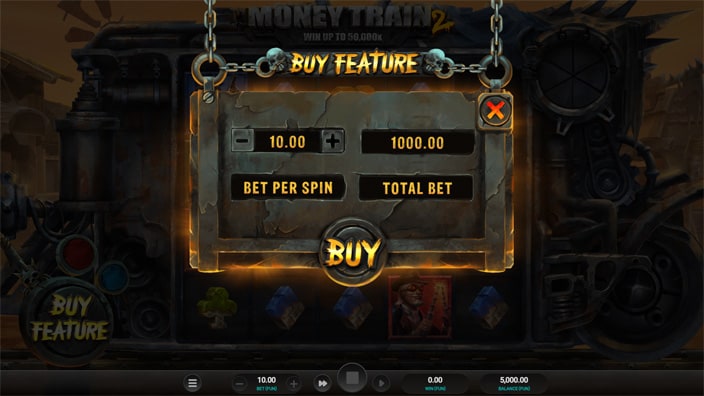 How to Play to Money Train 2's Online Slot
Engaging with Money Train 2 slot from Relax Gaming is a thrilling journey through the Wild West that is both user-friendly and highly rewarding. The action unfolds on a 5-reel, 4-row grid, offering 40 paylines where players aim to land combinations of matching symbols from left to right. To kick-start your ride on this exciting train, choose a bet value ranging from 0.20 to 20 per spin, appropriate for players with different budget preferences.
As you board this steampunk-inspired slot, familiarize yourself with the revamped symbols. The low-value symbols include the suit icons from a deck of cards – diamonds, clubs, hearts, and spades. The high-value symbols, given a Mad Max-style makeover, include the female payer, green-backed sniper, a tough guy collector, and the necromancer, providing value from 8 to 20 times the stake. The wild symbol is the exhaust pipe capped skull, substituting for all symbols on the reels to create potential pay line wins, sharing the same value as the necromancer. Understanding the value and roles of these symbols forms an integral part of strategizing your play in Money Train 2.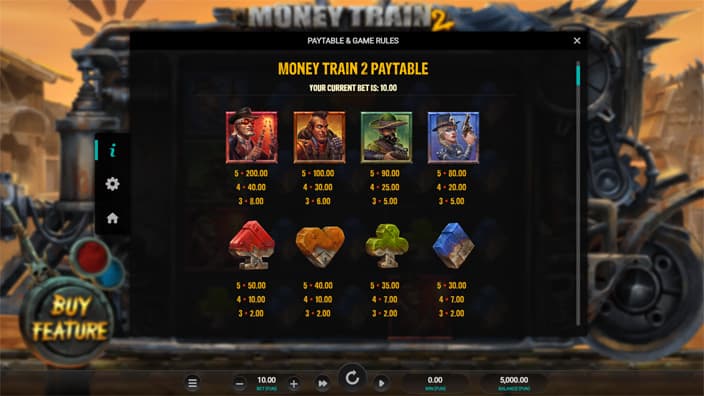 Review of the Online Slot Money Train 2 by Bonus Tiime
Money Train 2 by Relax Gaming is a standout in the realm of online slots. Building upon the immense success of its predecessor, this sequel delivers an enhanced gaming experience with an upgraded theme. Journey to a dystopian Wild West setting filled with steampunk elements, complete with captivating visual effects and a compelling soundtrack. This game adds an appealing edge to the Western-themed slot world, capturing the imagination and enhancing the thrill of the chase.
The real allure of Money Train 2, however, lies in its generous maximum win. The slot is not just about an immersive theme and exciting gameplay, but it also offers a staggering 50,000x bet max win, promising significant rewards. High volatility coupled with the game's enticing features creates an enticing blend of risk and potential high return, keeping players on the edge of their seats.
The Money Train series has successfully established a loyal fanbase, and its continuous growth is testament to its popularity. With the release of Money Train 3 and the anticipation around Money Train 4, it's clear that Relax Gaming has struck gold with this series. Each version introduces exciting tweaks and enhancements, ensuring players remain engaged and entertained. Money Train 2 is a remarkable chapter in this series, promising an adventurous ride with substantial rewards.
Advices and Tips to Play Money Train 2
Get ready to improve your online slots experience! We offer a range of tutorials and articles for both beginners and seasoned players. These invaluable resources will guide you towards a more strategic and enjoyable gaming session. So, dive in and boost your online slot prowess today!