Step into the intriguing world of Ancient Egypt with Quickspin's newest online slot, Golden Glyph 3. This high-volatility game presents an exceptional blend of immersive graphics and thrilling gameplay. Set on a 7-reel grid with 5-9 rows, it captivates players with its sunlit ambiance and towering pyramids, offering a captivating window into the grandeur of the Pharaohs' world. Unique features like Chaos Clusters and Power Glyphs contribute to the allure, making this online slot a must-play for both casual and avid gamers.
The game's ingenious design revolves around its distinctive cluster pays mechanic. The Power-Ups and unlimited multipliers in the free spin bonus rounds keep the anticipation high, driving the potential for huge wins. The slot's volatility is balanced by its RTP, which ranges from 87.15% to 96.11%. With a maximum win of 10,000x your stake, Golden Glyph 3 promises an exciting and potentially rewarding adventure for those who dare to decipher its ancient mysteries.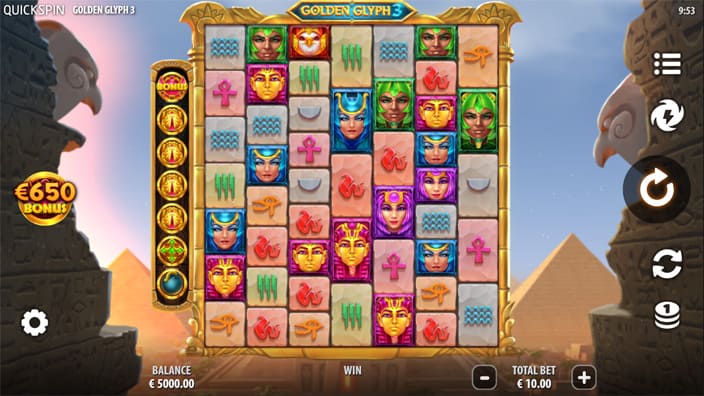 Demo Spotlight of Golden Glyph 3 by Bonus Tiime
Quickspin Online Slots Provider
Pioneering the online gaming realm, Quickspin stands as an iconic developer renowned for producing captivating and innovative slots. Equipped with cutting-edge technology and unrelenting creativity, Quickspin has carved its niche, continually dishing out highly engaging games, like the Golden Glyph 3 slot, with exceptional graphics, immersive themes, and rewarding features. This Swedish game studio consistently impresses players with its world-class game portfolio.
Specifications of Golden Glyph 3 Online Slot
Immerse yourself in Golden Glyph 3, an engrossing online slot powered by Quickspin, featuring a distinctive 7-reel grid and cluster pays mechanism. This captivating setup opens up a plethora of ways to win, amplifying the thrill of each spin.
The legacy of the beloved Golden Glyph and Golden Glyph 2 continues with Golden Glyph 3, offering a seamless fusion of old and new features. This game stays true to its roots, expanding on the foundations set by its predecessors. Gamblers can place their stakes on Stake, where this slot's mystique and allure come alive in every round.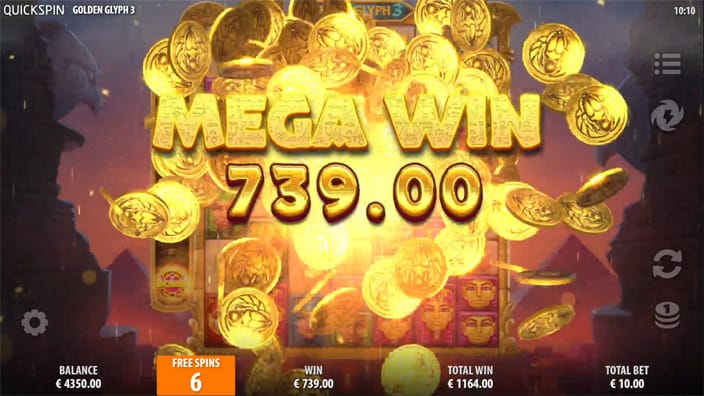 RTP
Golden Glyph 3 comes with an attractive RTP (return to player) of 96.11%, assuring players of substantial returns in the long run. The above-average RTP promises a rewarding experience, making every spin worthwhile.
Volatility
Harnessing high volatility, Golden Glyph 3 offers a thrilling gaming experience filled with suspense. This high volatility factor means substantial wins can be achieved, though they might be less frequent, adding a dash of anticipation to every spin.
Max Win
The potential max win of Golden Glyph 3 is a staggering 10,000x the bet. For example, if a player stakes €1, they stand a chance to pocket a whopping €10,000, adding an exciting dimension to every play.
Theme
Golden Glyph 3 transports players to ancient Egypt, mirroring the captivating aura of the popular movie series The Mummy. This captivating theme exudes mystery and adventure, inviting players to unearth hidden treasures from the sands of time.
Features of Golden Glyph 3's Online Slot
Golden Glyph 3 online slot is rich with engaging features that amplify the gaming experience. The slot includes Wild Symbols, Power Glyphs, Golden Glyphs, Free Spins, a Buy Feature, and Power-Up Features designed to thrill and reward players.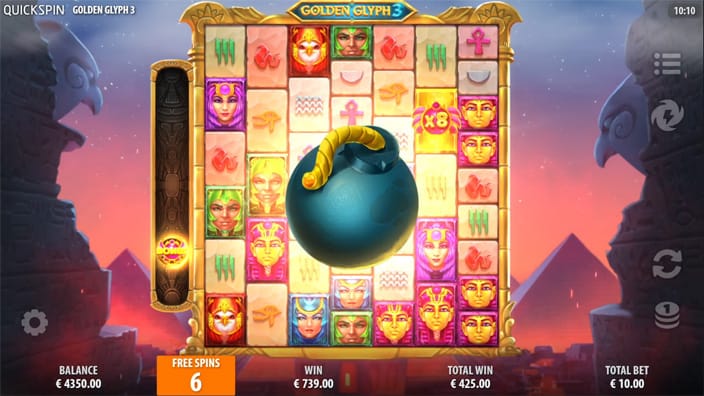 Wild Symbol
The Wild Symbol replaces all regular symbols, enhancing winning combinations and boosting payouts.
Power Glyph
The Power Glyph, activated after a winning cluster, triggers additional features, adding excitement and potential winnings to each spin.
Golden Glyph
Golden Glyph awards random multipliers when part of a winning combination, amplifying your winnings significantly.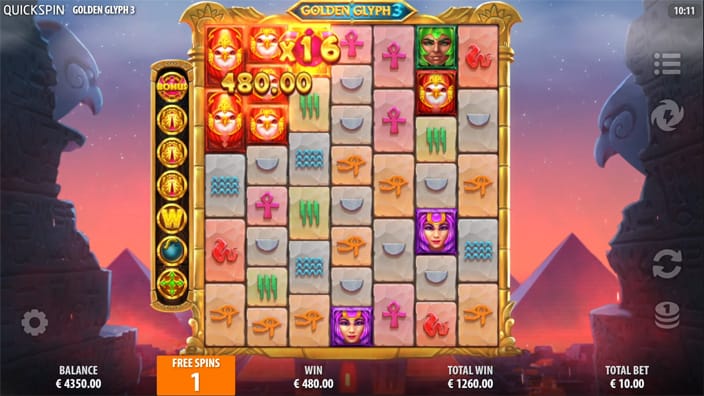 Power-Up Features
These unique, game-changing elements introduce extra symbols and modify existing ones, providing exciting twists and amplified winning opportunities.
Gigantic Wild: A large wild symbol introduced to the grid, significantly improving win chances.
A Storm of Wilds: Adds extra wild symbols, creating more winning combination opportunities.
Destruction: Removes low-value symbols, increasing the probability of higher wins.
Transformation: Changes random symbols into one type, enhancing chances for bigger winning clusters.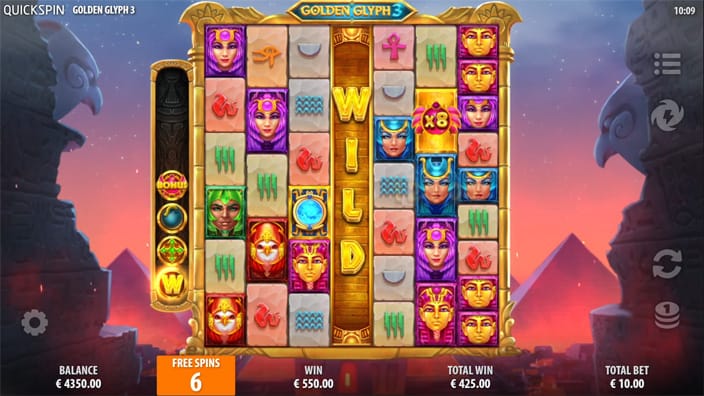 Free Spins
Free Spins, awarded after a sequence of wins, gives players extra spins without additional cost, increasing the opportunities for significant winnings.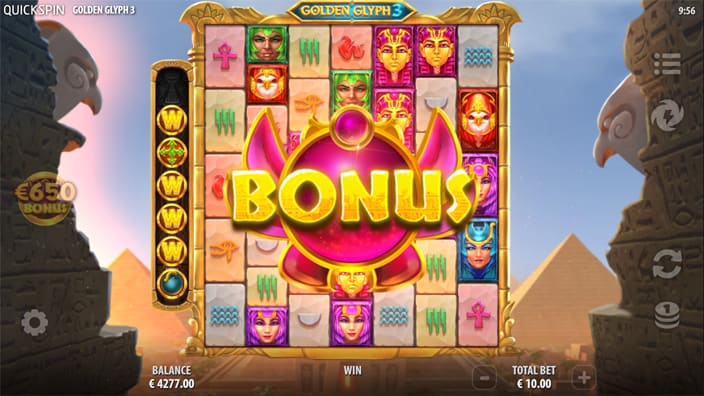 Buy Feature
The Buy Feature allows players to instantly trigger free spins, bypassing the base game and diving straight into the high-reward action.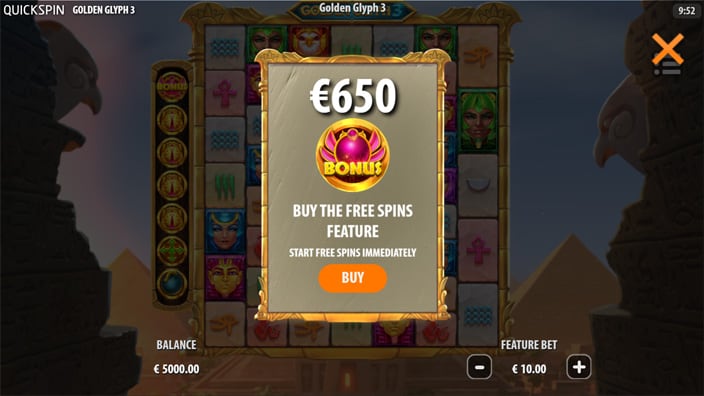 How to Play to Golden Glyph 3's Online Slot
Playing Golden Glyph 3 online slot is an intuitive experience, appealing to both seasoned players and beginners alike. Start by setting your preferred bet amount, ranging from a minimum bet to a maximum that suits your budget. Next, hit the spin button to set the reels in motion. Symbols on the reels include various ancient Egyptian hieroglyphs such as the Eye of Ra, Ankh, Scarab, and Phoenix, each carrying different values. Higher-paying symbols include the mythical gods Horus and Isis.
In Golden Glyph 3, the game is about symbol combinations, not just single icons. Forming winning combinations involves landing three or more matching symbols horizontally or vertically on the grid. Power Glyphs replace the winning symbols and explode when part of another win, adding a Power-Up to the Power-Up queue. The Golden Glyph is the most coveted symbol, acting as a wild and increasing a multiplier with every win. The understanding and strategic use of these symbols' values enhance the chances of landing significant wins in this high volatility slot.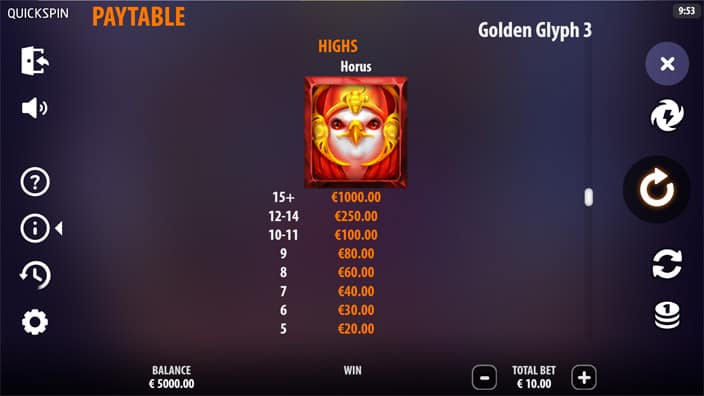 How to Win Real Money with Golden Glyph 3 Online Slot
If you're intrigued by Golden Glyph 3's thrilling features and can't wait to try it, Stake Casino is the perfect place. A premier online gaming platform, Stake ensures a seamless, exciting gaming experience. Join Stake Casino now and dive into the mystery of Golden Glyph 3!

Review of the Online Slot Golden Glyph 3 by Bonus Tiime
Golden Glyph 3 by Quickspin, an engaging online slot, transports players into the heart of ancient Egyptian mythology. The captivating theme, intricate designs, and enthralling soundtrack are not just aesthetically pleasing but also add an extra layer of excitement to the gaming experience. It's a delightful blend of historic allure and modern gaming mechanics.
The game's impressive max win of 10,000x the bet offers immense winning potential. Every spin could be your key to unlock substantial rewards, making it an enticing option for high-risk, high-reward players. You'll find the multiplier mechanics reminiscent of the popular game Jammin' Jars, enhancing the overall thrill.
Diving into its features, Golden Glyph 3 reflects an uncanny resemblance to the Reactoonz series. The Wild Symbol, Power Glyph, and Golden Glyph add intriguing twists to the game, increasing the odds of securing big wins. The Power-Up features, such as Gigantic Wild and Storm of Wilds, promise dynamic gameplay, keeping you on your toes. Overall, Golden Glyph 3 combines exhilarating rewards and immersive gameplay, making it a must-try for slot enthusiasts.
Advices and Tips to Play Golden Glyph 3
1. Try Out Demo Mode on Bonus Tiime
Like most online slots, Golden Glyph 3 comes with the option of playing free in demo mode. This opens up the game to potential players who wish to see what it is all about without having to risk any actual money. Demo mode is not just for the curious newbie, though. It gives any player an opportunity to discover the game mechanics and its special features for themselves. In this way, before a single cent is bet, a player can be familiar with Golden Glyph 3's scatters and wild cards – and how these have an impact on the overall game. This leads us to the next pre-game tip for canny players: take a look at the pay table.
2. Relax and Entertain Yourself
Trying first the free slot demo is the perfect way to unwind, relax, and simply enjoy playing Golden Glyph 3 – without losing money or the stress to catch chasing wins.
3. Always Study the Paytable of the Slot
The pay table is the slot's equivalent of a price list. You will find here a complete list of all the symbols in the game, along with their value. You will also be able to discover the properties of all the wilds and golden wilds. Combined with spending a little time in demo mode, this preparation will allow players to place their first bet with confidence when beginning the proper game.
4. Plan a Betting Budget and Stick to it
Anybody concerned with promoting Responsible Gambling will offer one piece of advice first and foremost: don't bet more than you are prepared to lose. When it comes to play online slots for real money, then this manifests itself through sticking to a pre-agreed budget. If a player reaches their betting ceiling without a big win then it is time to call it a day. Stop playing as soon as you reach the budget limit.
5. Don't Be Dazzled by Huge Jackpots
Some expert gamblers spend their time online chasing those mega-jackpots. While there is nothing wrong with that, it is a fact that slots offering huge progressive jackpots normally have higher odds and less chance of paying out.