Discover a blast from the past with the slot game, developed by renowned provider Push Gaming. This high volatility online slot pulls players back into the 1980s era with an energetic theme, characterized by vibrant cassette tapes and a groovy soundtrack. Its unique design embraces nostalgia and revives the spirit of the retro music scene in an innovative and engaging gaming format.
The Retro Tapes Cluster Link slot features a large 9×6 grid, cluster paylines, and a wealth of rewarding features like Wild Tape symbols, Wild Multipliers, Instant Prize symbols, the Magnet Feature, and the Top Charts Feature. With a maximum win of 10,000x and an RTP of 96.47%, this slot game offers both entertainment and potentially high rewards. Its captivating theme combined with rewarding game mechanics make Retro Tapes Cluster Link a must-play for both newcomers and seasoned slot enthusiasts.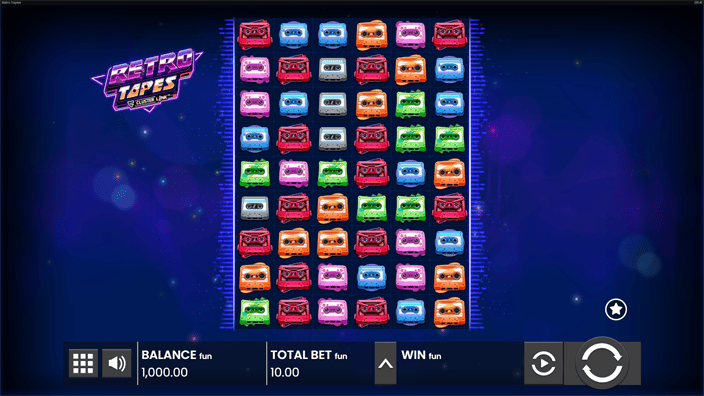 The Top 3 Casinos to Play Retro Tapes Cluster Link and Win Real Money
Stake Casino
Eager to try out the slot? Head over to Stake Casino now! This trusted online gaming site offers this engaging Push Gaming slot, giving you the chance to dive into the retro music scene and score big wins.

Cresus Casino
Can't wait to experience the dynamic gameplay of ? Get in on the action at Cresus Casino. Known for its wide range of slots, Cresus Casino is the perfect platform to explore this innovative and nostalgic Push Gaming slot.

Horus Casino
If the slot has piqued your interest, don't hesitate! Visit Horus Casino to immerse yourself in this exciting game. Offering a multitude of thrilling slots, including Retro Tapes Cluster Link, Horus Casino ensures a top-notch gaming experience.

Push Gaming Online Slots Provider
Push Gaming is a leading player in the online casino industry, renowned for crafting high-quality, immersive slot games. With a knack for innovative design and engaging gameplay, this developer consistently provides thrilling gaming experiences, driving the digital entertainment industry forward. Discover Push Gaming's exceptional portfolio for a taste of excellence in online slots.
Specifications of Retro Tapes Cluster Link Online Slot
Dive into the exhilarating gameplay of , an online slot developed by Push Gaming. This slot stands out with its larger-than-usual 9×6 grid and innovative cluster pays mechanic, providing countless ways to win and adding a thrilling twist to your gaming experience.
Resembling the hugely popular Jammin' Jars slot, Retro Tapes Cluster Link offers a dynamic playing style, rich in exciting features and rewarding bonuses. With a stake range from 0.10 to 100 on Stake Casino, this slot is perfect for gamers of all budgets seeking high-volatility fun.
RTP
With a generous Return to Player (RTP) of 96.47%, the  slot stands among the higher-paying games in the online casino world. This solid RTP percentage assures players that the game is not only exciting but potentially rewarding over the long term.
Volatility
is characterized by high volatility, offering a thrilling and unpredictable gaming experience. This high volatility indicates that while payouts may not occur after every spin, when they do hit, they're likely to be significant – perfect for thrill-seeking slot enthusiasts.
Max Win
The slot offers an impressive maximum win of 10,000x the stake. This means that with just a €1 bet, you stand the chance to walk away with a whopping €10,000! It's a fantastic opportunity for players seeking high-potential winnings.
Theme
The Retro Tapes Cluster Link slot is a vibrant tribute to the 80s, recalling the days of cassette tapes and synth-pop. Its nostalgic theme is reminiscent of the hit series Stranger Things, immersing players in a retro universe filled with neon colors, high energy, and catchy beats.
Features of Retro Tapes Cluster Link's Online Slot
Immerse yourself in the captivating features of , an online slot from Push Gaming. This game offers unique elements such as Instant Prize Symbols, the Magnet Feature, Wild Multiplier Symbols, a Free Spins round named Top Charts Feature, and the Bonus Buy option, all designed to enhance your gaming experience.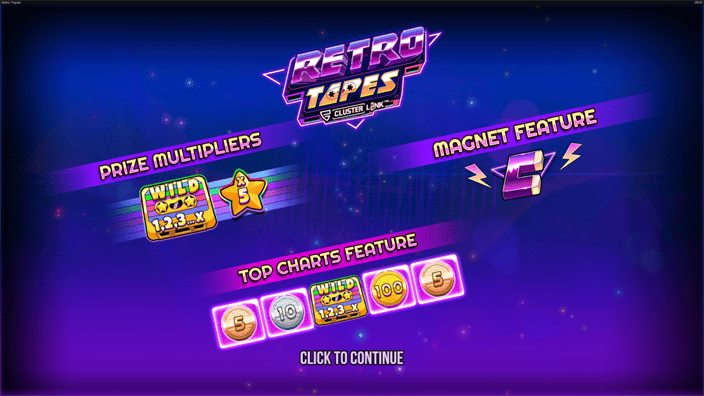 Instant Prize Symbol
These symbols are the stars of the show, carrying bet multiplier values ranging from 1x to 1,000x. When they land in clusters of five or more, their values are immediately awarded, offering potential for massive wins.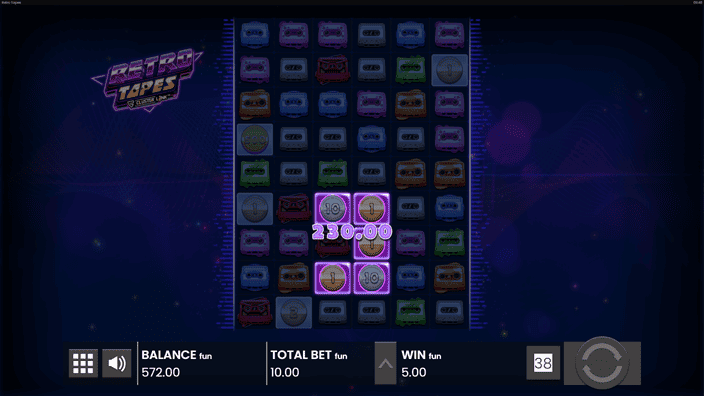 Magnet Feature
The Magnet symbol in pulls in adjacent pay symbols or Instant Prize symbols to create cluster wins. After attracting symbols, the Magnet transforms into the same pay symbol type or an Instant Prize symbol of random value, adding another layer of intrigue.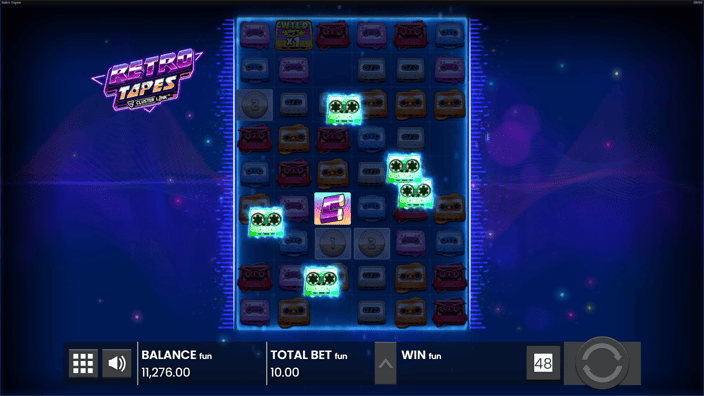 Wild Multiplier Symbol
Shaped like stars, these special symbols boost your winnings by adding multipliers to Wild Tapes in view. Then, they transform into an Instant Prize symbol of random value, offering even more chances to win.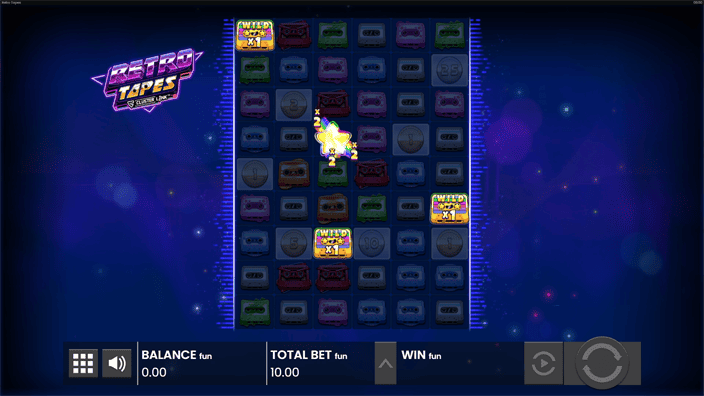 Free Spins – Top Charts Feature
Triggered by three or more Wild Tape symbols, this feature rewards players with up to 12 free spins. The feature includes new symbols, additional spins, and sticky Instant Prize symbols, increasing the potential for substantial rewards.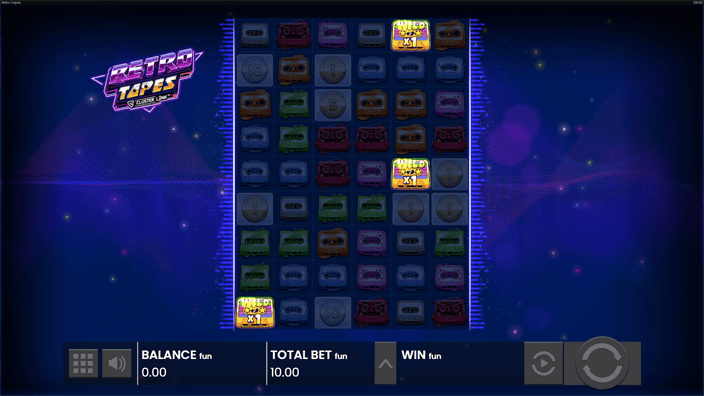 Bonus Buy
If you prefer not to wait for the Free Spins round, the Bonus Buy option lets you access the Top Charts Feature immediately for a certain cost. This accelerates the action, providing direct access to the game's most exciting phase.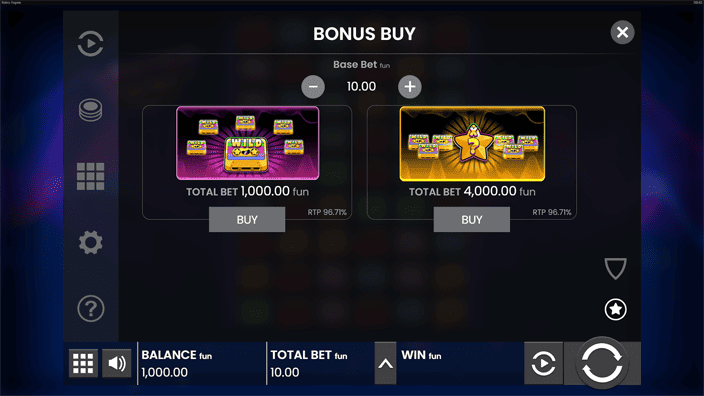 How to Play to Retro Tapes Cluster Link's Online Slot
Stepping into the vibrant world of is as straightforward as it is enjoyable. Begin your session by selecting your preferred stake from the wide range provided, which can range from as low as €0.10 to as high as €100 per spin. Once you have selected your stake, initiate the gameplay by pressing the spin button. The game employs a cluster pays system, which means that wins are formed when at least five matching symbols land adjacently in vertical or horizontal directions.
The pay symbols in are visually engaging cassette tapes in various colors – grey, blue, green, pink, orange, and red. For a cluster of five, these tapes offer a return ranging from 0.1 to 2 times the stake. This value increases significantly with the size of the cluster, with clusters of 20 or more tapes rewarding between 5 and 1,000x your stake. Keep an eye out for the wild and special symbols that can amplify your wins: Wild Tapes, Wild Multipliers, Instant Prize symbols, and Magnet symbols, each of which brings a unique twist to your gaming experience.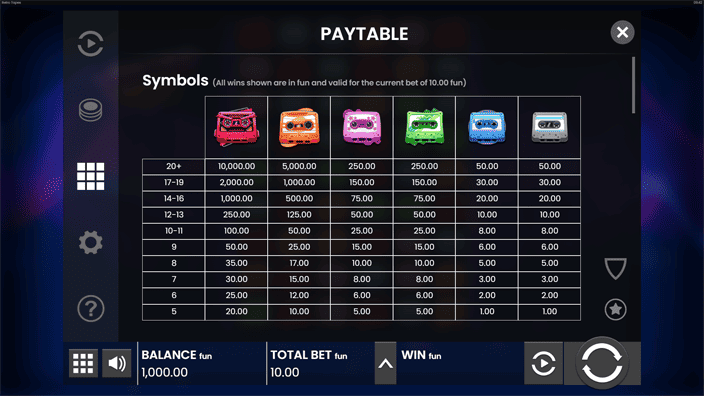 Review of the Online Slot Retro Tapes Cluster Link by Bonus Tiime
Delving into the realm of , players are transported into a vivid throwback to the nostalgic era of cassette tapes. Developed by the innovative Push Gaming, this online slot successfully blends the classic charm of the 80s with an enthralling gaming experience. The unique retro-themed design, complete with a bopping 80s-era tune and a spectrum of colourful tapes, sets the stage for an exciting gaming journey that embraces the essence of a time gone by.
The game's max win potential is a major attraction, offering a staggering 10,000x your stake. The promise of such a considerable return brings an intense layer of suspense and excitement to each spin. Alongside the enticing max win, the high volatility of the game ensures that the potential for sizeable wins is ever-present, appealing to players who appreciate the thrill of high-risk, high-reward gameplay.
After the release of Jammin' Jars 2, Push Gaming has once again showcased their mastery in slot development with Retro Tapes Cluster Link. By successfully reincarnating the spirit of Jammin' Jars, and adding an array of new and captivating features, they have elevated the game to new heights. Now, standing tall among other popular titles like Razor Returns and Big Bamboo, Retro Tapes Cluster Link has etched its place in the ranks of top Push Gaming slots. With its appealing retro theme and exciting features, Retro Tapes Cluster Link offers players an immersive and rewarding slot experience.
Advices and Tips to Play Retro Tapes Cluster Link
Get ready to improve your online slots experience! We offer a range of tutorials and articles for both beginners and seasoned players. These invaluable resources will guide you towards a more strategic and enjoyable gaming session. So, dive in and boost your online slot prowess today!