Step into the electrifying world of Razor Returns Free Online Slot, the latest cutting-edge creation from the renowned game developers, Push Gaming. Immerse yourself in this thrilling online slot experience, boasting razor-sharp graphics, seamless gameplay, and innovative features that promise to keep you engaged and entertained for hours on end.
The Razor Returns Free Online Slot immerses players in a mesmerizing deep-ocean theme, with its vivid design and striking colors evoking the enchanting underwater world. Boasting high-quality animations, this online slot game delivers an unparalleled gaming experience, as you spin the reels and watch symbols, including the alluring wilds and scatters, spring to life.
With its unique gameplay mechanics, including expanding wilds and free spins, the Razor Returns Free Online Slot is sure to captivate both casual players and seasoned slot enthusiasts alike. Experience the adrenaline-pumping excitement of this Push Gaming masterpiece, as you take on the challenge and strive for those big wins in this unmissable online slot sensation.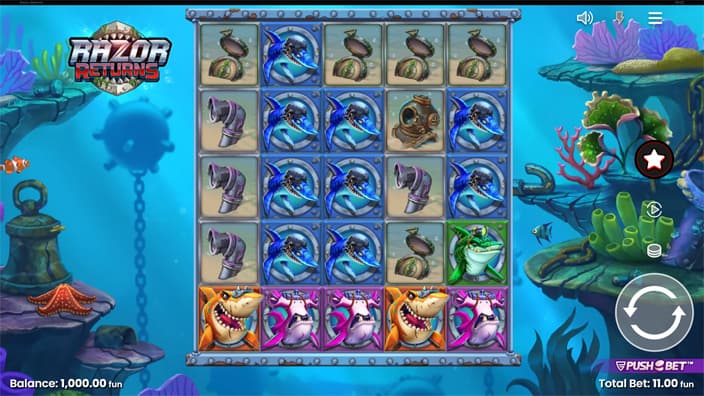 Demo Spotlight of Razor Returns by Bonus Tiime
Push Gaming Online Slots Provider
Discover the innovative world of Push Gaming, a leading software provider in the online casino industry. Renowned for their cutting-edge slot games and unparalleled gaming experiences, Push Gaming continues to captivate players with their visually stunning designs, engaging themes, and feature-rich gameplay, solidifying their position as a top-tier developer.
Specifications of Razor Returns Online Slot
Dive into the exhilarating action of Razor Returns, featuring an impressive 5×5 reels, layout with 50 paylines, offering countless ways to win. This enticing online slot game by Push Gaming delivers unmatched excitement, as players navigate through the captivating gameplay in search of those coveted winning combinations.
Razor Returns has been eagerly anticipated since the 2019 release of its popular predecessor, Razor Shark. With its enhanced features and gameplay, this slot is set to surpass expectations. Players can enjoy varying stakes on Stake, catering to both casual gamers and high-rollers alike, making Razor Returns a must-play addition to the online gaming world.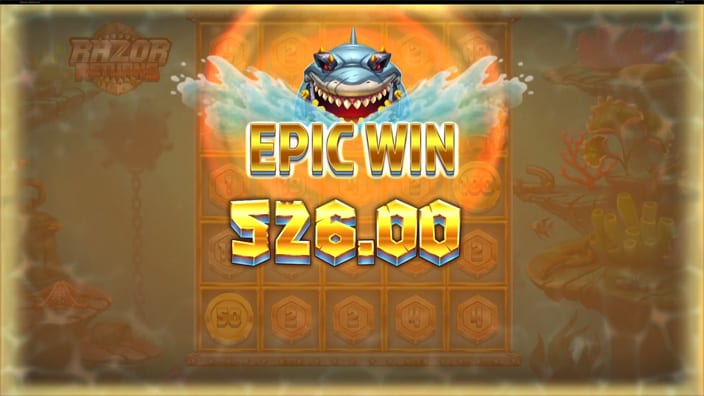 RTP
Razor Returns boasts an impressive RTP (return to player) of 96.55%, a highly competitive figure that ensures players have a strong chance of seeing a return on their bets. This promising RTP enhances the overall appeal of the game, providing an excellent incentive for players to dive in.
Volatility
The game's very-high volatility adds an element of suspense to Razor Returns. Although winning combinations may appear less frequently, the potential for significant wins in a single spin is higher. This factor caters to thrill-seeking players who appreciate the rollercoaster nature of high-volatility slots.
Max Win
With a staggering max win of 100,000x the bet, Razor Returns offers substantial winning potential. For example, a player wagering just 1€ per stake has the chance to bag an incredible 100,000€ from a single spin. This massive win potential significantly heightens the excitement and allure of the game, making it a tempting choice for many players.
Theme
Plunge into the captivating depths of Razor Returns, an online slot that pays homage to the iconic film Jaws with its wide-open shark mouth theme. The mesmerizing design, vibrant colors, and immersive underwater atmosphere create a thrilling gaming experience that sets Razor Returns apart from the competition. With its broad appeal, this slot promises to make a splash among players of all kinds.
Features of Razor Returns' Online Slot
Discover the enthralling features of Razor Returns online slot, an underwater adventure packed with captivating gameplay elements. Dive into exciting bonus rounds, such as the Razor Reveal and Free Spins, designed to heighten player engagement and increase winning potential. Experience the thrill of Razor Returns and uncover its hidden treasures.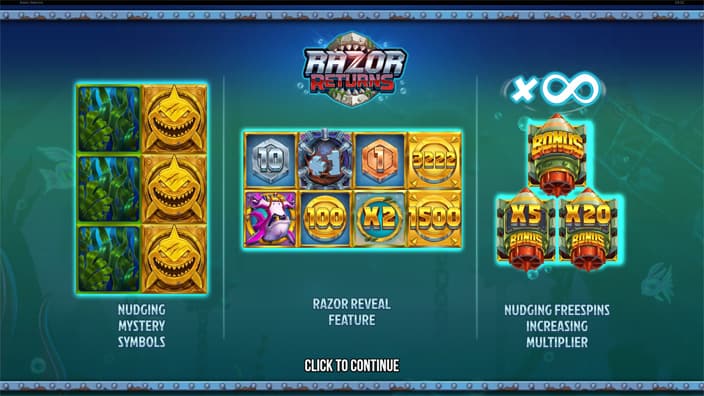 Push Bet
The Push Bet feature in Razor Returns increases your Base Bet by 10%, enhancing the chance of triggering the Free Spins Feature. You can easily activate or deactivate this feature, offering strategic gameplay flexibility.
Wild Shark, Scatter & Mystery Symbols
In Razor Returns' base game, landing three or more Torpedo Scatter Symbols triggers the Free Spins Feature. This new version allows additional scatters for a higher initial multiplier compared to the original Razor Shark.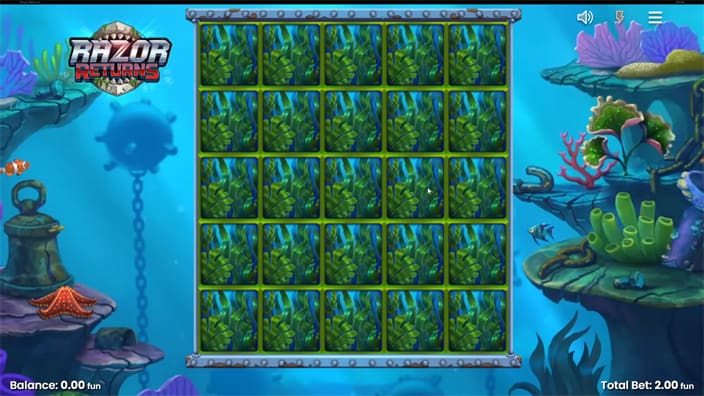 Nudge & Reveal Feature
The Nudge & Reveal Feature in Razor Returns unveils paying symbols or special shark symbols when triggered by Mystery Symbols. As these symbols nudge down, winlines are paid and reels spin until no more Mystery Symbols remain.
Razor Reveal Feature
The Razor Reveal Feature in Razor Returns is triggered when a Golden Shark Symbol is revealed. Each Golden Shark position spins through various prizes, including Instant Prizes, Multipliers, and special symbols, enhancing winning potential.
Multiplier: Multiplies the value of Instant Prize Symbols and Collector Symbols before disappearing.
Collector: Accumulates all Instant Prize Symbols, transforming into one before vanishing.
Converter: Transforms all identical Paying Symbols into Golden Shark Symbols.
Nudge Up: Exclusive to Free Spins, nudges Mystery Stacks up by one position.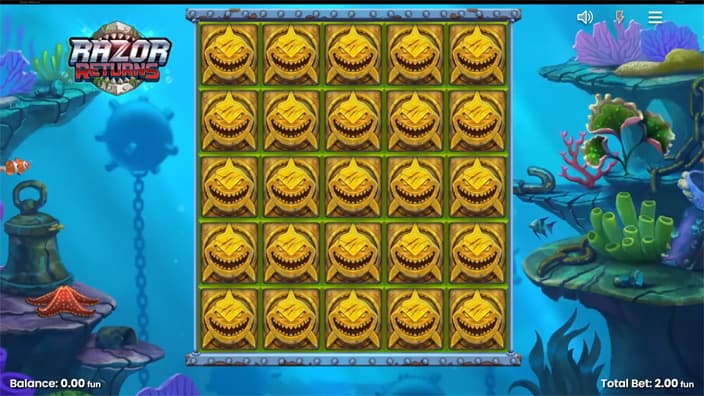 Free Spins
Razor Returns' Free Spins Feature is activated by landing 3 or more Torpedo Symbols. During this feature, Mystery Symbols fill specific reels, nudging down with each spin, and increase the Total Multiplier, enhancing the potential for big wins.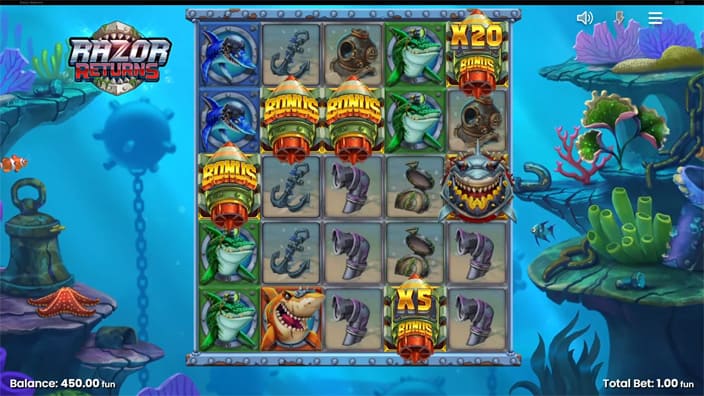 Gamble Feature
Found in games like Dino P.D. and Big Bamboo, allows players to risk their winnings in a double-or-nothing bet. This thrilling option heightens the gaming experience, adding suspense and potential for bigger rewards.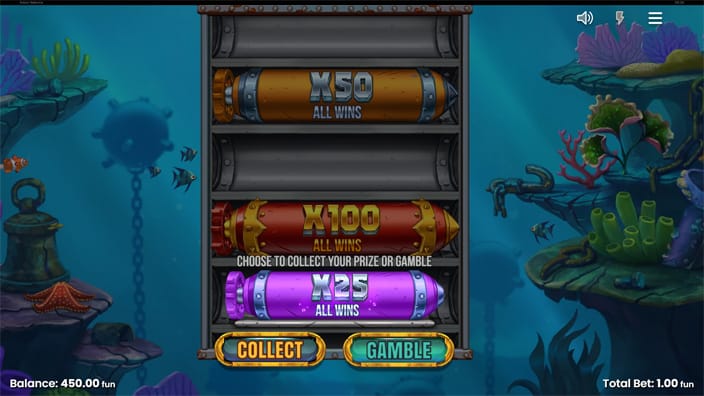 Bonus Buy
Razor Returns offers a Bonus Buy feature, allowing players to directly access the Free Spins Bonus Game with various Torpedo Scatter Symbols, or activate a screen full of Razor Reveal Symbols, boosting their winning potential.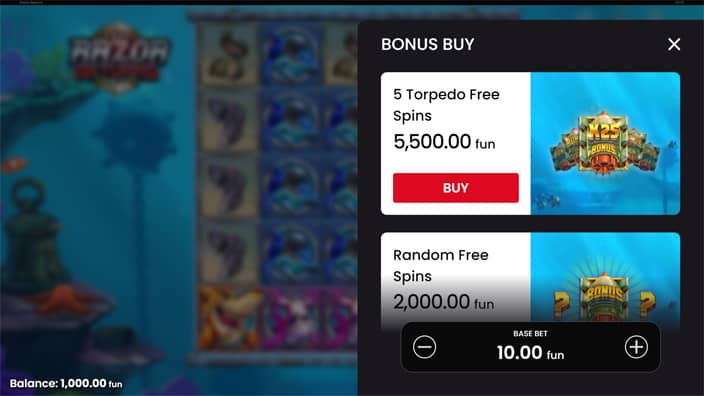 How to Play to Razor Returns' Online Slot
Embark on your underwater adventure with Razor Returns slot by understanding the basics of how to play. Begin by setting your preferred bet value, ranging from a minimum stake for casual players to higher stakes for high-rollers. Once your bet is set, spin the reels and watch as the captivating symbols, including the electrifying wilds and scatters, align to form winning combinations. Keep an eye out for the special symbols, as they have the power to unlock unique game features and bonuses, increasing your chances of landing big wins.
In Razor Returns, the value of each symbol plays a crucial role in determining your winnings. Lower-value symbols include vibrantly colored coral reef creatures, while higher-value symbols feature visually stunning deep-sea predators. The most valuable symbol is the elusive Razor symbol, which can unveil hidden rewards through the Razor Reveal feature. Additionally, scatter symbols can trigger the rewarding Free Spins bonus round, further enhancing your winning potential. Master the art of playing Razor Returns Slot and immerse yourself in this thrilling underwater world, where untold treasures await.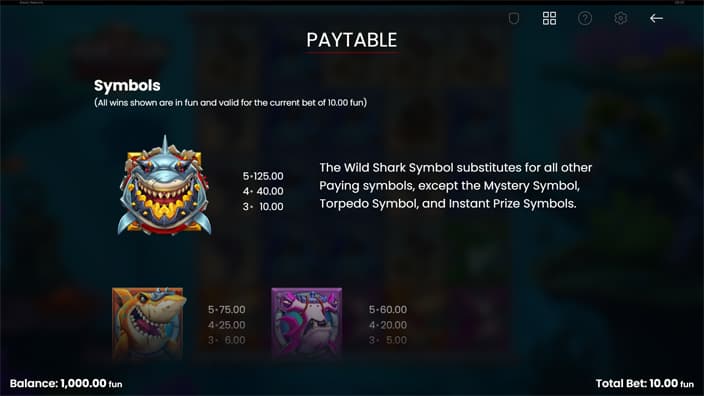 How to Win Real Money with Razor Returns Online Slot
If you're eager to dive into the action-packed Razor Returns slot, don't wait any longer! Head over to Stake casino and start spinning the reels. Experience the thrilling gameplay, captivating features, and immerse yourself in the underwater world, all while enjoying the top-notch gaming experience offered by Stake casino.

Review of the Online Slot Razor Returns by Bonus Tiime
While there is limited information currently available on Razor Returns, this upcoming slot game by Push Gaming is already generating excitement and anticipation among online casino enthusiasts. Razor Returns promises to deliver an exhilarating and potentially lucrative gaming experience.
As we eagerly await more details, it's safe to say that with Push Gaming's track record of developing top-notch slot games, Razor Returns is poised to captivate players with its immersive atmosphere, high-quality graphics, and innovative features. The release of this game could have a significant impact on the online casino landscape, potentially attracting many new players to the world of online slots.
Stay tuned for updates on Razor Returns, as we will provide a comprehensive review as soon as more information becomes available. Based on the early buzz, this game is shaping up to be a standout addition to Push Gaming's impressive portfolio, and one that players won't want to miss.
Advices and Tips to Play Razor Returns
1. Try Out Demo Mode on Bonus Tiime
Like most online slots, Razor Returns comes with the option of playing free in demo mode. This opens up the game to potential players who wish to see what it is all about without having to risk any actual money. Demo mode is not just for the curious newbie, though. It gives any player an opportunity to discover the game mechanics and its special features for themselves. In this way, before a single cent is bet, a player can be familiar with Razor Returns' scatters and wild cards – and how these have an impact on the overall game. This leads us to the next pre-game tip for canny players: take a look at the pay table.
2. Relax and Entertain Yourself
Trying first the free slot demo is the perfect way to unwind, relax, and simply enjoy playing Razor Returns – without losing money or the stress to catch chasing wins.
3. Always Study the Paytable of the Slot
The pay table is the slot's equivalent of a price list. You will find here a complete list of all the symbols in the game, along with their value. You will also be able to discover the properties of all the wilds and golden wilds. Combined with spending a little time in demo mode, this preparation will allow players to place their first bet with confidence when beginning the proper game.
4. Plan a Betting Budget and Stick to it
Anybody concerned with promoting Responsible Gambling will offer one piece of advice first and foremost: don't bet more than you are prepared to lose. When it comes to play online slots for real money, then this manifests itself through sticking to a pre-agreed budget. If a player reaches their betting ceiling without a big win then it is time to call it a day. Stop playing as soon as you reach the budget limit.
5. Don't Be Dazzled by Huge Jackpots
Some expert gamblers spend their time online chasing those mega-jackpots. While there is nothing wrong with that, it is a fact that slots offering huge progressive jackpots normally have higher odds and less chance of paying out.