In the bustling world of online slot gaming, Pragmatic Play has once again demonstrated their prowess in blending unique themes and innovative features with the release of Rainbow Reels. Transporting players into an enchanting landscape painted with vibrant greens and the unmistakable magic of leprechauns, this game is a treat for both the eyes and potential winnings. The picturesque design and compelling gameplay elements make it a standout in the ever-growing library of slot titles.
Delve deeper into our comprehensive review of Rainbow Reels and discover the intricacies of its gameplay. From the unique Seven Layers feature to the enticing Free Spins bonuses, there's a treasure trove of experiences awaiting avid slot enthusiasts. Moreover, for those looking to get a firsthand feel without spending a dime, we offer insights into trying the demo for free. Dive in and understand what makes this slot a potential favorite for many.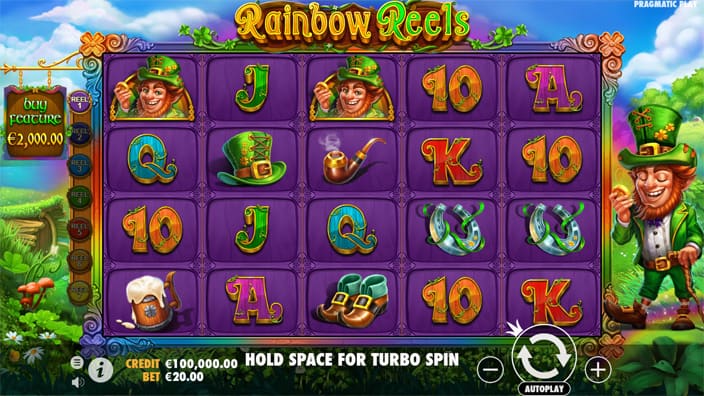 Demo Spotlight of Rainbow Reels by Bonus Tiime
Top Casinos to Play Rainbow Reels and Win Real Money



Pragmatic Play Online Slots Provider
Established as a premier player in the iGaming industry, Pragmatic Play consistently delivers high-quality, immersive online casino experiences. Renowned for its innovative slot titles, dynamic gameplay mechanics, and cutting-edge graphics, this provider has cemented its position as a must-watch developer in the ever-evolving world of online gambling.
Specifications of Rainbow Reels Online Slot
Dive into the mesmerizing world of Rainbow Reels, an online slot boasting a 5×4 grid layout complemented by 40 paylines, offering players multiple avenues to strike winning combinations. The design and mechanics of this game underscore Pragmatic Play's dedication to crafting engaging gameplay experiences.
For seasoned slot enthusiasts, Rainbow Reels may evoke memories of Leprechaun Song, another captivating creation by the same developer. When placing your bets on Stake, the range varies, allowing players to tailor their stakes, enhancing the thrill of every spin.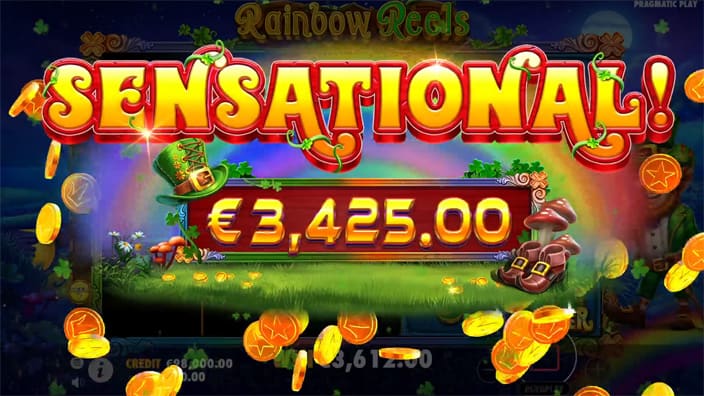 RTP
Rainbow Reels boasts an impressive RTP of 96.07%, placing it above many of its contemporaries in the online slot world. This healthy return rate promises players a greater chance of recouping their stakes, making it not just entertaining, but also a potentially rewarding choice for slot aficionados.
Volatility
The medium volatility of Rainbow Reels strikes a balance between frequency and size of payouts. It's ideal for players seeking consistent wins without long dry spells, but still craving those thrilling, higher value payouts. This level of volatility ensures a blend of excitement and steadiness throughout the gameplay.
Max Win
Imagine playing Rainbow Reels with a stake of 1€. With its enticing max win multiplier of 5,000x, players have the thrilling opportunity to walk away with a whopping 5,000€ from a single spin. Such potential makes every spin a heart-pounding experience, amplifying the game's allure.
Theme
Rainbow Reels immerses players in a magical world reminiscent of the enchanting landscapes seen in movies like The Chronicles of Narnia. This slot, with its leprechaun lore and whimsical elements, promises a fantastical journey, transporting gamers to realms where magic, rainbows, and treasures converge.
Features of Rainbow Reels Online Slot
Dive into the immersive world of Rainbow Reels, an online slot teeming with distinctive features designed to elevate every player's gaming experience. With mechanics like Seven Layers, Free Spins, and Bonus Buy, Pragmatic Play ensures both thrill and potential rewards in every spin.
Seven Layers
In the unique Seven Layers feature of Rainbow Reels, each reel position has up to seven underlying layers. When a symbol participates in a winning combination, it gets removed, revealing the next layer with a new symbol. This process provides continuous win opportunities until the seventh and final layer is exposed, which then remains empty for the remainder of the spin.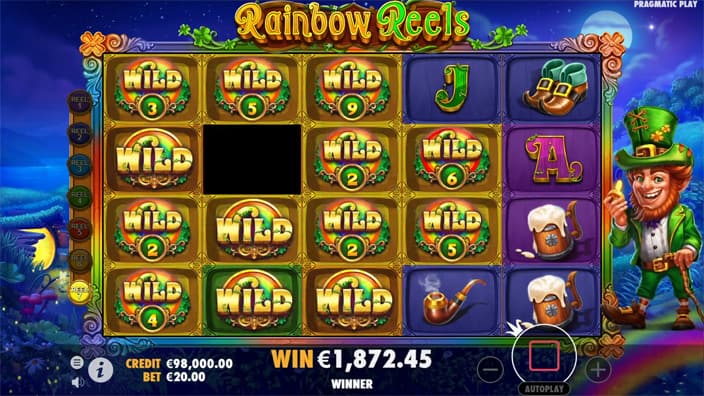 Free Spins
A sought-after feature in many slots, Rainbow Reels' Free Spins are activated when scatters land on specific reels. During these spins, the Seven Layer mechanic continues, but with an added twist: the final layer guarantees wild symbols, amplifying the potential for significant rewards and prolonging the excitement.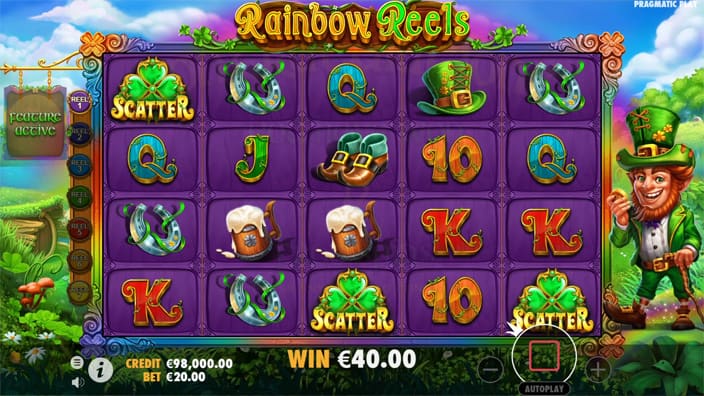 Bonus Buy
For players keen on diving directly into the action, the Bonus Buy feature offers a shortcut. By paying a predetermined amount, players can instantly trigger the Free Spins round, bypassing the usual gameplay requirement. This offers a fast track to the game's most exhilarating moments and potential big wins.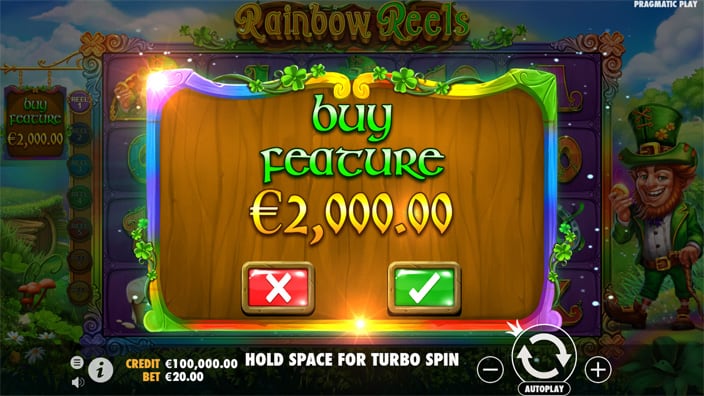 How to Play to Rainbow Reels Online Slot
Stepping into the vibrant universe of Rainbow Reels is both exciting and straightforward. Players begin by selecting their desired bet amount, which can range depending on the platform, but generally stretches between 0.20 to 1000 units. Once the stake is set, the spin button sends the reels whirling in hopes of landing matching symbols across the 40 paylines. Wins are achieved by landing combinations from the leftmost side of the grid on consecutive reels, and the intuitive interface of the slot ensures players can easily adjust settings, view paytables, and monitor their winnings.
Symbol values in Rainbow Reels play a pivotal role in determining payouts. Low-value symbols encompass the familiar 10 to A card ranks, while high-value icons dive into the realm of Irish folklore with items like pipes, mugs of beer, horseshoes, boots, and the cheerful leprechaun himself. Each symbol carries a distinct value, with the leprechaun and wilds being particularly lucrative, offering players tantalizing prospects of substantial rewards.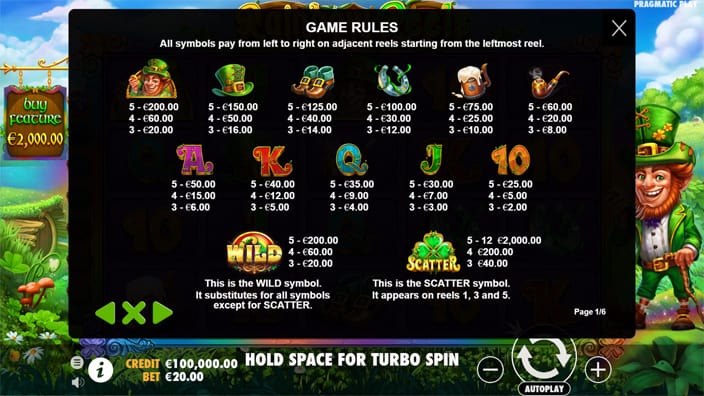 Review of the Online Slot Rainbow Reels by Bonus Tiime
Rainbow Reels, developed by Pragmatic Play, takes players on a whimsical journey into the heart of leprechaun lore. The slot's theme shines brightly with its verdant landscapes, ethereal rainbows, and iconic symbols that evoke the magic and mystery of Irish folklore. The game masterfully intertwines vibrant graphics and immersive soundscapes, crafting an environment that resonates with both new and experienced players.
One of the standout features of Rainbow Reels is its impressive max win potential. With the ability to secure up to 5,000x the initial bet, it's a tantalizing prospect that keeps players on the edge of their seats. Each spin becomes a heart-pounding adventure, making the gameplay not just entertaining, but also potentially rewarding.
Pragmatic Play's foray into the leprechaun-themed world is commendable, especially when considering the plethora of similar slots in the market, such as Leprechaun's Vault by Play'n GO and Leprechaun Megaways by Blueprint Gaming. Despite the common theme, Rainbow Reels carves out its unique space, proving once again Pragmatic Play's capability to breathe fresh life into classic narratives.
Advices and Tips to Play Rainbow Reels
Get ready to improve your online slots experience! We offer a range of tutorials and articles for both beginners and seasoned players. These invaluable resources will guide you towards a more strategic and enjoyable gaming session. So, dive in and boost your online slot prowess today!