Play Mustang Trail of Pragmatic Play for free on our page. This machine has a Medium volatility and a RTP of 96.04%. The minimum bet is €0.2 and the maximum bet is €1000.
This slot is available on Stake and on other casinos, discover them here to enjoy our exclusive casino bonuses.
Embark on a thrilling journey to the wild, wild West with Mustang Trail, an exhilarating online slot game developed by Pragmatic Play. This game, launched on August 24, 2023, offers players an authentic glimpse into the rugged landscapes and majestic creatures that define the North American wilderness. With a high volatility rating of 5 out of 5 and a return to player (RTP) percentage of 96.04%, Mustang Trail provides a gratifying mix of suspense, risk, and potential high rewards for avid slot enthusiasts.
The captivating design and immersive features of Mustang Trail make it a standout offering in the crowded online casino space. Set against the backdrop of a serene desert landscape, the game presents a five-reel, three-row grid that pulsates with life and action. Offering 10 paylines, a hit frequency of one in 7.39, and the tantalizing prospect of a max win of 5,000x your bet, Mustang Trail encapsulates the thrill of the chase and the allure of the unexpected. Stay tuned for an in-depth analysis of this game's unique features and gameplay mechanics.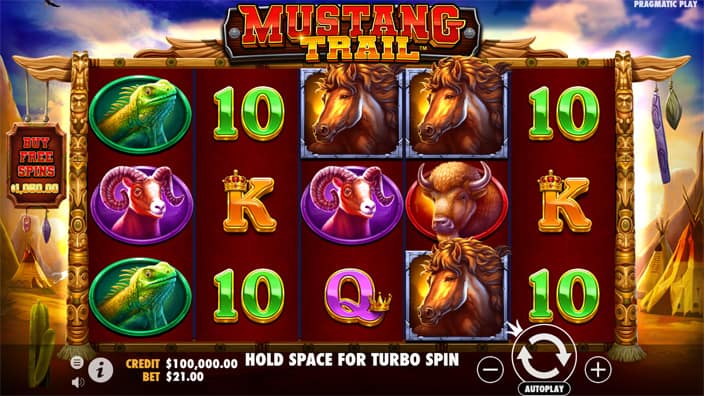 Demo Spotlight of Mustang Trail by Bonus Tiime
Top Casinos to Play Mustang Trail and Win Real Money


Pragmatic Play Online Slots Provider
Established as a leading figure in the iGaming industry, Pragmatic Play specializes in creating high-quality, engaging online casino games. Its innovative approach to game development, coupled with a firm commitment to player satisfaction, helps elevate the online gaming experience for players worldwide.
Specifications of Mustang Trail Online Slot
Mustang Trail, an online slot offering from Pragmatic Play, draws players in with its five reels, three rows, and 10 paylines. This exciting layout presents a multitude of ways to win, making every spin a thrilling adventure.
Drawing inspiration from its predecessor, Mustang Gold, Mustang Trail follows a similar path but with a twist. The game emulates the mechanism of Big Bass Bonanza, with scatters unlocking a unique wild feature. This element adds a layer of anticipation and thrill to each spin, especially for players placing their stakes on Stake Casino, making every game session a memorable experience.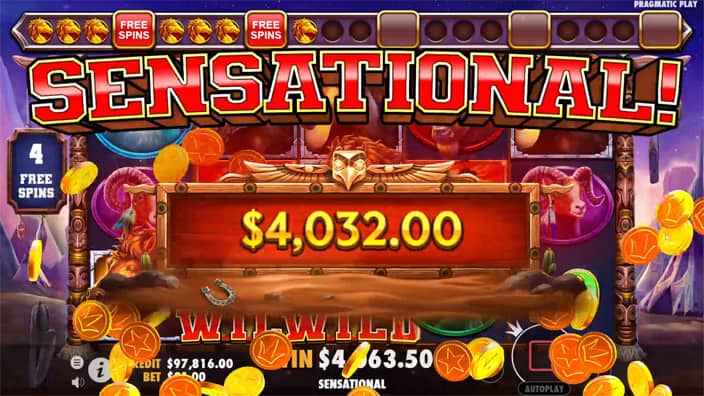 RTP
With a generous Return to Player (RTP) rate of 96.04%, Mustang Trail stands out as an online slot game designed with the player in mind. This impressive RTP significantly enhances your chances of reaping substantial rewards, making every spin potentially profitable.
Volatility
Featuring a high level of volatility, Mustang Trail captures the unpredictability of the wild west. This game caters to thrill-seekers and risk-takers, promising an exhilarating gaming experience with the prospect of significant wins from each spin.
Max Win
Mustang Trail's enticing maximum win of 5,000x the bet provides players with the exciting prospect of significant winnings. For instance, a wager of 1€ could potentially yield a whopping 5,000€ win, amplifying the thrill and anticipation with every spin.
Theme
Mustang Trail's theme is reminiscent of the classic Western movie The Good, The Bad and The Ugly. It immerses players in the wild, untamed landscapes of North America, complete with majestic mustangs and rugged terrains, offering a riveting, cinematic slot gaming experience.
Features of Mustang Trail's Online Slot
Mustang Trail offers an array of features designed to make your gaming experience more thrilling. From Wild symbols to Free Spins, this online slot game has an arsenal of features that can transform any spin into a potential big win.
Wild Symbol
The Wild Symbol in Mustang Trail is a captivating feature that can substitute for any other symbol, increasing the likelihood of hitting a winning combination. It not only maximizes your winning potential but also adds an exciting twist to the gameplay.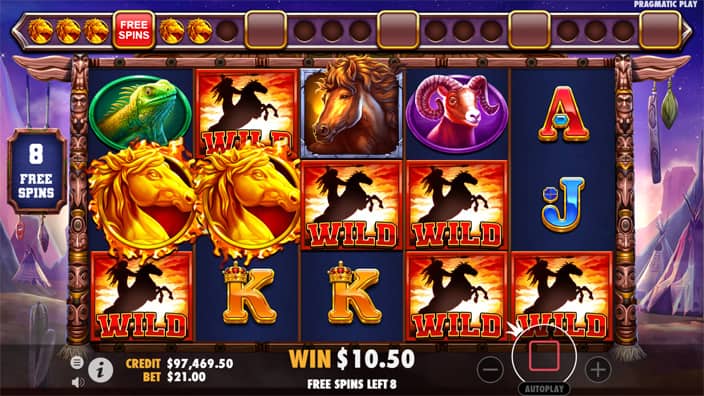 Free Spins
Triggered by landing three or more scatter symbols, the Free Spins feature provides you with extra chances to win without any additional cost. This feature can significantly boost your winnings and adds another layer of excitement to your gaming experience.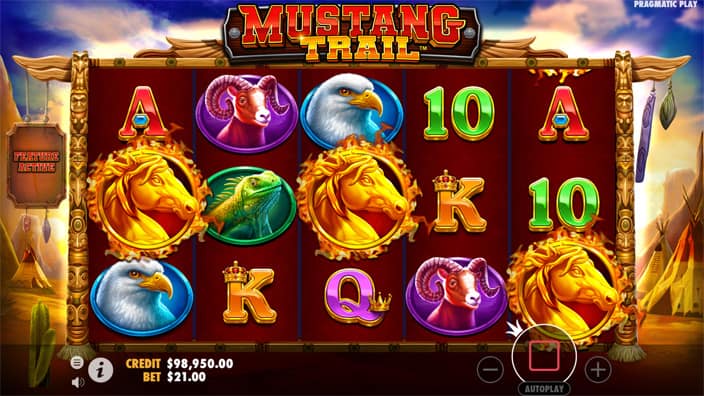 Free Spins Retrigger and Sticky Wild
The Free Spins feature can be retriggered, adding more spins and increasing your chances to win. Moreover, each retrigger adds a Sticky Wild to the reels, which stays in place for the duration of the round, providing more opportunities for lucrative wins.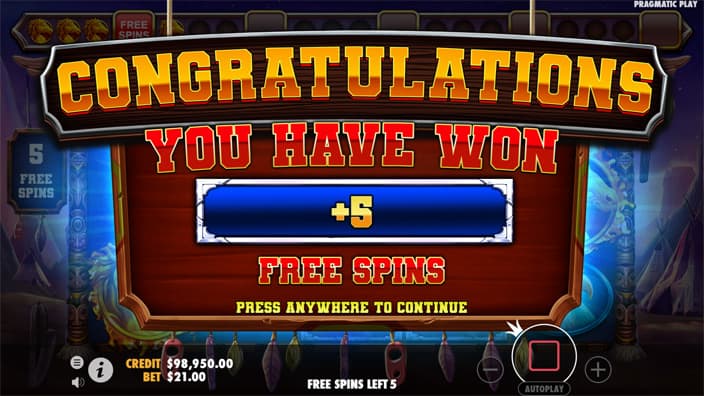 Bonus Buy
For those who prefer instant action, the Bonus Buy feature allows you to directly purchase a Free Spins round. This feature lets you bypass the base game and jump straight into the excitement, with a chance for substantial returns.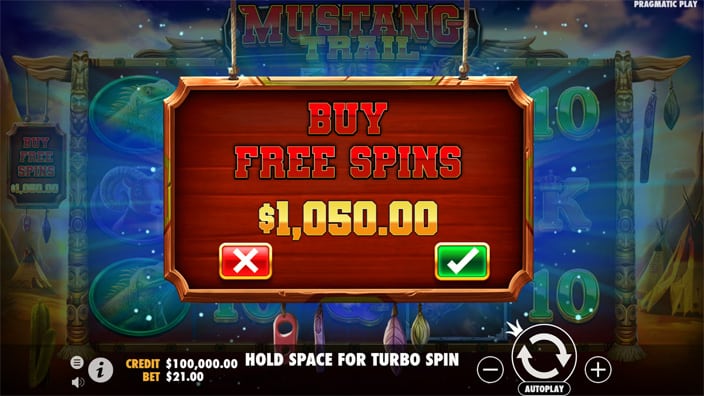 How to Play to Mustang Trail's Online Slot
Playing Mustang Trail is a simple and straightforward process that even novice slot enthusiasts can easily grasp. The game is designed with an intuitive interface where you select your preferred bet size, which ranges from a minimum of 0.20 to a maximum of 1000 per spin. Once you've set your bet, hit the spin button to set the reels in motion, and watch as the symbols cascade down the game's 5×3 layout.
The symbols in Mustang Trail add to the immersive experience of the game. There are low-value symbols represented by traditional card royals (10, J, Q, K, and A), which can pay up to 10 times the bet for a five-of-a-kind winning line. On the other hand, the high-value symbols include animals native to North American wilderness – a lizard, a mountain goat-like creature, an eagle, a buffalo, and a mustang. The high-value symbols offer heftier payouts, ranging from 20 to 150 times the bet for a five symbol hit. A wild symbol, depicted by a horse being ridden, can substitute for all other symbols, further increasing your chances of landing winning combinations. Enjoy the thrill of the wild with each spin in Mustang Trail!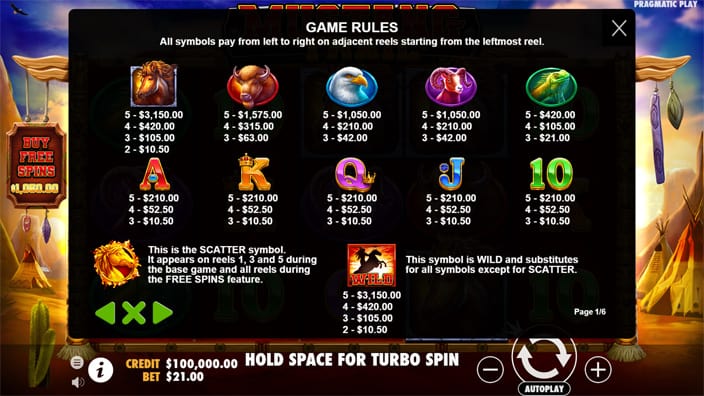 Review of the Online Slot Mustang Trail by Bonus Tiime
Mustang Trail by Pragmatic Play is a thrilling online slot game that immerses players in the captivating ambiance of the North American wilderness. The well-executed theme and high-quality graphics complement the gaming experience, truly embodying the wild spirit of the mustang. Whether it's the symbolic representation of the animals or the serene backdrop of the American countryside, Mustang Trail does an impressive job at theming.
A standout feature of Mustang Trail is the potential max win of 5,000 times the bet. This offers a substantial payout, making each spin an exhilarating prospect. Even with a modest bet, players have the opportunity for a big win, adding an extra layer of excitement to the game. This potential for high returns, coupled with the enticing theme, makes Mustang Trail a slot worth exploring.
Finally, the Bonus Buy feature of Mustang Trail is worth noting. The cost of triggering the bonus round is only 50 times the bet, comparatively lower than the usual 100 times often seen in other slot games. This, along with the sticky wilds that can fill the screen for massive wins, makes the game a roller coaster of thrilling moments. Mustang Trail not only offers exciting gameplay but also provides great value for your stakes.
Advices and Tips to Play Mustang Trail
1. Try Out Demo Mode on Bonus Tiime
Like most online slots, Mustang Trail comes with the option of playing free in demo mode. This opens up the game to potential players who wish to see what it is all about without having to risk any actual money. Demo mode is not just for the curious newbie, though. It gives any player an opportunity to discover the game mechanics and its special features for themselves. In this way, before a single cent is bet, a player can be familiar with Mustang Trail's scatters and wild cards – and how these have an impact on the overall game. This leads us to the next pre-game tip for canny players: take a look at the pay table.
2. Relax and Entertain Yourself
Trying first the free slot demo is the perfect way to unwind, relax, and simply enjoy playing Mustang Trail – without losing money or the stress to catch chasing wins.
3. Always Study the Paytable of the Slot
The pay table is the slot's equivalent of a price list. You will find here a complete list of all the symbols in the game, along with their value. You will also be able to discover the properties of all the wilds and golden wilds. Combined with spending a little time in demo mode, this preparation will allow players to place their first bet with confidence when beginning the proper game.
4. Plan a Betting Budget and Stick to it
Anybody concerned with promoting Responsible Gambling will offer one piece of advice first and foremost: don't bet more than you are prepared to lose. When it comes to play online slots for real money, then this manifests itself through sticking to a pre-agreed budget. If a player reaches their betting ceiling without a big win then it is time to call it a day. Stop playing as soon as you reach the budget limit.
5. Don't Be Dazzled by Huge Jackpots
Some expert gamblers spend their time online chasing those mega-jackpots. While there is nothing wrong with that, it is a fact that slots offering huge progressive jackpots normally have higher odds and less chance of paying out.
Pragmatic Play : Provider of Free Online Slot Machines
Pragmatic Play is a renowned online slot provider that has been delivering top-notch gaming experiences since its establishment in 2015. The company has grown rapidly to become one of the most respected names in the iGaming industry, catering to a global audience with its diverse portfolio of games.
Pragmatic Play's journey began with the release of its first game in 2015 and has since expanded to offer a wide range of online slots, table games, and live casino games. The company's commitment to innovation and player satisfaction has earned it numerous awards and accolades, establishing it as a leading name in the online gaming world.