Madame Destiny Megaways was ranked at the 3rd place by our experts in the Top 10 Megaways Slots in 2023
Venture into the mystical realm of online slots with Pragmatic Play's Madame Destiny Megaways. The enigmatic world of fortune-telling and clairvoyance is beautifully encapsulated in this visually enticing slot game. Designed with intricate details and spellbinding graphics, the slot's moonlit landscape and captivating animations promise to enthrall players, presenting an impeccable blend of theme and design.
Beyond its aesthetic appeal, Madame Destiny Megaways boasts an array of enticing features tailored for avid slot enthusiasts. With the potential of offering up to 200,704 paylines and a high volatility gameplay experience, this slot isn't just about captivating graphics; it's about delivering thrilling gameplay moments too. Read on as we delve into a comprehensive review of this slot, offering insights for those looking to try the demo for free and understand the intricacies of this mesmerizing game.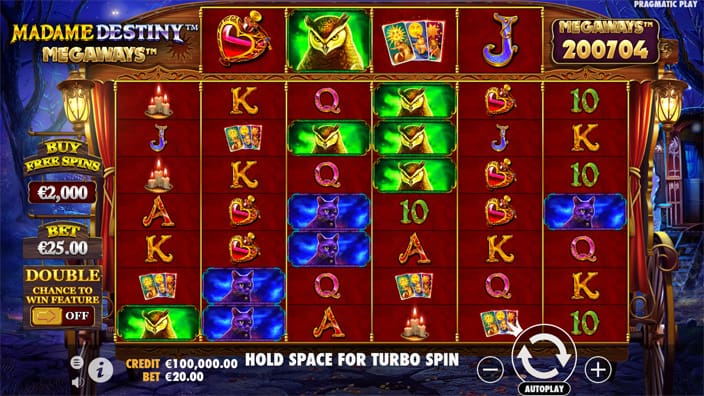 The Top 3 Casinos to Play Madame Destiny Megaways and Win Real Money
Stake Casino
Eager to dive into Madame Destiny Megaways? Stake casino offers instant access to this mystical slot. Experience the thrill and enchantment firsthand on one of the most trusted online platforms.

Cresus Casino
Can't wait to explore the magic of Madame Destiny Megaways? Cresus casino is your gateway. Dive into immersive gameplay on a platform celebrated for its seamless gaming experience.

Horus Casino
If Madame Destiny Megaways has piqued your interest, head over to Horus casino. Revel in the mesmerizing slot journey on a platform renowned for its engaging offerings.

Pragmatic Play Online Slots Provider
Pragmatic Play stands as a premier name in the online gaming industry, consistently delivering top-tier casino content. Renowned for its innovative slots and diverse game portfolio, this provider has carved a niche, ensuring a seamless gaming experience for enthusiasts worldwide. Dive into the realm of quality and creativity with Pragmatic Play.
Specifications of Madame Destiny Megaways Online Slot
Dive into the enthralling world of Madame Destiny Megaways, a slot game boasting 6 reels and an impressive range of 2-8 rows. With its dynamic structure, players have up to 200,704 paylines, opening a vast realm of winning possibilities.
Building upon the legacy of the original Madame Destiny, this Megaways version takes the excitement up a notch. Experience its allure firsthand with a diverse range of stakes, exclusively tailored for all at Stake casino.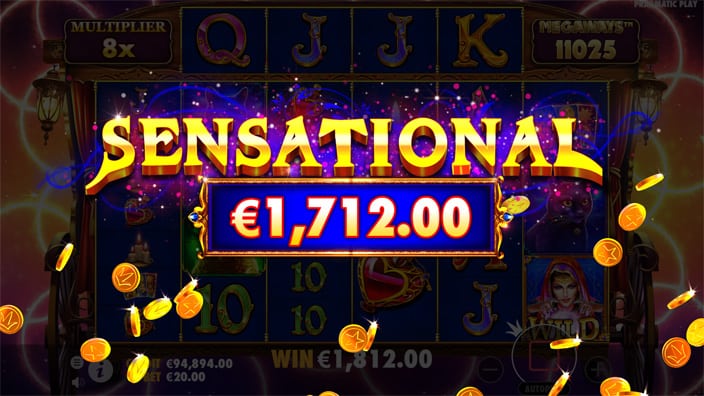 RTP
Boasting an impressive 96.56% RTP, Madame Destiny Megaways ensures that players have a favorable return rate. This advantageous RTP percentage showcases the game's commitment to providing substantial winning potential for its players, making it a promising choice for slot enthusiasts.
Volatility
With a medium volatility setting, Madame Destiny Megaways offers a balanced gameplay experience. This means players can anticipate a mix of smaller, frequent rewards and the potential for bigger wins, delivering a consistent thrill throughout the gaming session.
Max Win
Madame Destiny Megaways offers an exhilarating max win of 5,000x the bet. To illustrate, if a player decides to wager at 1€ per stake, they have the chance to walk away with a staggering 5,000€ from a single spin, amplifying the game's allure.
Theme
Delving into the enigmatic realm of clairvoyance, Madame Destiny Megaways beautifully captures the essence of mystery and fate. The theme is reminiscent of shows like Penny Dreadful, where the unknown intertwines with destiny, making for a captivating slot experience.
Features of Madame Destiny Megaways Online Slot
Madame Destiny Megaways isn't just about bewitching visuals; its features pack a powerful punch too. From enhancing bets to cascading wins and generous multipliers, this slot ensures a riveting gaming experience. Let's dive into these captivating features to unravel their magic.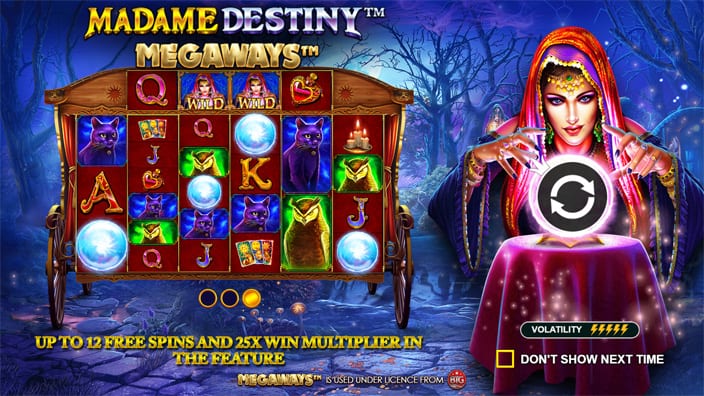 Ante Bet
The Ante Bet feature gives players an enhanced chance at triggering free spins. By increasing the stake slightly, usually by 25%, the game adds more scatter symbols to the reels, amplifying the potential for those sought-after free spins.
Tumble Feature
Every win triggers the Tumble Feature, where winning symbols vanish, making space for new ones to drop down. This can lead to a chain of consecutive wins from a single spin, keeping the momentum and excitement alive.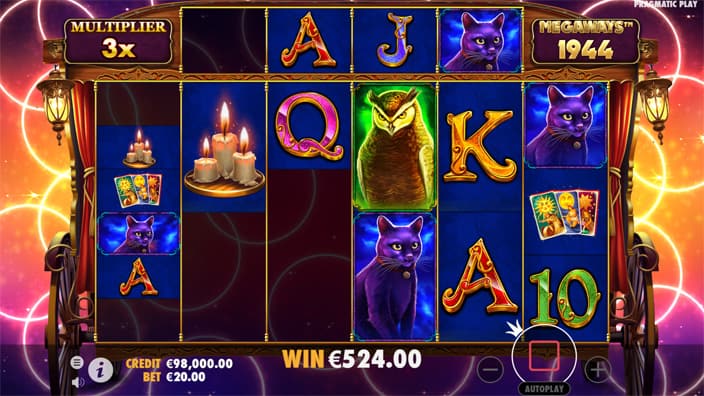 Wild Multiplier
Madame Destiny herself represents the wild symbol, adding a sprinkle of magic to your wins. When this symbol is part of a winning combo, it doubles the payout, offering players a chance at bigger rewards.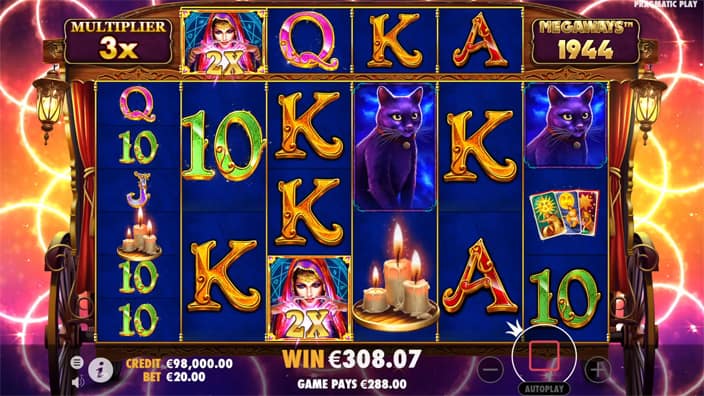 Free Spins
Upon landing enough scatter symbols, the Free Spins feature activates, treating players to a series of spins without reducing their balance. This is where the real magic happens, as it's a window to hefty rewards.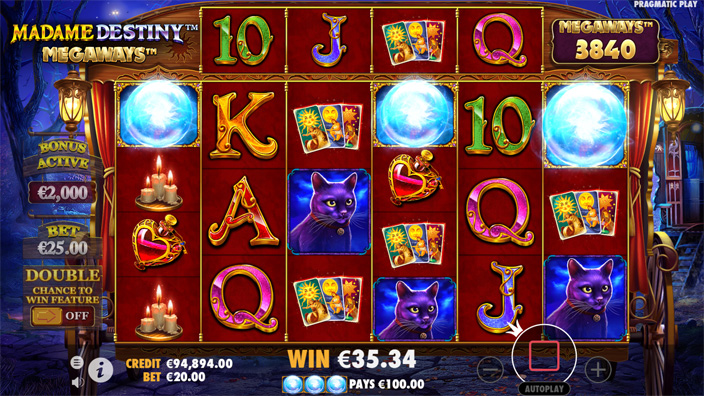 Free Spins Wheel
Before diving into the Free Spins round, players are presented with the Free Spins Wheel. Divided into two segments, one for spins and another for multipliers, the wheel spins to determine the number of free spins and the associated multiplier, adding an element of unpredictability and thrill.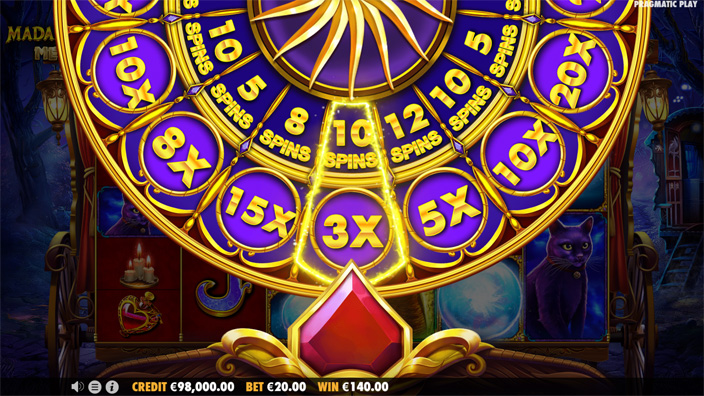 Bonus Buy
For those who can't wait for the magic of free spins, the Bonus Buy option comes to the rescue. At a certain cost, typically 100x the bet, players can immediately activate the Free Spins round, bypassing the traditional route and jumping straight into action.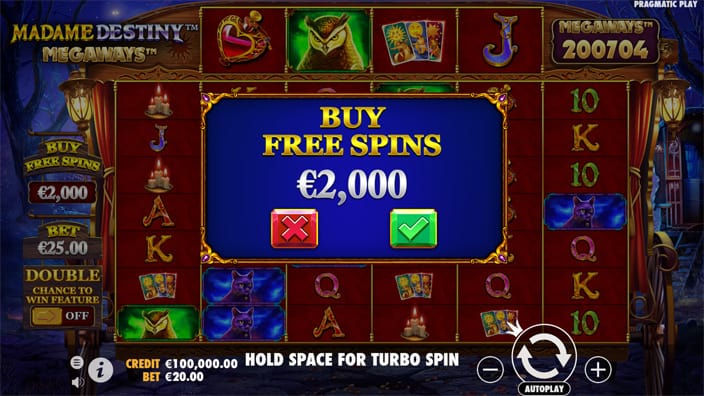 How to Play to Madame Destiny Megaways Online Slot
Madame Destiny Megaways invites players into a world filled with mystique, but navigating this enchanting realm is straightforward. Start by setting your preferred bet value using the game's user-friendly interface, ensuring it aligns with your bankroll strategy. Once your wager is set, simply hit the spin button and watch the reels come alive with symbols of varying values.
The game boasts a rich array of symbols, each resonating with the ethereal theme of the slot. The higher value symbols, like the wise owl, cats, potions, candles, and tarot cards, can yield significant rewards, with potential returns ranging from 1.25x to 20x for aligning six of them. On the other hand, the standard 10-A royals represent lower value symbols. But the real star is Madame Destiny herself, acting as the wild. Whenever she graces a winning combination, the payout is magically doubled, amplifying the overall winning potential.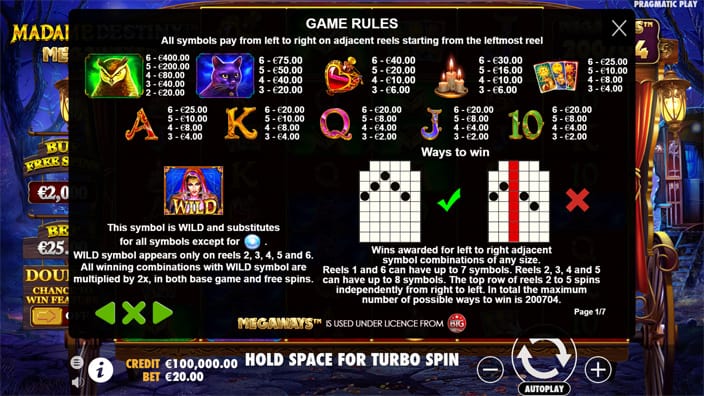 Review of the Online Slot Madame Destiny Megaways by Bonus Tiime
Steeped in the enigmatic allure of the supernatural, Madame Destiny Megaways offers players a captivating journey into the realm of the occult. The game artfully intertwines the world of tarot cards, potions, and mystical symbols, creating an ambiance that's both mesmerizing and slightly eerie. This atmospheric design sets the stage for some thrilling slot action, ensuring players are engaged from the very first spin.
Perhaps the most enticing aspect of this slot is its impressive max win potential. With the ability to reap rewards up to a staggering 5,000x your bet, Madame Destiny Megaways promises not just a visual treat but also the chance at substantial payouts. This blend of thematic beauty and rewarding mechanics makes the game stand out in the crowded world of online slots.
In a twist of fate, Madame Destiny Megaways has now given birth to Madame Mystique Megaways. Exclusively available on Stake casino, this variant offers an even more enhanced RTP, ensuring that players have every reason to indulge in this mystical world time and again.
Advices and Tips to Play Madame Destiny Megaways
Get ready to improve your online slots experience! We offer a range of tutorials and articles for both beginners and seasoned players. These invaluable resources will guide you towards a more strategic and enjoyable gaming session. So, dive in and boost your online slot prowess today!