Delve into the riotous world of Joker Blast Bonanza, a thrilling online slot developed by industry-leader, Pragmatic Play. This enchanting game, released on June 20, 2023, serves up a lively blend of classic slot elements and innovative gameplay features. The slot is characterized by its vivid theme, complemented by an exquisite design, inviting players to immerse themselves in a game full of jesterly mischief and grandeur.
Joker Blast Bonanza stands out in the ever-expanding universe of online slots, with its unique 6×5 reel configuration and scatter pays mechanics. Pragmatic Play has masterfully incorporated dynamic features such as tumbling reels, multiplier collection, and free spins to ramp up the excitement levels. High volatility combined with an impressive RTP of 96.40% ensures that this jester-themed game is not just about laughs but also serious winning potential. Immerse yourself in this captivating slot and uncover the playful side of high-stakes gaming.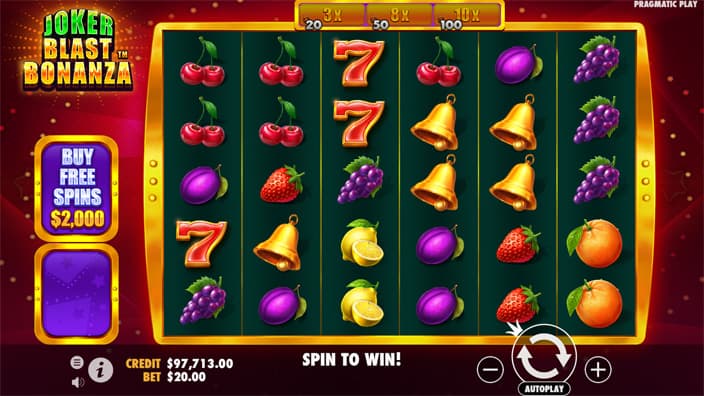 Demo Spotlight of Joker Blast Bonanza by Bonus Tiime
Pragmatic Play Online Slots Provider
Pragmatic Play is a leading content provider in the iGaming industry, acclaimed for developing innovative and engaging online slots. Known for high-quality graphics, captivating themes, and seamless gameplay across all platforms, they are a choice destination for gamers seeking a premier online gaming experience.
Specifications of Joker Blast Bonanza Online Slot
Joker Blast Bonanza breaks away from the traditional with a unique 6×5 reel layout and a distinct scatter pays mechanism. This approach opens up a new dimension in online slots, eliminating the conventional paylines and introducing a fresh style of gameplay with countless ways to win.
Fans of Pragmatic Play's Sword of Ares will find Joker Blast Bonanza strikingly familiar as the two games share identical mechanics. The stakes, ranging from 0.20 to 1000, cater to a broad spectrum of players, promising exhilarating gameplay on the Stake platform, regardless of your budget.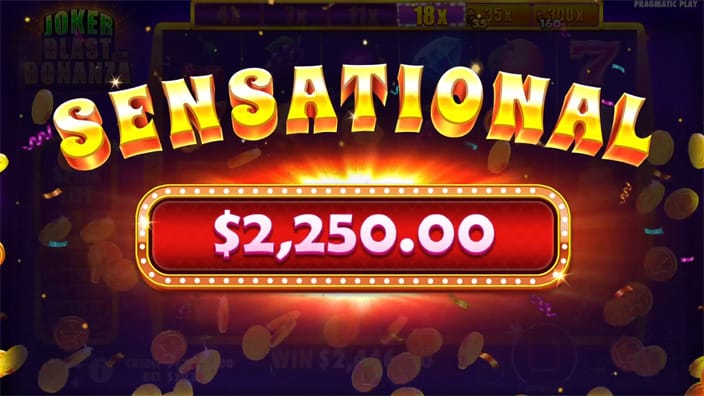 RTP
Joker Blast Bonanza boasts an attractive RTP (return to player) of 96.40%, which is significantly higher than the industry average. This high RTP denotes a potential return of 96.40 for every 100 wagered, making it a lucrative choice for discerning slot enthusiasts.
Volatility
The medium-high volatility of Joker Blast Bonanza guarantees an enticing blend of risk and reward. While wins may not be frequent, when they do occur, they often make a significant impact on your bankroll, heightening the thrill and suspense of each spin.
Max Win
With a staggering max win of 10,000x the bet, Joker Blast Bonanza truly is a game of high stakes and high rewards. For instance, if a player bets €1 per spin, they could potentially walk away with a whopping €10,000, a testament to the game's generous payout potential.
Theme
In terms of theme, Joker Blast Bonanza paints a vibrant, whimsical world akin to the playful atmosphere found in the film Joker. The slot's colorful aesthetic and jester motif reflect the capricious, unpredictable charm of the renowned cinematic character.
Features of Joker Blast Bonanza's Online Slot
Step into the enthralling universe of Joker Blast Bonanza and explore its array of innovative features. From Tumbling Reels to Bonus Buy, each feature adds an extra layer of excitement, turning every spin into a riveting experience.
Tumble
In this feature, winning symbols disappear, and new ones tumble from above, creating opportunities for consecutive wins within a single spin.
Bomb Symbol
The Bomb symbol can appear anywhere on the reels, exploding in a specific pattern and removing symbols, which contribute to the multiplier meter.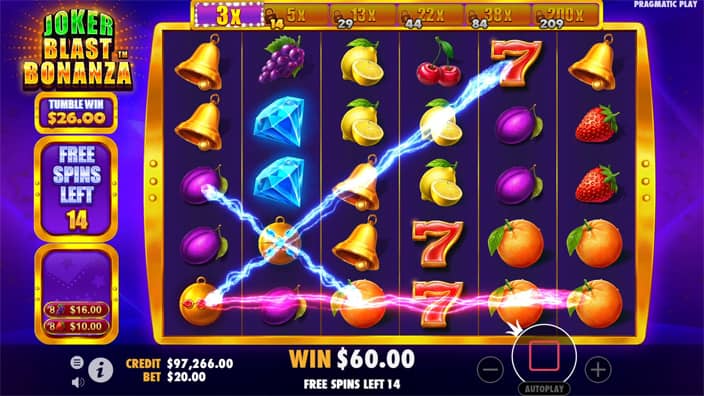 Multiplier Collection
This feature tracks the number of symbols collected via tumbles. Once certain milestones are hit, lucrative multipliers are unlocked, boosting potential winnings.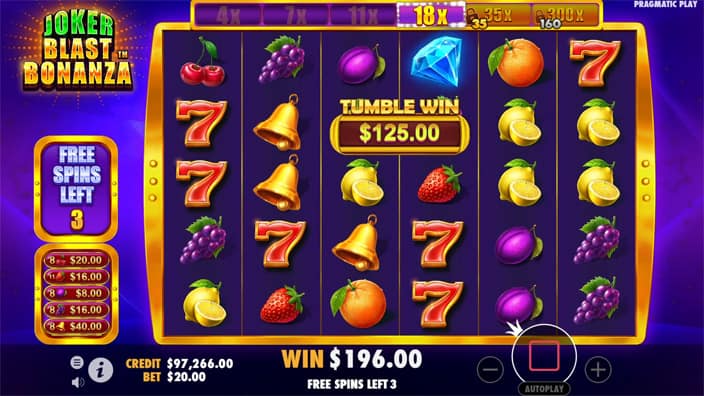 Free Spins
Triggered by four or more scatters, this feature awards players 15 free spins and activates an expanded multiplier meter, enhancing the potential for big wins.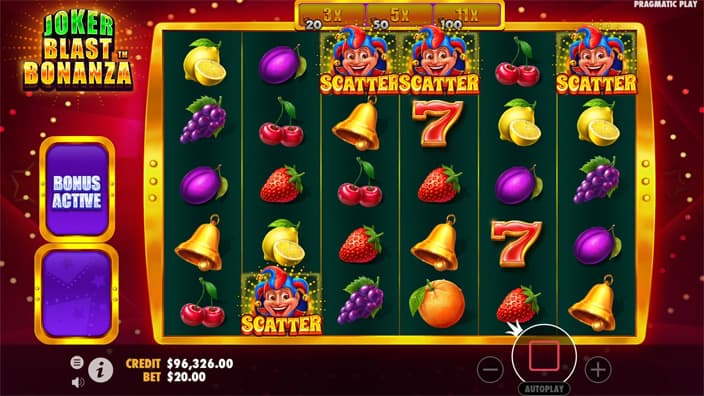 Bonus Buy
This feature allows players to bypass regular gameplay and directly trigger the Free Spins round for 100x their total bet, escalating the gaming excitement instantly.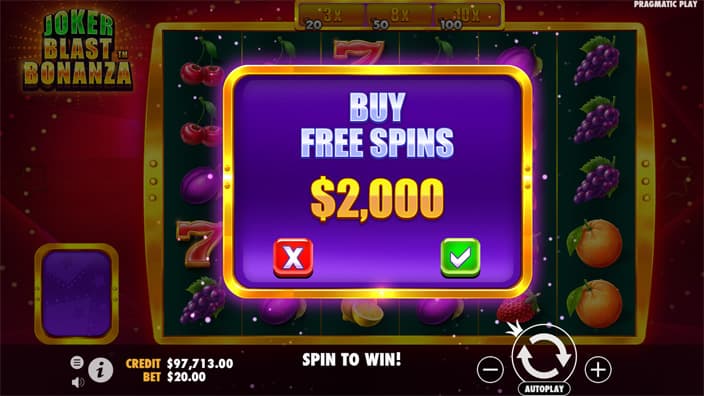 How to Play to Joker Blast Bonanza's Online Slot
Playing Joker Blast Bonanza by Pragmatic Play is a breeze even for novice slot enthusiasts. Start by setting your bet size, which can range from 0.20 to 1000. Once you've adjusted your wager to suit your gaming style and budget, hit the spin button and watch the reels tumble into action. The aim is to land a minimum of eight identical symbols anywhere on the grid, which then triggers a payout.
The paytable consists of classic slot symbols ranging from low-value fruits like lemons, plums, strawberries, grapes, cherries, and oranges, to high-value symbols like bells, 7s, and diamonds. An 8-9 of-a-kind scatter win pays between 0.25 and 4 times your stake, while landing between 12 and 30 of the same symbols awards between 1 to 20 times the stake. By understanding the value of each symbol and the game's unique mechanics, you can truly harness the winning potential of Joker Blast Bonanza.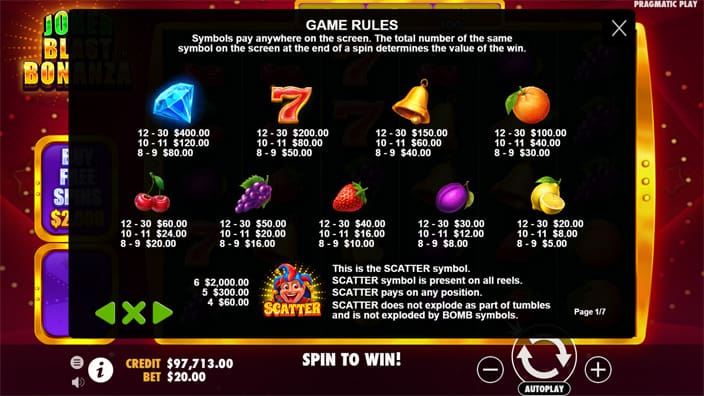 How to Win Real Money with Joker Blast Bonanza Online Slot
If Joker Blast Bonanza's vibrant gameplay and enticing features have piqued your interest, why wait? Experience the thrill of this engaging slot right now at Stake Casino. It's a platform that promises seamless gameplay and fantastic rewards, perfect for your gaming adventures.

Review of the Online Slot Joker Blast Bonanza by Bonus Tiime
Joker Blast Bonanza by Pragmatic Play is a refreshing take on the popular joker theme. While its whimsical design may seem familiar, the game stands out with its innovative features and massive winning potential. The playful ambiance coupled with top-notch graphics ensures an immersive gaming experience, engaging players from the very first spin.
With a generous max win of 10,000x the bet, Joker Blast Bonanza is not just a game of luck, but one of high stakes and high rewards. The excitement builds up with every spin as players keep their eyes on the big prize, making the gaming experience thrilling and suspenseful.
Though the mechanics of Joker Blast Bonanza is similar to other slots like Sword of Ares and Wisdom of Athena, the distinctive joker theme adds a new level of charm. The jester motif is a perennial favorite among gamblers, and its integration into this game only enhances its appeal. In a nutshell, Joker Blast Bonanza offers a unique blend of entertainment and opportunities for big wins.
Advices and Tips to Play Joker Blast Bonanza
1. Try Out Demo Mode on Bonus Tiime
Like most online slots, Joker Blast Bonanza comes with the option of playing free in demo mode. This opens up the game to potential players who wish to see what it is all about without having to risk any actual money. Demo mode is not just for the curious newbie, though. It gives any player an opportunity to discover the game mechanics and its special features for themselves. In this way, before a single cent is bet, a player can be familiar with Joker Blast Bonanza's scatters and wild cards – and how these have an impact on the overall game. This leads us to the next pre-game tip for canny players: take a look at the pay table.
2. Relax and Entertain Yourself
Trying first the free slot demo is the perfect way to unwind, relax, and simply enjoy playing Joker Blast Bonanza – without losing money or the stress to catch chasing wins.
3. Always Study the Paytable of the Slot
The pay table is the slot's equivalent of a price list. You will find here a complete list of all the symbols in the game, along with their value. You will also be able to discover the properties of all the wilds and golden wilds. Combined with spending a little time in demo mode, this preparation will allow players to place their first bet with confidence when beginning the proper game.
4. Plan a Betting Budget and Stick to it
Anybody concerned with promoting Responsible Gambling will offer one piece of advice first and foremost: don't bet more than you are prepared to lose. When it comes to play online slots for real money, then this manifests itself through sticking to a pre-agreed budget. If a player reaches their betting ceiling without a big win then it is time to call it a day. Stop playing as soon as you reach the budget limit.
5. Don't Be Dazzled by Huge Jackpots
Some expert gamblers spend their time online chasing those mega-jackpots. While there is nothing wrong with that, it is a fact that slots offering huge progressive jackpots normally have higher odds and less chance of paying out.