Immerse yourself in the unique and charming world of The Dog Mansion Megaways, a revamped, high-powered sequel to the beloved classic The Dog House Megaways from the renowned game developer Pragmatic Play. This exclusive, free online slot available only at Stake casino, takes the canine-themed gaming experience to a whole new level, featuring custom dog symbols and an impressive RTP of 98%.
This whimsically designed, pet-themed slot game carries forward the captivating charm of its predecessor, with an amplified gameplay experience. Boasting a 6-reel Megaways setup that presents thousands of win ways, this game keeps players on the edge of their seat with every spin. Look out for the unique dog symbols, free spins, and wild multipliers that make this version even more exciting and rewarding. Step into this enchanting canine universe, only at Stake casino, where every player has the chance to win big in "The Dog Mansion Megaways". The Dog Mansion Megaways was ranked at the 2nd place by our experts in the Top 10 Megaways Slots in 2023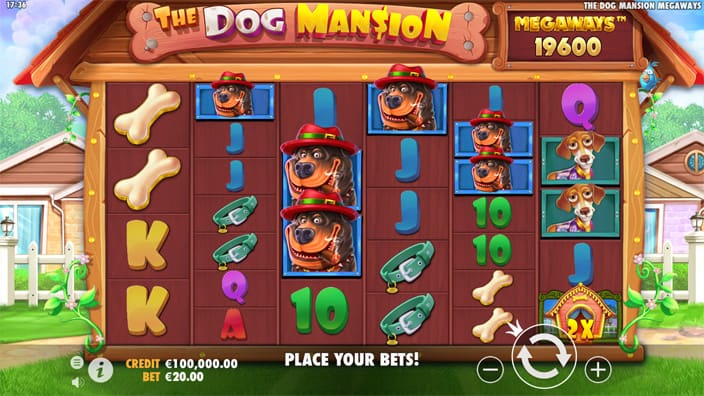 Pragmatic Play Online Slots Provider
Pragmatic Play is a globally recognized online casino game developer known for producing top-tier gaming solutions. With an unwavering commitment to innovation, they've set industry standards with their extensive portfolio of slots, live casino games, and more. Their recent partnership with Stake casino introduces an enhanced RTP for exclusive slot releases, further elevating player experience and strengthening their foothold in the iGaming industry.
Specifications of The Dog Mansion Megaways Online Slot
The Dog Mansion Megaways offers players a thrilling gaming experience with its expansive 6-reel layout. With paylines varying from 64 to a staggering 117,649, the number of ways to win is amplified, enhancing your chances of scoring high on each spin.
Building on the success of its predecessors, The Dog House and The Dog House Megaways, The Dog Mansion Megaways proudly carries the legacy forward. With an exclusive partnership with Stake casino, the stakes have never been higher. Whether you're a novice or a high roller, this game presents endless possibilities for you to multiply your winnings.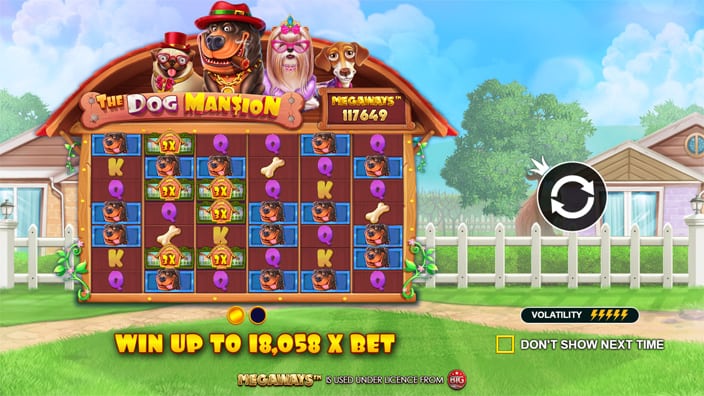 RTP
With an enhanced RTP (return to player) of 98%, The Dog Mansion Megaways pushes the boundaries of online gaming, offering players a significantly higher chance to reap great rewards. This exceptional RTP value stands as a testament to Stake casino's commitment to providing high-value gaming experiences.
Volatility
The Dog Mansion Megaways slots game features high volatility, making it an exhilarating choice for thrill-seekers. With substantial fluctuations in game play, it creates a suspenseful atmosphere, making the potential rewards all the more gratifying.
Max Win
A whopping maximum win of 18,058x the bet amplifies the allure of The Dog Mansion Megaways. For instance, with a stake of just €1, players could potentially walk away with an impressive €18,058 in winnings, underlining the game's incredible reward potential.
Theme
The game's theme plays off the charm of its predecessor, The Dog House Megaways, while introducing custom dog symbols that add a unique twist. This game transports players into an enchanting dog mansion, where every spin uncovers an exciting, animated canine adventure.
Features of The Dog Mansion Megaways' Online Slot
Embark on a rewarding journey with The Dog Mansion Megaways and its array of exhilarating features designed to enhance your gaming experience. From free spins to multipliers, this game has it all.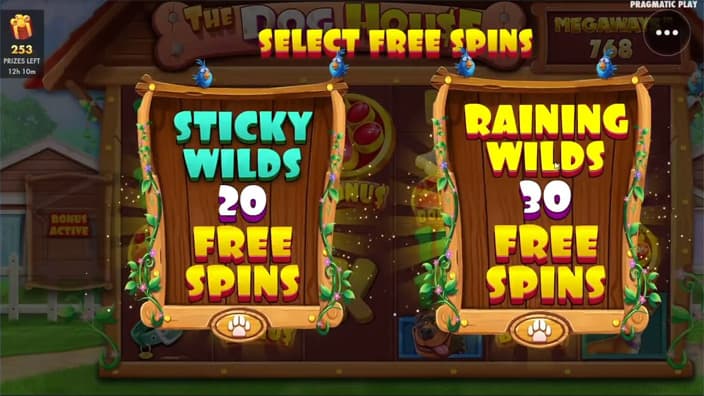 Megaways Setup
With 2-7 symbols appearing on each of its 6 reels, the game offers 64 to 117,649 ways to win.
Wild Multipliers
The Dog House symbol acts as a wild, substituting for other symbols. Each wild may come with a x2 or x3 multiplier, adding to potential winnings.
Sticky Wilds Free Spins
This feature allows up to 20 free spins. Each spin may land 2-7 sticky wilds on the reels, each carrying multipliers from x1 to x3, staying until the round ends.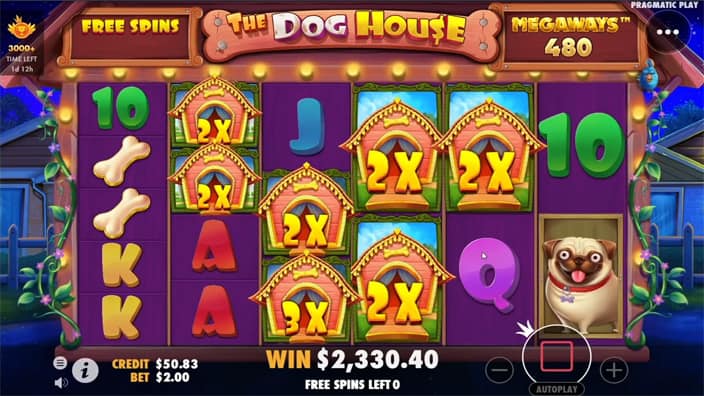 Raining Wilds Free Spins
Trigger this for up to 30 free spins. During this round, up to 6 wild symbols carrying a multiplier from 1x to 3x can randomly appear on the screen.
Bonus Buy
This feature lets players buy into the bonus game. For the cost of 100 times their stake, they can trigger a random number of 3 to 6 scatters on the next spin.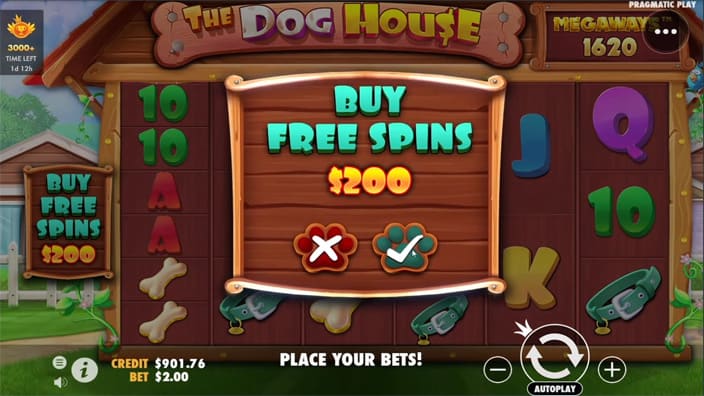 How to Play to The Dog Mansion Megaways' Online Slot
Stepping into the world of The Dog Mansion Megaways, the gameplay begins with selecting your bet value per spin, which can range from the smallest denomination up to the limit set by Stake casino. The game features a 6-reel Megaways set-up where each spin can display 2 to 7 symbols per reel, opening up a potential 64 to 117,649 win ways. The number of active win ways for each spin is conveniently displayed above the reels, giving you real-time updates.
The value of symbols in this engaging slot game varies, from the lower-value 10 to A card symbols to the higher-value custom dog symbols. Look out for special symbols such as the Dog House wild and the dog paw scatter, which can trigger additional features like free spins and multipliers, significantly boosting your winning potential. Remember, the wilds can only appear on reels 2, 3, 4, or 5 and substitute for any symbol except the scatter, opening up even more winning combinations. Playing The Dog Mansion Megaways is not just about spinning the reels, it's about strategically seeking these special symbols to maximise your earnings.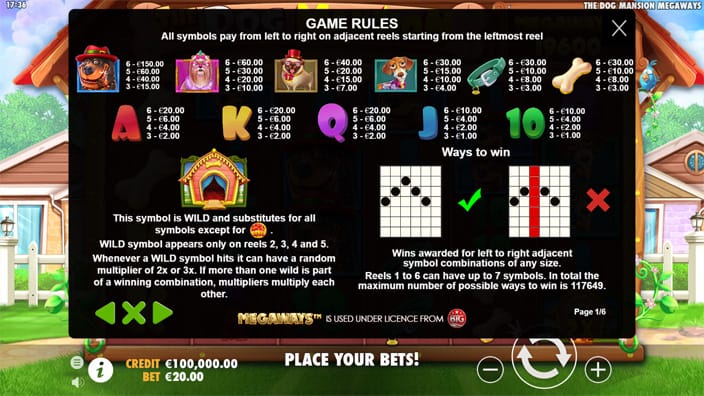 How to Win Real Money with The Dog Mansion Megaways Online Slot
Can't wait to try out The Dog Mansion Megaways? Experience the exhilarating gameplay firsthand at Stake casino. Dive right in and get ready to unlock an exciting world of high stakes and big wins on this exclusive online slot game. Stake is waiting to welcome you!

Review of the Online Slot The Dog Mansion Megaways by Bonus Tiime
In the exciting realm of online slot games, The Dog Mansion Megaways stands out with its delightful canine-themed design, inspired by its popular predecessors, The Dog House and The Dog House Megaways. This fresh rendition by Pragmatic Play, however, offers a unique twist, replacing the original symbols with custom-designed dogs, creating a more immersive and endearing gaming experience. The charm of the game is amplified by the potential to win up to 18,058x your bet, a factor that elevates the thrill of each spin.
Partnering with Stake casino, Pragmatic Play has introduced an impressive 98% RTP on The Dog Mansion Megaways, considerably higher than most slot games. This move marks a strong statement by Stake casino, demonstrating their commitment to redefining popular Pragmatic Play slots with improved payouts. The Dog Mansion Megaways, with its compelling theme and enhanced RTP, truly represents the future of online slot gaming. Experience this dynamic slot game on Stake casino, where big wins await!
Advices and Tips to Play The Dog Mansion Megaways
1. Try Out Demo Mode on Bonus Tiime
Like most online slots, The Dog Mansion Megaways comes with the option of playing free in demo mode. This opens up the game to potential players who wish to see what it is all about without having to risk any actual money. Demo mode is not just for the curious newbie, though. It gives any player an opportunity to discover the game mechanics and its special features for themselves. In this way, before a single cent is bet, a player can be familiar with The Dog Mansion Megaways' scatters and wild cards – and how these have an impact on the overall game. This leads us to the next pre-game tip for canny players: take a look at the pay table.
2. Relax and Entertain Yourself
Trying first the free slot demo is the perfect way to unwind, relax, and simply enjoy playing The Dog Mansion Megaways – without losing money or the stress to catch chasing wins.
3. Always Study the Paytable of the Slot
The pay table is the slot's equivalent of a price list. You will find here a complete list of all the symbols in the game, along with their value. You will also be able to discover the properties of all the wilds and golden wilds. Combined with spending a little time in demo mode, this preparation will allow players to place their first bet with confidence when beginning the proper game.
4. Plan a Betting Budget and Stick to it
Anybody concerned with promoting Responsible Gambling will offer one piece of advice first and foremost: don't bet more than you are prepared to lose. When it comes to play online slots for real money, then this manifests itself through sticking to a pre-agreed budget. If a player reaches their betting ceiling without a big win then it is time to call it a day. Stop playing as soon as you reach the budget limit.
5. Don't Be Dazzled by Huge Jackpots
Some expert gamblers spend their time online chasing those mega-jackpots. While there is nothing wrong with that, it is a fact that slots offering huge progressive jackpots normally have higher odds and less chance of paying out.