Indulge in a visually scrumptious experience with Candy Blitz, the latest online slot sensation by industry-leading developer, Pragmatic Play. Crafted with vibrant hues and tempting candy-themed designs, this slot isn't just a treat for the eyes but a potential jackpot for seasoned and novice players alike. As the reels spin, the pastel world of sweet delights and rewarding surprises keeps players engaged, ensuring a gaming experience that is both delightful and electrifying.
Diving deeper into its attributes, Candy Blitz is not just about its aesthetically pleasing graphics. The game boasts an array of features, from its unique multiplier reel to a plethora of free spins. Merging classic slot gameplay with innovative elements, this high-volatility slot promises not just entertainment but also a chance at sweet victories. With its scatter pays system and impressive RTP rates, Candy Blitz is setting the stage to become an iconic addition to Pragmatic Play's ever-expanding portfolio.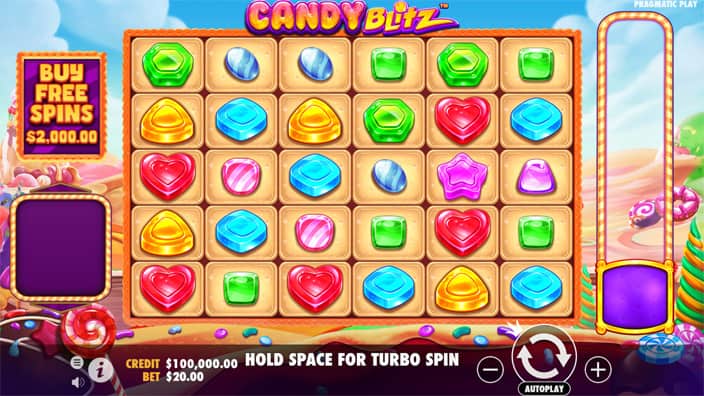 Demo Spotlight of Candy Blitz by Bonus Tiime
Top Casinos to Play Candy Blitz and Win Real Money



Pragmatic Play Online Slots Provider
Pioneering the iGaming landscape, Pragmatic Play stands tall as a premium software provider. Synonymous with cutting-edge graphics, immersive gameplay, and innovative slot mechanics, this industry titan consistently delivers top-tier casino experiences. Dive into Pragmatic Play's world and witness a blend of creativity and technology at its finest.
Specifications of Candy Blitz Online Slot
Dive deep into the specifications of the Candy Blitz online slot, a game that boasts an expansive 6-reel, 5-row grid. With its unique scatter pays system, it eliminates traditional paylines, offering players an array of ways to secure sweet victories.
Drawing comparisons to the popular Sweet PowerNudge, Candy Blitz crafts its own identity while nodding to slot favorites. And for those looking to up the ante, Stake casino provides the perfect platform, catering to both cautious betters and high-rollers.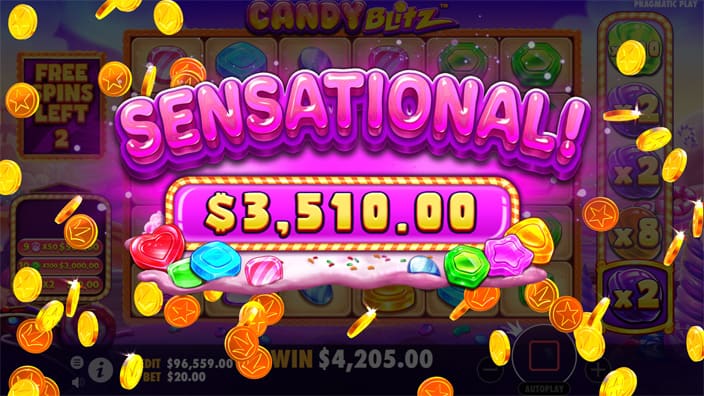 RTP
Sporting a generous 96.08% RTP, Candy Blitz stands out in the crowd of online slots. Such a favorable return to player rate accentuates the game's appeal, enhancing chances for consistent payouts and assuring players of its rewarding nature.
Volatility
Embrace the thrill with Candy Blitz's high volatility. Perfect for those with a penchant for risks and unpredictability, this attribute promises significant swings, making each spin an adrenaline-pumping adventure.
Max Win
Imagine the euphoria of striking it big with Candy Blitz's max win potential of 10,000x the bet! To put it into perspective, a mere 1€ stake could transform into a staggering €10,000 in a single spin. A game-changer, indeed.
Theme
Candy Blitz's theme takes you on a saccharine journey reminiscent of the vibrant world of Willy Wonka & the Chocolate Factory. Dive into a kaleidoscope of colors, candies, and rewards, providing players with a visual treat parallel to the enchanting storylines of classic candy-centric movies/series.
Features of Candy Blitz's Online Slot
Unveil the captivating array of features in the Candy Blitz online slot, where innovative gameplay mechanics seamlessly merge with enticing rewards. Each function is meticulously crafted, ensuring players are engrossed from the first spin.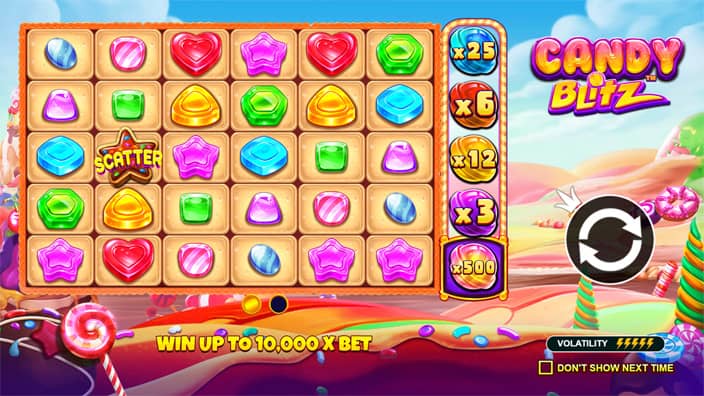 Tumble Feature
Once a win is scored on the Candy Blitz grid, the winning symbols vanish, making way for new symbols to tumble down from above. This continuous tumbling process persists until no new wins materialize, offering players additional chances for successive wins on a single spin.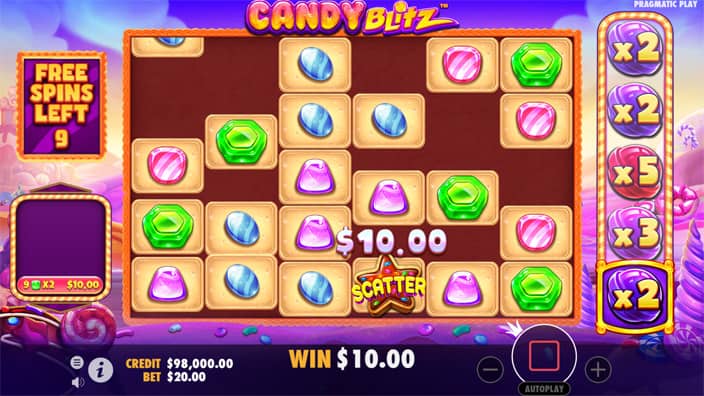 Multiplier Reel
Adjacent to the main game reels, Candy Blitz showcases a special multiplier reel. Each spin drops 5 random multipliers onto this reel, with potential values ranging from x1 to a whopping x500. Every win is then multiplied by the bottom-most multiplier, which shifts down with each tumble.
Free Spins
A hallmark of many iconic slots, the free spins feature in Candy Blitz is activated when 4, 5, or 6 scatter symbols land in the base game. Players are then awarded 10, 12, or 14 free spins respectively. Within this mode, the potential for rewards is significantly amplified, especially with a minimum multiplier value of x2.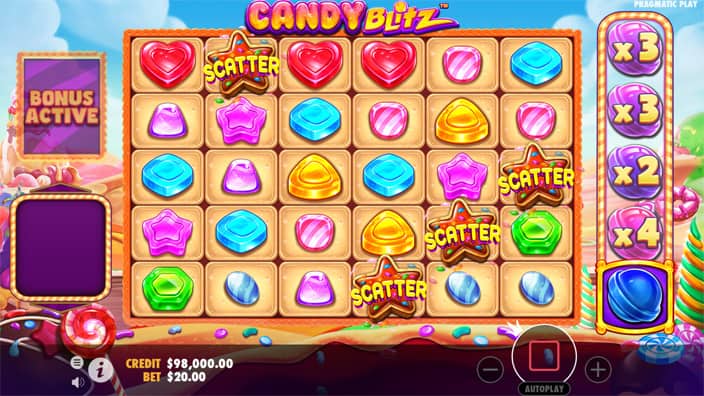 Bonus Buy
For those eager to jump straight into the action, Candy Blitz offers the Bonus Buy feature. By investing 100 times their bet, players can instantly access the free spins round, guaranteeing a trigger of 4, 5, or 6 scatters to kickstart the feature.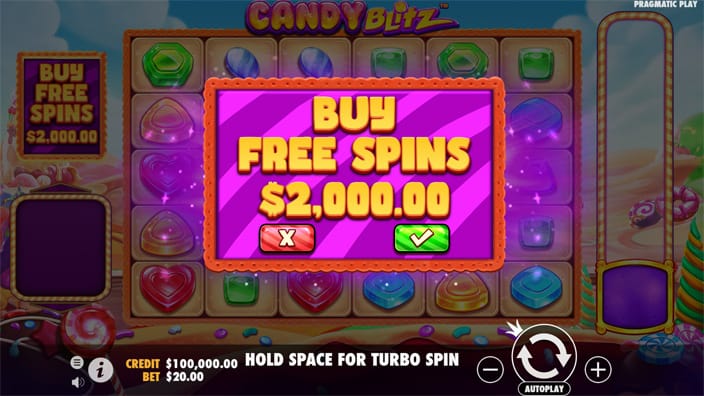 How to Play to Candy Blitz's Online Slot
Navigating the vibrant landscape of the Candy Blitz slot is a delightful experience, even for those new to the online slot arena. The game is structured around a 6-reel, 5-row grid, where the objective is to land matching symbols. Unlike conventional slots, Candy Blitz adopts a scatter pays mechanism, which means players can score wins without adhering to specific paylines. All that's required is for 8 or more identical symbols to appear anywhere on the grid to form a winning scatter.
In terms of symbol value, it's the array of vivid candies that steal the show. Each candy carries its own unique value, and the payouts vary based on the type and number of matching symbols. For instance, a scatter win with 8 matching candies could offer payouts ranging from 0.25 to 1.5 times the bet. However, for those fortunate enough to land 12 or more matching symbols, the rewards escalate, with potential payouts soaring from 0.75 to a whopping 50 times the stake.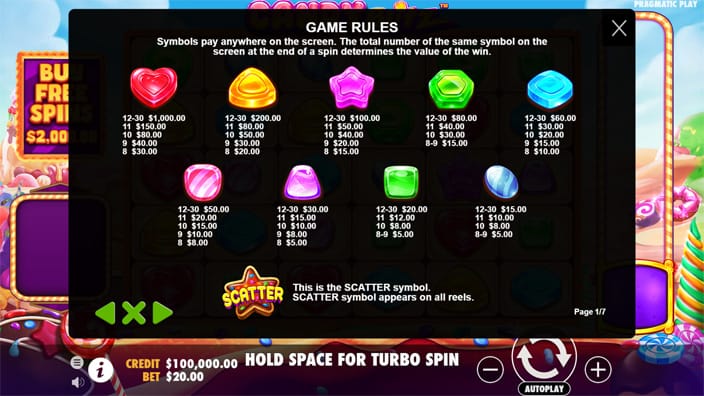 Review of the Online Slot Candy Blitz by Bonus Tiime
Stepping into the vibrant realm of Candy Blitz, players are instantly transported to a world brimming with candy delights. The game's theme, awash with bright colors and toothsome treats, encapsulates the essence of a confectioner's dream, making every spin a visual treat. While it might not break new ground in design, its saccharine universe beautifully complements the brand's earlier successes: Sweet Bonanza and Sugar Rush.
It's worth noting that Pragmatic Play isn't the only developer captivated by the candy universe; 3 Oaks Gaming has also ventured into this sweet domain with their Candy Boom slot, drawing comparisons among fans.
One of the standout features of Candy Blitz is its awe-inspiring max win potential of 10,000x the bet. Such a substantial reward system makes every spin a potential jackpot moment, adding layers of anticipation and excitement to the gameplay.
Pragmatic Play's reputation for creating thematic coherence across their slot games is evident in Candy Blitz. It smartly builds on the sweet success of its candy-themed predecessors, yet stands distinct, offering a refreshing spin on a beloved genre. A must-try for both seasoned slot enthusiasts and newcomers alike.
Advices and Tips to Play Candy Blitz
Get ready to improve your online slots experience! We offer a range of tutorials and articles for both beginners and seasoned players. These invaluable resources will guide you towards a more strategic and enjoyable gaming session. So, dive in and boost your online slot prowess today!