Get ready to dive into a thrilling angling adventure with Pragmatic Play's latest online slot game, Big Bass Splash, part of the iconic Big Bass Series. This highly-anticipated release adds a fresh twist to the world of fishing-themed slots, combining high-quality visuals with an immersive gameplay experience. Players can look forward to casting their nets amidst a beautifully designed underwater reel setup that offers a distinctive combination of exciting features and high volatility. The game takes you closer to the shore, capturing the anticipation of reeling in the big catch, all encapsulated within its 5-reel, 3-row layout, and 10 paylines.
Big Bass Splash is much more than just a visually pleasing slot. It delivers an engaging gaming journey enriched with a Scatter Assist feature, rewarding bonus rounds, and a maximum win potential of up to 5,000x your stake. Further enhancing the game's appeal is the enticing RTP rate, fluctuating between 94.60% and 96.71%, that keeps the potential for big rewards ever present. Whether you're a casual player or a high-roller, the betting range from 0.10c to €1000 allows for an inclusive gaming experience.
Demo Spotlight of Big Bass Splash by Bonus Tiime
Pragmatic Play Online Slots Provider
Pragmatic Play is a leading name in the world of iGaming, revered for creating innovative and captivating online casino games. With a firm commitment to delivering high-quality entertainment, Pragmatic Play's portfolio boasts an impressive array of slots, each designed to immerse players in unique themes, stunning visuals, and robust game mechanics. The company's unwavering dedication to creativity and technological advancement has solidified their position as a trusted provider in the online gaming industry.
Specifications of Big Bass Splash Online Slot
Big Bass Splash online slot is an impressive addition to the realm of online gaming, boasting a dynamic structure of 5 reels, 3 rows, and 10 paylines. The slot's intricate design and captivating gameplay mechanics offer an immersive gaming experience, further enhanced by the high volatility that presents countless opportunities to reel in substantial wins.
Big Bass Splash is a proud successor in Pragmatic Play's critically acclaimed Big Bass Bonanza series, which includes hits like Big Bass Amazon Xtreme and Big Bass Hold & Spinner. Each title in this series offers unique spins on the fishing theme, providing diverse gameplay options for players. When it comes to placing bets, the stakes range from a minimum of 0.10 to a maximum of 1000 on Stake casino.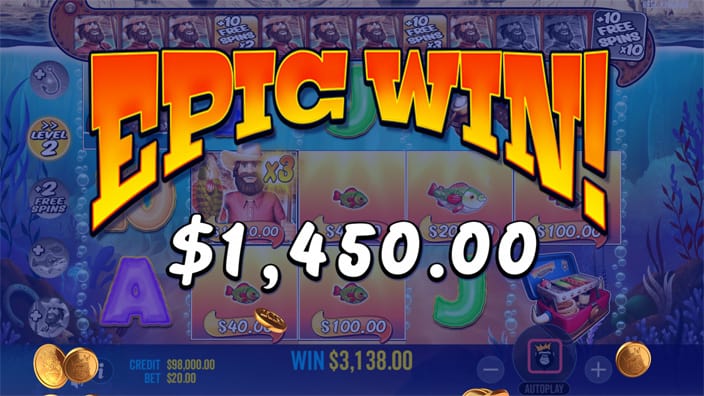 RTP
The Big Bass Splash slot offers an impressive RTP (return to player) rate of 96.71%, which is above the industry average, suggesting favorable odds for players. This high RTP is indicative of the slot's generosity, making it an attractive choice for those seeking a rewarding gaming experience.
Volatility
With a medium volatility rating, Big Bass Splash strikes a fine balance between risk and reward. It's an excellent pick for those who enjoy the thrill of unpredictability, yet also appreciate frequent, smaller wins. This balanced approach enhances the game's appeal to a broad spectrum of players.
Max Win
The enticing max win of Big Bass Splash is set at a hefty 5,000x the bet. This means, if you're playing at €1 per spin, you could potentially reel in a massive €5,000 reward. This significant potential payout is a testament to the game's thrilling nature, adding to the overall excitement.
Theme
The theme of Big Bass Splash transports you to an angling adventure similar to the TV series River Monsters. As you spin the reels, you'll experience the excitement of deep-sea fishing, complete with the tension of landing a big catch, all from the comfort of your screen.
Features of Big Bass Splash's Online Slot
Embrace the thrill of the chase in Big Bass Splash online slot, a game teeming with exciting features. From the enticing Scatter Assist to the rewarding Free Spins, every spin offers a chance to score big wins. Dive into this underwater adventure to experience these unique features and more.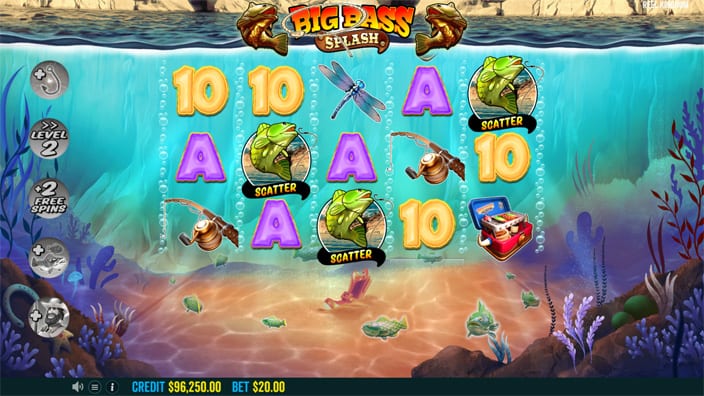 Money Symbol
This feature enriches the reels with high-value symbols, boosting the chances of landing a rewarding combination and enhancing the overall winning potential.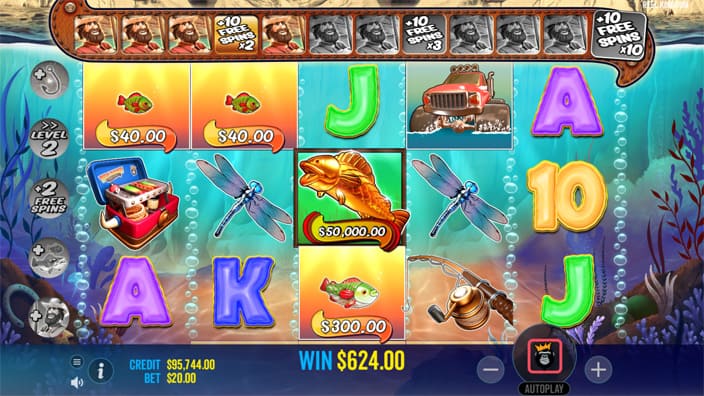 Free Spins
Triggered by scatter symbols, this feature awards you with complimentary spins, adding extra layers of excitement and offering more opportunities to score wins.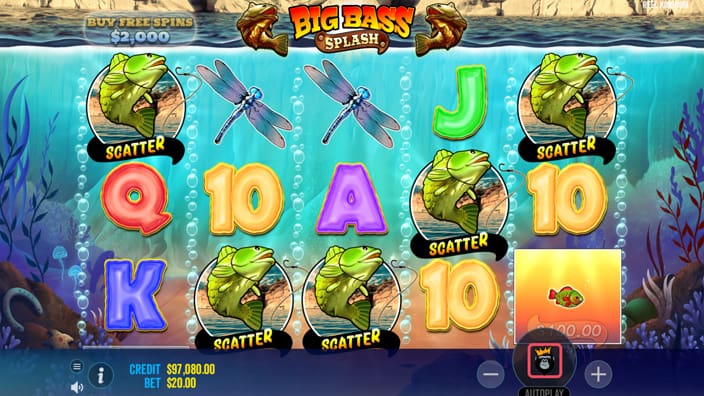 More Fish
The More Fish feature randomly introduces additional fish symbols onto the reels, increasing the odds of forming lucrative combinations.
More Fisherman
This feature increases the appearance of the Fisherman, a wild symbol that can replace any other symbol, boosting your chances of landing a win.
Hook
The Hook feature enhances the gameplay by potentially pulling a reel up to land the third scatter, thereby increasing chances to trigger the Free Spins.
Dynamite
This explosive feature blasts random cells on the reels, replacing them with new symbols and potentially forming new winning combinations.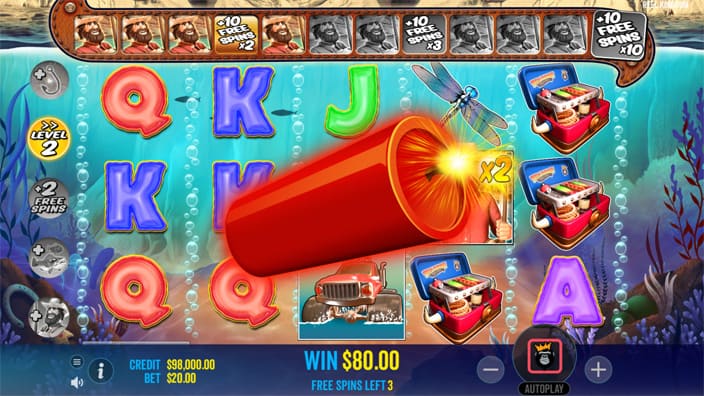 Bazooka
The Bazooka feature shoots at the reels, randomly transforming cells into high-paying symbols, amplifying your chance of reeling in a substantial win.
Bonus Buy
This feature allows players to instantly access the Free Spins round by paying a specific amount, adding an extra layer of control over the gameplay.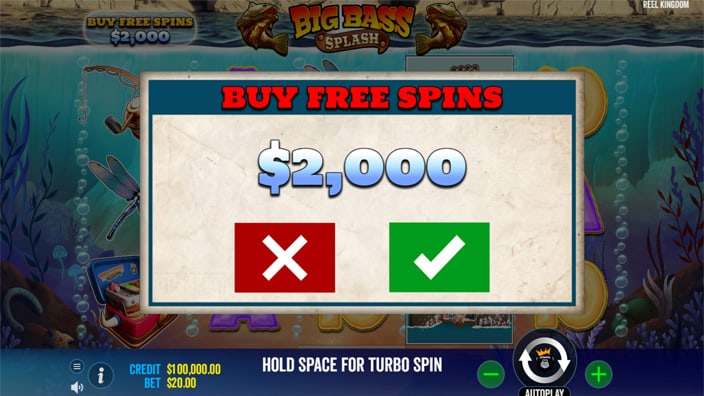 How to Play to Big Bass Splash's Online Slot
Playing Big Bass Splash slot by Pragmatic Play is an enjoyable and straightforward experience. To get started, players must first set their desired bet amount, ranging from as low as 10c to as high as €1000. Once the bet is placed, it's time to spin the reels and dive into the fishing adventure. The game runs on a 5-reel, 3-row grid with 10 paylines. Wins are achieved by landing matching symbols from left to right, starting from the leftmost reel. Watch out for the Scatter Assist feature, which could potentially add more scatter symbols to the grid and trigger exciting free spins.
The value of symbols in Big Bass Splash varies, adding depth to the gameplay. The highest value symbol is the Mega-truck, which could earn you 200x your stake for five of a kind. Following this are fishing rods, dragonflies, tackle boxes, and any set of fish money symbols, offering returns ranging from 20 to 100 times the stake for five of a kind. Even the lower-value 10-A playing card symbols can trigger a decent payout of 5-10x your bet when you land five of these. Remember, the wild symbol can only appear in the bonus round, but when it does, it can significantly boost your winnings.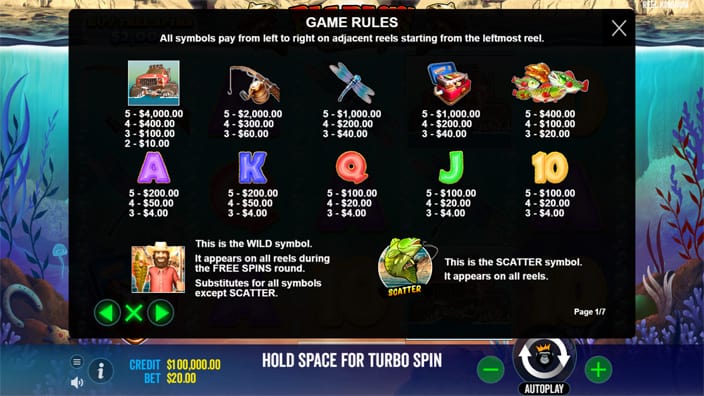 How to Win Real Money with Big Bass Splash Online Slot
If you're eager to reel in some big wins with Big Bass Splash, head over to Stake casino right now! Offering a seamless gaming experience and a secure platform, Stake is the perfect place to embark on your thrilling angling adventure with this exciting slot game.

Review of the Online Slot Big Bass Splash by Bonus Tiime
Big Bass Splash, developed by Pragmatic Play, is a visually appealing online slot game with an exciting fishing theme. The game immerses players in an angling adventure, as they load their gear into a mega-truck and head to the water's edge to cast off. The beautifully crafted underwater game grid and the game's captivating sound effects provide a thrilling gaming experience that rivals a real fishing expedition.
One of the game's standout features is the whopping 5,000x bet max win. With such an enticing potential payout, every spin in Big Bass Splash holds the promise of a big catch. This max win feature, combined with the game's high RTP, offers players a rewarding gaming experience that keeps them on the edge of their seats.
Big Bass Splash continues the legacy of its predecessors, introducing a new Scatter Assist feature and greatly enhancing the potential wins. The bonus round is where the game truly shines, with the wild symbols making their appearance, and various exciting features being triggered. All these factors contribute to the overall excitement of the game, making Big Bass Splash a must-try for all online slot enthusiasts.
Advices and Tips to Play Big Bass Splash
1. Try Out Demo Mode on Bonus Tiime
Like most online slots, Big Bass Splash comes with the option of playing free in demo mode. This opens up the game to potential players who wish to see what it is all about without having to risk any actual money. Demo mode is not just for the curious newbie, though. It gives any player an opportunity to discover the game mechanics and its special features for themselves. In this way, before a single cent is bet, a player can be familiar with Big Bass Splash's scatters and wild cards – and how these have an impact on the overall game. This leads us to the next pre-game tip for canny players: take a look at the pay table.
2. Relax and Entertain Yourself
Trying first the free slot demo is the perfect way to unwind, relax, and simply enjoy playing Big Bass Splash – without losing money or the stress to catch chasing wins.
3. Always Study the Paytable of the Slot
The pay table is the slot's equivalent of a price list. You will find here a complete list of all the symbols in the game, along with their value. You will also be able to discover the properties of all the wilds and golden wilds. Combined with spending a little time in demo mode, this preparation will allow players to place their first bet with confidence when beginning the proper game.
4. Plan a Betting Budget and Stick to it
Anybody concerned with promoting Responsible Gambling will offer one piece of advice first and foremost: don't bet more than you are prepared to lose. When it comes to play online slots for real money, then this manifests itself through sticking to a pre-agreed budget. If a player reaches their betting ceiling without a big win then it is time to call it a day. Stop playing as soon as you reach the budget limit.
5. Don't Be Dazzled by Huge Jackpots
Some expert gamblers spend their time online chasing those mega-jackpots. While there is nothing wrong with that, it is a fact that slots offering huge progressive jackpots normally have higher odds and less chance of paying out.