Play Big Bass Halloween of Pragmatic Play for free on our page. This machine has a Low volatility and a RTP of 96.04%. The minimum bet is €0.1 and the maximum bet is €1000.
This slot is available on Stake and on other casinos, discover them here to enjoy our exclusive casino bonuses.
Dive deep into the mysterious waters of the Big Bass Halloween online slot, a spooky seasonal offering by renowned provider Pragmatic Play. This enticing slot is part of the Big Bass Bonanza Series, blending the classic elements of its predecessor with a delightful Halloween twist. With murky grey waters and an overcast sky, the eerie theme and design captivate players and transport them to a chilling fishing adventure, all while staying true to its playful charm.
As you navigate through this review, we'll delve into the detailed features of the slot, from its RTP to the alluring free spins. Whether you're a seasoned casino enthusiast or a newbie, our comprehensive review and demo will allow you to grasp the essence of this online slot, ensuring you're well-prepared to maximize your experience. So, if you've been seeking a fresh spin on a fan-favorite, Big Bass Halloween might just reel you in.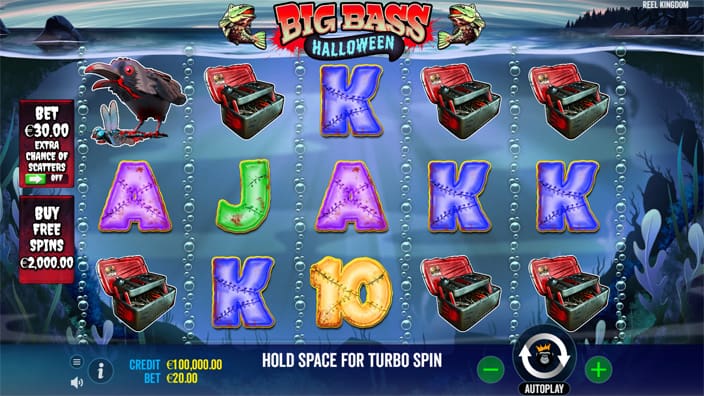 Demo Spotlight of Big Bass Halloween by Bonus Tiime
Top Casinos to Play Big Bass Halloween and Win Real Money



Pragmatic Play Online Slots Provider
Renowned in the online gaming world, Pragmatic Play stands as a premier provider of casino content. With a robust portfolio ranging from slots to live casino games, they've solidified their reputation through innovative designs, immersive gameplay, and high-quality graphics. Players globally trust Pragmatic Play for consistently delivering top-notch gaming experiences.
Specifications of Big Bass Halloween Online Slot
Big Bass Halloween online slot boasts a meticulously crafted design, featuring a 5-reel, 3-row setup with 10 intriguing paylines. The game's structure provides players with ample opportunities to reel in sizable wins, ensuring an engaging and rewarding experience.
Building on the legacy of the Big Bass Bonanza, Big Bass Halloween follows thematic variations like the festive Christmas Big Bass Bonanza. Players can delve into these shadowy waters with stakes ranging widely, catering to both cautious spinners and high rollers on Stake.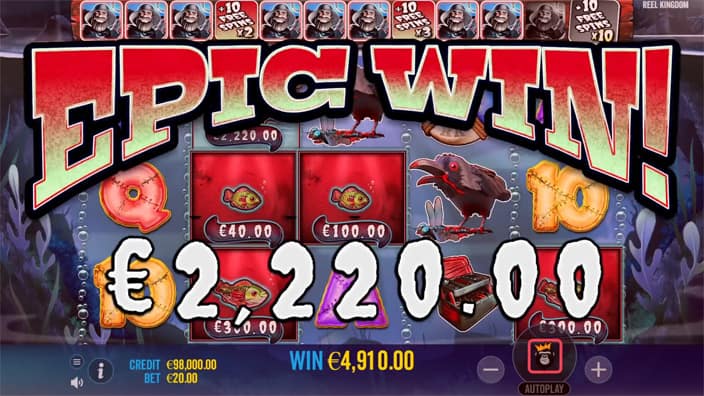 RTP
With a generous 96.04% RTP, the Big Bass Halloween online slot promises favorable returns to its players. Such an RTP is commendable, indicating that the game not only entertains but also offers a potentially rewarding experience.
Volatility
Big Bass Halloween's low volatility means that players can expect frequent, albeit smaller, wins. For those who prefer steady gameplay with consistent rewards, this online slot proves to be a favorable choice, ensuring extended play without drastic ups and downs.
Max Win
The Big Bass Halloween slot offers a tantalizing max win of 2,100x the bet. To put it in perspective, if a player stakes 1€, they stand a chance to bag a whopping 2,100€. Such a substantial multiplier amplifies the excitement and the potential rewards of each spin.
Theme
Drenched in eerie ambiance, Big Bass Halloween channels a vibe reminiscent of Tim Burton's Sleepy Hollow. The slot delves deep into murky waters, juxtaposing the thrill of fishing with Halloween's spine-chilling elements, creating an atmospheric and captivating gaming experience.
Features of Big Bass Halloween's Online Slot
The Big Bass Halloween online slot is laden with thrilling features, each meticulously crafted to enhance gameplay and elevate winning potential. Delving into this spooky slot promises not just chills but also a plethora of feature-driven opportunities.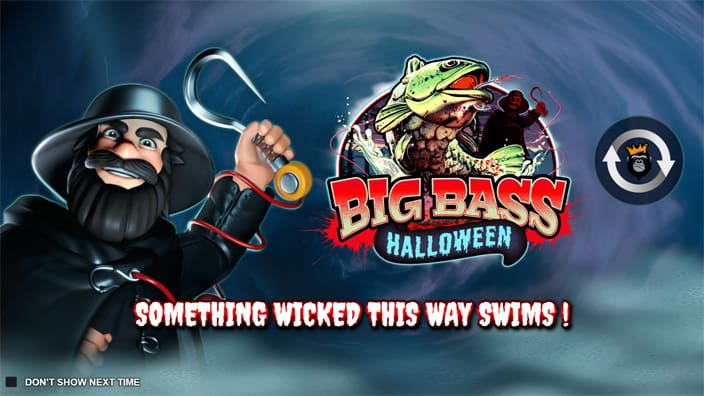 Ante Bet
The Ante Bet feature offers players the flexibility to adjust their betting strategy. By increasing the stake, players can enhance their chances of landing scatters, providing a strategic edge and the allure of potentially bigger rewards.
Free Spins
A hallmark of many premium slots, the Free Spins feature in Big Bass Halloween opens the gateway to extra rounds without additional bets. Landing the requisite scatter symbols triggers this feature, offering players extended gameplay and heightened chances of striking gold under the murky waters.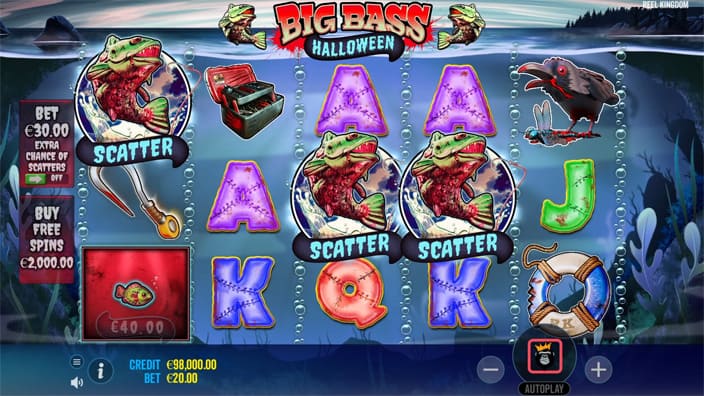 Thunder Feature
Unique to Big Bass Halloween, the Thunder Feature activates when just one wild symbol graces the screen. As the spin concludes, the waters churn, revealing fish Money symbols in random positions. This unexpected surprise can lead to substantial wins, adding a thrilling unpredictability to each spin.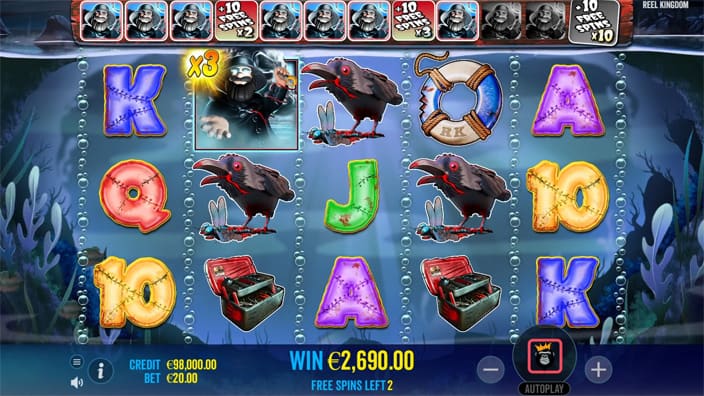 Bonus Buy
For those eager to jump straight into the action, the Bonus Buy feature allows players to purchase direct entry to the Free Spins round. This ensures immediate access to one of the game's most lucrative features, catering to players who prefer to bypass regular gameplay for a shot at the big rewards.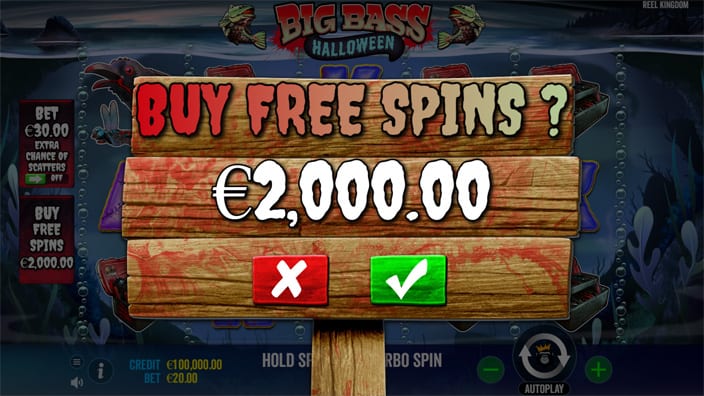 How to Play to Big Bass Halloween's Online Slot
Navigating the mysterious waters of the Big Bass Halloween slot is an immersive experience, seamlessly blending intuitive gameplay with captivating visuals. To embark on this spooky fishing journey, players first need to set their desired bet amount, ensuring it aligns with their gaming strategy. Once the stakes are in place, a simple spin of the reels sets the game in motion, whisking players into a world of underwater adventure and potential rewards.
The slot's symbols, each thoughtfully designed to fit the eerie theme, come with varying values. The low-paying symbols, represented by stitched 10 to A royals, offer modest returns. In contrast, the higher-paying symbols like fish, tackle boxes, crows, hooks, and life rings can deliver heftier payouts. For instance, landing a line of 5 matching card ranks can fetch 10 times the bet, while other symbols have the potential to reel in anywhere from 20 to 200x the wager. Understanding the value of these symbols is pivotal to maximizing the game's potential and navigating its murky depths with confidence.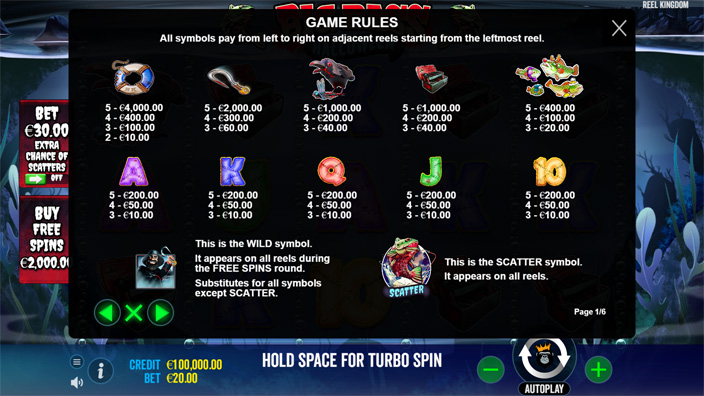 Review of the Online Slot Big Bass Halloween by Bonus Tiime
Set against the haunting backdrop of murky waters and a gloomy sky, the Big Bass Halloween slot by Pragmatic Play dives deep into the spirit of the eerie season. The slot masterfully captures the essence of Halloween, weaving together chilling visuals and atmospheric sounds that resonate with the theme. Each spin introduces players to a world that's both spooky and enthralling, promising an experience that's hard to forget.
A standout aspect of the game is its impressive max win, which stands at a staggering 2,100x the bet. Such a substantial multiplier adds a layer of excitement to the gameplay, ensuring that beyond the spine-tingling ambiance, players are also captivated by the prospects of significant rewards.
Pragmatic Play has demonstrated their prowess in thematically rich slots once again. Just as they transformed the landscape with Zombie Carnival, Big Bass Halloween reaffirms their commitment to delivering unique, thematic experiences. It's evident that when it comes to capturing a theme and blending it with rewarding features, Pragmatic Play remains unparalleled.
Advices and Tips to Play Big Bass Halloween
Get ready to improve your online slots experience! We offer a range of tutorials and articles for both beginners and seasoned players. These invaluable resources will guide you towards a more strategic and enjoyable gaming session. So, dive in and boost your online slot prowess today!
Pragmatic Play : Provider of Free Online Slot Machines
Pragmatic Play is a renowned online slot provider that has been delivering top-notch gaming experiences since its establishment in 2015. The company has grown rapidly to become one of the most respected names in the iGaming industry, catering to a global audience with its diverse portfolio of games.
Pragmatic Play's journey began with the release of its first game in 2015 and has since expanded to offer a wide range of online slots, table games, and live casino games. The company's commitment to innovation and player satisfaction has earned it numerous awards and accolades, establishing it as a leading name in the online gaming world.