Dive into the immersive world of Big Bass Bonanza, a leading online slot game developed by Pragmatic Play in collaboration with Reel Kingdom and part of the iconic Big Bass Series. This thrilling underwater adventure, with its 5 reels, 3 rows, and 10 paylines, offers players the chance to reel in remarkable rewards, with a maximum win potential of a whopping 2,100x your stake. The game beautifully combines the serenity of fishing with the high stakes thrill of online gaming, creating a unique experience that has captivated players since its release in December 2020.
At the heart of Big Bass Bonanza lies an intriguing multiplier feature embedded within its free spins, setting it apart from other slot games in its category. The sleek design, with its translucent reels floating amidst the blue depths, exudes a modern aesthetic appeal while retaining the classic slot game allure. High volatility, an impressive RTP 96.71%, and a broad betting range of 0.10 to 1000, ensure that Big Bass Bonanza has something to offer for both casual gamers and seasoned high-rollers.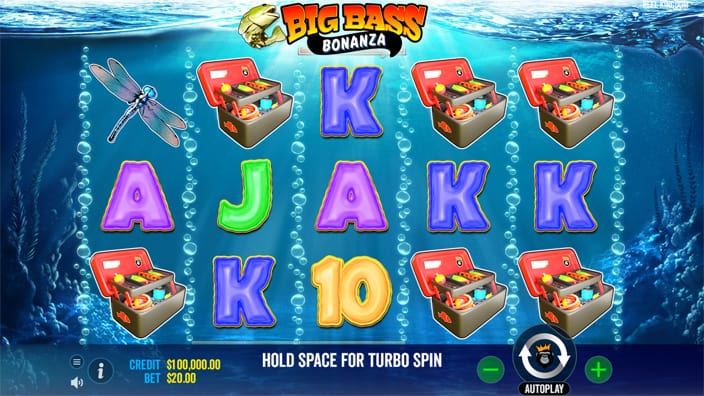 Pragmatic Play Online Slots Provider
A shining star in the iGaming arena, Pragmatic Play is renowned for developing high-quality online slot games that cater to a diverse audience. Their collaborative approach with partners like Reel Kingdom helps them to create innovative, immersive, and highly engaging games that appeal to players of all preferences and skill levels. With a portfolio boasting of numerous hits, Pragmatic Play consistently delivers on entertainment, innovation, and winning potential.
Specifications of Big Bass Bonanza Online Slot
Unleash the angler within as you spin the reels of Big Bass Bonanza, an enticing online slot boasting 5 reels and 3 rows. With its 10 fixed paylines, this high-volatility game sets the stage for abundant opportunities to reel in impressive winnings. With the combination of the traditional reel system and a dynamic payline structure, every spin holds potential for a sizeable catch.
As the pioneer in the successful series, Big Bass Bonanza laid the groundwork for thrilling sequels including Big Bass Amazon Xtreme and Big Bass Bonanza Hold & Spinner. On the popular betting platform Stake, Big Bass Bonanza continues to maintain its appeal, offering a betting range from 0.10 to 1000, that caters to casual gamers and high-rollers alike, keeping the stakes as exciting as the game itself.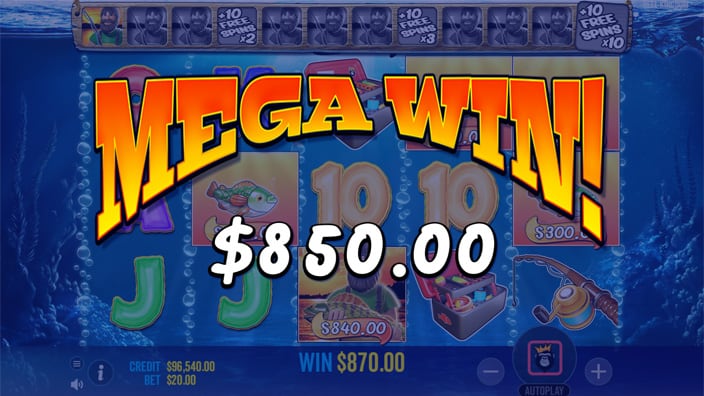 RTP
With an impressive RTP (return to player) of 96.71%, Big Bass Bonanza offers players a fantastic opportunity to enjoy a rewarding gaming experience. This return to player rate sits comfortably above the industry average, providing a promising indication of potential winnings.
Volatility
As for volatility, Big Bass Bonanza falls into the low-medium range, making it a perfect choice for players who enjoy steady, more predictable gameplay. This game skillfully balances the risk and reward, allowing you to maintain control over your stakes while still holding the promise of substantial returns.
Max Win
Imagine wagering just 1€ on Big Bass Bonanza and seeing your balance multiply up to 2,100 times – a thrilling possibility indeed! This impressive maximum win of 2,100x your bet means a potential jackpot of 2,100€ from a single euro spin, demonstrating the substantial winning potential of this slot game.
Theme
The theme of Big Bass Bonanza is reminiscent of the classic movie A River Runs Through It, with its tranquil yet compelling angling action. Players will feel as if they've stepped into a serene fishing adventure, casting their lines into the deep blue for a chance at the catch of a lifetime.
Features of Big Bass Bonanza's Online Slot
Set sail on a thrilling journey with Big Bass Bonanza's compelling game features. Designed to captivate and reward, the game presents a unique blend of Money Symbols, Wild Symbol Collect, and Free Spins. Each of these distinctive features contributes to the enthralling gameplay, turning every spin into an adventure.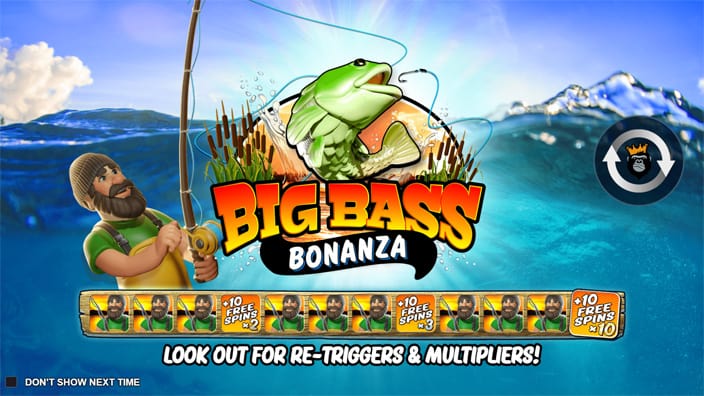 Money Symbol
The Money Symbol in Big Bass Bonanza manifests as fish icons, each carrying a specific instant prize value. Players can hook these money-laden fish during the bonus game to reel in exciting rewards, adding an element of suspense and anticipation to every spin.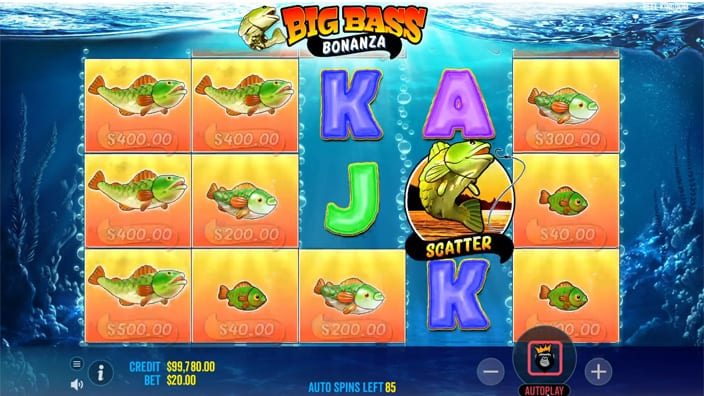 Free Spins
This is triggered when three or more scatter symbols land anywhere on the reels, awarding up to 20 free spins. The Free Spins feature is where the real action starts; the wild symbol and multiplier come into play, creating an adrenaline-fueled angling adventure that could lead to a substantial catch.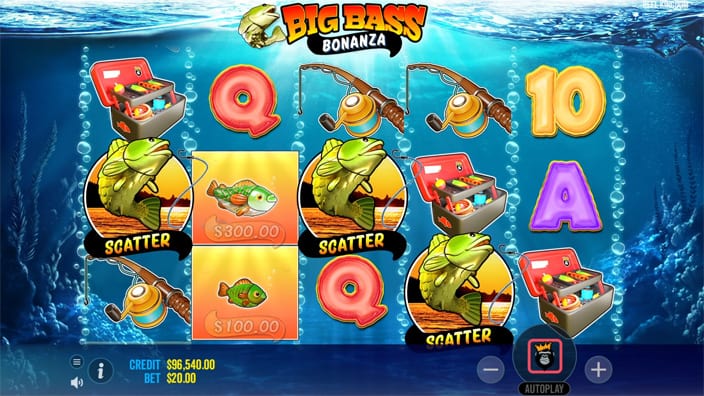 Wild Symbol Collect
In the bonus game, the fisherman acts as the wild symbol, replacing other symbols to complete winning lines. When the fisherman lands simultaneously with the Money Symbols (the fish), he collects their prize values, amassing a potentially substantial payout for the player.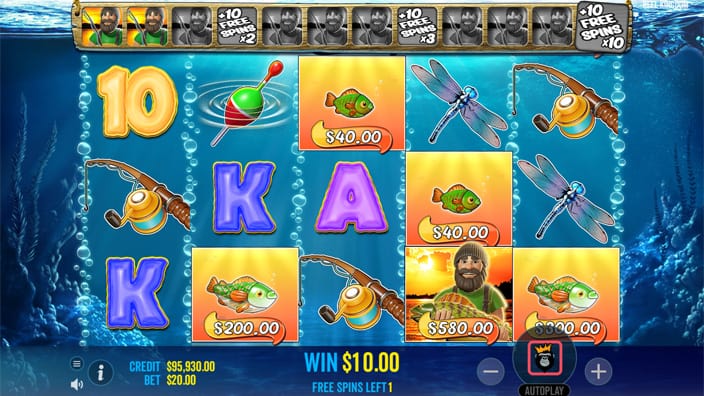 Multiplier Feature
Activated during the free spins round, the wild symbol triggers a win multiplier when it hits. The more wilds collected, the higher the multiplier, going up to a maximum of 10x.
How to Play to Big Bass Bonanza's Online Slot
Playing Big Bass Bonanza is a straightforward and enjoyable experience, even for newcomers to online slots. After selecting your preferred stake, between 0.10 and 250, you simply hit the spin button to set the reels in motion. Winning combinations are achieved by landing matching symbols on a payline, starting from the leftmost reel and following the game's 10 fixed paylines. It's all about hoping to land the right symbols at the right time to yield substantial rewards.
The value of the symbols in Big Bass Bonanza varies, adding another layer of excitement to the game. Lower-value symbols are represented by traditional card symbols ranging from ten to ace, with a five-of-a-kind win rewarding 10x your stake. Higher-value symbols include tackle boxes, dragonflies, fishing rods, and floaters, each offering payouts from 20 to 200 times your stake for a five-of-a-kind hit. The fish symbol carries an instant cash prize that can be reeled in during the bonus game. Remember, it's all about the big catch – landing the high-value symbols, triggering the bonus features, and possibly hauling in that maximum win of 2,100x your stake.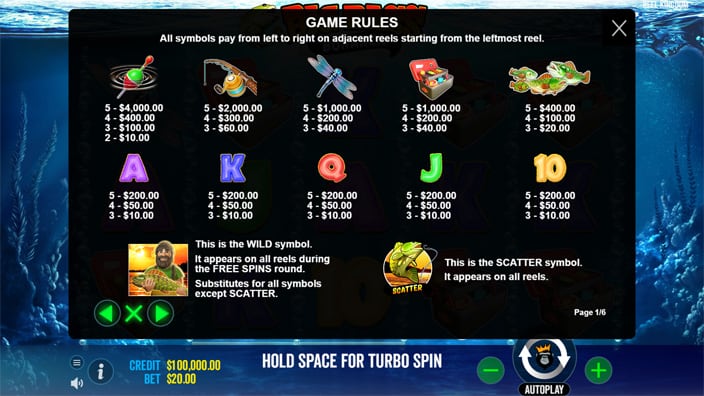 How to Win Real Money with Big Bass Bonanza Online Slot
If Big Bass Bonanza's thrilling fishing adventure has piqued your interest, don't wait! Visit Stake Casino now to immerse yourself in this exciting slot game. With its alluring features and potential for big wins, Big Bass Bonanza awaits your spin at Stake Casino – your gateway to reel-in entertainment.

Review of the Online Slot Big Bass Bonanza by Bonus Tiime
Big Bass Bonanza, an engaging online slot by Pragmatic Play and Reel Kingdom, brings to life the exciting world of angling, right on your screen. Its underwater theme, combined with a captivating gameplay, hooks you from the start. The vibrant colors, meticulously designed symbols, and the immersive soundtrack all contribute to creating an entertaining and potentially rewarding virtual fishing expedition.
One of the key draws of Big Bass Bonanza is its impressive max win potential. With the opportunity to secure a whopping 2,100x your bet, every spin could lead to a bountiful catch. The thrill of landing the high-value fish symbols, coupled with the game's dynamic features, ensures an exhilarating gaming experience.
What's more, Big Bass Bonanza has paved the way for a popular series of slots, introducing novel features like the Hook, Bazooka, Waterfall, and Banana Bomb in its successors. The legacy of Big Bass Bonanza continues to grow with the upcoming slot, Big Bass Hold and Spin Megaways, expected to bring even more excitement to this successful series. If you're a fan of high volatility slots with innovative features, Big Bass Bonanza is a reel must-play!
Advices and Tips to Play Big Bass Bonanza
1. Try Out Demo Mode on Bonus Tiime
Like most online slots, Big Bass Bonanza comes with the option of playing free in demo mode. This opens up the game to potential players who wish to see what it is all about without having to risk any actual money. Demo mode is not just for the curious newbie, though. It gives any player an opportunity to discover the game mechanics and its special features for themselves. In this way, before a single cent is bet, a player can be familiar with Big Bass Bonanza's scatters and wild cards – and how these have an impact on the overall game. This leads us to the next pre-game tip for canny players: take a look at the pay table.
2. Relax and Entertain Yourself
Trying first the free slot demo is the perfect way to unwind, relax, and simply enjoy playing Big Bass Bonanza – without losing money or the stress to catch chasing wins.
3. Always Study the Paytable of the Slot
The pay table is the slot's equivalent of a price list. You will find here a complete list of all the symbols in the game, along with their value. You will also be able to discover the properties of all the wilds and golden wilds. Combined with spending a little time in demo mode, this preparation will allow players to place their first bet with confidence when beginning the proper game.
4. Plan a Betting Budget and Stick to it
Anybody concerned with promoting Responsible Gambling will offer one piece of advice first and foremost: don't bet more than you are prepared to lose. When it comes to play online slots for real money, then this manifests itself through sticking to a pre-agreed budget. If a player reaches their betting ceiling without a big win then it is time to call it a day. Stop playing as soon as you reach the budget limit.
5. Don't Be Dazzled by Huge Jackpots
Some expert gamblers spend their time online chasing those mega-jackpots. While there is nothing wrong with that, it is a fact that slots offering huge progressive jackpots normally have higher odds and less chance of paying out.