Step into the buzzing world of Pragmatic Play's latest creation, the 3 Buzzing Wilds online slot. This game offers an immersion into the industrious and charismatic universe of bees, crafting a vibrant gaming experience for slot enthusiasts. With its high volatility, this bee-themed adventure combines high-stakes thrills with a light-hearted and appealing aesthetic, appealing to a broad range of players.
Dive into 3 Buzzing Wilds, where the charm of the hive meets the thrill of the casino. This 5-reel, 4-row game is packed with unique features, offering 20 paylines and a trio of engaging wild features. The design is charmingly bee-centric, making every spin a delight for the senses. Whether you're a seasoned slot player or a newcomer, 3 Buzzing Wilds will captivate with its mixture of fun and fortune.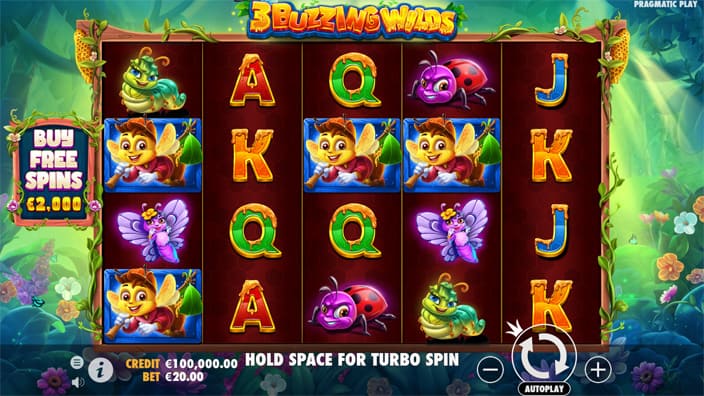 Demo Spotlight of 3 Buzzing Wilds by Bonus Tiime
The Top 3 Casinos to Play 3 Buzzing Wilds and Win Real Money
Stake Casino
Can't wait to give 3 Buzzing Wilds a spin? Get buzzing and experience this innovative slot game now at Stake Casino. Dive into the world of bees and sweet winnings, where honeyed rewards are just a spin away.

Cresus Casino
Ready to try out the buzz of 3 Buzzing Wilds slot? Cresus Casino invites you to immerse yourself in the dynamic gameplay of this exciting Pragmatic Play creation. Unleash the power of bees and discover a hive of real money winnings.

Horus Casino
Eager to experience the world of 3 Buzzing Wilds slot game? Head over to Horus Casino and embark on an enchanting journey with Pragmatic Play's vibrant, bee-themed slot. Taste the honey of success and get buzzing with real money wins today.

Pragmatic Play Online Slots Provider
Established as a leading force in the iGaming industry, Pragmatic Play consistently delivers top-tier, innovative gaming solutions. Known for high-quality graphics, immersive themes, and engaging gameplay, their extensive portfolio includes standout slots, live casino games, and bingo, solidifying their global reputation for excellence in online casino entertainment.
Specifications of 3 Buzzing Wilds Online Slot
Experience the captivating world of Pragmatic Play's 3 Buzzing Wilds online slot. This lively game is structured on a 5×4 grid with 20 paylines, offering numerous opportunities for players to seize the sweet taste of victory. Its high volatility ensures an adrenaline-packed gaming experience for all slot enthusiasts.
The visual and thematic appeal of 3 Buzzing Wilds is notably reminiscent of two popular bee-themed slots: Honey Rush by Play'n GO and Honey Honey Honey by Pragmatic Play itself. Immerse yourself in the similar bee universe and enjoy high-stakes gaming at Stake Casino, where each spin buzzes with potential rewards.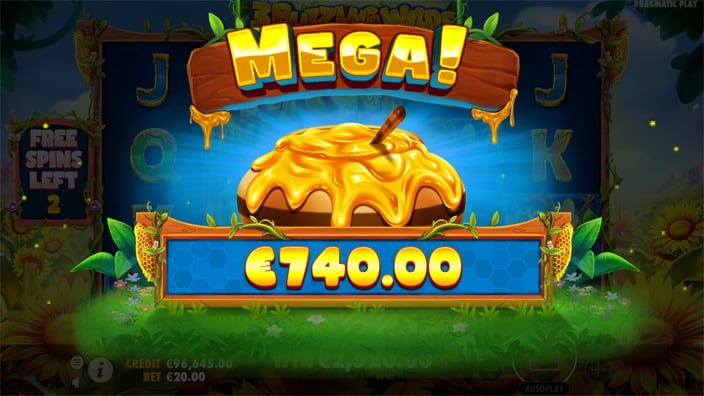 RTP
The 3 Buzzing Wilds slot offers an attractive RTP (return to player) of 96.03%. This above-average return-to-player rate suggests a promising potential return over long-term gameplay, making it a profitable choice for discerning slot enthusiasts.
Volatility
Boasting a medium-high volatility, 3 Buzzing Wilds promises thrilling gameplay. This level of volatility signifies considerable variation in payouts, catering to those players who seek a balance between frequent, small wins and the exhilarating chance at substantial rewards.
Max Win
With the potential for a whopping 5,000x max win, 3 Buzzing Wilds is a true hive of opportunities. For example, a player staking €1 could be buzzing all the way to the bank with a grand payout of €5,000.
Theme
3 Buzzing Wilds' theme is an enchanting blend of nature and fun, reminiscent of the animated movie, Bee Movie. The slot perfectly captures the industrious and charismatic world of bees, immersing players in a vibrant, hive-centric universe that promises entertainment and rewards.
Features of 3 Buzzing Wilds's Online Slot
The allure of 3 Buzzing Wilds online slot extends beyond its captivating theme to an array of enticing features. These include Free Spins, various types of Wilds, and a Bonus Buy option, each contributing to an engaging and rewarding gameplay experience.
Free Spins
Triggered by landing 3, 4, or 5 beehive scatter symbols, the Free Spins feature rewards players with additional spins, boosting the potential for winning combinations without any additional stake.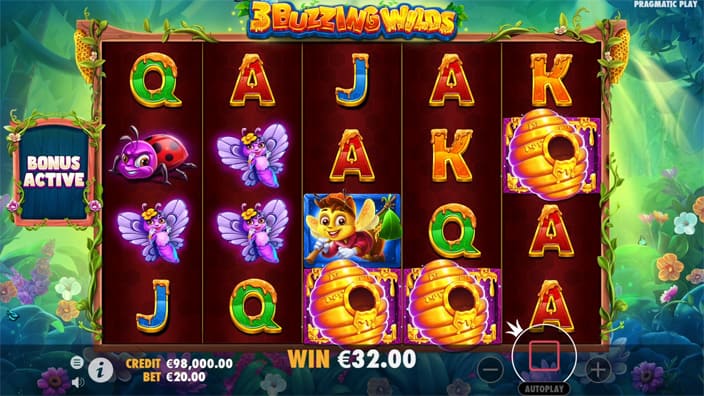 Random Wilds
In this feature, wild symbols can appear randomly on the reels during the base game, increasing the chance for striking a winning line.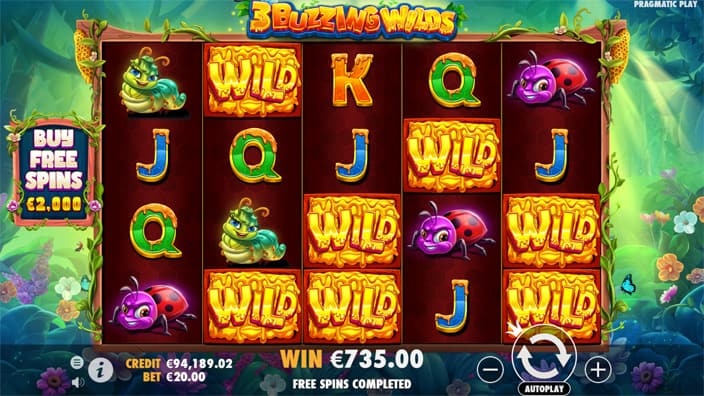 Expanding Wilds
This feature occurs when a wild symbol lands on the grid and expands to fill the entire reel. Expanding Wilds enhance the opportunity for significant wins by covering more positions on the reels.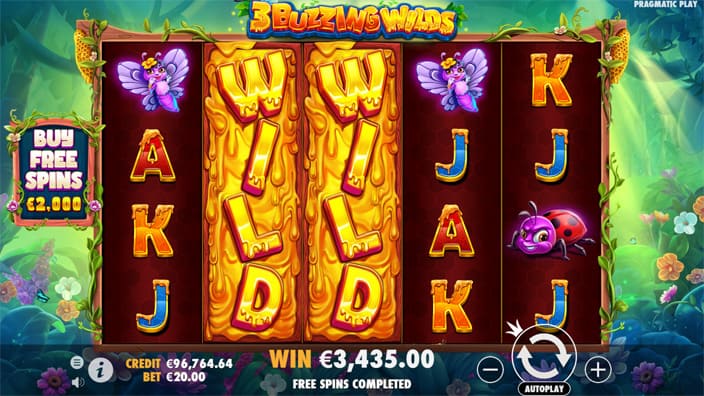 Surrounding Wilds
In this special feature, a Surrounding Wild landing on the grid transforms all symbols around it into wilds, leading to potentially lucrative combinations.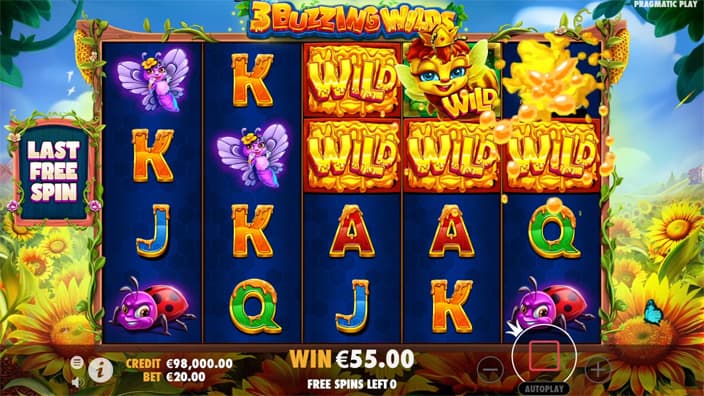 Bonus Buy
For players seeking immediate excitement, the Bonus Buy feature allows instant triggering of the Free Spins round at the cost of 100x the bet, bypassing the base game and directly increasing the stakes for substantial rewards.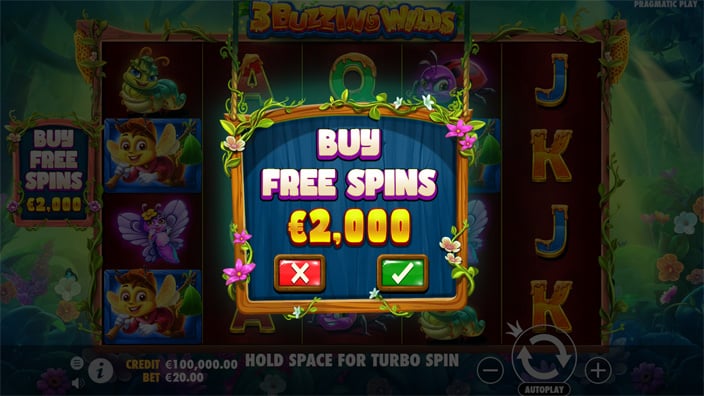 How to Play to 3 Buzzing Wilds's Online Slot
Embarking on your adventure with 3 Buzzing Wilds slot by Pragmatic Play is straightforward and engaging. You begin by setting your preferred bet size, which can range from a modest 0.20 to a more ambitious 1000. Using the user-friendly control panel found on the game interface, you can effortlessly adjust your stake to suit your comfort level. After settling on your bet, you merely press the spin button, and the reels come alive, buzzing with potential wins.
As the reels spin, your eyes will be on the lookout for the game's symbols. The low-value symbols in 3 Buzzing Wilds are the classic card ranks (J-A) dipped in delectable honey, while the high-value ones include charming creatures like the butterfly, caterpillar, ladybug, and of course, the bee. Landing three or more matching symbols on any of the 20 paylines results in a win. However, the wild symbols deserve special attention. These can substitute for any other symbol (except for the scatter) to help form winning combinations. More than that, if you land a five wild winning line, you are awarded a generous 50 times your stake.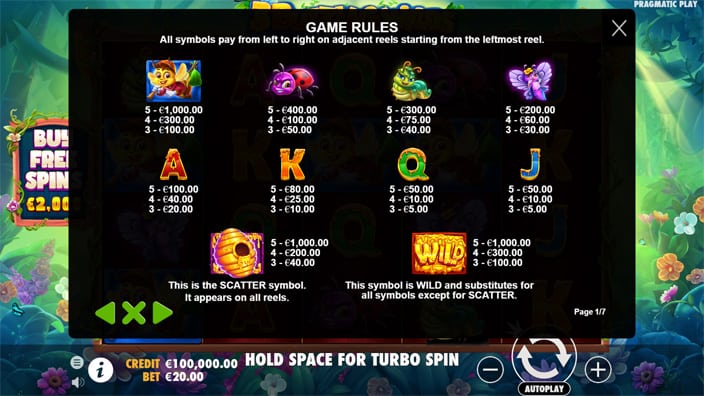 Review of the Online Slot 3 Buzzing Wilds by Bonus Tiime
Embarking on the vibrant journey that is 3 Buzzing Wilds by Pragmatic Play, players are invited into a world teeming with joyful, plush-like bees and a generous drizzling of honey. This bee-themed slot offers not only an adorable design but also unique gameplay mechanics. The warm aesthetics coupled with thrilling in-game features make 3 Buzzing Wilds a captivating experience for both casual and veteran players.
The slot's high volatility and potential for a max win of up to 5,000x your bet adds a layer of exhilaration to the gameplay. The possibility of such a hefty reward introduces a level of suspense that will keep you on the edge of your seat. Whether you're staking the minimum or the maximum bet, the prospect of hitting that sweet, sweet jackpot is a compelling reason to give 3 Buzzing Wilds a spin.
Following the releases of Spellbinding Mystery and Cash Box, Pragmatic Play once again showcases their creative prowess by integrating unique mechanics into 3 Buzzing Wilds. This innovation is a testament to the provider's commitment to pushing the boundaries of slot gameplay. Pragmatic Play continues to deliver exciting games that not only offer remarkable visuals but also distinct gameplay that keeps the iGaming experience fresh and engaging.
Advices and Tips to Play 3 Buzzing Wilds
1. Try Out Demo Mode on Bonus Tiime
Like most online slots, 3 Buzzing Wilds comes with the option of playing free in demo mode. This opens up the game to potential players who wish to see what it is all about without having to risk any actual money. Demo mode is not just for the curious newbie, though. It gives any player an opportunity to discover the game mechanics and its special features for themselves. In this way, before a single cent is bet, a player can be familiar with 3 Buzzing Wilds's scatters and wild cards – and how these have an impact on the overall game. This leads us to the next pre-game tip for canny players: take a look at the pay table.
2. Relax and Entertain Yourself
Trying first the free slot demo is the perfect way to unwind, relax, and simply enjoy playing 3 Buzzing Wilds – without losing money or the stress to catch chasing wins.
3. Always Study the Paytable of the Slot
The pay table is the slot's equivalent of a price list. You will find here a complete list of all the symbols in the game, along with their value. You will also be able to discover the properties of all the wilds and golden wilds. Combined with spending a little time in demo mode, this preparation will allow players to place their first bet with confidence when beginning the proper game.
4. Plan a Betting Budget and Stick to it
Anybody concerned with promoting Responsible Gambling will offer one piece of advice first and foremost: don't bet more than you are prepared to lose. When it comes to play online slots for real money, then this manifests itself through sticking to a pre-agreed budget. If a player reaches their betting ceiling without a big win then it is time to call it a day. Stop playing as soon as you reach the budget limit.
5. Don't Be Dazzled by Huge Jackpots
Some expert gamblers spend their time online chasing those mega-jackpots. While there is nothing wrong with that, it is a fact that slots offering huge progressive jackpots normally have higher odds and less chance of paying out.