Step into the enchanting world of Unipopcorn, the delightful online slot game by Popiplay. Set in a colorful candy land, Unipopcorn is an inviting journey filled with sugary delights and whimsical characters. The star of the show, a friendly unicorn, guides you through this unique slot experience that promises a max win of a whopping 12,000x your bet! With an impressive RTP of 96.25% and high volatility, it's a tempting prospect for both casual gamers and high-rollers alike.
Unipopcorn is not only visually appealing, but it also packs a punch with its feature-rich gameplay. The game's key features include Free Spins, Expanding Reels, Wilds, and a Bonus Buy option. The progressive nature of the game keeps you on the edge of your seat, as every win can trigger even more rewards. Embark on this thrilling adventure and watch as the reels pop with possibilities, offering a slot experience that is as rewarding as it is entertaining.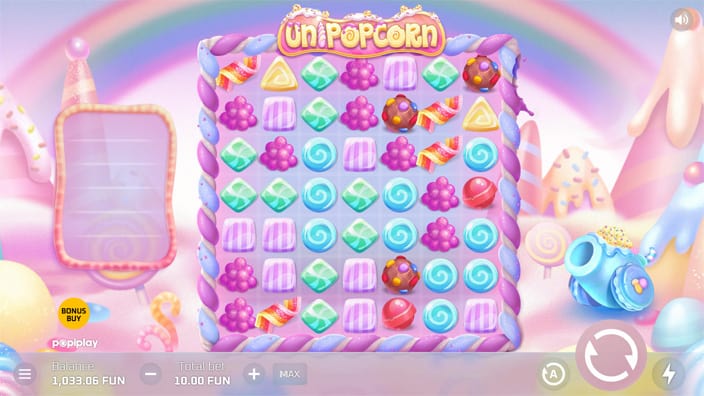 Popiplay Online Slots Provider
Popiplay is an innovative online gaming provider renowned for its inventive and engaging slot games. Its latest offering, Unipopcorn, showcases Popiplay's commitment to providing immersive gameplay, captivating designs, and lucrative rewards. Known for their high-quality graphics and thrilling features, Popiplay games are a favourite among online casino enthusiasts. Whether you're a seasoned gambler or a newbie, Popiplay delivers an exceptional gaming experience every time.
Specifications of Unipopcorn Online Slot
Unleash the power of sweet confections with Unipopcorn, an innovative online slot with a unique setup that offers a multitude of ways to win. This mesmerizing game features a dynamic structure that continually evolves, thanks to its Expanding Reels feature. A single spin could set off a series of events, making every round a potential gold mine.
Unipopcorn's whimsical design and engaging gameplay bear a striking resemblance to UFO Joe from the much-loved Reactoonz series by Play'n GO. Stakes on Stake provide a wide range for both casual players and high-rollers, ensuring that everyone can join in the fun. The bet value varies, offering flexibility and increasing the odds of claiming the maximum win of 12,000x your stake. This game certainly brings a sweet twist to the traditional online slot experience.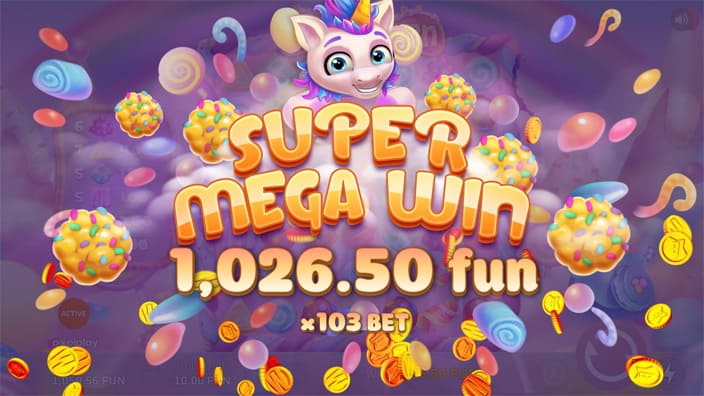 RTP
With an impressive RTP (return to player) of 96.25%, Unipopcorn provides an attractive proposition for players seeking a good return on their stakes. This generous RTP allows for more frequent winning spins, adding a sweet touch to your gameplay experience.
Volatility
Unipopcorn is a high volatility slot game, which means it's perfectly suited for thrill-seekers looking for big wins. While payouts may not happen on every spin, when they do occur, they're typically higher, making the gameplay incredibly exciting.
Max Win
The max win in Unipopcorn is a tantalizing 12,000x your bet. For example, if you play at €1 per stake, you could potentially win up to €12,000. This high payout potential makes each spin an exciting prospect.
Theme
Unipopcorn's theme can best be compared to the enchanting world of the film Willy Wonka and the Chocolate Factory. Just like in the movie, the slot game transports you to a magical candy land where wins can be as extraordinary as the land itself.
Features of Unipopcorn's Online Slot
Delve into a world of unique features with the Unipopcorn online slot. From Wilds to a dynamic Progress Bar, and captivating base game features, Unipopcorn offers a game experience that's rich in variety and potential winnings.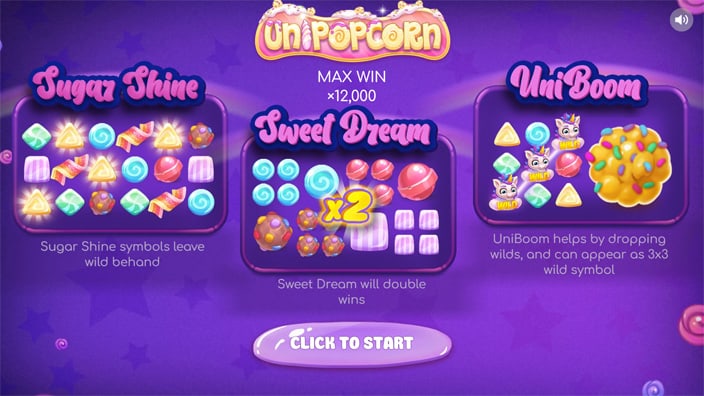 Wild
The Wild symbol in Unipopcorn substitutes for any other symbol, adding an exciting dimension to the game. It's unaffected by additional features, helping to create winning combinations.
Random Base Game Features
Unipopcorn also includes Random Base Game Features, adding unexpected elements to each spin and increasing potential winning opportunities.
Sweets Robber: In this feature, between 3 to 6 symbols morph into Wilds, destroying 4 surrounding symbols without payment. It adds an extra level of unpredictability and potential wins.
Sweet Prank: One randomly chosen symbol and all other matching symbols in view transform into a different type of matching symbol. This feature increases the potential for massive wins.
X-Shoot: A Wild appears at the grid's center, transforming all symbols diagonally from it into the same randomly chosen symbol type. It's a surefire way to change the game board and increase wins.
Oops Lollipops: This feature obliterates all the low symbols in view, making room for potentially higher value combinations to form.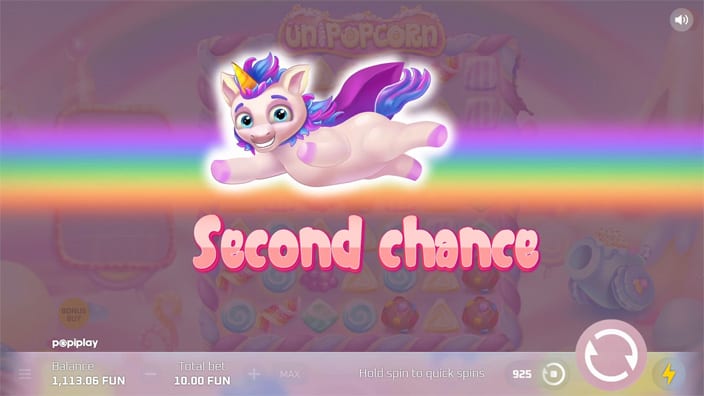 Sugar Shine
Randomly selected matching low-value symbols start to shine in every spin. If these symbols form a winning combination, they transform into 2 Wild symbols, boosting your chances for big wins.
Sweet Dream
Four matching symbols forming a square merge into a single big symbol, doubling any win it forms part of. During the Refill feature, these big symbols can split into four standard symbols, providing even more chances to win.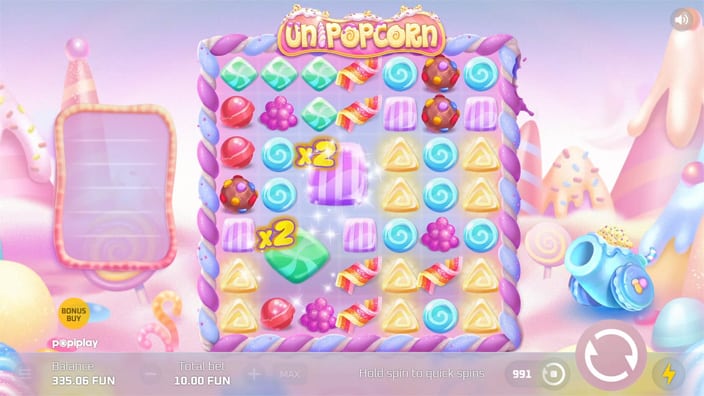 Progress Bar
The series of wins in a single spin affect the Progress Bar, with each win changing its color. Once it turns red, bonus features are activated, leading to even more wins and excitement.
UniBOOM
Activated when the Progress Bar reaches 100 points. A 3×3 Wild Symbol appears, dividing into smaller Wilds in subsequent refills. This feature increases the potential for cluster wins dramatically, adding an exciting twist to the gameplay.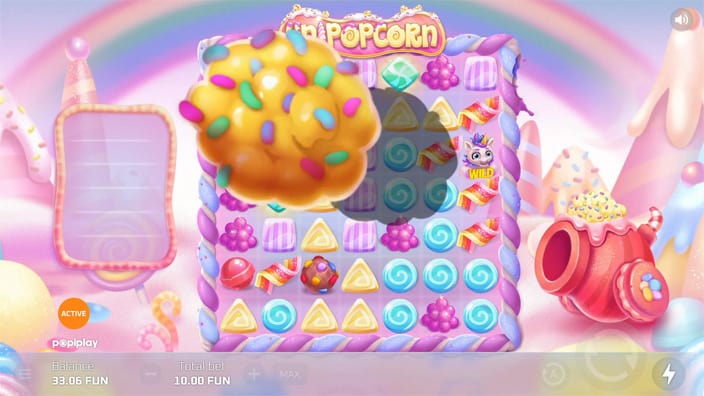 Bonus Buy
This handy feature allows players to bypass standard gameplay and directly purchase and activate the bonus round, accelerating the pace towards big wins.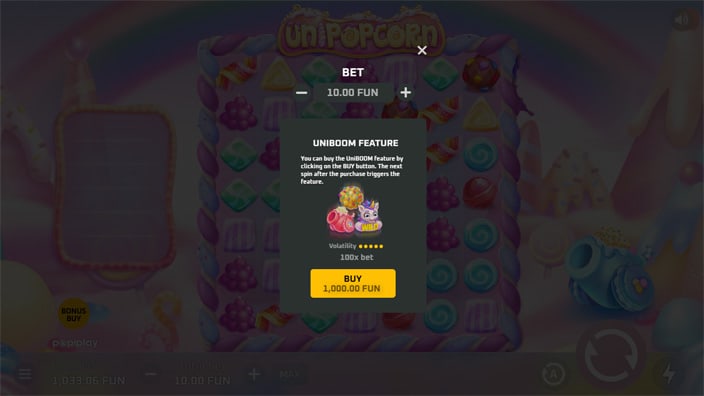 How to Play to Unipopcorn's Online Slot
Stepping into the magical realm of Unipopcorn Slot is as delightful as it is straightforward. The game interface is user-friendly and intuitive, making it easy for both news and experienced players alike. To begin, simply set your bet amount using the handy +/- buttons at the bottom of the screen. Once your stake is set, click on the spin button to set the sugary reels in motion. As an added convenience, there is an autoplay option available for those who prefer to sit back and watch the action unfold.
The symbols on Unipopcorn's reels are visually appealing, taking the shape of a variety of colorful candies, each with different values. Lining up these symbols in the correct combinations could lead to substantial rewards. Make sure to familiarize yourself with the paytable to understand the worth of each candy. Remember, the Wild symbol can substitute for any candy symbol, potentially creating winning combinations where you least expect them. With a little luck, the candy-filled reels of Unipopcorn can lead to a delicious victory.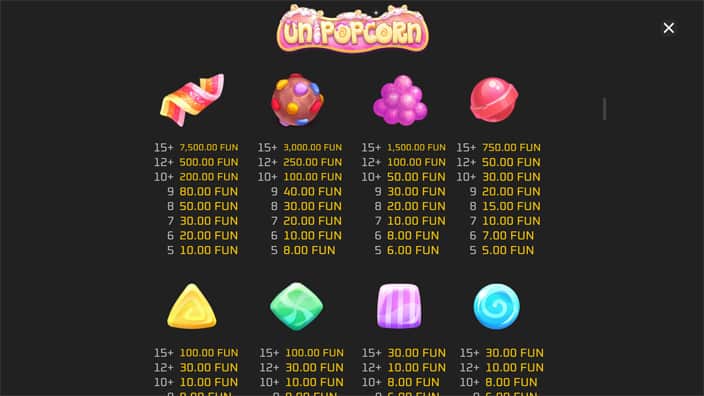 How to Win Real Money with Unipopcorn Online Slot
If the enchanting world of Unipopcorn has piqued your interest, why wait? Head over to Stake Casino, a trusted platform renowned for its diverse range of slot games. Here, you can start your candy land adventure with Unipopcorn right away and explore its innovative features and high-win potential.

Review of the Online Slot Unipopcorn by Bonus Tiime
Unipopcorn by Popiplay is a delightful foray into a magical candy land, complete with a friendly unicorn guide and a rainbow-colored landscape. With its vibrant graphics and whimsical theme, this slot game transports players to a charming, surreal world. The richly detailed candy symbols and the playful soundtrack perfectly capture the essence of the mythical unicorn theme, making each spin an enchanting experience.
The potential for high rewards is one of the main draws of Unipopcorn. With a tantalizing max win of 12,000x your bet, the game keeps players on the edge of their seats. This high payout potential, coupled with the game's high volatility and a generous RTP of 96.25%, presents an exciting prospect for both casual gamers and seasoned slot enthusiasts.
Popiplay has successfully incorporated popular game mechanics into Unipopcorn, creating a game that is engaging and rich in features. From the innovative Progress Bar to the thrilling UniBOOM feature, the game keeps players engaged throughout. This ability to combine popular mechanics with creative themes demonstrates Popiplay's knack for crafting unique and exciting slot games. Unipopcorn is a testament to Popiplay's commitment to delivering top-tier gaming experiences that thrill and delight.
Advices and Tips to Play Unipopcorn
1. Try Out Demo Mode on Bonus Tiime
Like most online slots, Unipopcorn comes with the option of playing free in demo mode. This opens up the game to potential players who wish to see what it is all about without having to risk any actual money. Demo mode is not just for the curious newbie, though. It gives any player an opportunity to discover the game mechanics and its special features for themselves. In this way, before a single cent is bet, a player can be familiar with Unipopcorn's scatters and wild cards – and how these have an impact on the overall game. This leads us to the next pre-game tip for canny players: take a look at the pay table.
2. Relax and Entertain Yourself
Trying first the free slot demo is the perfect way to unwind, relax, and simply enjoy playing Unipopcorn – without losing money or the stress to catch chasing wins.
3. Always Study the Paytable of the Slot
The pay table is the slot's equivalent of a price list. You will find here a complete list of all the symbols in the game, along with their value. You will also be able to discover the properties of all the wilds and golden wilds. Combined with spending a little time in demo mode, this preparation will allow players to place their first bet with confidence when beginning the proper game.
4. Plan a Betting Budget and Stick to it
Anybody concerned with promoting Responsible Gambling will offer one piece of advice first and foremost: don't bet more than you are prepared to lose. When it comes to play online slots for real money, then this manifests itself through sticking to a pre-agreed budget. If a player reaches their betting ceiling without a big win then it is time to call it a day. Stop playing as soon as you reach the budget limit.
5. Don't Be Dazzled by Huge Jackpots
Some expert gamblers spend their time online chasing those mega-jackpots. While there is nothing wrong with that, it is a fact that slots offering huge progressive jackpots normally have higher odds and less chance of paying out.