Welcome to the world of UFO Joe, the latest addition to the free online slot games by Popiplay. If you are a fan of outer space adventures and extraterrestrial encounters, then this game is perfect for you. With its high-quality graphics and engaging sound effects, UFO Joe is sure to take you on an unforgettable journey through the galaxy.
The game features a unique theme, where you get to accompany Joe, a friendly alien, as he travels through space in search of new worlds and treasures. As you spin the reels, you will encounter various symbols related to the game's theme, such as spaceships, planets, and alien artifacts.
So, get ready to blast off into space with UFO Joe and explore the universe like never before. Play now and experience the thrill of intergalactic adventure right at your fingertips.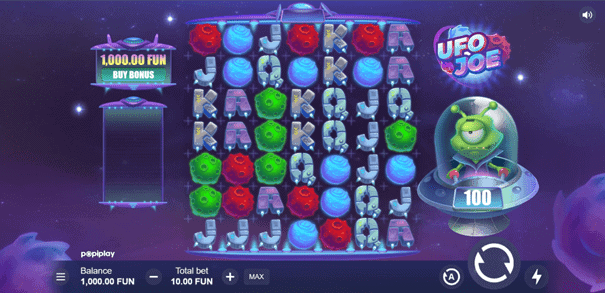 Popiplay online slots provider
Popiplay is a relatively young online casino game provider that has quickly gained popularity among players. With its fresh approach to game design and innovative features, Popiplay's slots offer a unique gaming experience that sets them apart from other providers. Despite being a new player in the market, Popiplay has established itself as a reliable and exciting option for online casino enthusiasts.
Specifications of UFO Joe online slot
UFO Joe is a fun-filled online slot game with 7×7 reels, offering players multiple chances to hit winning combinations. This game boasts a unique gameplay experience. It has features like those found in Play'n Go's Reactoonz series, such as cascading reels and various bonus features.
UFO Joe and Reactoonz can be played on Stake, an online casino that provides a diverse range of slots. While the gameplay is similar, the stakes on Stake casino can range from 0.20 coins to 1000 coins per spin. Whether you prefer the extraterrestrial adventure of UFO Joe or the quirky charm of Reactoonz, Stake offers an exceptional gaming experience with the potential for big payouts.
RTP
UFO Joe has a relatively high RTP (return to player) rate, which is above the industry standard. With an RTP of 96.26%, this online slot game provides players with a better chance of winning and potentially earning significant payouts.
Volatility
UFO Joe has a very high volatility level, which means players can expect significant fluctuations in their wins and losses. The game offers a chance for players to hit substantial payouts, but also comes with the risk of long periods without any significant wins.
Max win
UFO Joe offers a maximum payout of 12,000x the bet, making it one of the more potentially lucrative online slot games available. For example, if a player were to wager 1€ per stake, they would have the chance to win up to 12,000€ on a single spin.
Theme
The theme of UFO Joe revolves around outer space adventures and extraterrestrial encounters. Players join Joe, a friendly alien, on a journey through the galaxy as he searches for new worlds and treasures. The game's symbols and graphics are all related to its theme, immersing players in an intergalactic world filled with spaceships, planets, and alien artifacts.
Features of UFO Joe's online slot
In UFO Joe, the unique cascading mechanic is the centerpiece of the game, providing players with ample chances to activate a host of lucrative features. As players hit winning clusters, they disappear from the grid and fill the UFO Meter by +1 step. This can lead to the activation of various bonus features, including free spins, wild symbols, and bonus rounds.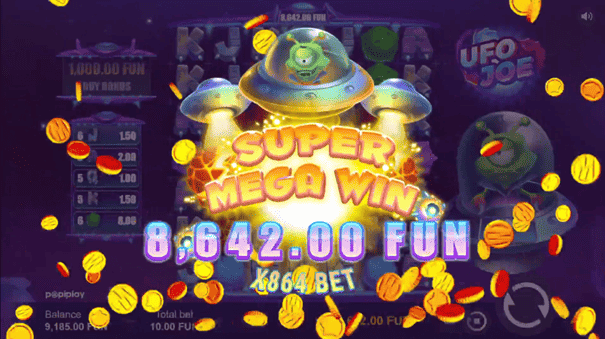 Mass Attack
UFO Joe's progress bar increases by 1 point for each symbol in a winning combination, starting with 100 points. With every win, the bar decreases in value until it reaches 25 symbols, randomly triggering one of four bonus features. The Drone feature is activated when the bar reaches zero, offering an engaging gameplay experience with plenty of chances for rewards.
Take Over
When the progress bar's value reaches zero, the Take Over feature is activated. This feature adds a 3×3 Wild to the reels, which is then split into two 2×2 Wilds during the second refill. In the third refill, the Wild is divided into nine individual Wild symbols. Everytime a wild connects, it disappears.
Merger
Four adjacent matching symbols create a 2×2 big symbol that doubles a winning combination's payout. Multipliers of big symbols multiply and apply to the total payout. During Refill feature, these symbols can split into four standard ones. This feature does not apply to Wilds, ensuring a fair gameplay experience.
Starlight
During every spin, randomly selected low-value symbols may begin to shine. If these shining symbols create a winning combination, they are replaced by two Wild symbols. Players can only receive two Wilds per refill.
BigBang
In UFO Joe, three to six symbols can turn into Wilds, destroying four symbols around them without any payment. These symbols are eliminated from above, below, right, and left of the Wilds, providing players with a chance to score significant payouts.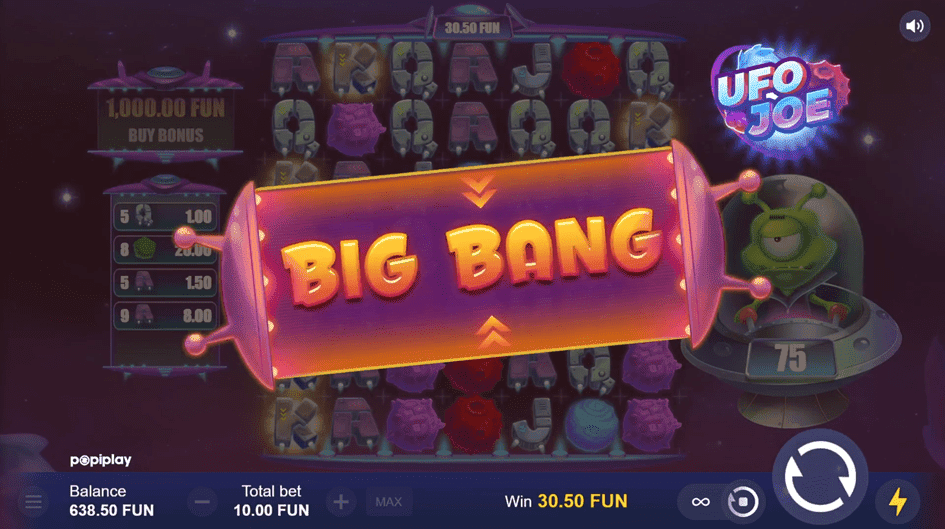 Eclipse
The Eclipse feature transforms a randomly chosen symbol and all matching symbols on the screen into a different slot's symbol, possibly making new connections.
Interstellar
When triggered, the Wild feature in UFO Joe adds a Wild symbol to the center of the grid, causing all diagonally adjacent symbols to transform into the same randomly chosen symbol type. If any Wilds appear along the diagonal, they remain in place and do not transform.
Blaster
Every low-value symbols on the screen are destroyed, leaving only high-value symbols behind.
Second Chance
Each spin that does not result in a win may trigger a feature that randomly turns several symbols into Wilds. If this happens, the win is recalculated, providing players with additional opportunities to score significant payouts. It is essential to note that this feature can break the Merger feature.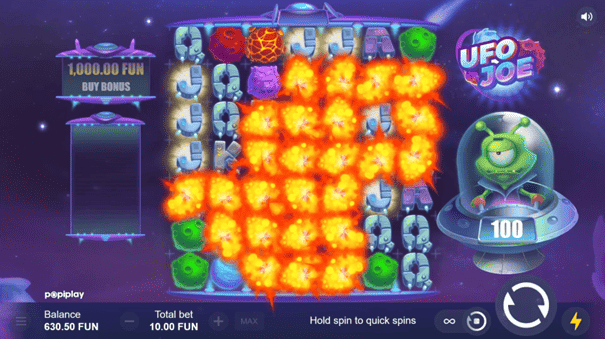 How to play to UFO Joe's online slot
UFO Joe is a cascading slot game that follows the adventures of Joe, an endearing and quirky alien, as he travels through the universe in search of treasures and new worlds. The game is easy to play and requires players to set their bet size and spin the reels to trigger the cascading mechanic. Winning combinations disappear from the grid, allowing new symbols to fall into place and potentially trigger additional wins.
The game features a range of symbols, including low-value symbols such as A, K, Q, J, and 10, and high-value symbols representing colorful asteroids. The symbols' values vary, with high-value symbols offering the potential for significant payouts. Wild symbols also feature in the game, replacing other symbols to create winning combinations. The game's various bonus features, such as the Take Over and Merger features, provide players with ample opportunities to score big payouts and add to the game's overall entertainment value.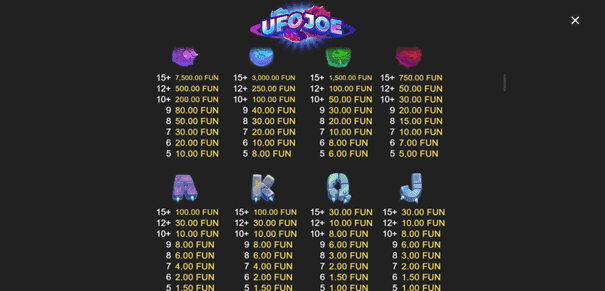 How to win real money with UFO Joe online slot
For those who are excited to embark on a journey through the universe with Joe, the lovable alien, head to Stake casino and experience the excitement of UFO Joe today. With its high volatility and various bonus features, players have the potential to score significant payouts and enjoy an immersive gaming experience. Don't miss out on the chance to explore the universe with UFO Joe and discover what treasures await. Sign up now and start playing!
Review of the online slot UFO Joe by Bonus Tiime
UFO Joe is a thrilling slot game that takes players on a journey through the universe with its endearing alien character, Joe. The game features a unique and captivating theme that provides an immersive gameplay experience. The potential for significant payouts is also a highlight, with the game offering a maximum payout of 12,000x the bet.
As an early provider, Popiplay has established itself as a promising developer of online slots, with UFO Joe being a prime example of their innovative game design. With features similar to those found in the popular Reactoonz series from Play'n GO, Popiplay has added the bonus buy feature, turbo spin, and a more fluent gameplay. UFO Joe is sure to please players looking for an engaging and potentially lucrative gaming experience.
Overall, UFO Joe is an excellent choice for online slot enthusiasts seeking a unique and captivating game with exciting bonus features, high volatility, and a promising potential for significant payouts. With its eye-catching graphics, immersive theme, and innovative gameplay mechanics, UFO Joe is a testament to Popiplay's commitment to delivering top-quality slots to the online gaming community.
Advices and tips to play UFO Joe
1. Try out demo mode on Bonus Tiime
Like most online slots, UFO Joe comes with the option of playing free in demo mode. This opens up the game to potential players who wish to see what it is all about without having to risk any actual money. Demo mode is not just for the curious newbie, though. It gives any player an opportunity to discover the game mechanics and its special features for themselves. In this way, before a single cent is bet, a player can be familiar with UFO Joe's scatters and wild cards – and how these have an impact on the overall game. This leads us to the next pre-game tip for canny players: take a look at the pay table.
2. Relax and entertain yourself
Trying first the free slot demo is the perfect way to unwind, relax, and simply enjoy playing UFO Joe – without losing money or the stress to catch chasing wins.
3. Always study the paytable of the slot
The pay table is the slot's equivalent of a price list. You will find here a complete list of all the symbols in the game, along with their value. You will also be able to discover the properties of all the wilds and golden wilds. Combined with spending a little time in demo mode, this preparation will allow players to place their first bet with confidence when beginning the proper game.
4. Plan a betting budget and stick to it
Anybody concerned with promoting Responsible Gambling will offer one piece of advice first and foremost: don't bet more than you are prepared to lose. When it comes to play online slots for real money, then this manifests itself through sticking to a pre-agreed budget. If a player reaches their betting ceiling without a big win then it is time to call it a day. Stop playing as soon as you reach the budget limit.
5. Don't be dazzled by huge jackpots
Some expert gamblers spend their time online chasing those mega-jackpots. While there is nothing wrong with that, it is a fact that slots offering huge progressive jackpots normally have higher odds and less chance of paying out.