The world of online slots gets a luxurious addition with Popiplay's recent release, Moneyfest. Launched on 16th August 2023, this slot brings players on an opulent journey alongside a diligent boar. As he ascends the ladder of affluence, players are introduced to a beautifully designed backdrop that captures the essence of the high life, seamlessly blending its theme with intricate graphics and meticulous design.
Not just a treat for the eyes, Moneyfest promises a rich gaming experience too. Packed with a slew of captivating features such as Free Spins, Dynamic Reels, and Chance Booster, this slot guarantees excitement with every spin. This comprehensive article offers players a chance to try the demo free and provides a thorough review, ensuring a deep understanding of the Moneyfest slot mechanics and gameplay. Dive in to unravel the lavish mysteries of this top-tier slot game.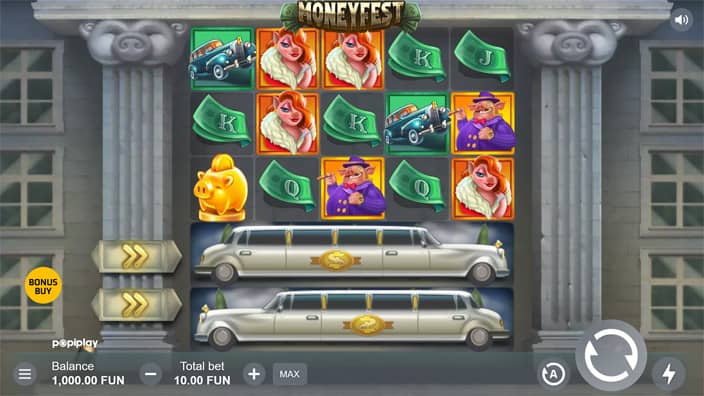 Demo Spotlight of Moneyfest by Bonus Tiime
The Top 3 Casinos to Play Moneyfest and Win Real Money
Stake Casino
Eager to experience Moneyfest in action? Dive into the grandeur at Stake casino. Their platform offers an immersive experience, letting you enjoy the slot's luxurious features instantly.

Cresus Casino
Can't wait to spin the Moneyfest reels? Head over to Cresus casino. With its user-friendly interface, the thrill of this slot awaits you in just a few clicks.

Horus Casino
Feeling the allure of Moneyfest's opulence? Explore its richness at Horus casino. Renowned for its seamless gameplay, this is your ideal destination to enjoy Popiplay's latest masterpiece.

Popiplay Online Slots Provider
Popiplay, a burgeoning name in the online gaming industry, has quickly carved a niche for itself with innovative slot designs and captivating gameplay mechanics. Esteemed for delivering high-quality entertainment, this provider is becoming the go-to choice for avid slot enthusiasts seeking immersive and rewarding experiences in the digital gaming realm.
Specifications of Moneyfest Online Slot
Delving into the specifics of Moneyfest online slot, this dynamic game offers varying grid setups – from 5×3 to 5×5. With these configurations, players can select between 5 to 20 paylines, making the journey as customizable as it is thrilling.
Drawing parallels with the renowned Big Bass Bonanza Series, Moneyfest exhibits similar gameplay nuances. The stakes? Well, players can amplify their gaming experience, particularly at Stake casino, where the allure of Moneyfest meets high-quality online gaming infrastructure.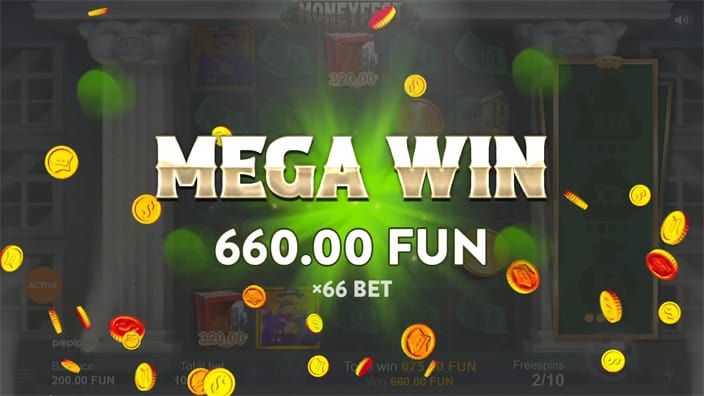 RTP
Boasting a generous 96.72% RTP, Moneyfest stands as a testament to Popiplay's commitment to offering players a favorable edge. This above-average return to player ratio showcases its potential for consistent payouts, making every spin feel promising.
Volatility
Moneyfest's medium volatility offers a balanced gaming experience. Players can anticipate a blend of frequent modest wins combined with occasional bigger payouts, ensuring a steady and engaging rhythm throughout the gameplay.
Max Win
With a staggering max win of 4,250x the bet, Moneyfest truly captivates high-reward seekers. For instance, if a player stakes 1€, they stand a chance to rake in a whopping 4,250€ from a single fortunate spin, elevating the thrill manifold.
Theme
The theme of Moneyfest revolves around luxury and the ascent to affluence. Reminiscent of the vibe in movies like The Great Gatsby, players are whisked away to a world of opulence and high-society drama, making each spin a narrative journey.
Features of Moneyfest's Online Slot
Dive deep into the luxurious world of Moneyfest, where features aren't merely additions but core elements that elevate gameplay. These intricately designed components promise more than just wins; they offer a narrative experience, making every spin an intricate dance of chance and strategy.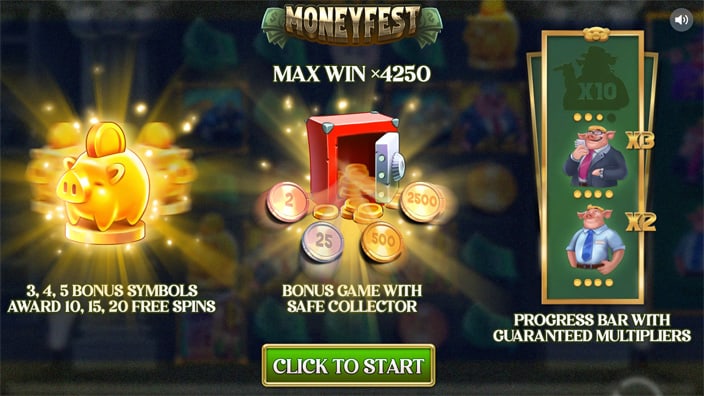 Wild Symbol
The Wild Symbol in Moneyfest, depicted by the Red Safe, is a game-changer. Found on all reels during bonus rounds, it replaces all icons except Scatter and Coin, increasing the odds of forming winning combinations.
Instant Prize
As the name suggests, the Instant Prize offers immediate rewards. With the appearance of Coin symbols, players are granted cash values right on the spot, amplifying the thrill and instant gratification.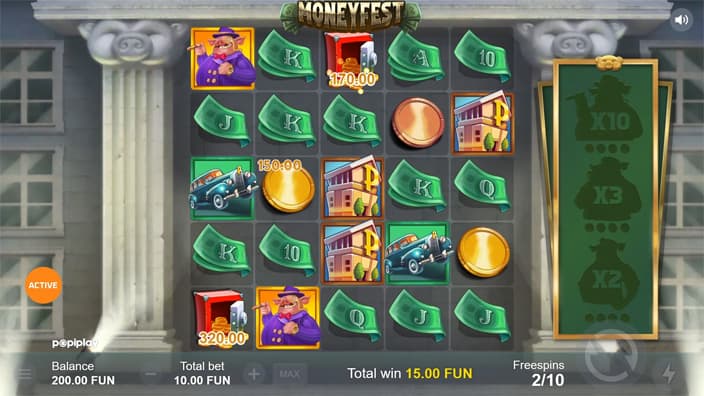 Limo Ride
The Limo Ride is Moneyfest's ticket to an exclusive feature, transporting players to a world of higher payouts and enhanced in-game animations. It's not just about the journey; it's about arriving in style and reaping the benefits.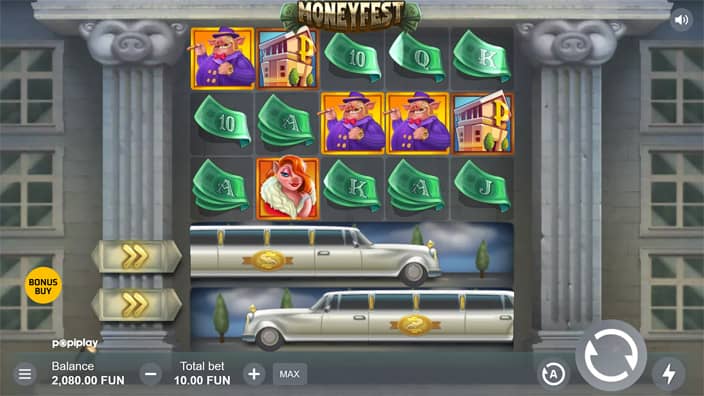 Chance Booster
Want to increase your odds? The Chance Booster is here for just that. By slightly upping the bet, players gain enhanced chances to trigger the coveted Free Spins round, providing a strategic edge.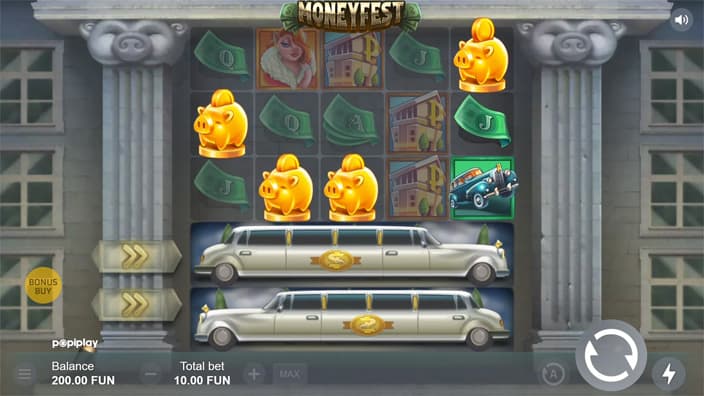 Free Spins with Progress Bar
In Moneyfest, the Free Spins aren't just about spinning for free. With the inclusion of the Progress Bar, every 4th Red Safe symbol collected retriggers free spins and amps up the multiplier, offering a cascading bonanza of rewards.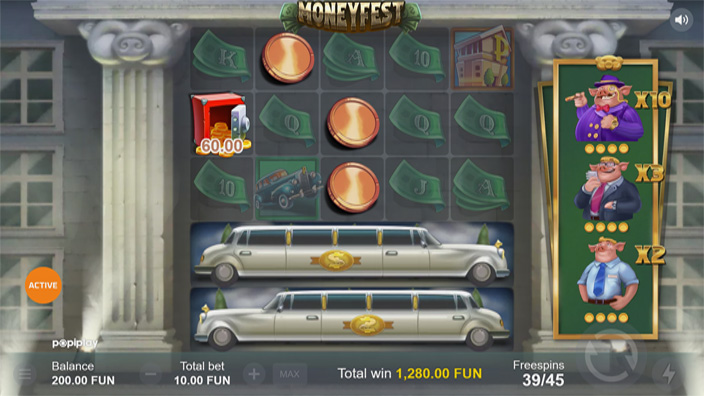 Bonus Retrigger
The Bonus Retrigger in slots like Moneyfest is activated by landing enough Scatter symbols during a bonus round. This extends the bonus, often a Free Spins session, giving players more chances to win without additional bets. Simply put, it's a feature that amplifies potential rewards with added spins.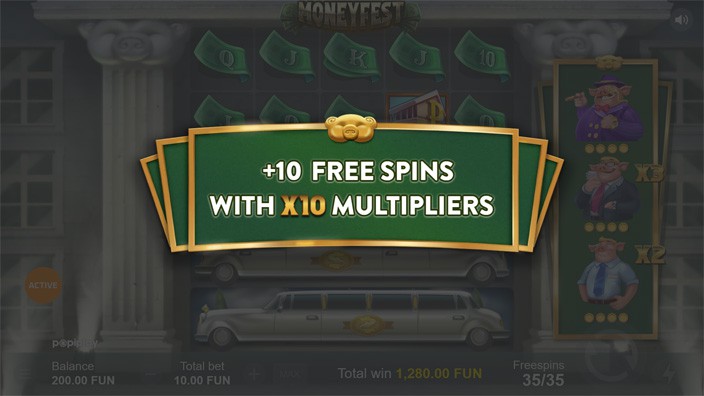 Bonus Buy
For those impatient souls or strategic minds, the Bonus Buy feature lets players directly access the bonus rounds, sidestepping the base game. It's a direct gateway to the heart of Moneyfest's rewards, ensuring maximum excitement.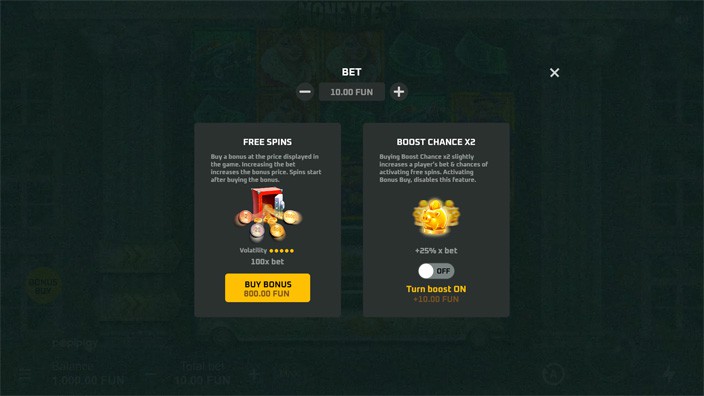 How to Play to Moneyfest's Online Slot
Diving into Moneyfest slot is an experience that seamlessly marries simplicity with depth. Before spinning the opulent reels, players need to set their preferred stake, ensuring it aligns with their budget and strategy. The slot offers various grid configurations, ranging from 5×3 to 5×5. Each grid variation correlates to a set number of paylines, granting players the flexibility to customize their gameplay. By clicking on the grid's bottom rows, one can activate or deactivate them, thereby choosing the desired grid setup.
A pivotal aspect of the gameplay is understanding the value of symbols. Moneyfest is adorned with symbols like the Red Safe (Wild), the Golden Piggy Bank (Scatter), and the Coin (Instant Prize). Each symbol carries its unique weight. The Wild assists in creating winning combinations, while the Scatter can potentially trigger bonus retriggers. Recognizing these symbols' importance and their interactions on the reels can make the difference between a casual spin and a strategy-infused gaming session.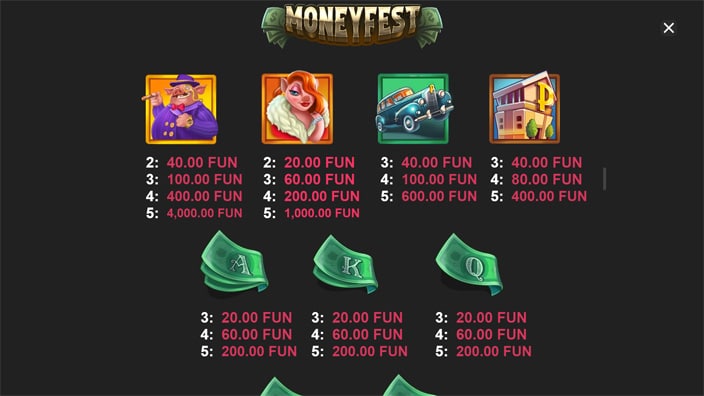 Review of the Online Slot Moneyfest by Bonus Tiime
Moneyfest, Popiplay's latest foray into the online slot world, wraps players in a narrative of luxury and opulence. The slot's theme vividly paints the journey of a diligent boar ascending the ranks of affluence, offering players a rich backdrop against which they can spin the reels. The visuals and sound design intricately capture the essence of the high life, making every round an immersive experience.
When it comes to rewards, Moneyfest doesn't shy away from big promises. A potential max win of 4,250x the bet showcases its commitment to offering players substantial payouts. This elevates the excitement and stakes of every spin, making the game both engaging and rewarding.
Further solidifying its standing is the incorporation of popular mechanics, reminiscent of those seen in slots like Sleepy Grandpa and Goat Getter. This familiar yet refined gameplay ensures that both newcomers and seasoned slot enthusiasts find Moneyfest both approachable and intriguing.
Advices and Tips to Play Moneyfest
Get ready to improve your online slots experience! We offer a range of tutorials and articles for both beginners and seasoned players. These invaluable resources will guide you towards a more strategic and enjoyable gaming session. So, dive in and boost your online slot prowess today!