Welcome to the magical world of Sweet Alchemy 100, a vibrant online slot game developed by the renowned Swedish game provider, Play'n GO. Step into a spellbinding journey filled with candy and witches, a unique combo that is bound to tantalize your gaming experience. Powered by high volatility and a maximum win of 15,000x your bet, this bewitching game is setting new standards in the realm of online slots.
The game's aesthetics are brilliantly paired with a myriad of unique features like the Cluster pays and Witch Power modifiers. The game offers a 5×5 reel structure, adding to its engaging appeal. With an RTP of 96.20% and the potential to win big, Sweet Alchemy 100 is the slot game that effortlessly blends fun and reward, offering a gaming experience unlike any other.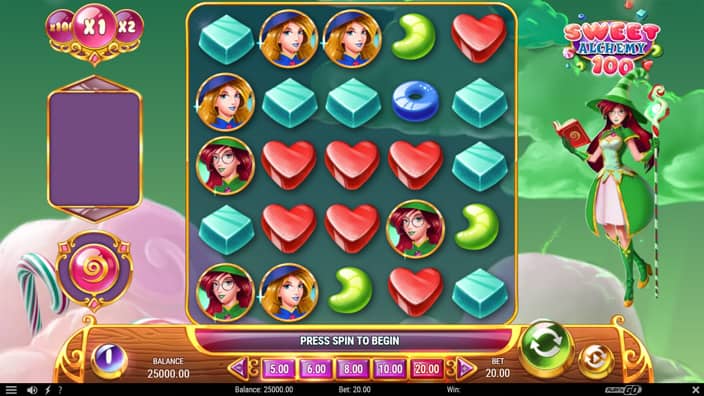 Play'n GO Online Slots Provider
Play'n GO, a leading name in the iGaming industry, delivers innovative and high-quality online casino games. Known for their remarkable graphic designs, unique gameplay, and mobile compatibility, Play'n GO slots are a favorite among players worldwide. Their commitment to excellence has set new benchmarks in the online gaming experience.
Specifications of Sweet Alchemy 100 Online Slot
Sweet Alchemy 100, an engaging online slot from Play'n GO, is characterized by its unique 5×5 reel structure and the Cluster Pays system. This setup offers a multitude of ways to win, all contributing to a rich, interactive gaming experience. With a high volatility rating, this game promises a thrilling ride for every player.
This enchanting slot game is the latest in the Sweet Alchemy series, following the successful Sweet Alchemy and Sweet Alchemy 2. What sets Sweet Alchemy 100 apart is the inclusion of popular mechanics from the Moon Princess series. Catering to a wide range of players, the game offers flexible stakes from 0.20c to €1000 per spin, making it a worthy choice for players at any level on the Stake platform.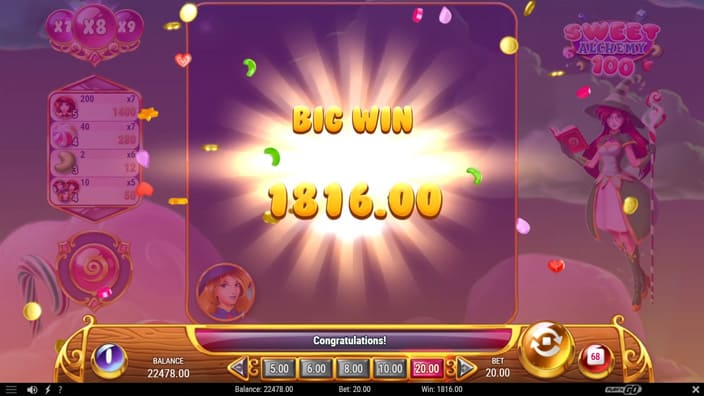 RTP
With an impressive RTP (return to player) of 96.2%, Sweet Alchemy 100 offers players a fair chance of claiming wins. This favorable RTP ratio clearly reflects Play'n GO's commitment to ensuring a rewarding gaming experience.
Volatility
Sweet Alchemy 100 features a high volatility level, which makes it an exciting choice for thrill-seekers. This high variance means bigger but less frequent wins, adding an adrenaline-pumping dimension to the gameplay that keeps players eagerly engaged.
Max Win
Sweet Alchemy 100 boasts a massive max win of 15,000x the bet. For instance, if you place a stake of 1€, you could potentially walk away with a whopping 15,000€! This feature enhances the game's allure, promising life-changing rewards to the luckiest players.
Theme
Immersing players in a delightful mix of confectionery and enchantment, Sweet Alchemy 100's theme mirrors a universe similar to the renowned movie, Hansel and Gretel: Witch Hunters. The slot takes players on an enticing journey through a mystical world brimming with rewards. Skillfully crafted, it offers an unforgettable gaming experience that is sure to captivate your senses.
Features of Sweet Alchemy 100's Online Slot
As we delve further into the gameplay, let's explore the enticing features that make Sweet Alchemy 100 unique. This Play'n GO slot offers a captivating set of features – the Witch Power modifiers, the innovative Trinity mechanism, and a generous Free Spins mode. These elements work together to create a dynamic, engaging gaming experience.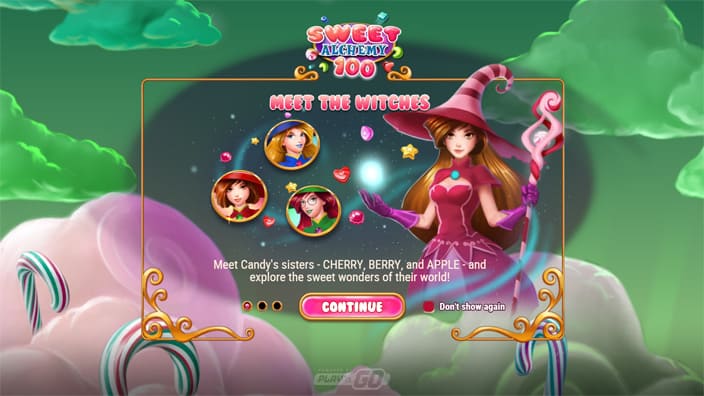 Wild
Wilds in Sweet Alchemy 100 substitute for other symbols, increasing winning chances by creating more match possibilities on the grid.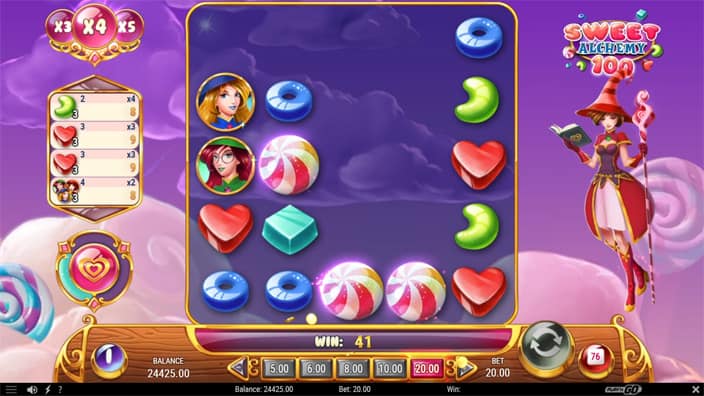 Clear Grid
When all symbols are cleared, it triggers a 50x bet payout. Moreover, any multiplier achieved is applied to this win, magnifying the rewards significantly.
Witch Power
Witch Power, unique to Sweet Alchemy 100, activates three witches' special abilities during non-winning spins.
Cherry: Converts one symbol set into another symbol.
Berry: Adds 1 or 2 wild symbols to the game grid.
Apple: Removes 2 sets of symbols from the grid.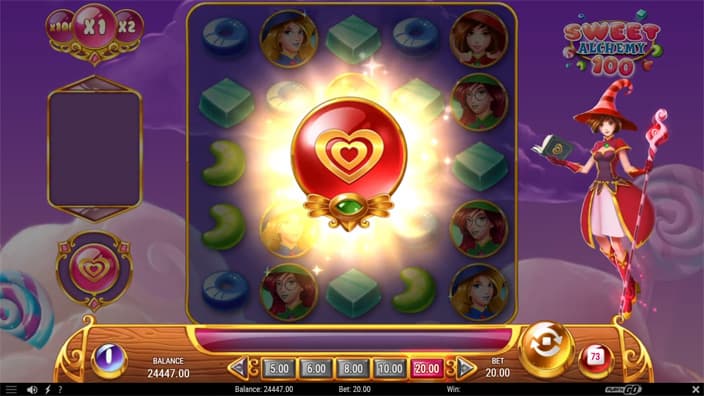 Trinity
The Trinity feature in Sweet Alchemy 100 activates after filling a 3-segment meter with witch symbol wins. This feature awards a free spin where all witches use their powers. If the grid is cleared, free spins trigger.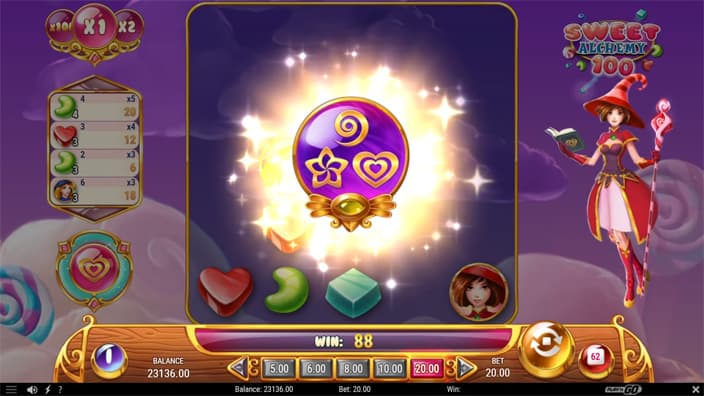 Free Spins
The Free Spins feature lets players select a Witch Power, each offering different numbers of free spins. During these spins, the chosen power activates on non-winning spins, and the win multiplier carries over from the Trinity feature, reaching up to x100.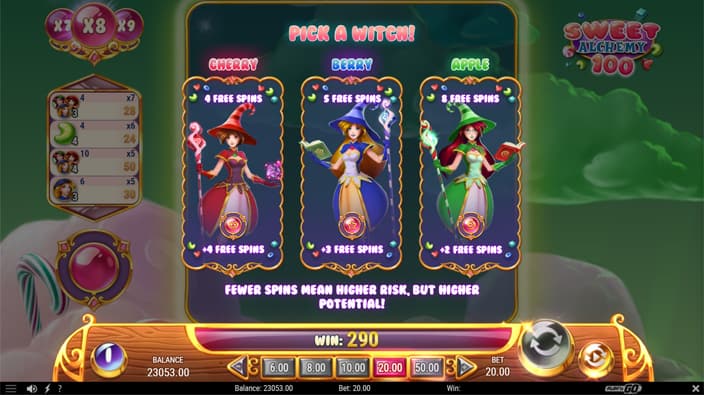 How to Play to Sweet Alchemy 100's Online Slot
Embarking on the journey of Sweet Alchemy 100 begins by setting your betting range from 0.20 to 1000, suiting both casual gamers and high rollers. The slot operates on a 5×5 grid structure and works on a Cluster Pays system where three or more adjacent matching symbols horizontally or vertically form a winning cluster. The game offers an intriguing mix of low-value and high-value symbols, with candies representing the low pay symbols, and the witches Cherry, Berry, and Apple as the high pays.
To win in Sweet Alchemy 100, players need to focus on the unique symbol values. A line of five candy symbols earns 2-3 times the bet, while a combination of any five witches pays five times the bet. A line of five matching witches fetches ten times the bet. Importantly, the same symbol can be used in multiple wins simultaneously. With the game's high volatility and multiple RTP configurations, the highest being 96.2%, Sweet Alchemy 100 ensures a fascinating and rewarding gaming experience.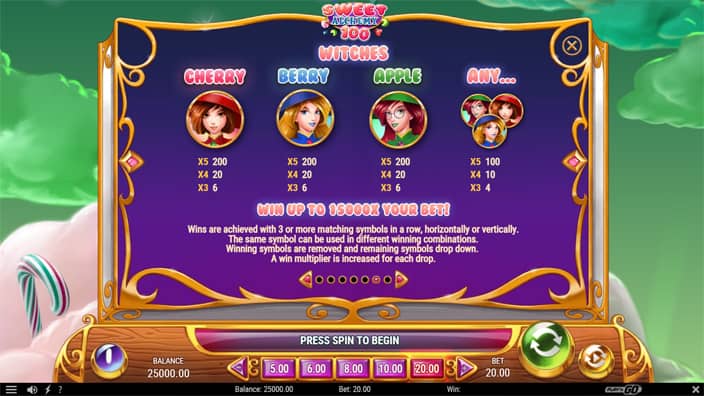 How to Win Real Money with Sweet Alchemy 100 Online Slot
If the magical world of Sweet Alchemy 100 has piqued your interest, don't hesitate to try it out today. Experience the thrill of this captivating slot game at Stake casino, a leading platform that offers a seamless and enjoyable gaming experience. Don't wait, start spinning now!

Review of the Online Slot Sweet Alchemy 100 by Bonus Tiime
Sweet Alchemy 100 by Play'n GO is an enchanting addition to the world of online slots, bringing to life a mesmerizing blend of candy and witchcraft. The game's theme radiates a magical aura, drawing players into a realm reminiscent of popular fairy tales. The splendid graphics and fascinating characters add to the overall appeal, making it a captivating gaming experience.
The potential for a whopping 15,000x your bet win is an alluring aspect of Sweet Alchemy 100. This high volatility slot game caters to thrill-seekers, offering high stakes and equally high rewards. The multiple RTP configurations, peaking at 96.2%, ensures a favourable balance between risk and reward.
The Sweet Alchemy series, after the initial burst of popularity, had somewhat faded from the limelight. However, Play'n GO has rekindled its charm with Sweet Alchemy 2 and now, Sweet Alchemy 100. This rejuvenated version, with its innovative features and high win potential, promises to revive the series and offer players a taste of the original Sweet Alchemy magic. It is a game worth experiencing for both seasoned and novice slot players.
Advices and Tips to Play Sweet Alchemy 100
1. Try Out Demo Mode on Bonus Tiime
Like most online slots, Sweet Alchemy 100 comes with the option of playing free in demo mode. This opens up the game to potential players who wish to see what it is all about without having to risk any actual money. Demo mode is not just for the curious newbie, though. It gives any player an opportunity to discover the game mechanics and its special features for themselves. In this way, before a single cent is bet, a player can be familiar with Sweet Alchemy 100's scatters and wild cards – and how these have an impact on the overall game. This leads us to the next pre-game tip for canny players: take a look at the pay table.
2. Relax and Entertain Yourself
Trying first the free slot demo is the perfect way to unwind, relax, and simply enjoy playing Sweet Alchemy 100 – without losing money or the stress to catch chasing wins.
3. Always Study the Paytable of the Slot
The pay table is the slot's equivalent of a price list. You will find here a complete list of all the symbols in the game, along with their value. You will also be able to discover the properties of all the wilds and golden wilds. Combined with spending a little time in demo mode, this preparation will allow players to place their first bet with confidence when beginning the proper game.
4. Plan a Betting Budget and Stick to it
Anybody concerned with promoting Responsible Gambling will offer one piece of advice first and foremost: don't bet more than you are prepared to lose. When it comes to play online slots for real money, then this manifests itself through sticking to a pre-agreed budget. If a player reaches their betting ceiling without a big win then it is time to call it a day. Stop playing as soon as you reach the budget limit.
5. Don't Be Dazzled by Huge Jackpots
Some expert gamblers spend their time online chasing those mega-jackpots. While there is nothing wrong with that, it is a fact that slots offering huge progressive jackpots normally have higher odds and less chance of paying out.