For fans of online casino gaming, Play'n GO's newest addition to their repertoire, the Scales of Dead slot, promises to bring the allure of ancient Egypt right to your screens. The theme interweaves the mysteries of the land of pyramids, ankhs, and vast seas of sand with high-quality design elements. This online slot boasts intricate graphics, ensuring that players are not just playing for potential max wins but also immersing themselves in an epic storyline reminiscent of the great Egyptian tales.
But it's not just the theme that's gripping; the features of Scales of Dead are equally tantalizing. With high volatility and an RTP that offers varied configurations, this slot ensures that both novice and veteran players find something to look forward to. As we delve deeper into this article, you'll discover the unique offerings of this game's demo and receive a comprehensive review, ensuring you understand every aspect of this thrilling online slot.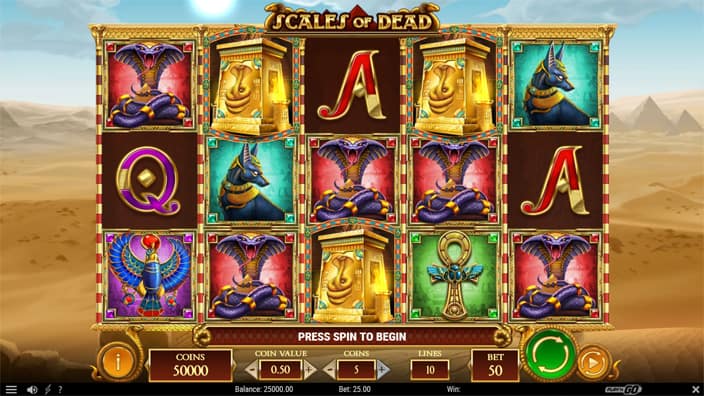 Demo Spotlight of Scales of Dead by Bonus Tiime
Top Casinos to Play Scales of Dead and Win Real Money



Play'n GO Online Slots Provider

Play'n GO stands as a leading figure in the world of online casino gaming. Renowned for its innovative approach, this provider has consistently delivered top-tier online slots, setting industry standards and captivating players worldwide. Dive into our exploration of Play'n GO's legacy, its hallmark features, and what makes it a favorite in the casino arena.
Specifications of Scales of Dead Online Slot
Dive into the enigmatic world of Scales of Dead, an online slot featuring a 5-reel, 3-row format with 10 fixed paylines. This setup provides players multiple pathways to potential wins, ensuring every spin offers anticipation and excitement.
Part of Play'n GO's illustrious 'Dead' series, which boasts popular titles like Book of Dead and the recent Pilgrim of Dead, Scales of Dead continues the tradition of thrilling gameplay. Players can adjust their stakes, tailoring the game to both cautious and bold strategies, maximizing the gaming experience on Stake.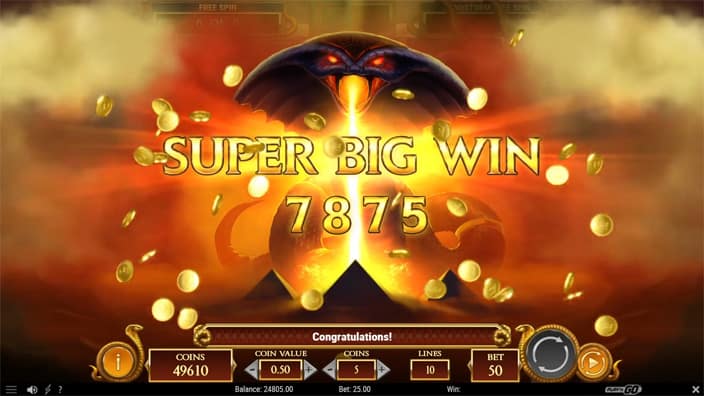 RTP
The Scales of Dead online slot boasts an impressive 96.21% RTP (Return to Player). Such a favorable RTP indicates a higher potential return for players over extended gameplay, making it a sought-after feature among online slot enthusiasts.
Volatility
Scales of Dead is characterized by its high volatility, indicating that wins might be less frequent but more substantial when they hit. This volatility level appeals to thrill-seekers who are in the chase for those big, game-changing payouts.
Max Win
With Scales of Dead, players have the chance to secure a max win of an astounding 10,000x their bet. To put this in perspective, if someone places a stake of 1€, they could potentially walk away with a massive 10,000€ in a single spin!
Theme
Scales of Dead transports players to the mystical realm of ancient Egypt, reminiscent of epic tales and adventures. The slot's theme aligns with cinematic experiences like The Mummy series, blending the allure of ancient treasures with modern-day excitement.
Features of Scales of Dead's Online Slot
Delve deep into the enthralling Scales of Dead online slot and uncover a plethora of engaging features, meticulously crafted by Play'n GO. From risky gambles to rewarding spins, each feature promises to elevate the gameplay experience, ensuring players are captivated every step of the way.
Gamble Feature
The Gamble Feature in Scales of Dead offers players an enticing opportunity to amplify their winnings. After each win, players can choose to guess the color or suit of a face-down card. A correct color guess doubles the win, while predicting the right suit quadruples it, adding an extra layer of thrill to the game.
Wild Scatter
The Wild Scatter symbol serves a dual purpose. Not only does it substitute for other symbols to help form winning combinations, but it also acts as the trigger for the game's Free Spins feature, emphasizing its pivotal role in boosting potential rewards.
Free Spins
Upon landing three or more Wild Scatter symbols, the Scales of Dead slot rewards players with 8 free spins. This feature not only provides additional chances to win without staking more but also sets the stage for the game's other thrilling features.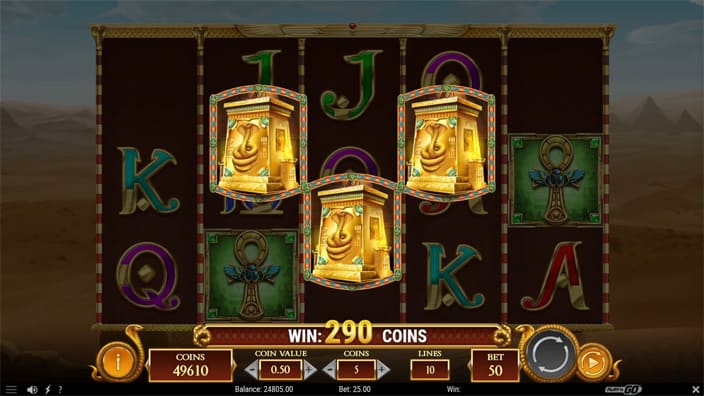 Sandstorm Free Spins
Within the Free Spins feature, landing two or more Tomb Scatter symbols initiates the Sandstorm Free Spins. This feature introduces multipliers to the gameplay, ranging from x2 to x4, that can be applied to the Special Expanding Symbols, enhancing the winning potential exponentially.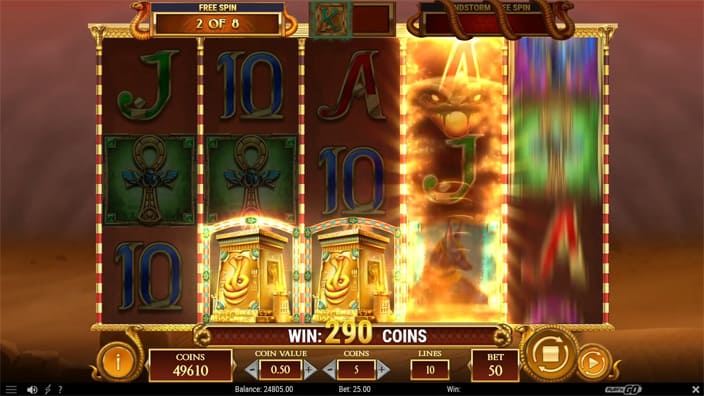 Special Expanding Symbols with Multipliers
During the Free Spins round, one regular pay symbol is chosen at random to become a special expanding symbol. These symbols can cover entire reels, paying out on all lines regardless of their position. Coupled with the Sandstorm Free Spins, these expanding symbols can benefit from multipliers, significantly increasing the payout potential.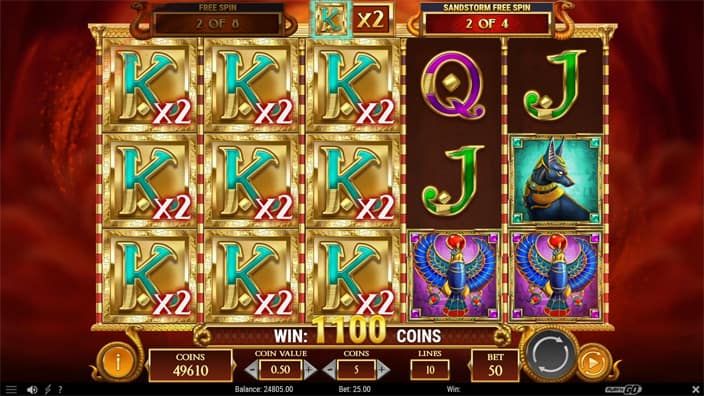 How to Play to Scales of Dead's Online Slot

Diving into the mesmerizing realm of Scales of Dead slot, players are greeted with a user-friendly interface that invites both novices and veterans alike. To commence the journey, players should first set their preferred bet amount, which can range between 0.10 and 1000. Once the stake is decided, it's all about hitting the spin button and watching the reels come to life. The 5-reel, 3-row format offers 10 fixed paylines, ensuring multiple opportunities for creating winning combinations. Players should be on the lookout for the game's unique symbols, each holding varying values that can significantly impact the overall winnings.
The symbol hierarchy in Scales of Dead is bifurcated into low and high pays. The low paying symbols are represented by the card royals ranging from 10 to A, offering returns between 8 to 15 times the bet for a 5-of-a-kind hit. On the other end, the high paying symbols include intriguing Egyptian icons like the jackal, bird, ankh, and the hooded cobra. These high-value symbols can award between 75 to 500 times the bet when five identical ones land on the reels. Being cognizant of these symbol values can enhance the player's strategic approach and anticipation during gameplay.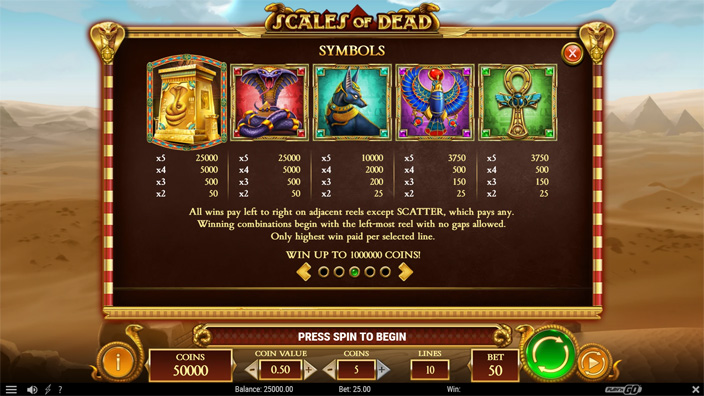 Review of the Online Slot Scales of Dead by Bonus Tiime
Scales of Dead, brought to life by the renowned developer Play'n GO, whisks players away to the enchanting lands of Egypt. The slot's theme is nothing short of captivating, embedding the richness of Egyptian history and myths into every spin. Each symbol, from the iconic ankhs to the mysterious hooded cobra, paints a vivid picture of an ancient era, evoking wonder and intrigue in every player.
A standout feature of Scales of Dead is the jaw-dropping potential max win of 10,000x the bet. This lucrative promise keeps players on the edge of their seats, as they journey through the sands of time, hoping to land that monumental reward.
Play'n GO has truly outdone themselves with this slot. While their previous titles, such as Rise of Dead and Legacy of Dead, were commendable in their own right, Scales of Dead showcases a remarkable evolution in design and graphics. Every animation is meticulously crafted, shimmering in exquisite detail and fluidity, testament to Play'n GO's commitment to elevating the online gaming experience for their players.
Advices and Tips to Play Scales of Dead
Get ready to improve your online slots experience! We offer a range of tutorials and articles for both beginners and seasoned players. These invaluable resources will guide you towards a more strategic and enjoyable gaming session. So, dive in and boost your online slot prowess today!