Launched on November 8th 2022, Serial is one of the latest slots from Nolimit City. When playing this new online slot machine, you are transported to a world where a serial murderer is on a killing spree. So prepare for the cruel Bodycam Butcher, who will shake you to your core. A guy who, with his skin mask and chainsaw, calls to mind the iconic killer from the Texas Chainsaw Massacre. To generate more interest in the picture, the character and story have an inspiration for real events.
It is basically a sequel to a previous Nolimit city online slot game, Mental. Unlike Mental, the protagonist is no longer locked away in an asylum. It's typical from the online slot provider Nolimit City, smashing excellent taste under a huge hammer while pushing the boundaries of what's possible in an online slot machine. Although not everyone will like it, Serial has a strong freak factor that makes it difficult to turn away for those who enjoy the studio's investigation of darker, forbidden subjects.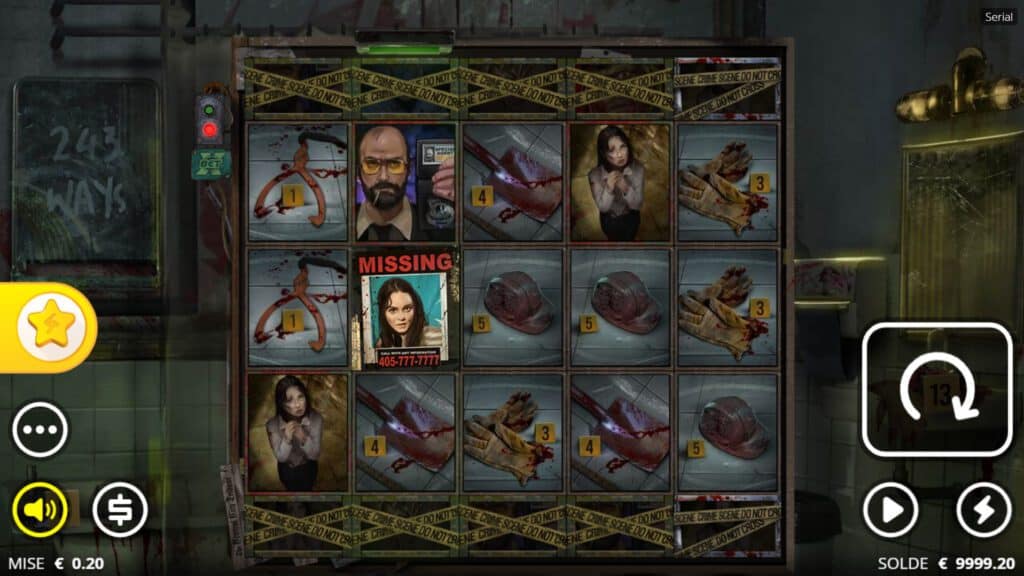 Nolimit City online slots provider
Since 2008, the hip firm Nolimit City has been in business and steadily expanding its original, atmospheric slot machines roster. The Stockholm-based company serves as a major source of amusement for the best online gambling sites. Nolimit City offers slots with creative themes and innovative extras.
Specifications of Serial's online slot
Serial is a video slot that uses flexible 53 layouts with 243 fixed paylines. Thanks to the Enhancer Cell feature, the grid may expand to 5x6x6x6x5 in the main game and 5x7x7x7x5 in the free spins bonus round for 8,575 ways to win. Furthermore, you can also add additional payment options with additional functionality. To win, you need to line up three or more identical symbols in a row, starting from the far left reel.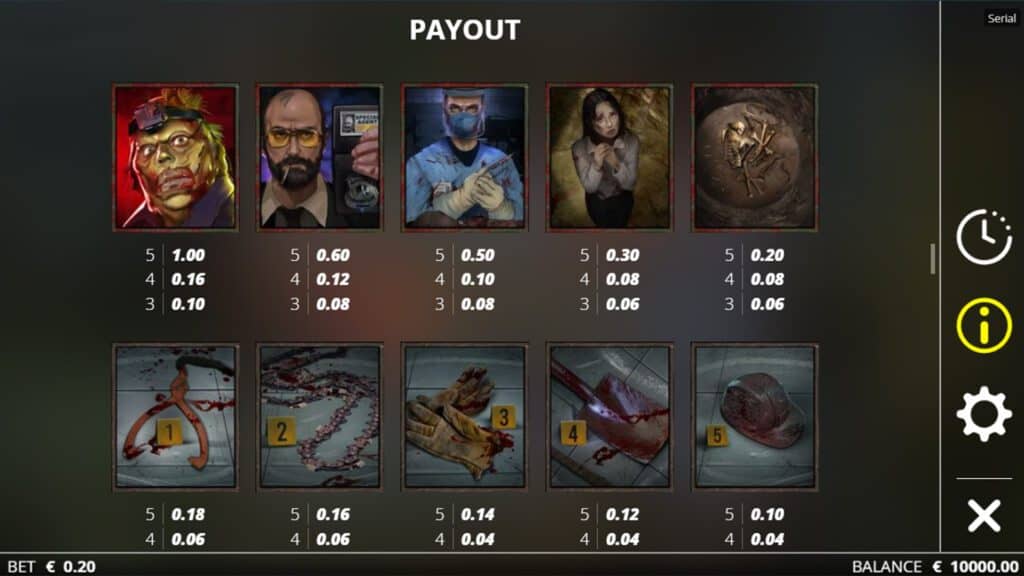 RTP
From $0.20 to $100, you may immerse yourself in the search for the serial murderer on your mobile device, computer, or tablet. This game has high volatility, with a return to player percentage of 96.07%. Some casinos will use 94.08% RTP variants, while others will use 92.05% RTP variants. When the game loads, click the "Info" button to get the RTP percentage.
Volatility
Unsurprisingly, the Serial online slot's volatility is exceptionally high (10/10). This means that big wins will be infrequent, but more likely to occur within a relatively short time frame. The hit frequency rate is 27.59%, which equates to a win about every 3.62 spins on average.
Max win
The online slot maximum payout is 74,800 times your total bet per spin. However, the odds of a maximum win are only 1 in 12,000,000. If you want to win 100 times your wager or more, spin the reels at least 888 times, while you should spin only 243 times to activate the free spins bonus.
Theme
Serial, developed by Nolimit City, is a first-person murder mystery that, thanks to its plot, will make you think of movies about serial killers. Forget about relaxing while playing, because in the vile world of SERIAL, you'll need all your wits to make it through alive. Investigating the crime scene and identifying the perpetrator in order to earn a reward from the detective is your primary objective.
The setting is terrible, with maniacs torturing victims, and you need to gather evidence for rewards. Maniac evidence, for instance, can yield up to 1x, victim and pathologist evidence 2.5x, and detective and maniac evidence 5x. Wild symbols, whether in the base game or the bonus game, always substitute for other paid symbols. On reels 2, 3, and 4, you can catch scatters.
Features of Serial's online slot
Cutting, stretching, and plugging the game grids with various features and expansion devices is nothing new for Nolimit City. The game Serial is no exception; it features an abundance of Respins, Enhancer Cells, and xMechanics, in addition to two bonus rounds and buys and the xBizarre feature.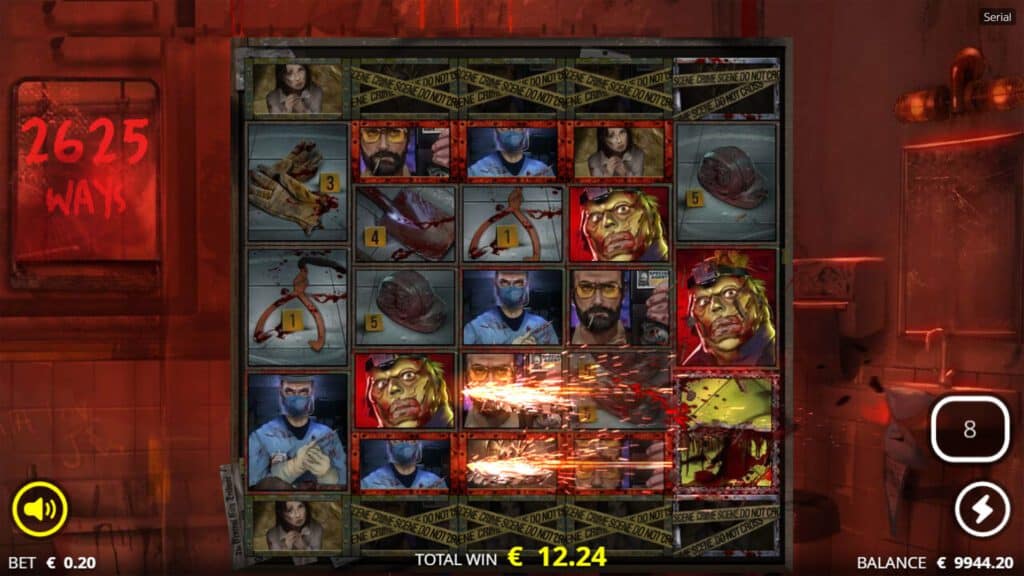 Respin
The Respin function is activated when a winning combination is achieved. With this feature, winning symbols will remain on the reels for one more free spin. If more winning symbols fall during a respin, the feature will continue. Further, 1 Enhancer Cell at the top and bottom of the grid will open from left to right, 1 reel at a time, during each respin. This essentially increases your odds of success.
xSplit Wild
Only the fifth and last reel is eligible for the xSplit Wild multiplier, which increases wins by two times. All characters in a row are divided in half. When xSplit Wild divides a Scatter symbol, it doubles the amount of Bonus Spins by the two halves. By splitting xNudge and xWays symbols, xSplit Wild increases their size by a factor of 2, and the multiplier they provide by a factor of 4.
Enhancer Cells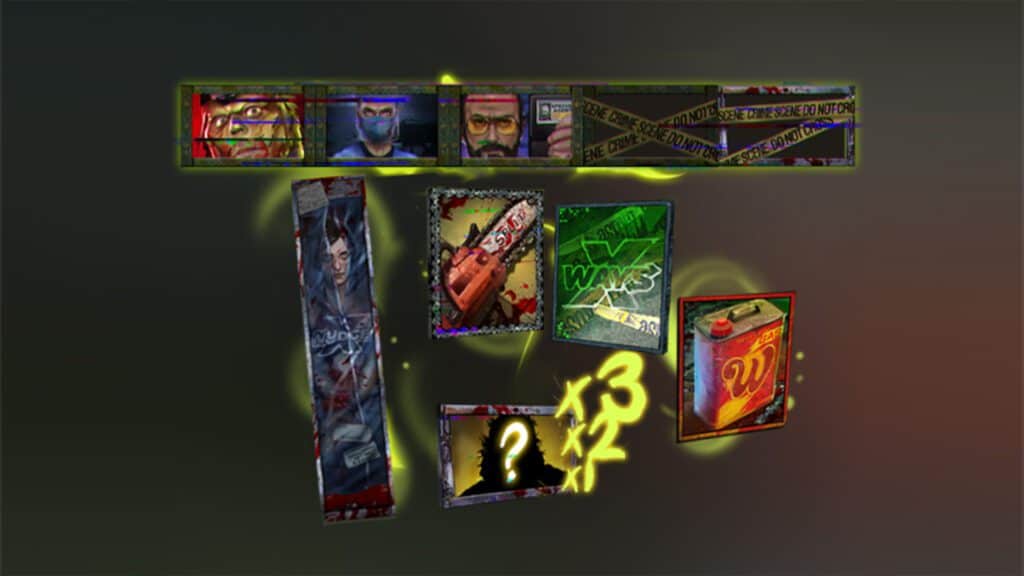 In the event of a respin, two Enhancer Cells will open, and when they do, one of the following icons will appear:
xWays: In this, it shows two to four identical pay symbols. When several xWays symbols align, only one will be shown even if multiple symbols are touched. In addition, if you get precisely two scatters, they'll turn into xWays symbols.
xNudge Wild: One or more stacked instances of the Wild icon that will always expand to fill the screen. The effect of a nudge is multiplied by one for each additional one.
Character symbols: The Enhancer Cells may contain any of the higher-paying symbols.
Wild: The standard representation of the Wild.
xWays & Infectious xWays
Only in an Enhancer Cell or after being changed from a Scatter can xWays be found. The xWays symbol will change into a regular paying icon. It also increases the number of possible combinations of matching symbols by two to four. The xWays that are revealed will cause all the same standard-sized symbols on the 3-3-3-3-3 reel region to grow to the same size.
The Search
Basically, activation of the Search happens after landing on three Scatter symbols. The total of the numbers on the Scatters determines the number of spins. The expansion of the supplementary Enhancer Cells on reels 2, 3, and 4 results in a reel layout of 3-5-5-5-3.
The Kill
In essence, you can activate the Kill by getting 3 Scatters and 1 xSplit symbol in a single spin. The xSplit icon will stay a Jumping Wild on Reel 5 during The Kill, unlike in The Search features.
xBizarre
In either the regular or bonus games, you may win a maximum of 18,700 times your wager. Once you reach this point, the xBizarre feature's maximum reward becomes available. Up to the third level, you'll have to choose between two equally bad options. To win the maximum of 74,800x, you must choose all the right answers. Intriguingly, if you make the incorrect call, you still get to retain your money from the previous round.
Nolimit Bonus
Serial provides three different purchase choices for those who would rather not earn their way into the bonus round. Both "The Search" and "The Kill" have maximum RTPs of 96.27% and 96.38%, respectively, and both cost 78x and 480x the wager, respectively. Alternately, players may spend 279x their initial wager on the Lucky Draw option, which gives them a 70% chance of obtaining The Search and a 30% chance of acquiring The Kill (maximum RTP: 96.38%).
How to play to serial's online slot
The best way to try out Serial is through the free online slot's demo version. It provides you with €10,000 free money, to begin with. From here, you can choose your bet amount, the number of rounds, adjust autoplay settings and choose the screen orientation depending on your device.
In addition, you can also buy additional game rounds using credits, adjust your currency, and then hit the play button. Your bet ranges from €0.20 to €100, while the rounds range from 10 to 1,000.
The layout is simple to use, allowing new players to get the hang of the slot quickly. It offers a pay table where you can view the entire setup of the game. The pay table allows you to always have the guidelines with you whenever you play the slot.
How to win real money with Serial's online slot
To play Serial's online slot for real money, construct winning combinations by getting three or more identical symbols on adjacent reels. Even though there are 243 possible winning combinations at the start of the game, the xSplit symbols may boost that number. You can buy additional game rounds using credits if you are more adventurous.
Review of the online slot Serial by Bonus Tiime
Once again, Nolimit City has given players a game with great sound effects and visuals. Its bloody crime scene reminds you about their previous game, Mental, giving you chills that make you sit on the edge of the chair during the spins. In addition, Nolimit City offers plenty of sweet delicacies with this game. You can enjoy many familiar features like xBet, xSplit, Wild, xNudge, and more. Serial is a great example of why Nolimit City is one of the best game providers on the market.
Serial has been ranked top 9 by our experts in our Top 10 Slot from Nolimit City Ranking 2023.