Immerse yourself in the adrenaline-fueled world of Road Rage, a high-octane online slot game developed by industry leaders Nolimit City. This thrilling slot, featuring 5 reels, with rows ranging from 3-5 and paylines between 99-259, promises to engage players with its intense theme of vehicular madness and a high volatility rating of 8/10. The captivating theme, combined with the enticing prospect of a max win of 36,000x, ensures that Road Rage has all the elements to become a favorite among both seasoned and novice slot players.
Beyond its engaging theme, Road Rage further entices players with its visually stunning design and interactive gameplay. The 3D graphics beautifully encapsulate the chaotic beauty of rush hour traffic, bringing this online slot game to life. The impressive array of features such as Wild Cars, bonus modes, Rage Buff, Mystery Symbols, and bonus buys will keep players on their toes, adding an extra layer of excitement to the overall gaming experience. With an RTP of 96.03% and hit frequency of 23.43%, Road Rage offers a unique blend of high stakes and lucrative rewards that will surely appeal to slot enthusiasts worldwide.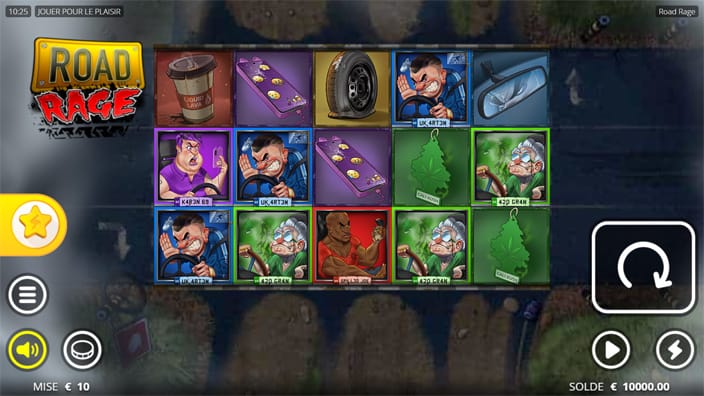 Demo Spotlight of Road Rage by Bonus Tiime
The Top 3 Casinos to Play Road Rage and Win Real Money
Stake Casino
Can't wait to feel the rush of Road Rage? Quench your thirst for action-packed slot gaming right now at Stake Casino. Offering an expansive selection of premium slots, Stake Casino promises an unrivalled gaming experience with Nolimit City's Road Rage.

Cresus Casino
Eager to hit the reels with Road Rage? Satisfy your gaming enthusiasm instantly on Cresus Casino. Home to Nolimit City's exhilarating slots, Cresus Casino ensures an immersive gaming session with the thrilling Road Rage slot.

Horus Casino
If the thrill of Road Rage is calling, don't wait a second longer. Experience the fast-paced action today at Horus Casino. As a leading platform for Nolimit City's captivating slots, Horus Casino brings you closer to the heart-pounding excitement of Road Rage.

Nolimit City Online Slots Provider
In the world of online gaming, Nolimit City stands out as a renowned developer of premium slot games. Their innovative and highly engaging portfolio has won them global recognition, making them a key player in the online casino industry. With a focus on immersive gameplay and captivating designs, Nolimit City continues to redefine online gaming.
Specifications of Road Rage Online Slot
Road Rage, a dynamic online slot by Nolimit City, captivates players with its 5 reels, with rows that can range from 3 to 5, offering a variable payline structure from 99 to 259 ways to win. The game's volatility and intricate design promise to keep the gaming experience both challenging and rewarding, drawing in players of all levels.
Echoing the mechanics seen in the popular Folsom Prison slot, Road Rage integrates wilds across the screen, creating intriguing gaming dynamics. The stakes are high, especially on Stake Casino, where players can indulge in the high-speed action of Road Rage, playing from 0.20 to 100 per spin, enticing high-rollers and casual gamers alike.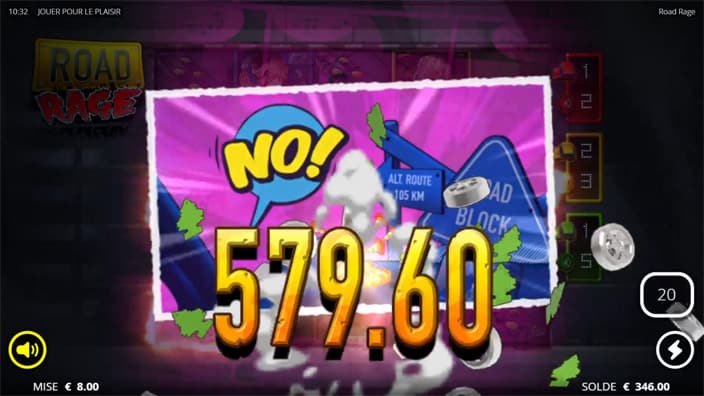 RTP
With a favorable Return to Player (RTP) of 96.03%, Road Rage offers a competitive edge to its players. This impressive RTP percentage indicates that players can anticipate substantial returns over a period of play, making Road Rage an appealing choice for online slot enthusiasts.
Volatility
Road Rage is recognized for its high volatility, catering to players who relish the thrill of high-risk, high-reward gameplay. This slot's significant fluctuations and potential for substantial wins create an exhilarating gaming experience for the bold and adventurous.
Max Win
Road Rage entices with a max win of a staggering 36,000x the bet. This means if a player is spinning at a stake of 1€, they could potentially pocket a thrilling €36,000 in a single round, highlighting the game's massive winning potential.
Theme
Road Rage takes players on an exciting journey, reminiscent of action-packed road rage scenes from films like Mad Max: Fury Road. The game's theme of traffic frenzy and high-speed chase encapsulates the thrilling tension of rush hour, creating an immersive and engaging slot gaming experience.
Features of Road Rage's Online Slot
Road Rage, developed by Nolimit City, is a high-octane online slot loaded with exciting features designed to amplify the gaming experience. From Mystery Symbols to Wild Cars, each unique attribute contributes to the slot's dynamic gameplay, increasing the thrill and potential for big wins.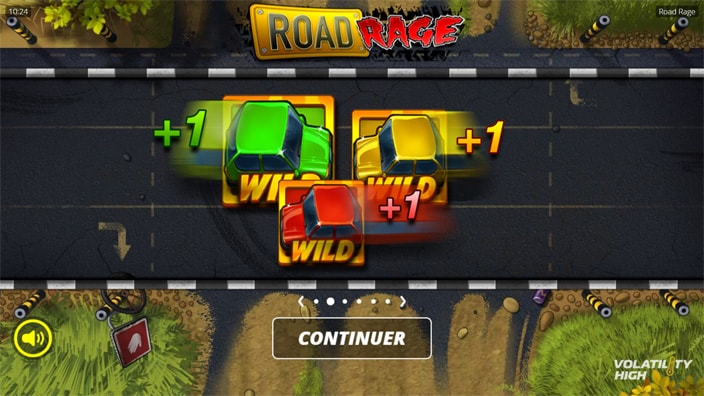 Mystery Symbol
The Mystery Symbol is a bonus feature that appears exclusively during the game's bonus modes. Upon landing, the Mystery Symbol reveals a color that can either match a Wild Car or provide additional spins, further enhancing the potential for rewards.
Wild Cars
Wild Cars are the central symbols in Road Rage. Each car, distinguished by color, comes with unique abilities that modify the game. They can either increase the size of other symbols, drive across the reels increasing multipliers, or become sticky wilds, boosting the potential for wins.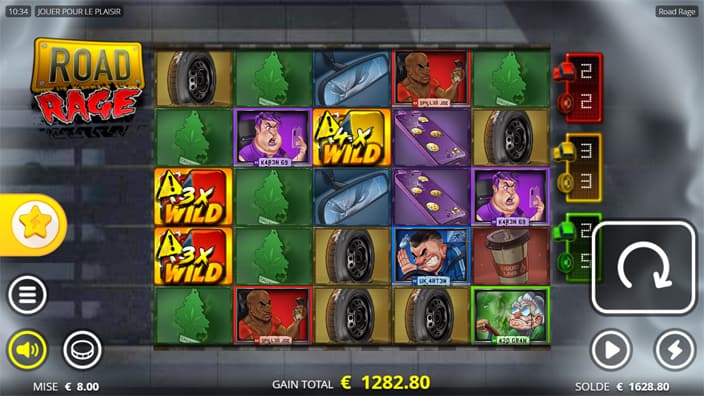 Rage Buff
Rage Buff is a pre-bonus round feature where cars traverse a grid, granting players the opportunity to win extra free spins, sticky multiplier increments, or Drive-By multiplier increments. This feature fuels the intensity of the bonus rounds and the potential rewards.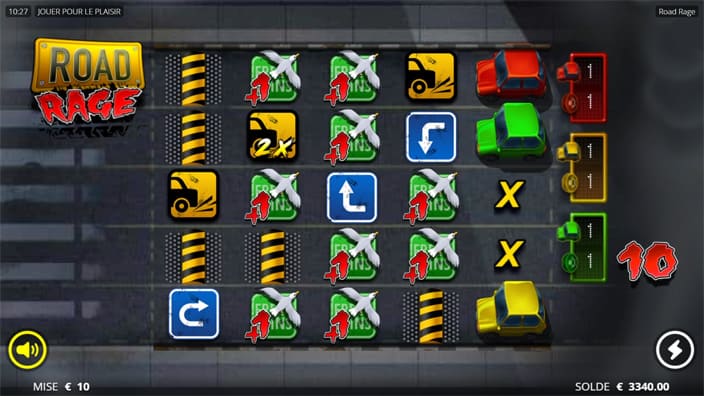 Morning Rush
Morning Rush is a bonus mode activated by landing three scatter symbols. It comes with three rows, offering increased opportunities to rack up wins. Landing additional scatters in this mode can upgrade you to higher bonus levels.
H1ghway Jam
Triggered by landing four scatter symbols, H1ghway Jam bonus mode provides players with four rows. It escalates the game's intensity, presenting increased chances of winning and the opportunity to advance to the highest bonus mode with an additional scatter.
City Mayh3m
The most rewarding bonus mode, City Mayh3m, is triggered by landing five scatter symbols. It presents players with five rows, maximizing the opportunities for substantial rewards and marking the peak of the game's intensity.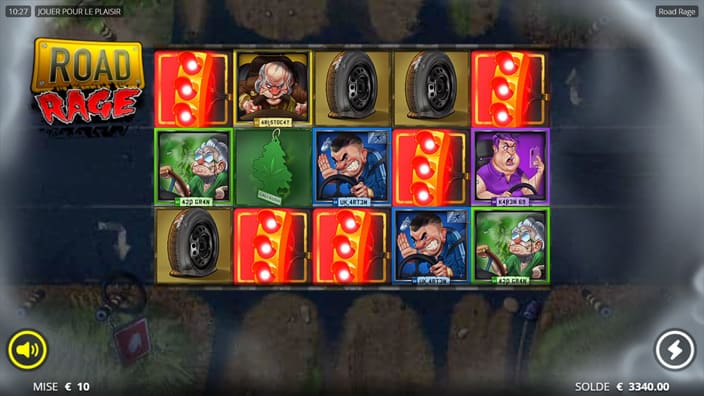 Ghost Rider
The Ghost Rider feature signifies hitting the slot's maximum win of 36,000 times the bet. Triggering this feature leads to a thrilling climax, reflecting the high-risk, high-reward nature of the Road Rage slot.
Bonus Buy
Nolimit Bonus Buy is a unique feature that gives players the ability to directly purchase entry into the Morning Jam, H1ghway Jam, or City Mayh3m bonus modes at respective costs of 66x, 270x, or 666x the bet. There's also a fourth option where, for 334x the bet, players get a 33% chance of triggering any one of the three bonus modes.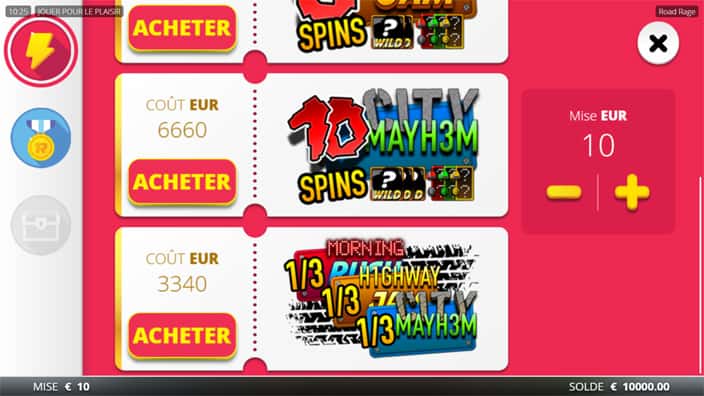 How to Play to Road Rage's Online Slot
As you begin your thrilling journey with Road Rage, the first step is to set your bet size, ranging from a minimum of 0.20 to a maximum of 100. You will then start spinning the reels, hoping to align matching symbols from left to right on adjacent reels, creating winning combinations. The game utilizes a connected win ways system, offering a fluctuating number of paylines between 99 to 259, depending on the grid size.
The paytable of Road Rage is composed of driving-related symbols and unique driver characters. The low-value symbols include items like mirrors, charging mobiles, air fresheners, flat tires, and cups of java, delivering modest returns of 0.5 to 1.5x the bet for five of a kind. High-value symbols are represented by five distinctive driver types with personalized number plates such as UK 4RT3M, K4R3N 69, 420 GR4N, 4RISTOC4T, AND SPILL3D JOE. These offer more substantial payouts of 2-5 times the stake for a line of five. It's this strategic blend of symbols that keeps the game engaging, offering a dynamic, fast-paced and potentially lucrative gameplay experience.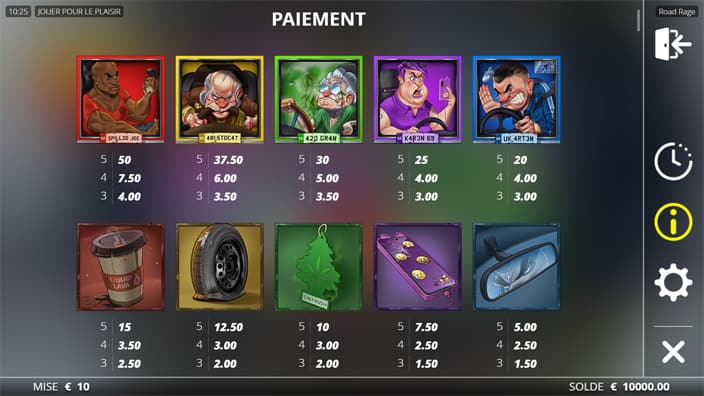 Review of the Online Slot Road Rage by Bonus Tiime
The Road Rage online slot game is a bold and dynamic release from Nolimit City that steps into the realm of high-speed antics and revved-up thrills. The unique theme sets this game apart, capturing the adrenaline of road rage incidents, weaving it into a compelling, immersive, and enjoyable gaming experience. The intense, unique mechanics and memorable characters come together to create a game that's every bit as unpredictable and exciting as the incidents it's based on.
The opportunity for a maximum win of a staggering 36,000x the bet adds to the thrill of the game. This substantial payout potential, coupled with the high volatility of the game, offers players an enticing risk/reward ratio that can turn every spin into a potential jackpot. With the high-stakes nature of Road Rage, the rewards can match the risk, making for a truly captivating gaming experience.
The unique mechanic in Road Rage, where players can glimpse the potential of the bonus with the pre-bonus feature, adds an extra layer of anticipation to the gameplay. This mechanic, reminiscent of the patient feature in Nolimit City's Mental slot, enhances the excitement and builds up the suspense before the bonus round begins. It's yet another testament to Nolimit City's innovative approach to online slot design, making Road Rage a standout choice for players seeking a high-octane gaming experience.
Advices and Tips to Play Road Rage
Get ready to improve your online slots experience! We offer a range of tutorials and articles for both beginners and seasoned players. These invaluable resources will guide you towards a more strategic and enjoyable gaming session. So, dive in and boost your online slot prowess today!