Unleash the thrill-seeker in you and venture into the eerie and enchanting world of Mental – an online slot game by the renowned developer Nolimit City. Designed with an intense blend of eerie aesthetics and challenging features, Mental takes online gaming to a whole new dimension. The game's intricate design is inspired by old-fashioned asylums, chillingly detailed anatomical sketches, and a spine-tingling backdrop of therapy verging on torture. This enigmatic slot game is set to challenge your wits, offering a unique blend of excitement, fear, and, above all, a potential for big winnings.
One of the most fascinating elements of the Mental online slot is its dynamic and innovative feature set, packed with splitting symbols, transformations, symbol multipliers and so much more. With 5 reels, a variable 3-2-3-2-3 layout providing 108 ways to win and a maximum RTP of 96.08%, this high volatility game offers a robust playing experience for seasoned slot enthusiasts. Intricately designed with 'Extreme' volatility and rated for its complexity, Mental promises a thrilling and gripping gaming experience that's guaranteed to keep players on the edge of their seat. Uncover the mysteries of this asylum-themed slot and dare to face the 'Mental' challenge head-on!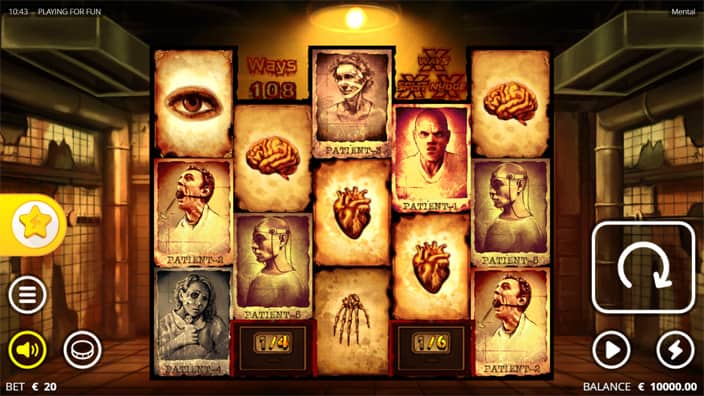 Demo Spotlight of Mental by Bonus Tiime
Nolimit City Online Slots Provider
Nolimit City is an acclaimed software provider in the online gaming industry, renowned for their innovative, high-quality slot games. With years of experience and a knack for designing engaging, feature-rich games, Nolimit City is continually pushing the boundaries in online casino entertainment, delivering a unique gaming experience to players worldwide. Their latest offering, "Mental," is yet another testament to their creative prowess and commitment to excellence.
Specifications of Mental Online Slot
Mental is a high-powered online slot game by Nolimit City, which comes loaded with a distinctive 5-reel grid, in a 3-2-3-2-3 format, offering players over 108 ways to secure a win. It further heightens the excitement by expanding the reels to a staggering 20 rows, thereby multiplying the chances of winning.
This captivating slot game sets itself apart by incorporating all popular mechanics from Nolimit City: xWays, xSplit, and xNudge, offering a versatile and engaging gaming experience. Its fast-paced growth can be attributed to these mechanics that cater to the preferences of seasoned gamblers. On platforms like Stake, Mental has become a key choice for players seeking high stakes and rewarding gameplay.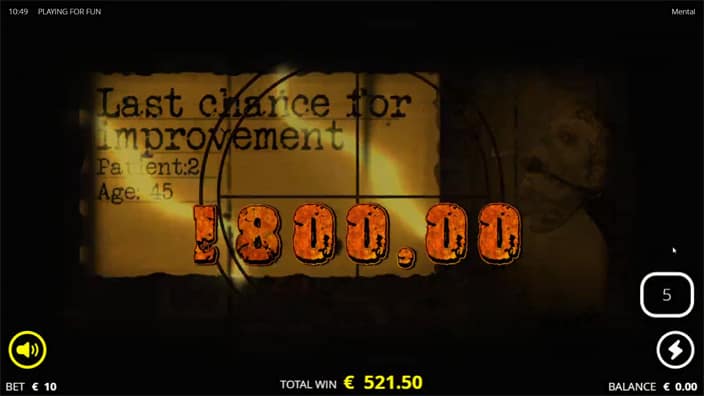 RTP
With a generous RTP (return to player) of 96.08%, Mental offers players a favorable return, enhancing the thrill of each spin. This RTP value, exceeding the industry average, positions Mental as a rewarding choice for slot enthusiasts.
Volatility
The very-high volatility of Mental adds an extra layer of excitement to the gameplay. It means huge payouts can be won on any spin, appealing to thrill-seekers who love the adrenaline rush of high-risk, high-reward gameplay.
Max Win
The potential max win of Mental is a staggering 66,666x the stake. This means if you play with a bet of €1, you could walk away with an incredible €66,666, illustrating the phenomenal payout potential this game holds.
Theme
The theme of Mental takes you on a spine-chilling journey through an eerie abandoned asylum. Its engaging graphics and thrilling sound effects immerse players into a world of mystery and suspense, making Mental a truly captivating online slot experience.
Features of Mental's Online Slot
Mental online slot boasts a rich array of features designed to amplify player engagement. With innovative mechanics like xWays, xSplit, xNudge, and a potential max win of 66,666x the stake, Mental provides a unique, exhilarating gaming experience that sets it apart in the realm of online slots.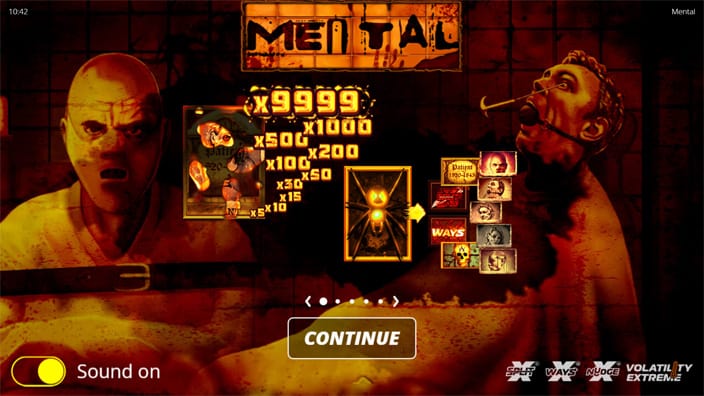 Fire Frames
Fire Frames feature in Mental involves 1-13 random positions on the reels receiving a Fire Frame in the main game, enabling any symbol landing within it to split into two, thereby augmenting winning possibilities.
Dead Patient
Dead Patient feature activates with two Dead Patient symbols, uncovering one Patient symbol with a random multiplier ranging from x5 to x9999. This value determines the symbol count on that reel, boosting potential winnings significantly.
Enhancer Cells
The Enhancer Cells feature in Mental slots impacts the second and fourth reels, revealing various game-enhancing symbols.
Patient Symbol: This represents one of five distinct Patient symbols, diversifying the gameplay.
Dead Patient: It's a special symbol activating lucrative multipliers when triggered.
xWays: Reveals three matching symbols, expanding the reel height for bigger wins.
xSplit: This feature doubles symbol count by splitting a symbol into two.
Wild: The regular Wild symbol, replacing other symbols to form winning combinations.
xNudge Wild: Nudges to full visibility, increasing win multiplier with each nudge, boosting payouts.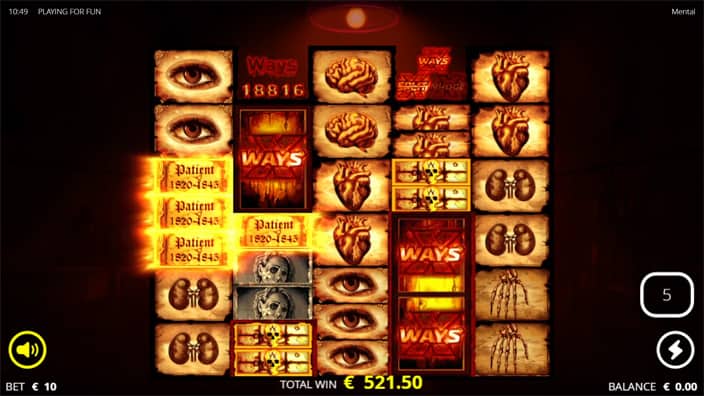 Mental Transform
The Mental Transform feature in Mental is triggered when a Spider symbol lands on either reel 2 or reel 4. This Spider symbol then morphs into one of the key symbols: xWays, xSplit, Dead Patient, Wild or Patient symbol, enriching your gaming experience.
Autopsy Free Spins
Autopsy Free Spins feature comes to life when you land 3 Scorpion symbols, granting you 8 Autopsy Free Spins. Each Scorpion symbol with a Fire Frame rewards an additional spin. During this feature, up to 5 positions on the reels randomly ignite with a Fire Frame for each spin, staying in place throughout. You also have the chance to upgrade to Lobotomy or Mental Free Spins.
Lobotomy Free Spins
Lobotomy Free Spins feature is triggered in the main game by landing 3 Scorpion symbols and a Spider symbol, or during Autopsy Free Spins by landing a Spider symbol. You get 9 Lobotomy Free Spins and any Scorpion or Spider symbol with a Fire Frame gives you an extra spin. Here, the Spider symbol sticks around, triggering the Mental Transform feature in each spin. Moreover, the highest Multiplier from each Dead Symbol is transferred to its respective Patient symbol.
Mental Free Spins
The Mental Free Spins feature is activated in the main game with 3 Scorpion symbols and 2 Spider symbols, or during Autopsy and Lobotomy Free Spins by landing additional Spider symbols. You receive 10 Mental Free Spins, and each Scorpion or Spider symbol with a Fire Frame adds one more spin. Both Spider symbols stick and trigger the Mental Transform feature each spin, while the Dead Multiplier count keeps building with each new Dead Patient symbol reveal, significantly increasing your winning potential.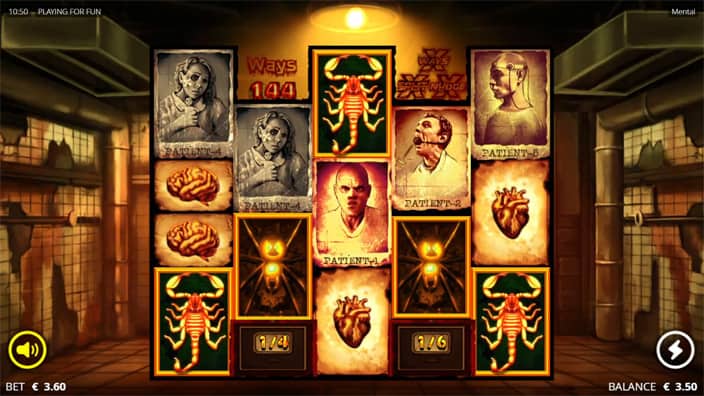 Bonus Buy
In Mental, the Bonus Buy feature offers a fast track to excitement. This option allows players to directly purchase a bonus round, bypassing regular gameplay, and instantly accessing high-stakes action and potential rewards.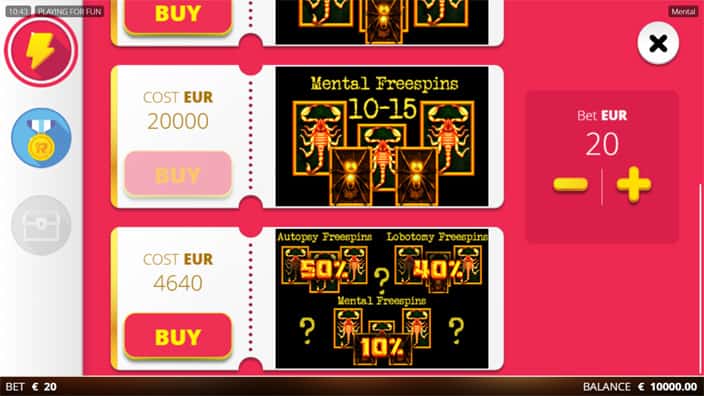 How to Play to Mental's Online Slot
Playing Mental slot is straightforward yet full of strategic possibilities. The gameplay begins with setting the stake value to suit your preference. The controls are easily accessible, and players can adjust the bet amount per spin. The game comes with an AutoPlay function that lets you set the number of spins to play automatically, freeing you to enjoy the visuals and soundscape. To win, line up matching symbols on the paylines from left to right.
The symbol values in Mental contribute to the depth of this game. Different symbols carry varying values, with Patient symbols carrying the highest worth. The Dead Patient symbols reveal random multipliers, significantly boosting potential wins. xWays, xSplit, xNudge Wild symbols, and the transformative Spider symbol all hold unique game-changing features that add layers of excitement to each spin. Keep in mind the Fire Frames feature that splits any symbol landing within them into two, creating more chances for a winning combination. Understanding these symbol values enhances your strategic play.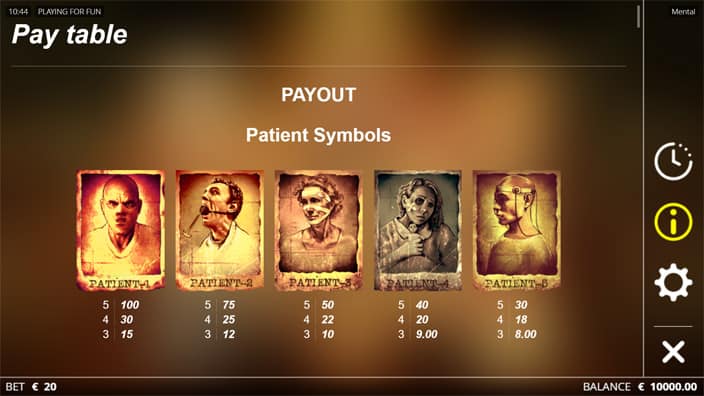 How to Win Real Money with Mental Online Slot
If you're thrilled to experience the unique features of the Mental slot, look no further! Head over to Stake casino, a leading gaming platform, and dive into the engaging gameplay. With Mental ready to spin, you're just a click away from the exciting world of high-stakes online slots.

Review of the Online Slot Mental by Bonus Tiime
Mental continues to solidify Nolimit City's reputation for crafting thrilling, innovative slots, joining the ranks of esteemed titles like Fire in the Hole, Book of Shadows, and Tombstone RIP. Delving into the eerie theme of mental asylum, this slot transports players to an unconventional, suspense-filled gaming world that's as intriguing as it is immersive. The attention to detail in the design and the chilling sound effects enhance the gripping theme, setting Mental apart from its contemporaries.
In terms of rewards, Mental stands tall with a whopping potential of 66,666x your bet. This winning potential, coupled with the impressive set of features offered by Nolimit City, makes it an attractive choice for those seeking high-stake thrills. The slot is a testament to Nolimit City's ability to consistently deliver successful and captivating slots that keep players coming back for more. It's no wonder Mental has quickly become a favourite among online slot enthusiasts.
Moreover, Mental's unique blend of innovative game mechanics, combined with its high volatility and immersive theme, truly sets it apart. Its diverse range of features, including xWays, xSplit, xNudge, and others, provide layers of gameplay that consistently surprise and engage players, contributing to its rapid growth in popularity. By pushing boundaries and challenging traditional slot conventions, Mental not only stands shoulder to shoulder with Nolimit City's previous successes but also paves the way for future innovations in the genre. It's a must-try for any serious slot enthusiast who appreciates top-quality gaming experiences.
Mental has been ranked top 1 by our experts in our Top 10 Slot from Nolimit City Ranking 2023.
Advices and Tips to Play Mental
1. Try Out Demo Mode on Bonus Tiime
Like most online slots, Mental comes with the option of playing free in demo mode. This opens up the game to potential players who wish to see what it is all about without having to risk any actual money. Demo mode is not just for the curious newbie, though. It gives any player an opportunity to discover the game mechanics and its special features for themselves. In this way, before a single cent is bet, a player can be familiar with Mental's scatters and wild cards – and how these have an impact on the overall game. This leads us to the next pre-game tip for canny players: take a look at the pay table.
2. Relax and Entertain Yourself
Trying first the free slot demo is the perfect way to unwind, relax, and simply enjoy playing Mental – without losing money or the stress to catch chasing wins.
3. Always Study the Paytable of the Slot
The pay table is the slot's equivalent of a price list. You will find here a complete list of all the symbols in the game, along with their value. You will also be able to discover the properties of all the wilds and golden wilds. Combined with spending a little time in demo mode, this preparation will allow players to place their first bet with confidence when beginning the proper game.
4. Plan a Betting Budget and Stick to it
Anybody concerned with promoting Responsible Gambling will offer one piece of advice first and foremost: don't bet more than you are prepared to lose. When it comes to play online slots for real money, then this manifests itself through sticking to a pre-agreed budget. If a player reaches their betting ceiling without a big win then it is time to call it a day. Stop playing as soon as you reach the budget limit.
5. Don't Be Dazzled by Huge Jackpots
Some expert gamblers spend their time online chasing those mega-jackpots. While there is nothing wrong with that, it is a fact that slots offering huge progressive jackpots normally have higher odds and less chance of paying out.