The thrills of online gambling come alive in Fire in the Hole xBomb, an online slot game developed by Nolimit City. The game's theme embraces the gritty and darkly fascinating world of mining, offering players a unique gaming experience with the potential for massive wins. The excitement doesn't end with just its theme. Nolimit City has packed this game with remarkable features and gameplay mechanics that keep players on their toes, delivering an online gaming experience like no other.
Fire in the Hole xBomb by Nolimit City is an electrifying slot game that offers a unique blend of fun and opportunity. With its high volatility, exceptional winning potential, and a plethora of engaging features, it is an excellent choice for players seeking an exciting and rewarding online gaming experience. Fire in the Hole xBomb is not just a game, it's a riveting journey into the underground world of mining, filled with riches and thrilling gameplay mechanics waiting to be unearthed.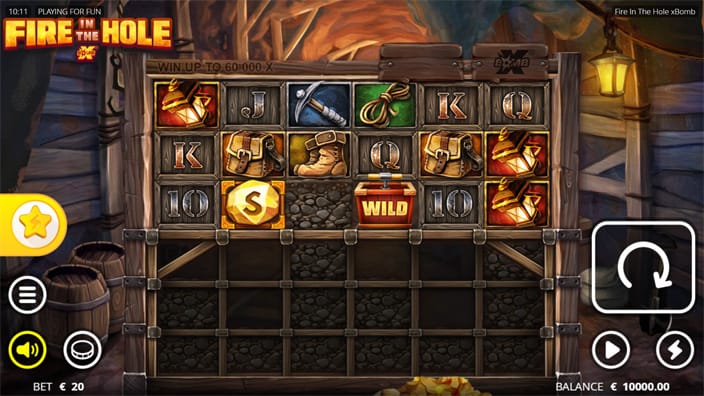 Nolimit City Online Slots Provider
Nolimit City is an avant-garde software provider, known for their cutting-edge online casino games. With their strong commitment to innovation, graphic finesse, and dynamic gaming experiences, they are at the forefront of the iGaming industry, making a name for themselves as a leading creator of high-quality online slots.
Specifications of Fire in the Hole Online Slot
Fire in the Hole online slot game boasts a remarkable layout with 6 reels and up to 46,656 ways to win. The unique Collapsing Mine feature further escalates the number of paylines, turning each spin into a thrilling pursuit of underground treasures. This adaptable slot allows players to delve into the mining adventure on their own terms.
Even amongst top-tier Nolimit City titles such as Mental and Book of Shadows, Fire in the Hole stands out due to its high volatility and lucrative pay structure. Whether you're a high roller or prefer moderate stakes, the game's flexible betting options on Stake provide every player with an exhilarating and rewarding experience.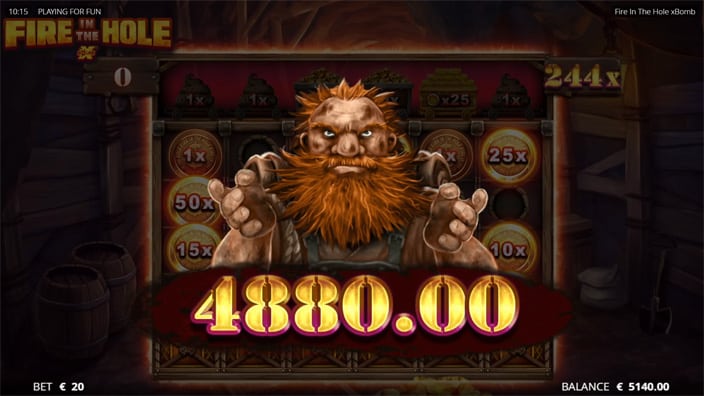 RTP
Boasting a substantial 96.06% RTP (return to player), Fire in the Hole is an impressive online slot for astute players seeking a solid return on their wagers. This enticing return to player percentage assures a favorable balance of risk and reward in your thrilling subterranean adventure.
Volatility
Fire in the Hole's high volatility mirrors the game's dynamite-laden theme. This level of volatility signifies big wins could explode onto your screen at any time, ideal for thrill-seekers who relish in the suspense and unpredictability that this slot game masterfully delivers.
Max Win
With a max win of a whopping 60,000x your stake, Fire in the Hole provides an adrenaline-fueled gaming experience. For example, a modest €1 bet could potentially transform into an astonishing €60,000 payout, truly emphasizing the immense winning potential embedded in this slot.
Theme
The theme of Fire in the Hole captures the adventurous spirit of mining, reminiscent of the classic movie The Hobbit: An Unexpected Journey. The determined dwarves and their epic quest for reclaimed treasure draws parallels to the player's pursuit of winning combinations in this engrossing online slot game.
Features of Fire in the Hole's Online Slot
Dive into the thrilling features of Fire in the Hole online slot. From Collapsing Mine to Nolimit Bonus, each one adds a unique twist, enhancing player engagement, and promising lucrative rewards. These features combine to create an immersive experience that makes this game a standout among online slot titles.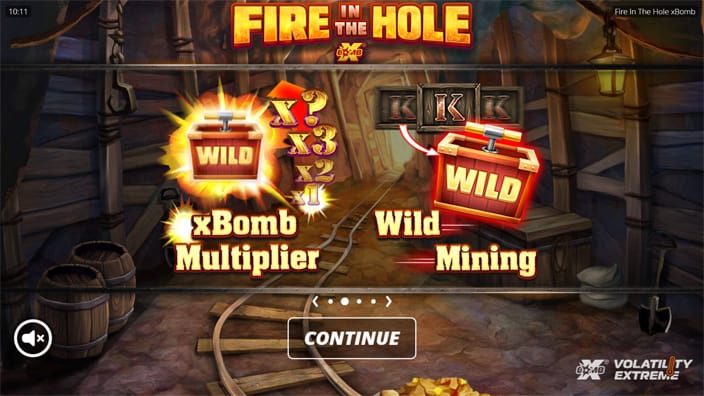 Collapsing Mine
Collapsing Mine feature introduces a dynamic gameplay element where symbols collapse, creating more chances to win and adding an exciting pace to your slot adventure.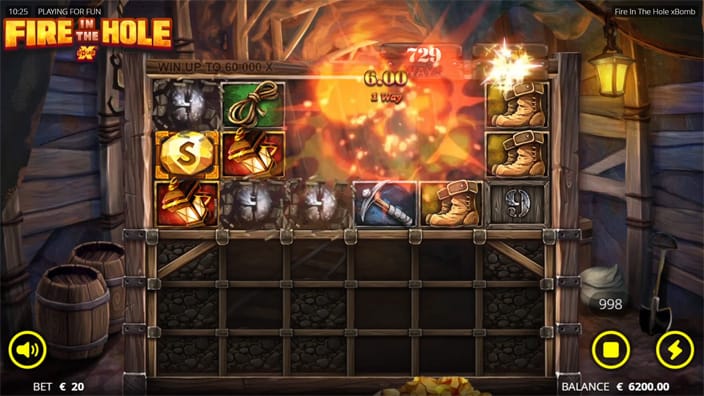 xBomb Wild Mutliplier
The xBomb Wild Multiplier feature ensures that each wild symbol detonates to increase the multiplier and clears the path for more potential wins, amplifying the excitement.
Wild Mining
Wild Mining is an intriguing feature that gives you the chance to form winning combinations even without aligning symbols on a payline, adding a layer of strategic play to the game.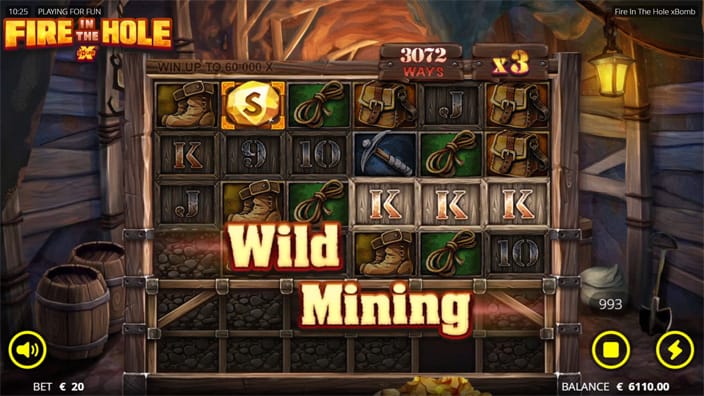 Lucky Wagon Spins
Lucky Wagon Spins is a unique bonus game that fills the empty spaces under the reel with coins, dynamites, bags, and chests, offering even more opportunities for extraordinary rewards.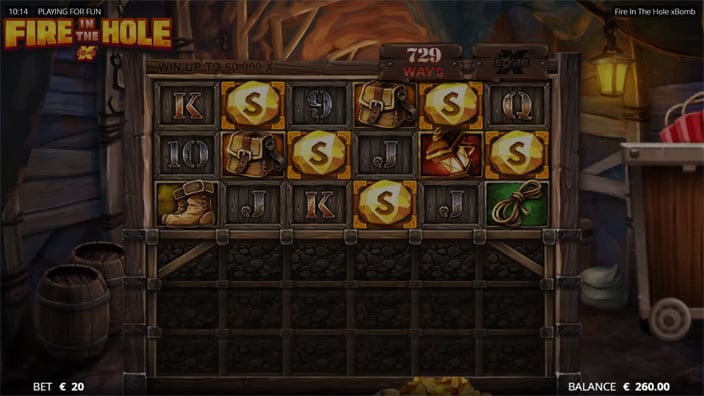 Coin Values: Direct cash rewards that randomly appear on the reels, instantly adding to your prize pot.
Multipliers: Working in tandem with coin values to magnify your winnings, making each spin an exciting game moment.
Dynamite: A powerful addition that collects all visible values from the reel it lands on, causing an explosive surge in your rewards.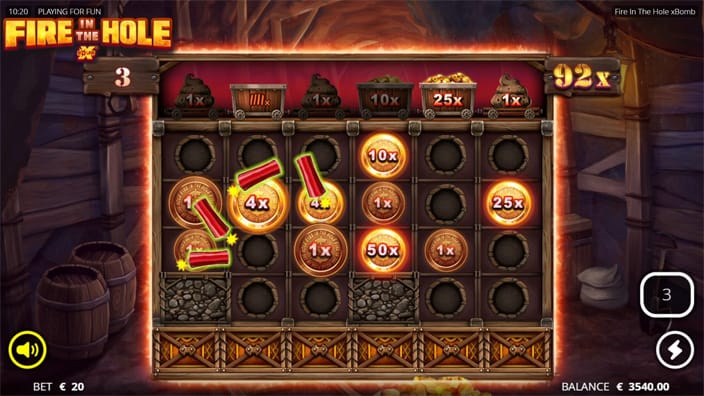 Bag: Gathers all visible values from its reel, contributing them to your ongoing bonus game and keeping the winning momentum alive.
Chest: Collects all visible values from all reels. This symbol holds high winning potential, making its appearance on the reels a much-anticipated moment.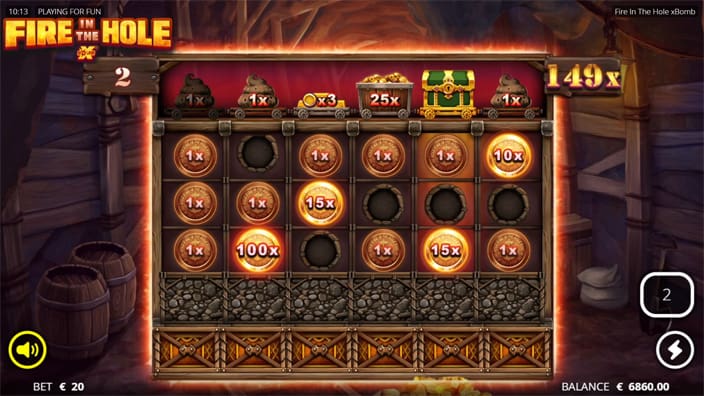 Dwarf: When landed, it collects all values on its reel, positioning them onto the initiating coin, and continues to do so in each subsequent spin, amplifying the potential for big rewards.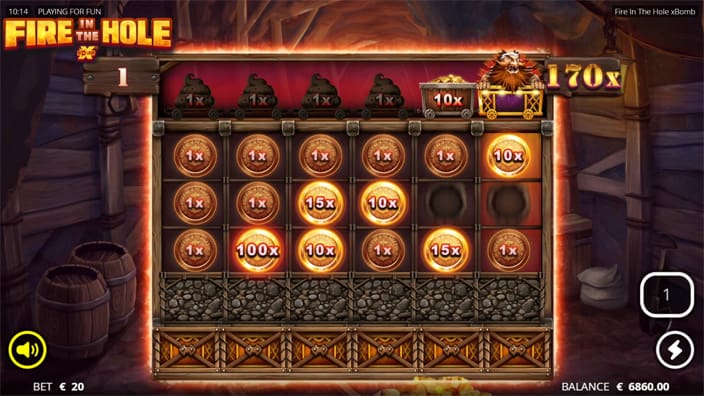 Collect Chests:
Finally, make the most of the "Collect Chests" feature that surfaces during the Lucky Wagon Spins, gathering all visible coin values on the reels, giving your total prize money a substantial boost.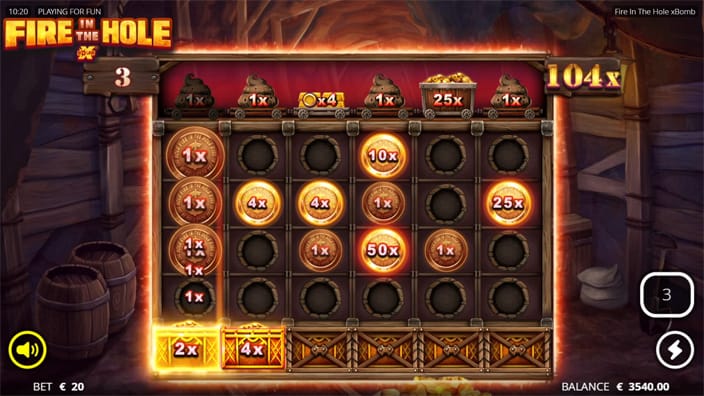 Nolimit Bonus Buy
For players looking to intensify the thrill, Fire in the Hole offers the "Nolimit Bonus Buy" feature. This unique element allows players to directly purchase entrance into the much-coveted bonus rounds, bypassing the regular gameplay.
Three Scatters Buy: At a cost of 60 times your stake, you can instantly acquire three scatters symbols. This bonus comes with an RTP (Return to Player) of 96.07%, offering an approximate max win chance of 1 in 133K, making it an appealing starting point for most players.
Four Scatters Buy: For a higher stake of 157 times your original bet, you get four scatters symbols. This raises the RTP to 96.2% and significantly increases your odds of hitting the max win, with an approximate chance of 1 in 41K.
Five Scatters Buy: The ultimate risk taker's choice is the five scatters buy, which costs 500 times your stake. It boasts an impressive RTP of 96.96% and the best chance at the maximum win, with odds approximating 1 in 16K.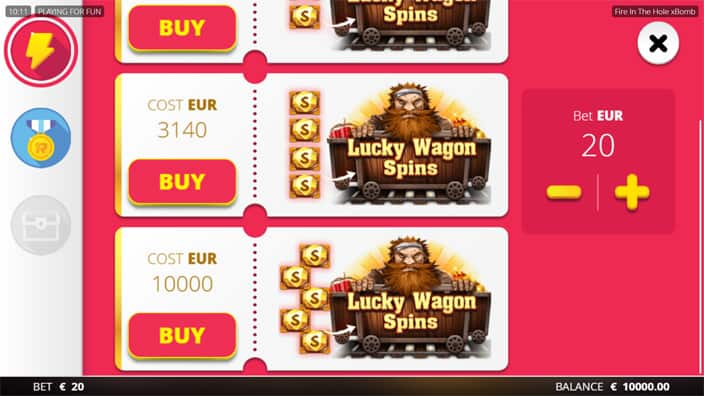 How to Play to Fire in the Hole's Online Slot
Embarking on your mining adventure with the Fire in the Hole slot is an engaging and straightforward process. As a player, your primary goal is to align matching symbols on adjacent reels, starting from the leftmost. The more symbols you align, the bigger your winning combinations. With a diverse range of symbols, including low-value card suits and high-value thematic icons such as boots, bags, lanterns, ropes, and dynamite, there's a myriad of winning possibilities to uncover.
Each symbol in Fire in the Hole carries a distinct value, with higher-value symbols offering increased returns on your stake. The top-tier symbols, such as the dynamite, promise substantial payouts, while the lower-tier card suits offer moderate rewards. Remember, the xBomb Wild Multiplier and the special dwarf symbol can significantly boost your winnings. Mastering the symbol values and their interactions is an integral part of strategizing and enhancing your chances of hitting a jackpot in this thrilling underground adventure.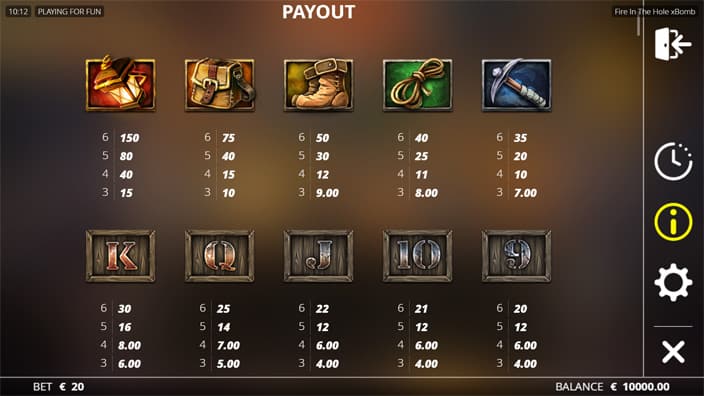 How to Win Real Money with Fire in the Hole Online Slot
Unleash your adventurous spirit with the Fire in the Hole slot today! If you're eager to dive into this thrilling mining escapade, head over to Stake Casino. With its user-friendly interface and secure gaming environment, it's the ideal place to start your journey towards potentially striking it rich.

Review of the Online Slot Fire in the Hole by Bonus Tiime
Enter the depths of Nolimit City's Fire in the Hole slot, an immersive gaming experience that thrusts you into the heart of a dwarf's mining adventure. This slot's gritty theme, set in the unforgiving underground, is an exciting journey for those seeking thrilling gameplay. It impeccably combines high-quality graphics with attention to detail, creating a captivating backdrop that keeps players coming back for more.
The allure of Fire in the Hole isn't limited to its immersive theme. Its enticing promise of a 60,000x bet max win is a massive draw for those seeking huge rewards. This staggering max win has made this slot the talk of the online gaming community, earning it the tag of a 'jackpot machine'.
Fire in the Hole has solidified its popularity after doling out its max win multiple times. Its ability to turn the fortunes of casual gamblers overnight has sent waves through the gaming community. For anyone looking for a game with high-stakes excitement and life-changing wins, Fire in the Hole is a must-play slot.
Fire in the Hole has been ranked top 2 by our experts in our Top 10 Slot from Nolimit City Ranking 2023.
Advices and Tips to Play Fire in the Hole
1. Try Out Demo Mode on Bonus Tiime
Like most online slots, Fire in the Hole comes with the option of playing free in demo mode. This opens up the game to potential players who wish to see what it is all about without having to risk any actual money. Demo mode is not just for the curious newbie, though. It gives any player an opportunity to discover the game mechanics and its special features for themselves. In this way, before a single cent is bet, a player can be familiar with Fire in the Hole's scatters and wild cards – and how these have an impact on the overall game. This leads us to the next pre-game tip for canny players: take a look at the pay table.
2. Relax and Entertain Yourself
Trying first the free slot demo is the perfect way to unwind, relax, and simply enjoy playing Fire in the Hole – without losing money or the stress to catch chasing wins.
3. Always Study the Paytable of the Slot
The pay table is the slot's equivalent of a price list. You will find here a complete list of all the symbols in the game, along with their value. You will also be able to discover the properties of all the wilds and golden wilds. Combined with spending a little time in demo mode, this preparation will allow players to place their first bet with confidence when beginning the proper game.
4. Plan a Betting Budget and Stick to it
Anybody concerned with promoting Responsible Gambling will offer one piece of advice first and foremost: don't bet more than you are prepared to lose. When it comes to play online slots for real money, then this manifests itself through sticking to a pre-agreed budget. If a player reaches their betting ceiling without a big win then it is time to call it a day. Stop playing as soon as you reach the budget limit.
5. Don't Be Dazzled by Huge Jackpots
Some expert gamblers spend their time online chasing those mega-jackpots. While there is nothing wrong with that, it is a fact that slots offering huge progressive jackpots normally have higher odds and less chance of paying out.