The virtual mining world gets a fresh twist with Dead Canary, a newly-released online slot game from the renowned developer Nolimit City. Drawing inspiration from the historical use of canaries in mines as an early warning system, the game offers an intriguing juxtaposition where the death of the bird signals the potential for great riches. Set against a captivating backdrop of a dark, grotto-like chamber with subtle hints of yellow, players are treated to a visually stunning yet somber ambiance reminiscent of the risks and rewards of mining.
Diving deeper, Dead Canary boasts an array of impressive features, from its unconventional 6-reel design to a myriad of bonus rounds and multipliers. This comprehensive review aims to guide players through a free demo of the game, providing insights and strategies to best navigate the depths of this high-volatility slot. Whether you're a seasoned slot enthusiast or a newcomer to the mining theme, this analysis promises a thorough understanding of what Dead Canary has to offer.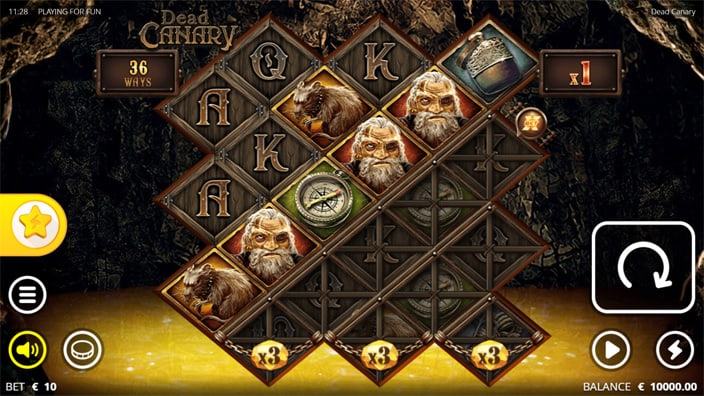 The Top 3 Casinos to Play Dead Canary and Win Real Money
Stake Casino
Eager to experience the thrills of Dead Canary slot? Dive into the adventure today at Stake casino. Known for its vast gaming selection, it's the perfect platform to test out Nolimit City's latest masterpiece.

Cresus Casino
Cresus casino awaits slot enthusiasts eager to explore Dead Canary. With its seamless gaming experience, Cresus is your ideal destination to embark on this Nolimit City slot journey.

Horus Casino
Ready to unearth the riches of Dead Canary slot? Head to Horus casino now. Offering a top-tier gaming environment, it's the prime spot to indulge in Nolimit City's new release.

Nolimit City Online Slots Provider
Nolimit City stands as a premier game provider in the online casino landscape. Renowned for its innovative slot designs and cutting-edge technology, this developer has consistently delivered top-tier gaming experiences, carving a niche in the competitive iGaming sector. Dive into Nolimit City's world and discover unparalleled digital entertainment.
Specifications of Dead Canary Online Slot
Delve into the intricacies of Dead Canary online slot, a captivating game boasting 6 reels and a unique 3-3-2-2-1-1 starting grid, which can expand to a 3-4-3-4-3-4 layout. With an array of ways to secure a win, it's a testament to Nolimit City's innovative approach to slot design.
Drawing inspiration from a familiar universe, Dead Canary shares thematic elements with the notable Misery Mining. For those eager to test the waters, Stake provides an optimal platform to experience the stakes and rewards this slot offers.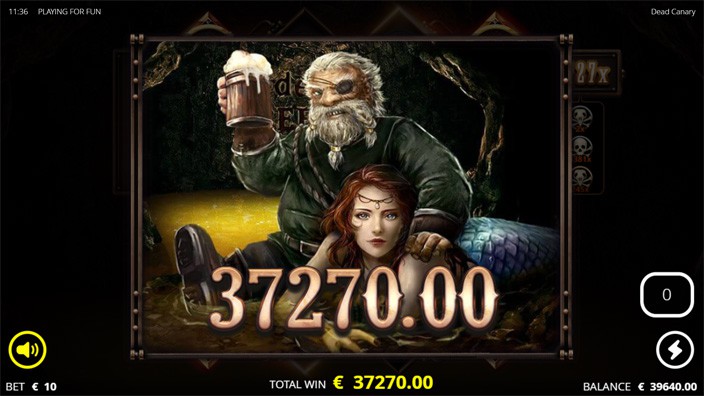 RTP
With a Return to Player (RTP) of 96.02%, Dead Canary places itself amongst the more generous slots in the market. Such a favorable RTP indicates players have a commendable chance to reap returns over extended play, making it an attractive choice for savvy slot enthusiasts.
Volatility
Dead Canary possesses a very high volatility, signaling that while wins may not occur frequently, when they do, they're often substantial. This nature caters to thrill-seekers who chase big payouts and relish in the suspense of every spin.
Max Win
Boasting a staggering max win of 65,000x the bet, Dead Canary holds the potential for colossal payouts. For perspective, a modest €1 stake could translate to a jaw-dropping €65,000 reward, showcasing the immense winning potential of this slot.
Theme
The theme of Dead Canary delves deep into the gritty world of mining. Echoing the suspenseful atmosphere of movies like There Will Be Blood, players are submerged in a captivating narrative where every spin holds the allure of hidden treasures.
Features of Dead Canary's Online Slot
Delve into the riveting world of Dead Canary online slot, where unique features not only enhance gameplay but also skyrocket winning potential. From multipliers to free spins, each feature is meticulously crafted to elevate your slot experience.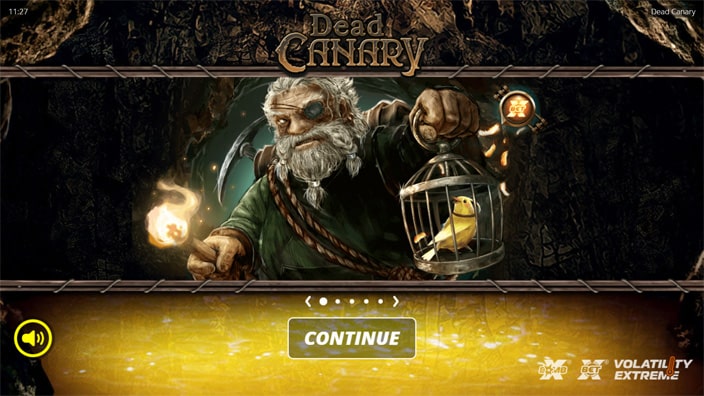 xBet
The xBet feature in Dead Canary allows players to adjust their bet amount, providing flexibility in managing stakes. It empowers both novices and high-rollers to set a comfortable betting range according to their strategy and budget.
Reel Area
The Reel Area represents the actual play zone of the Dead Canary slot. This zone, comprised of a set grid, determines the arrangement of symbols and, in turn, influences potential winning combinations and payouts.
Wild Mining
Wild Mining is an exciting feature that, when triggered, transforms non-winning symbols into wilds. This creates new winning combinations, enhancing the chances of lucrative payouts and adding a dynamic twist to each spin.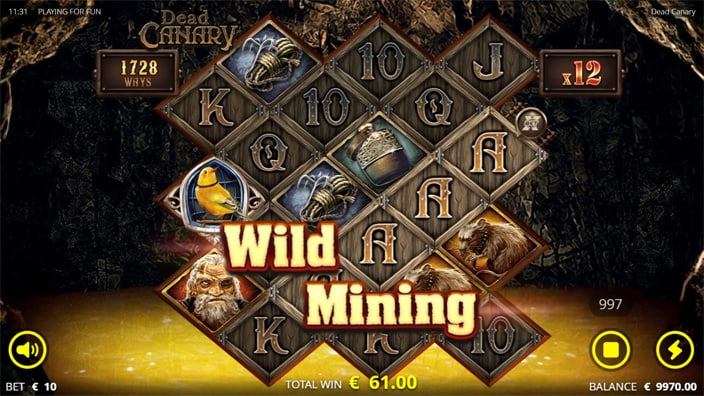 Scatter
Scatter symbols in Dead Canary serve as gateways to bonus rounds and special features. Typically, landing a specific number of scatters will unlock bonus games or free spins, offering players a chance at boosted rewards.
xBomb Wild Multiplier
The xBomb Wild Multiplier not only substitutes for other symbols but also comes with a multiplier effect. Whenever it's part of a winning combination, the multiplier increases the payout, exponentially amplifying the winning amount.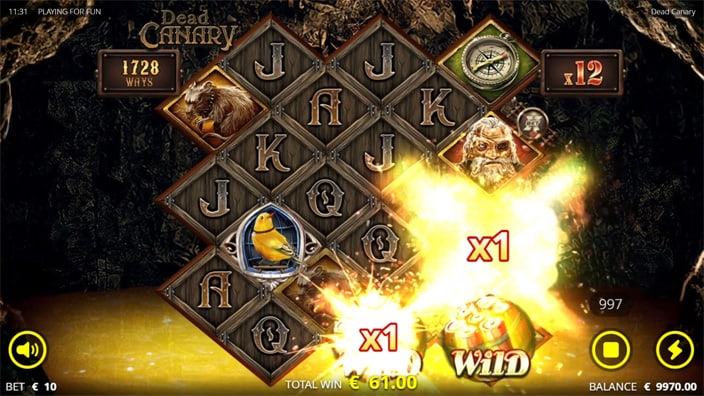 Canary Free Spins
Scatter Symbols: Appear anywhere but those behind barriers stay inactive until unblocked. Landing 3, either Silver or Gold cages, activates the Canary Free Spins.
Free Spins Grid: Uses a 4-3-4-3-4-3-4 configuration. Four locked vaults at the corners are unlocked by xBomb explosions.
Scatter Hit Points: Cages from the triggering round enter free spins with 3 hit points. They're awarded a value once all hit points are lost and then resurrect with 3 hit points.
Scatter Movements: Canaries relocate randomly when on vaults, giving 3 more free spins. Silver cages collect in an x-shape from one position, while Gold cages do from the entire row. Vaults also collect any adjacent values.
Special Symbols:

Coins: Boost the scatter's value.
Multipliers: Double or triple a scatter's value.
Bomb: Explodes in an x-shape, affects symbols, removes scatter's hit point, unlocks vaults, and resets spins to 3.
Upgrade: Converts Silver scatters to Gold and adds a hit point.
Gas: Deducts one hit point from adjacent canaries.
Dwarf: Acquired by a scatter and collects values of other scatters till it turns into a canary.
Rat: Collected by a scatter and shares its value with others until it becomes a canary.

End of Spins: Upon conclusion, the unlocked vaults' values are summed with the awarded canary values for the payout.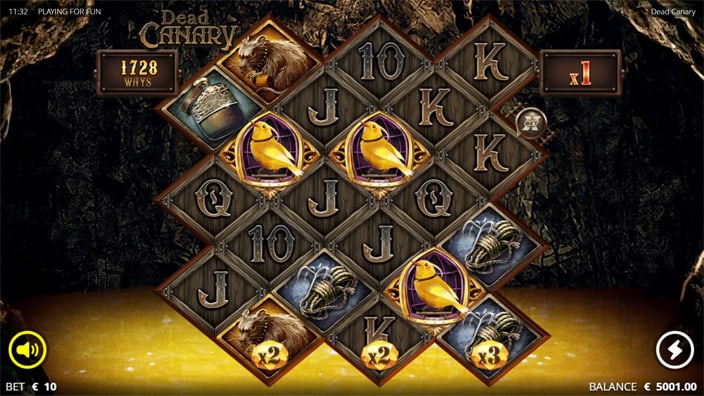 Happy Wife, Happy Life
In Dead Canary's Happy Wife, Happy Life feature, the stakes are set high with the potential for monumental payouts. The pinnacle of this feature is its 65,000 times the base bet limit.
Nolimit Bonus Buy
Dive straight into action with Nolimit Bonus Buy, offering instant access to Dead Canary's thrilling bonus rounds for a price.
Regular Canary Free Spins:

Cost: 68x the bet.
Details: Scatters are positioned randomly upon purchase.

Golden Canary Free Spins:

Cost: 500x the bet.
Details: Premium version with scatters placed at random positions.

Lucky Draw Option:

Cost: 284x the bet.
Details: This choice is a gamble-style selection. As with other options, scatters are randomly positioned when the spins are bought.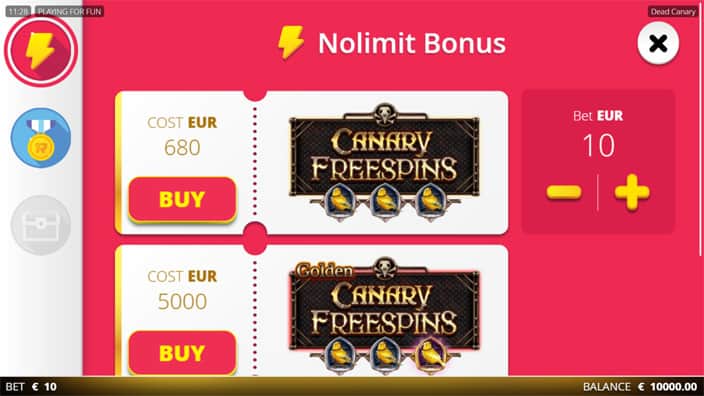 How to Play to Dead Canary's Online Slot
Navigating the eerie world of the Dead Canary slot is an exciting journey, with gameplay mechanics that can seem intricate but are easily mastered with a bit of familiarity. To begin, players should familiarize themselves with the paytable, which lists the values of each symbol. These symbols range from lower-paying icons to more lucrative ones that can lead to significant rewards. Always be on the lookout for the special symbols like the canary and the scatter, as they can unlock game-changing bonus features and enhance winning potentials.
In the Dead Canary slot, understanding the value and function of each symbol is crucial to maximizing wins. With every spin, a dynamic reel action unfolds, giving players multiple ways to achieve rewarding combinations. The higher-value symbols, when aligned correctly, can lead to substantial payouts, making every spin a thrilling adventure. As you spin the reels, always keep an eye out for those symbols that can unlock the game's rich features, pushing your gaming experience to new exhilarating heights.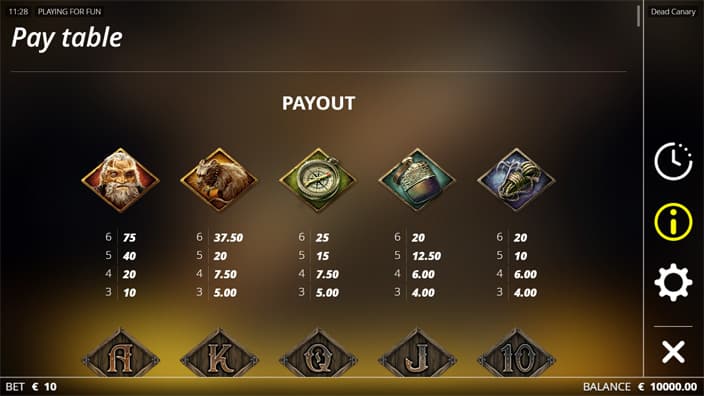 Review of the Online Slot Dead Canary by Bonus Tiime
Dead Canary plunges players into a shadowy, immersive environment that captivates with its unique theme. As you delve deeper into its enigmatic world, the striking visual details and soundscape truly transport you, creating an unforgettable gaming atmosphere unlike any other.
Perhaps the most tantalizing aspect of Dead Canary is its mammoth potential payout, which stands at a staggering 65,000x the bet. This monumental max win ensures that every spin holds the promise of life-changing rewards, enticing both newbies and veteran slot players alike.
Nolimit City, the mastermind behind Dead Canary, has a history of crafting similarly riveting slots. Titles such as Fire in the Hole and The Cage exhibit gameplay mechanics and thematic elements that resonate with fans of Dead Canary. This consistency in delivering top-tier gaming experiences solidifies Nolimit City's reputation in the world of online slots.
Advices and Tips to Play Dead Canary
Get ready to improve your online slots experience! We offer a range of tutorials and articles for both beginners and seasoned players. These invaluable resources will guide you towards a more strategic and enjoyable gaming session. So, dive in and boost your online slot prowess today!