Step into a whimsical world filled with mischief and opportunities in Hacksaw Gaming's latest online slot creation, Le Bandit. Channeling vibes reminiscent of the action comedy film, this game introduces us to the sneaky raccoon, Smokey Le Bandit, set against a sepia-lit backdrop that transports players to an old-timey French backdrop. The unique design is a delightful blend of vintage aesthetics and cartoonish characters, sure to captivate players looking for immersive gaming experiences.
Dive deeper into this 6×5 slot game and discover a plethora of innovative features that promise not just entertainment but also rewarding payouts. From the Super Cascades to Golden Squares, Le Bandit brings together the perfect mix of classic slot mechanics and modern innovations. With its medium volatility and an impressive RTP of 96.34%, this Hacksaw Gaming slot is gearing up to become a favorite among slot enthusiasts. Don't miss out on the charming adventure that awaits!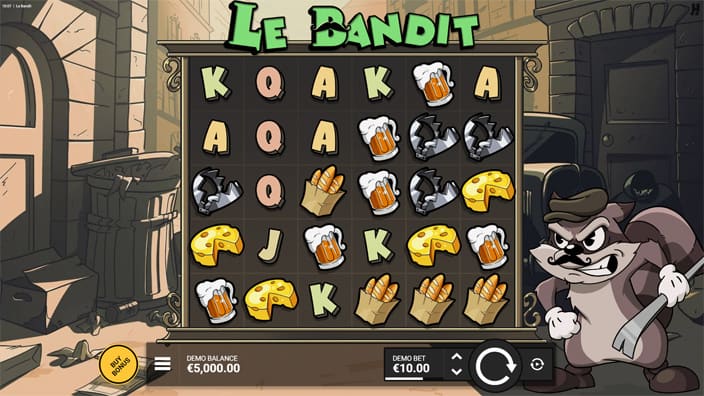 Demo Spotlight of Le Bandit by Bonus Tiime
The Top 3 Casinos to Play Le Bandit and Win Real Money
Stake Casino
Ready to embark on Le Bandit's thrilling escapades? Dive into this slot game instantly at Stake casino. It's the perfect destination for enthusiasts eager to explore Hacksaw Gaming's newest masterpiece.

Cresus Casino
Eager to experience Le Bandit's whimsical world? Head over to Cresus casino now and indulge in Hacksaw Gaming's latest slot sensation, ensuring a gaming experience like no other.

Horus Casino
Can't wait to meet Le Bandit and uncover its treasures? Horus casino offers you the chance to delve into this Hacksaw Gaming slot. Don't miss out on the action-packed adventures waiting for you!

Hacksaw Gaming Online Slots Provider
Hacksaw Gaming has rapidly ascended the ranks in the online gaming industry, becoming a benchmark for innovative and engaging slot and scratch card games. With its commitment to top-tier graphics, immersive gameplay, and player-centric designs, this provider stands out as a leading force in the ever-evolving iGaming landscape.
Specifications of Le Bandit Online Slot
Dive deep into the mechanics of Le Bandit online slot, a captivating creation boasting 6 reels and 5 rows, equipped with a unique Cluster Pays system. This intricate design ensures a multitude of ways to win, amplifying the thrill at every spin.
Moreover, fans might notice striking similarities between Le Bandit and popular slots like Razor Returns and Sleepy Grandpa. The stakes? They reach new heights, especially for those playing on Stake, making the experience even more enticing.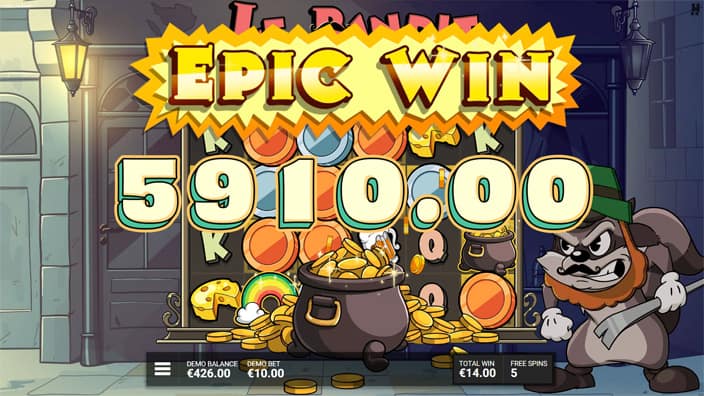 RTP
Le Bandit offers an enticing RTP (return to player) of 96.34%, positioning it among the higher-returning slots in the online gaming domain. Such a commendable RTP means players have favorable odds, making gameplay not just fun but potentially rewarding too.
Volatility
The high volatility of Le Bandit promises an adrenaline-packed gaming experience. While wins might not be frequent, when they do land, they're likely to be more substantial, suiting risk-takers and thrill-seekers.
Max Win
With Le Bandit, players stand a chance to bag a staggering 10,000x their bet. So, if you're spinning at a stake of 1€, a fortuitous round could see you walking away with a whopping 10,000€!
Theme
The theme of Le Bandit transports players to an intriguing world reminiscent of the mischievous antics in "The Pink Panther." With vintage aesthetics and a touch of mystery, it's a journey through the bylanes of old-timey French adventures and charming capers.
Features of Le Bandit's Online Slot
Dive into the world of Le Bandit online slot, where a plethora of features await players. Each feature, meticulously crafted by Hacksaw Gaming, amplifies the gameplay, promising not only thrilling spins but also rewarding outcomes.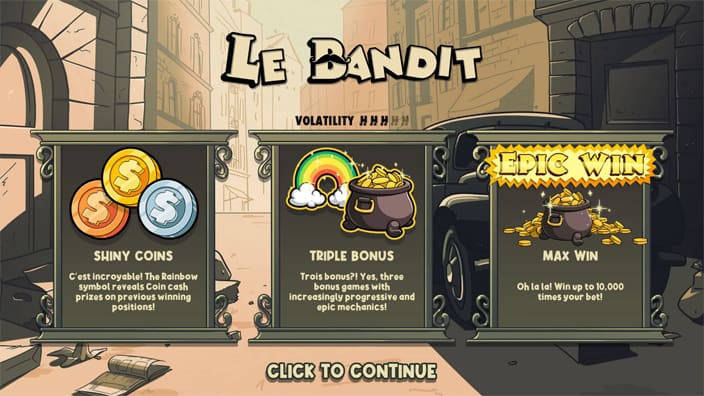 Super Cascade
Upon landing a winning combination, this feature removes winning symbols, allowing new ones to drop down. This cascading mechanism can lead to consecutive wins in a single spin.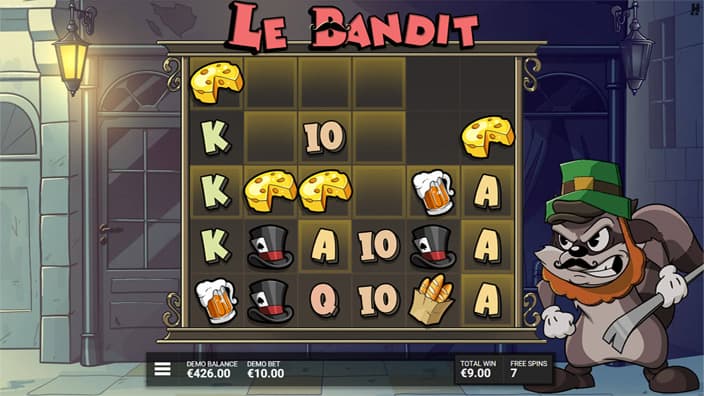 Win To Win – Golden Squares
After a win, the squares behind the winning symbols illuminate as Golden Squares. They hold potential surprises, enhancing the overall win.
Rainbow Symbol
Acting as a trigger, when present on the grid, the Rainbow symbol activates all Golden Squares, revealing hidden rewards and multipliers.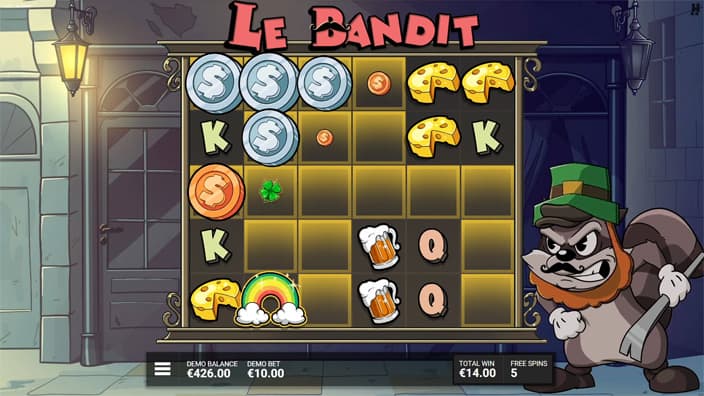 Pot of Gold
These symbols, when visible, collect all coin values present, cumulating into a larger reward. Their magic continues until no new Pot of Gold emerges.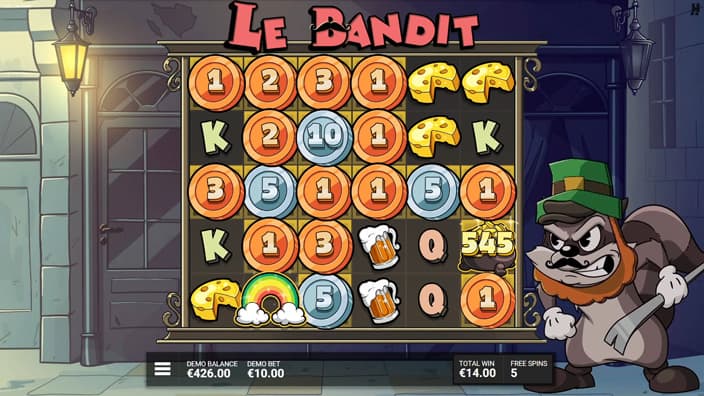 Bonus Hunt Feature Spins
This feature enhances the odds of triggering a bonus game, making each spin five times more likely to unlock special rounds.
Rainbow Feature Spins
Every spin guarantees the landing of a Rainbow symbol, increasing the chances of activating those treasured Golden Squares.
Luck of the Bandit
Triggered by specific scatters, players are rewarded with free spins. During this mode, Golden Squares stay illuminated, amassing potential rewards.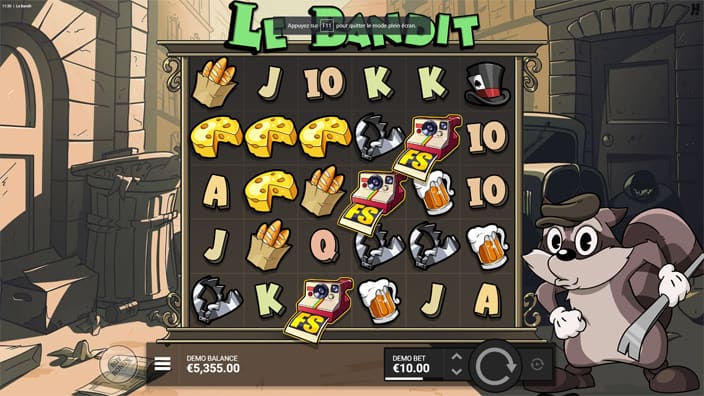 All That Glitters Is Gold
Activating this feature guarantees that even after being triggered, Golden Squares remain illuminated throughout, enhancing the gameplay.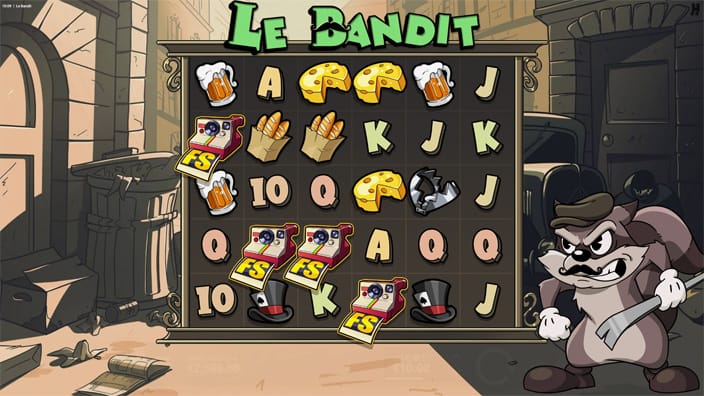 Treasure at the End of the Rainbow
A feature offering free spins where Golden Squares stay active, ensuring a Rainbow symbol in every spin and excluding lower-value coins for bigger wins.
Bonus Buy
In Le Bandit online slot, the Bonus Buy feature stands as an enticing option for players who wish to skip straight to the exhilarating parts of the game. Here's a breakdown of what's available:
Bonus Hunt Feature Spins: It costs 3x the bet every spin.
Rainbow Feature Spins: It costs 50x the bet every spin.
Luck of the Bandit: It costs 100x the bet
All That Glitters Is Gold: It costs 250x the bet.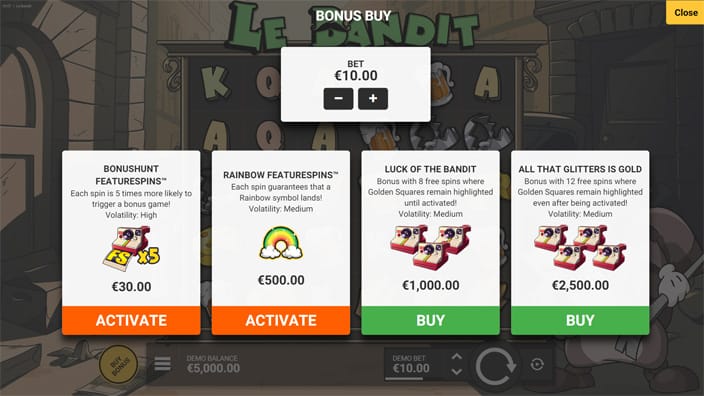 How to Play to Le Bandit's Online Slot
Diving into the world of Le Bandit online slot promises not just entertainment but also the thrill of possible wins. Before setting out on this virtual journey, it's essential to grasp the gameplay mechanics. To begin, players should set their desired bet amount, with options ranging from a mere 0.10 to a whopping 1500. Once the stake is decided, players can either spin manually or opt for the autoplay function, allowing the reels to spin a predetermined number of times without interruption.
Understanding the value of symbols is crucial to maximizing potential returns. In Le Bandit, there are regular paying symbols ranging from card ranks 10 to A serving as the low-value icons. For more significant returns, players should keep an eye out for the themed symbols: traps, cheese, beer mugs, bag of baguettes, and the prized top hat. Achieving a cluster of these symbols, especially in large numbers, can lead to lucrative payouts, making every spin a thrilling prospect.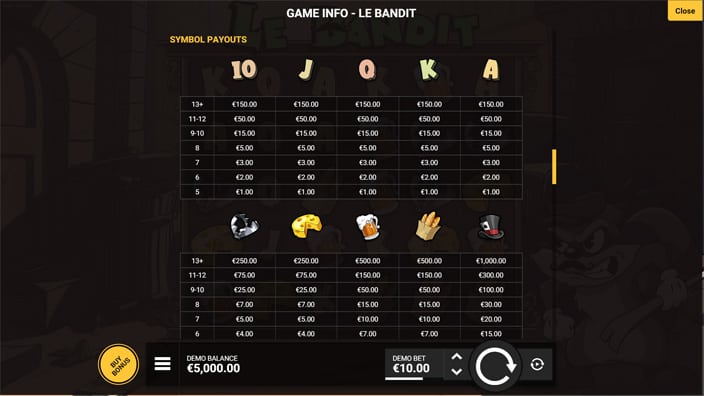 Review of the Online Slot Le Bandit by Bonus Tiime
Le Bandit stands out as an exceptional addition to the world of online slots, masterfully crafted by Hacksaw Gaming. The theme transports players into an intriguing universe filled with urban cartoon animals, reminiscent of their previous hit RIP City. This engaging backdrop is bound to captivate players looking for a unique gaming experience.
The allure of Le Bandit doesn't stop at its theme. The slot boasts a staggering max win potential of 10,000x the bet, a number that's sure to attract both novices and seasoned gamblers alike. Such high returns promise not just excitement with every spin but also the thrilling possibility of substantial rewards.
In their journey of innovation, Hacksaw Gaming has upped the ante with Le Bandit, integrating mechanics reminiscent of the renowned Razor Shark slot. By intertwining a beloved theme with groundbreaking gameplay elements, Hacksaw Gaming has proven its commitment to delivering top-tier gaming experiences to its audience.
Advices and Tips to Play Le Bandit
Get ready to improve your online slots experience! We offer a range of tutorials and articles for both beginners and seasoned players. These invaluable resources will guide you towards a more strategic and enjoyable gaming session. So, dive in and boost your online slot prowess today!