Venturing beyond the realm of conventional slot games, Hacksaw Gaming introduces the world to Chaos Crew, a unique and electrifying online slot experience. With its edgy neon aesthetics reminiscent of the punk culture and an array of quirky characters led by Cranky the cat and his accomplice Sketchy, this slot game captures attention from the get-go. Set against the vibrant backdrop of a graffiti-laden alley and fused with an electro soundtrack that pulsates with the punk ethos, Chaos Crew stands as a testament to Hacksaw Gaming's commitment to innovation and creativity.
In this comprehensive review, we delve deep into the realm of Chaos Crew, exploring its numerous features and understanding its gameplay. From its high volatility to its potential rewards, we offer you a chance to try the free demo and familiarize yourself with this masterpiece. Whether you're a seasoned player or a newbie looking for something out of the ordinary, our review of Chaos Crew is designed to provide you with everything you need to know about this standout slot by Hacksaw Gaming.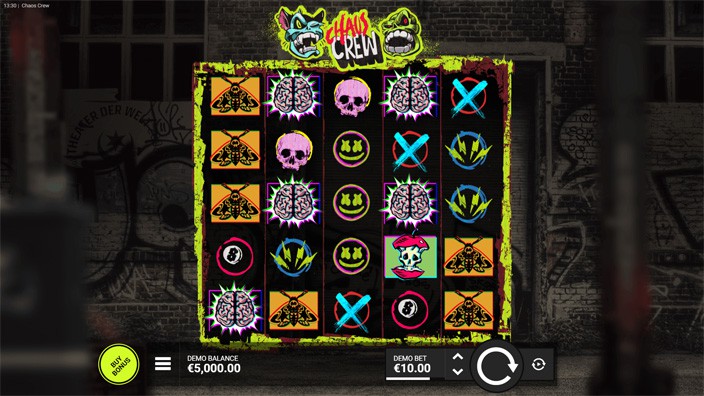 The Top 3 Casinos to Play Chaos Crew and Win Real Money
Stake Casino
Eager to dive into the Chaos Crew slot experience? Stake casino offers an immediate gateway to the thrills and spins. Jump in now to enjoy the innovation and artistry of Hacksaw Gaming at its best.

Cresus Casino
Can't wait to spin the reels of Chaos Crew? Cresus casino is your prime destination. Seamlessly immerse yourself in the vibrant world of this standout slot and embrace the excitement.

Horus Casino
If Chaos Crew has sparked your interest, don't hold back. Horus casino awaits with the game ready for play. Discover the quirky universe of Cranky and Sketchy, and spin your way to potential rewards.

Hacksaw Gaming Online Slots Provider
Hacksaw Gaming, a trailblazer in the iGaming industry, consistently delivers innovative slot and scratch card games. Revered for its unique designs and engaging gameplay, this provider has cemented its position in the online casino landscape. Dive in to experience the cutting-edge creations that define Hacksaw Gaming's digital gaming legacy.
Specifications of Chaos Crew Online Slot
Delve into the intricate specifications of Chaos Crew online slot, a masterpiece crafted by Hacksaw Gaming. Boasting a grid of 5×5 reels and 15 paylines, it offers players diverse avenues to clinch victories in its neon-lit universe.
Drawing parallels with the gameplay mechanics of Cursed Seas, Chaos Crew presents a familiar yet enthralling experience for players. Particularly when wagering on Stake, the slot ensures a range of betting options, catering to both cautious betters and high-rollers.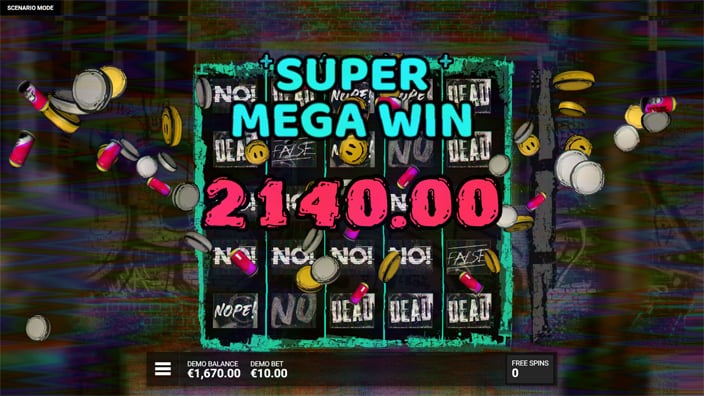 RTP
The Chaos Crew slot impressively boasts a 96.3% RTP. This return to player rate is commendably above industry average, signifying frequent payouts and enhancing the appeal for players aiming for consistent returns.
Volatility
High volatility marks the essence of Chaos Crew, making it a roller-coaster ride of gaming excitement. While wins may not appear on every spin, when they do, they promise to be significant, catering to thrill-seekers and strategic betters.
Max Win
Chaos Crew offers a staggering max win of 10,000x the bet. For perspective, a mere 1€ stake could potentially catapult a lucky player to a whopping 10,000€ win, amplifying the game's allure for those chasing colossal payouts.
Theme
Chaos Crew immerses players in a rebellious, punk-inspired universe. Its vibrant, anti-establishment aesthetics can be likened to the gritty streets depicted in the movie Suicide Squad, creating a seamless blend of edgy gameplay and captivating visuals.
Features of Chaos Crew's Online Slot
Unravel the immersive features of Chaos Crew online slot that elevate the gaming experience. Hacksaw Gaming intricately designs each element to keep players engrossed, ensuring both unpredictability and potential high rewards.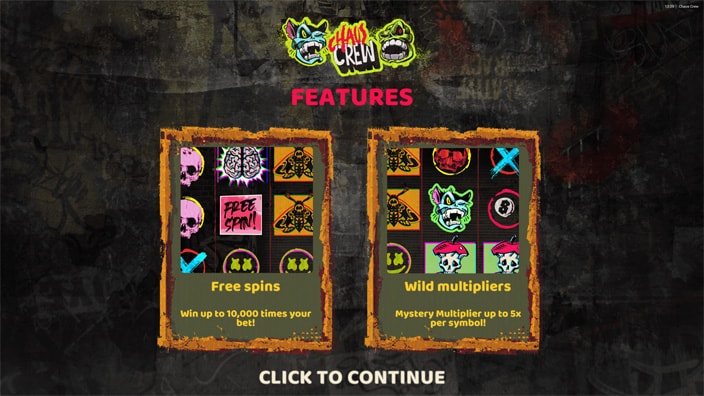 Sketchy Skull Symbol
The Sketchy Skull symbol acts as a game modifier, revealing specific numbers that add to the reel's current multiplier. With values ranging from +1 to +20, this symbol plays a crucial role in enhancing potential wins.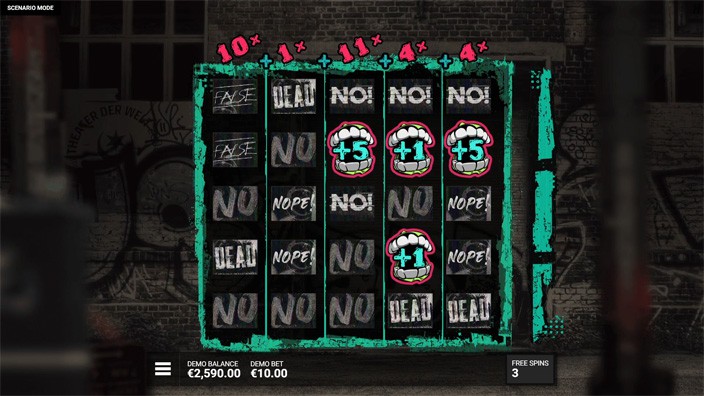 Cranky Cat Symbol
Representing the wild, Cranky the Cat can replace any other symbol except for the scatter. Moreover, it doubles as a mystery multiplier, augmenting line wins. When it appears, expect multiplier values such as x2, x3, or x5. Multiple Cranky Cat symbols on a win line further amplify the multiplier effect.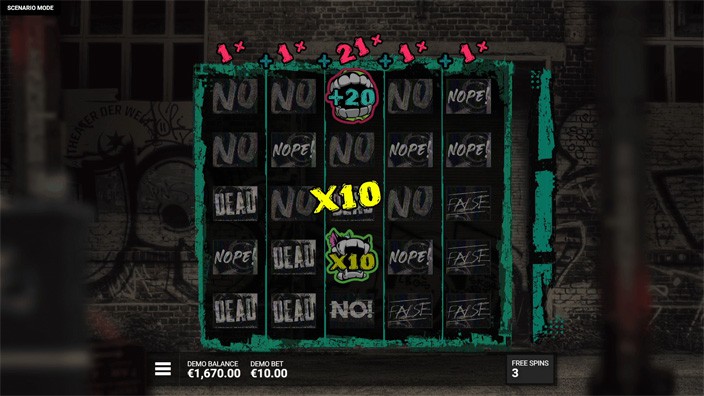 Free Spins
Land three free spins symbols to activate this mode, kicking off with three spins. This feature continues until three non-winning spins occur consecutively. With each winning symbol, spins reset back to three, enhancing the chance of collecting substantial rewards.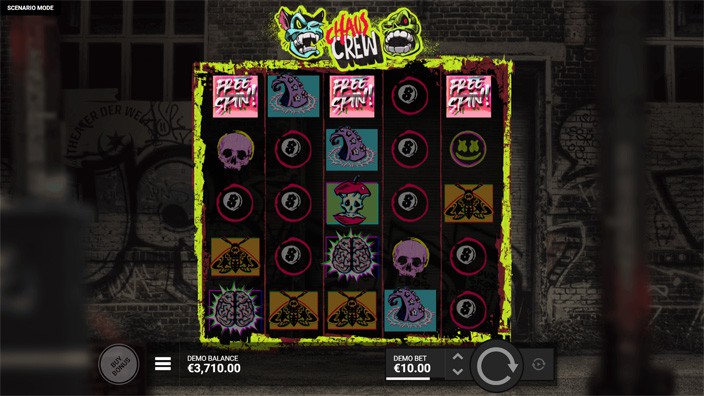 Bonus Buy
Distinctively offered by Hacksaw Gaming, Chaos Crew allows players to purchase the bonus directly, ensuring three scatters on the subsequent spin. Although it comes at a cost of 129x the bet, it provides players with a fast-track to potential big wins, albeit with a slight RTP reduction to 95.92%.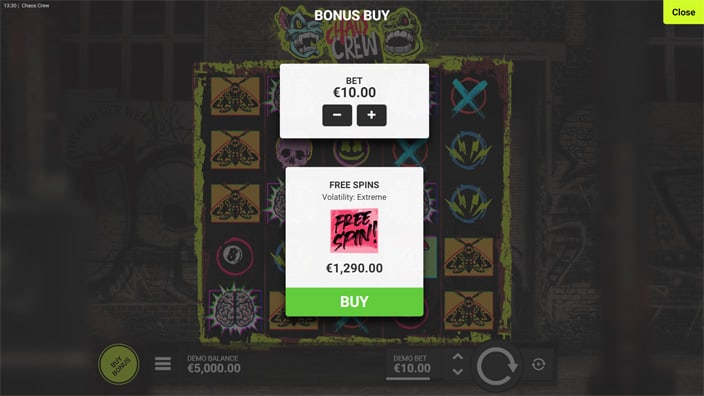 How to Play to Chaos Crew's Online Slot
Diving into the vibrant world of Chaos Crew begins with a clear understanding of its gameplay mechanics. Presented on a 5×5 grid layout with 15 fixed paylines, players are tasked with lining up symbols from left to right. The game comprises an eclectic array of symbols, each carrying a distinct value. From the low-value icons like eight balls, skulls, smiley faces, crosses, and lightning to the more rewarding ones like moths, brains, and apple cores, every match offers a specific payout. The tentacles symbol stands out as the high-paying icon; lining up five of them on a payline can grant you a commendable 12x of your stake.
As players navigate this neon-infused, anti-establishment-themed slot, it's vital to keep an eye on the special symbols like Cranky the Cat and Sketchy Skull. These not only elevate the excitement but also significantly impact potential winnings. Adjusting the bet size according to your bankroll and strategy before spinning the reels ensures an optimized playing experience.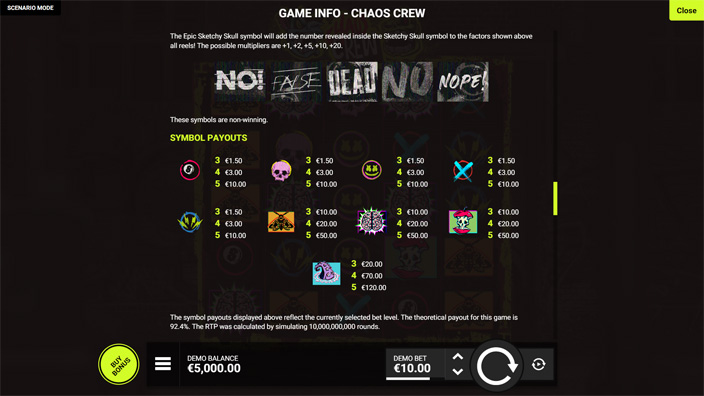 Review of the Online Slot Chaos Crew by Bonus Tiime
Dive into the edgy universe of Chaos Crew, an exceptional slot crafted by Hacksaw Gaming. Embracing an anti-establishment theme, the game expertly combines neon visuals with quirky symbols, epitomizing rebellious spirit. The audacious blend of symbols, from the adventurous Cranky Cat to the enigmatic Sketchy Skull, captivates players, ensuring a visual treat that's refreshingly distinct from the norm.
The allure doesn't end with aesthetics; Chaos Crew promises an exhilarating winning potential with its impressive 10,000x bet max win. Such a staggering payout makes each spin pulsate with anticipation, appealing to both seasoned gamers and newcomers. The prospect of transforming a modest bet into a fortune adds to the game's magnetic pull.
Adding to its list of accolades, Chaos Crew stands as a pioneer in slot gaming mechanics. Its unique gameplay laid down the foundation for subsequent popular slots like Forest Fortune. In an industry teeming with repetitiveness, Chaos Crew carved its niche, setting benchmarks for innovation and engagement.
Advices and Tips to Play Chaos Crew
Get ready to improve your online slots experience! We offer a range of tutorials and articles for both beginners and seasoned players. These invaluable resources will guide you towards a more strategic and enjoyable gaming session. So, dive in and boost your online slot prowess today!