The online gambling world has been set ablaze with the release of Chaos Crew 2, the latest offering from Hacksaw Gaming that promises an unparalleled gaming experience. This sequel to the much-loved Chaos Crew slot brings punk aesthetics, Banksy-like visuals, and a dark alley atmosphere filled with neon graffiti to your screen. Alongside Cranky Cat and Sketchy Skull, you'll find yourself immersed in a dynamic 5×5 gaming panel, equipped with 19 paylines and high volatility, perfect for those seeking a rollercoaster of thrills and payouts.
In this comprehensive review, we'll delve deep into what makes Chaos Crew 2 a standout slot game in a crowded market. Whether you're a seasoned gambler or a casual player, our article aims to provide you with all the details you need to understand the slot's mechanics, features, and winning potential. We'll also give you insights into the free demo version, which allows you to get a feel for the game before committing with real money bets. So, if you're keen on experiencing chaos on the reels, stick around to learn everything there is to know about Chaos Crew 2.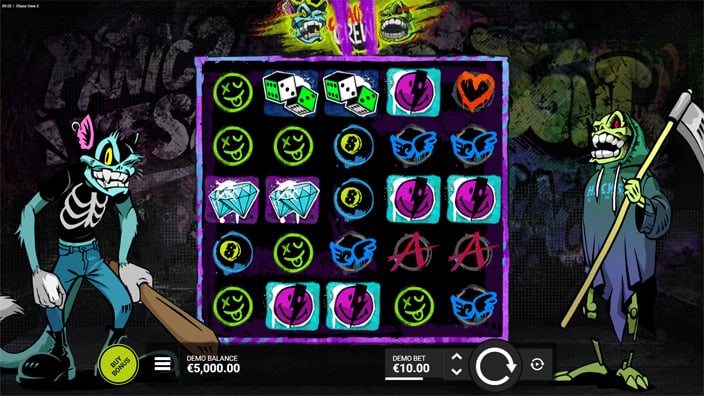 Demo Spotlight of Chaos Crew 2 by Bonus Tiime
Top Casinos to Play Chaos Crew 2 and Win Real Money



Hacksaw Gaming Online Slots Provider
Hacksaw Gaming is a leading name in the online casino industry, renowned for its innovation and high-quality gaming solutions. Initially known for scratch card games, the developer has successfully transitioned into crafting some of the finest slot titles in the market, like the Chaos Crew series, elevating user engagement and gameplay.
Specifications of Chaos Crew 2 Online Slot
Chaos Crew 2 delivers an engaging slot experience with a 5×5 reel layout and 19 fixed paylines. Boasting a high volatility rating and multiple Return to Player (RTP) options, it's designed for those who love a game filled with twists, turns, and a multitude of ways to win.
As a sequel to the immensely popular Chaos Crew, this new installment promises to raise the stakes in terms of gameplay and winning potential. From its minimum bet of 0.10 to a maximum of 1500, players of all budget ranges can find their sweet spot for placing wagers and aiming for substantial wins.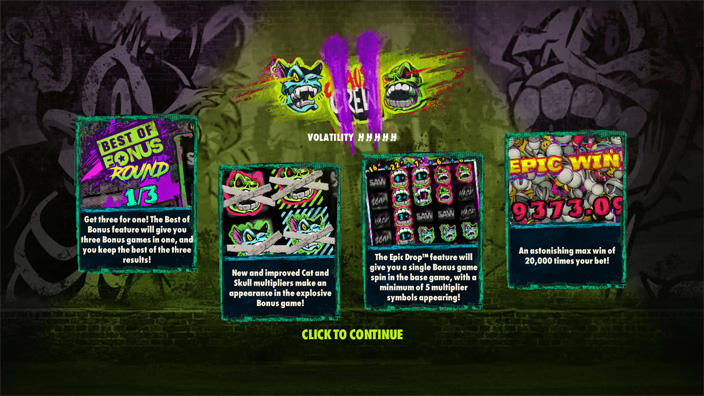 RTP
With a 96.27% RTP, Chaos Crew 2 offers players a favorable return rate that sits above the industry average. This higher RTP enhances the game's appeal, increasing your long-term odds of reaping generous rewards while enjoying this captivating slot.
Volatility
The high volatility of Chaos Crew 2 makes it a thrilling choice for players who relish unpredictable gameplay and the chance for substantial payouts. The heightened volatility adds an extra layer of excitement, ideal for those seeking a high-risk, high-reward experience.
Max Win
When it comes to winning big, Chaos Crew 2 doesn't disappoint with its staggering max win of 20,000x your bet. For example, if you play at €1 per stake, you could potentially walk away with a jaw-dropping €20,000, making each spin a thrilling endeavor.
Theme
Drawing inspiration from a gritty, punk ethos, the theme of Chaos Crew 2 is reminiscent of the urban dystopia showcased in movies like Fight Club. The game captures a rebellious spirit, complete with Banksy-like visuals and neon graffiti, providing a unique and immersive experience.
Features of Chaos Crew 2's Online Slot
Dive into an engaging world filled with unique features in Chaos Crew 2 online slot. From Epic Drops to Cranky Cats, this high-stakes game offers a plethora of gameplay elements designed to both thrill and reward players.
A Drop of Epic Proportions
The Epic Drop feature can spontaneously trigger at the start of any base game spin. When activated, it transitions the game into a special bonus round, populating the grid with at least 5 multiplier symbols. This enhances your win potential considerably for that spin.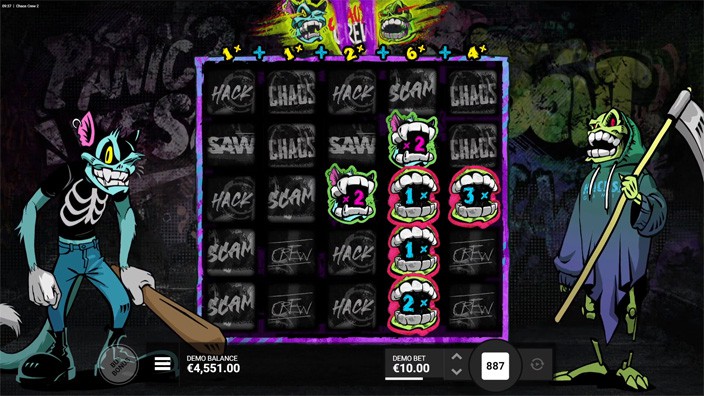 A Very Cranky Cat
Cranky Cat isn't just a wild symbol; it's a wild multiplier that magnifies any win it becomes a part of. The multiplier values range from x2 to x20, and multiple Cranky Cats can compound their values to produce even larger wins.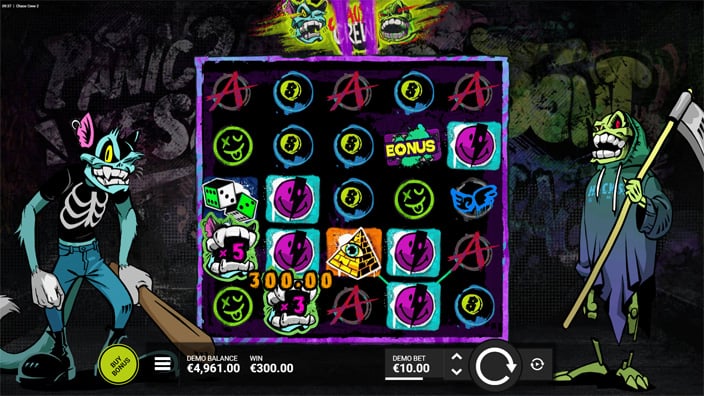 Bonus
Step into the high-reward world of Chaos Crew 2 by unlocking the Bonus feature. Simply land 3 scatter symbols during your base game and you're in. This feature ushers you into an exclusive round where you're granted 3 spins, with an option for a reset each time you land a multiplier symbol. Each reel kicks off with an x1 multiplier that can be augmented through a diverse set of multiplier symbols:
Sketchy Skull: Bolsters the reel multiplier directly above its landing spot.
Sticky Sketchy Skull: Locks into place, incrementing the reel multiplier above on every following spin.
Epic Sketchy Skull: Elevates all reel multipliers.
Sticky Epic Sketchy Skull: Secures its place, uplifting all reel multipliers on successive spins.
Cranky Cat: Boosts the reel multiplier above by its specific multiplier value.
Sticky Cranky Cat: Latches onto the grid, enhancing the reel multiplier above through subsequent spins.
Epic Cranky Cat: Amplifies all reel multipliers.
Sticky Epic Cranky Cat: Stays put and beefs up all reel multipliers on each following spin.
Super Bonus
Four scatter symbols trigger the Super Bonus, following the same rules as the Bonus feature but adding a kick: at least 7 multiplier symbols will appear on your first spin, enhancing your chance for a colossal win.
Best of Bonus
Land three scatters and a special Best of Bonus scatter to activate this mode. It offers you three successive Bonus rounds, awarding the highest payout among the three.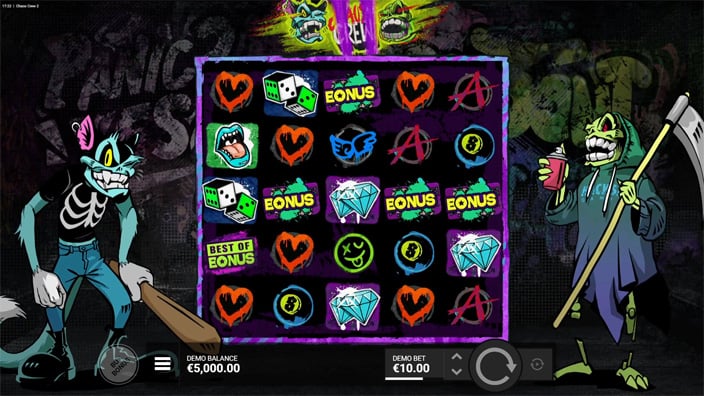 Best of Super Bonus
Four scatters and a Best of Bonus scatter trigger this high-octane feature. Like its sibling, it provides three consecutive Super Bonus rounds, granting you the top-earning round at the end.
Buy Bonus
Maximize your winning potential in Chaos Crew 2 by taking advantage of the Buy Bonus feature. This feature lets you directly purchase a range of high-volatility bonus rounds to accelerate your gameplay:
BonusHunt FeatureSpins: For just 5x your bet, each spin is 10 times more likely to activate a bonus game. With extreme volatility and a default RTP of 96.22%, this is perfect for thrill-seekers.
Epic Drop FeatureSpins: Invest 200x your bet to get an Epic Drop spin, packed with at least 15 multiplier symbols. The highly volatile nature and an RTP of 96.35% promise immense returns.
Bonus: Pay 100x your bet to unlock the bonus round immediately. This very highly volatile option comes with a default RTP of 96.34%.
Super Bonus: Take the excitement up a notch by spending 250x your bet to enter the super bonus round. Also very highly volatile, this feature has a default RTP of 96.3%.
Best of Bonus: Shell out 200x your bet to buy the best of bonus, featuring highly volatile gameplay and a default RTP of 96.29%.
Best of Super Bonus: Go big or go home by paying 500x your bet to acquire the best of super bonus. With high volatility and a default RTP of 96.35%, it's the ultimate bet for hardcore gamers.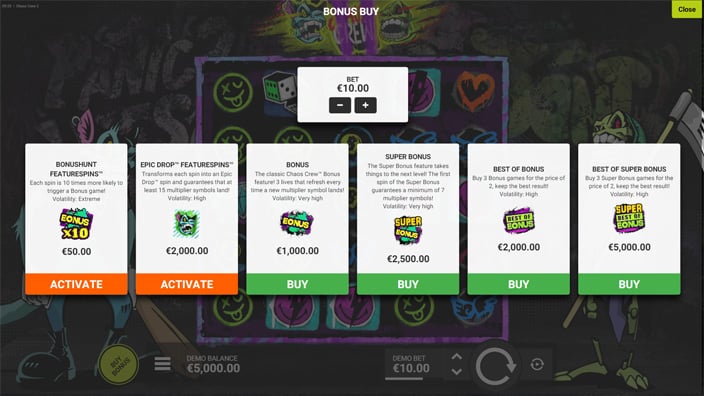 How to Play to Chaos Crew 2's Online Slot

Unlock the world of Chaos Crew 2, a high-stakes, high-reward online slot experience that offers a dynamic gameplay structure with an array of symbols and special features. To start playing, first select your wager amount, which can be easily adjusted using the control panel. Once your bet is set, hit the spin button to set the reels in motion. Pay close attention to the value-laden symbols that will appear on your screen. In Chaos Crew 2, symbols like the Sketchy Skull and Cranky Cat not only enhance the visual appeal but also come with rewarding multipliers. Sketchy Skull symbols can offer multipliers ranging from 1x-5x, 10x, 15x, to as high as 100x, increasing your winning potential drastically.
But it's not just the Sketchy Skull; the Cranky Cat symbol is another high-value icon to watch out for. Acting as a wild multiplier, the Cranky Cat can significantly bump up your winnings by multiplying any win it's part of. The Cranky Cat multipliers range from x2-x5, and can even go up to x10 or x20. What makes this game even more exciting is the fact that more than one Cranky Cat can land on the reels, stacking up to create astronomical multiplier values. Whether you're a novice or a seasoned player, understanding the values and functions of these key symbols can elevate your Chaos Crew 2 gameplay experience to new heights.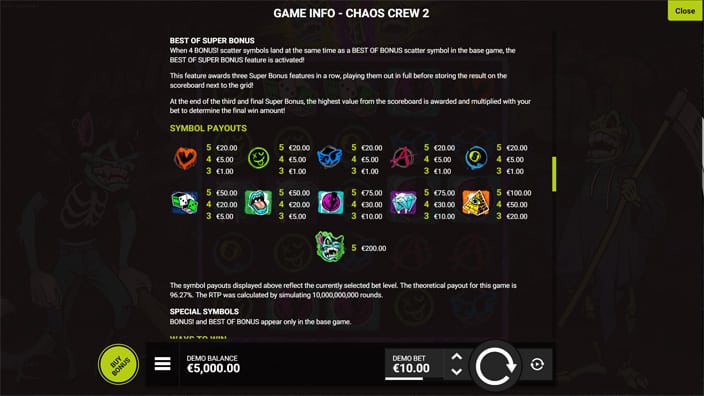 Review of the Online Slot Chaos Crew 2 by Bonus Tiime
Step into the wild and whimsical world of Chaos Crew 2, a much-anticipated sequel in the online slot universe. Following the immense success of its predecessor, Chaos Crew, this new installment takes you on an electrifying journey through a landscape filled with unique and captivating symbols. Its chaotic yet enthralling theme showcases an eye-catching blend of edgy graphics and vibrant colors, drawing players into its intricate web of multipliers, bonuses, and spins.
One of the most compelling features of Chaos Crew 2 is its staggering max win of 20,000x the bet. With such an astronomical win potential, players can expect not just entertainment but also the thrilling possibility of life-changing payouts. Whether you're placing minimum bets or going all in, the reward could be massive, making each spin a nail-biting experience.
Chaos Crew 2 isn't just another slot game; it's a cultural phenomenon in the making. Given the immense popularity of the original Chaos Crew, the sequel has been eagerly awaited by fans and newcomers alike. Additionally, the gameplay mechanics are so compelling that they've been incorporated into other Hacksaw Gaming slots like Cursed Seas and Forest Fortune, testament to Chaos Crew's industry-changing impact. Don't miss out on this remarkable slot adventure!
Advices and Tips to Play Chaos Crew 2
Get ready to improve your online slots experience! We offer a range of tutorials and articles for both beginners and seasoned players. These invaluable resources will guide you towards a more strategic and enjoyable gaming session. So, dive in and boost your online slot prowess today!