Immerse yourself in the enchanting world of Mystic Fortune Deluxe, an online slot masterpiece developed by Habanero. This game promises a thrilling voyage to the mesmerizing Far East, adorning the adventure with enthralling gameplay, wilds, random cash prizes, and the potential to win an astonishing 8,888x your bet. The Oriental theme weaves a tale of mystique and allure, captivating players with every spin.
Habanero, a renowned software provider, has meticulously designed this game, incorporating breathtaking visuals and immersive soundscapes that truly bring the game to life. With a backdrop showcasing the serene splendor of ancient Chinese landscapes and architecture, coupled with an enchanting traditional Chinese soundtrack, Mystic Fortune Deluxe provides a slot experience that is as engaging as it is visually stunning.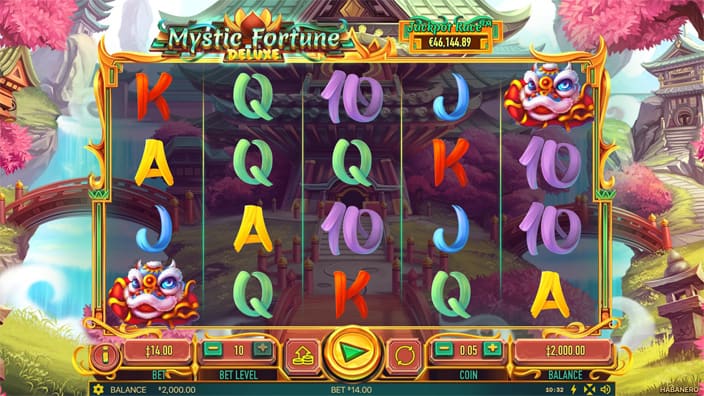 Habanero Online Slots Provider
Habanero Systems, the provider behind Mystic Fortune Deluxe, is a leading name in the online gaming industry. Recognized for their innovative approach and commitment to delivering high-quality gaming experiences, Habanero has a well-deserved reputation for creating exceptional slots. Their portfolio is a testament to their dedication to engaging gameplay, stunning visuals, and dynamic audio effects.
Specifications of Mystic Fortune Deluxe Online Slot
Mystic Fortune Deluxe, an evolution of the original Mystic Fortune, showcases a well-structured layout featuring a 5×4 reel set and 28 enticing win lines. These elements create a game full of winning opportunities, heightening the appeal and thrill of each spin.
As a sequel to Mystic Fortune, this Deluxe version enhances the player's experience with improved visuals and an expanded feature set. With bets ranging from 0.20 to a whopping 1,400 per spin, Mystic Fortune Deluxe is accessible to a wide spectrum of gamers, regardless of their risk appetite.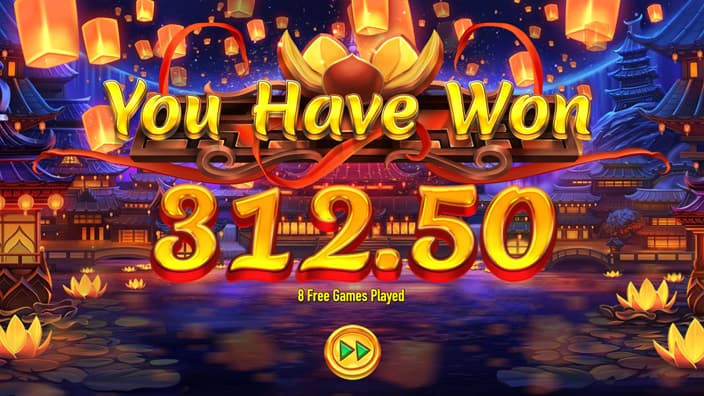 RTP
With a substantial RTP (return to player) of 96.71%, Mystic Fortune Deluxe by Habanero significantly enhances your chances of scoring rewarding payouts. This impressive RTP reflects the game's commitment to providing players with a fair and generous gaming environment.
Volatility
Mystic Fortune Deluxe's medium volatility makes it a balanced choice for gamers, blending the thrill of sizeable payouts with the stability of frequent smaller wins. It's this equilibrium that ensures a steady, thrilling gaming experience that suits various playing styles.
Max Win
When it comes to the potential maximum win, Mystic Fortune Deluxe does not disappoint. With the opportunity to multiply your stake by up to 8,888 times, a €1 bet could potentially yield a staggering €8,888 reward. This enticing aspect underscores the game's enormous winning potential.
Theme
The theme of Mystic Fortune Deluxe borrows heavily from the mystique and allure of Far Eastern culture, akin to movies like Crouching Tiger, Hidden Dragon. The slot's vibrant colors, Chinese architecture, and tranquil landscapes mirror the aesthetic and ambiance seen in this Oscar-winning film.
Features of Mystic Fortune Deluxe's Online Slot
Mystic Fortune Deluxe online slot is not just about captivating visuals, it also comes packed with a plethora of exciting features. These features, including the Money Symbol, Wild Symbol, and Free Spins, significantly elevate the gameplay, enhancing your chances of landing big wins.
Money Symbol
The Money Symbol is represented by the Lotus, which awards players with random cash prizes ranging from 2x to a whopping 8,888x the stake, adding a layer of unpredictability and excitement to each spin.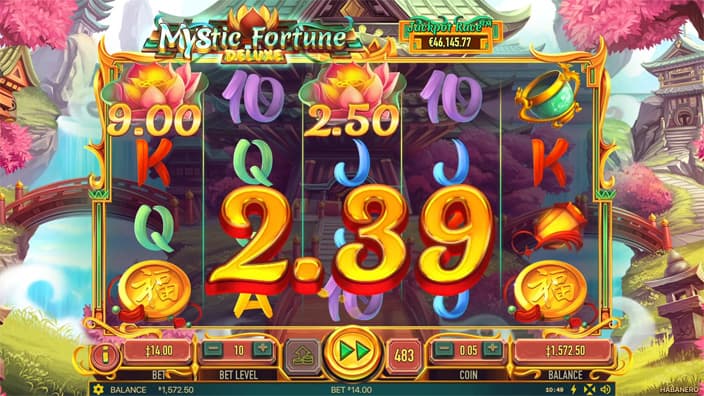 Wild Symbol
The Wild Symbol in Mystic Fortune Deluxe appears only on reels 1, 3, and 5. They come stacked and have the potential to cover the entire reel, nudging up or down as needed, greatly enhancing your opportunities to score winning combinations.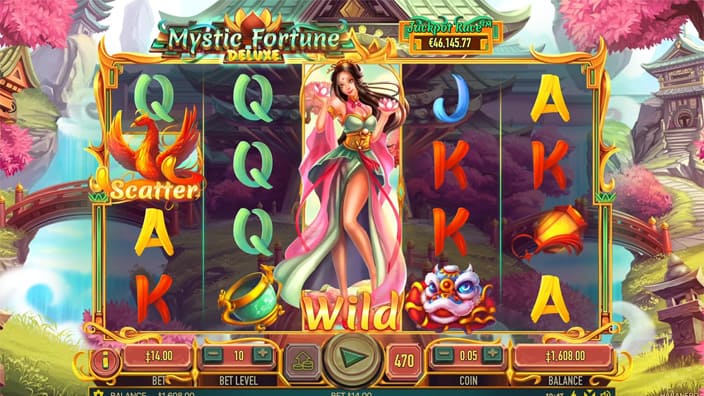 Free Spins
Lastly, the Free Spins feature is triggered by the Phoenix Scatter symbols. Landing three or more of these on the reels can award players with up to 288 free spins. All wins during these free spins are doubled, and if triggered with Wild symbols, the win multiplier increases to 5x, promising bountiful rewards.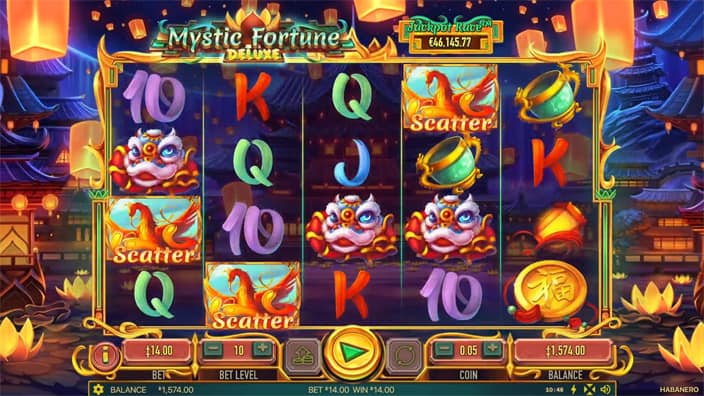 How to Play to Mystic Fortune Deluxe's Online Slot
Embarking on your journey with Mystic Fortune Deluxe is a straightforward affair. To begin, you need to set your preferred betting amount, which ranges from 0.20 to 1,400 per spin. Then, you hit the spin button and watch as the symbols land on the 5×4 grid. Winning combinations are achieved by landing at least three identical symbols adjacently on the reels, starting from the leftmost.
The game features nine regular symbols, divided into low-paying and high-paying categories. The lower ones are the A-10 card ranks, and the high-value symbols consist of lanterns, cups, Chinese dragons, and coins. Landing five of the low symbols will reward you from 1x to 5.6x your bet, while landing a combination of five high-value symbols can earn you from 6.7x to 67.4x your stake. Combined with the special feature symbols – the Lotus, Wild and Phoenix – the game's symbol dynamics promise exciting and potentially lucrative gameplay.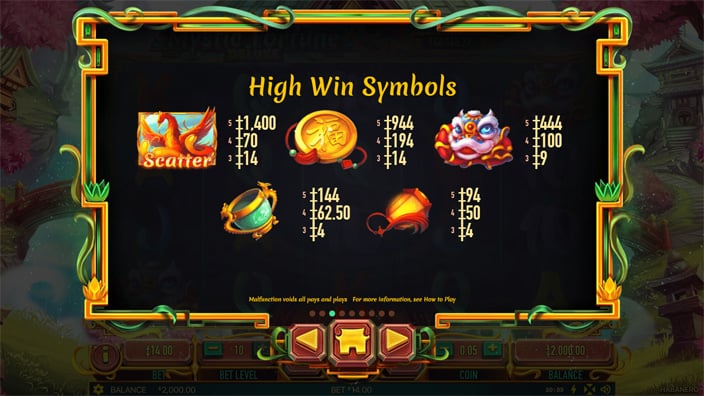 How to Win Real Money with Mystic Fortune Deluxe Online Slot
Has the enthralling gameplay of Mystic Fortune Deluxe sparked your curiosity? There's no need to delay! Experience this exotic adventure for yourself at Horus Casino, your go-to platform for online gaming excitement. Set off on your journey through this Oriental landscape today and discover the riches that could be yours!

Review of the Online Slot Mystic Fortune Deluxe by Bonus Tiime
Mystic Fortune Deluxe, developed by Habanero, captivates players with its enchanting Far Eastern theme. Its stunning visual design, featuring picturesque landscapes and traditional Chinese architecture, immerses you in an exotic journey. The atmospheric traditional Chinese music further enhances this experience, providing an intriguing backdrop for the riveting gameplay.
The maximum win in Mystic Fortune Deluxe is a highlight of the game. With the opportunity to win up to 8,888x your bet, the potential for substantial rewards makes each spin an exciting prospect. The inclusion of features such as the Money Symbol and the Free Spins offer additional avenues for players to rack up significant winnings.
Habanero's consistent drive to innovate is evident in Mystic Fortune Deluxe. Despite its familiar Chinese theme, the game incorporates advanced features that give it a fresh feel. With its compelling gameplay, considerable payout potential, and enticing theme, Mystic Fortune Deluxe is a testament to Habanero's continuous evolution in the online slot landscape.
Advices and Tips to Play Mystic Fortune Deluxe
1. Try Out Demo Mode on Bonus Tiime
Like most online slots, Mystic Fortune Deluxe comes with the option of playing free in demo mode. This opens up the game to potential players who wish to see what it is all about without having to risk any actual money. Demo mode is not just for the curious newbie, though. It gives any player an opportunity to discover the game mechanics and its special features for themselves. In this way, before a single cent is bet, a player can be familiar with Mystic Fortune Deluxe's scatters and wild cards – and how these have an impact on the overall game. This leads us to the next pre-game tip for canny players: take a look at the pay table.
2. Relax and Entertain Yourself
Trying first the free slot demo is the perfect way to unwind, relax, and simply enjoy playing Mystic Fortune Deluxe – without losing money or the stress to catch chasing wins.
3. Always Study the Paytable of the Slot
The pay table is the slot's equivalent of a price list. You will find here a complete list of all the symbols in the game, along with their value. You will also be able to discover the properties of all the wilds and golden wilds. Combined with spending a little time in demo mode, this preparation will allow players to place their first bet with confidence when beginning the proper game.
4. Plan a Betting Budget and Stick to it
Anybody concerned with promoting Responsible Gambling will offer one piece of advice first and foremost: don't bet more than you are prepared to lose. When it comes to play online slots for real money, then this manifests itself through sticking to a pre-agreed budget. If a player reaches their betting ceiling without a big win then it is time to call it a day. Stop playing as soon as you reach the budget limit.
5. Don't Be Dazzled by Huge Jackpots
Some expert gamblers spend their time online chasing those mega-jackpots. While there is nothing wrong with that, it is a fact that slots offering huge progressive jackpots normally have higher odds and less chance of paying out.