Dive into a tropical paradise with the Hula Balua online slot, a captivating creation by renowned game developer, ELK Studios. Set in a lush Hawaiian setting, this exciting game merges impressive visuals with immersive gameplay, offering players a unique, thrilling experience. With a vibrant, six-reel and six-row design, this slot game perfectly embodies the enchanting beauty of the islands, making every spin a vibrant celebration.
In Hula Balua, ELK Studios showcases its innovative approach to online gaming by introducing unique features like scatter pays and sticky redrops. This 6×6 slot game offers medium to high volatility, making each spin a potential windfall. Accompanied by a generous RTP of 94% and a staggering maximum win of 25,000x, this Hawaiian-themed slot stands as an enticing adventure for both new and seasoned players seeking a fresh twist in their online slot experience.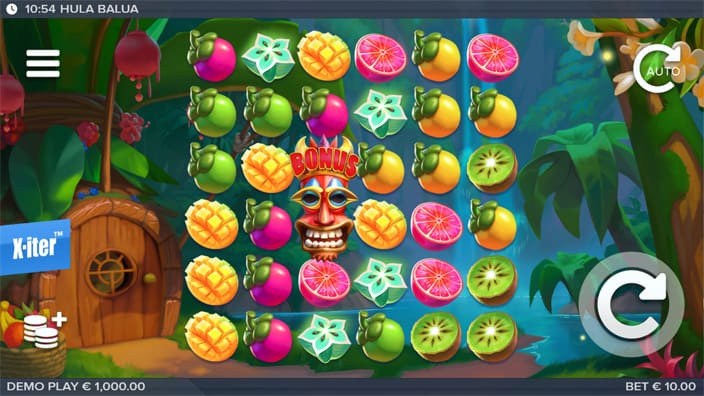 Demo Spotlight of Hula Balua by Bonus Tiime
ELK Studios Online Slots Provider
ELK Studios is a leading player in the online gaming industry, renowned for its sophisticated approach to slot design. They consistently innovate, delivering immersive and engaging gaming experiences for players worldwide. With a portfolio boasting of high-quality, visually stunning slots that blend rewarding gameplay with compelling themes, ELK Studios continues to revolutionize the realm of online casino gaming, setting new standards with every release.
Specifications of Hula Balua Online Slot
Welcome to the vibrant world of Hula Balua, a compelling online slot developed by ELK Studios. This game stands out with its unique 6×6 grid, employing a scatter pays system which offers a multitude of ways to win. Combined with an RTP of 94%, Hula Balua ensures a fascinating gaming experience with potential for high rewards.
Borrowing mechanics from other popular ELK Studios games like Tropicool and Nitropolis, Hula Balua promises engaging gameplay. Stake users will appreciate the diverse betting range from a minimum of 0.20 to a maximum of 100, making Hula Balua an ideal choice for players of all budgets and betting preferences.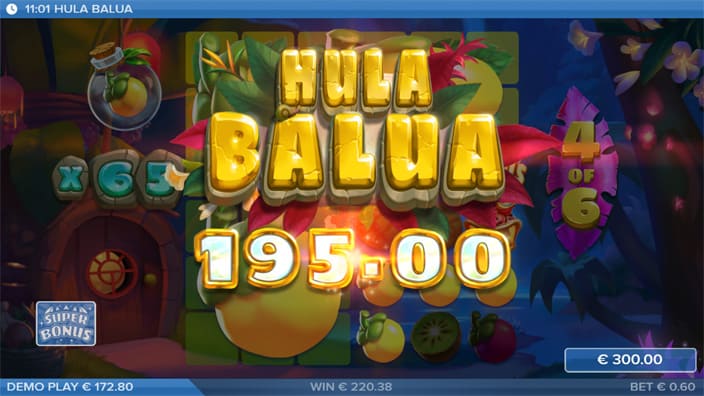 RTP
With a RTP (return to player) of 94%, Hula Balula provides a favourable prospect for players. This promising RTP percentage signifies that the slot has the potential to return an average of €94 for every €100 wagered, making it an attractive option in the realm of online slots.
Volatility
The high volatility of Hula Balula implies thrilling gameplay, with substantial wins potentially occurring between longer periods of smaller or no wins. This level of volatility is perfect for players who seek the thrill of significant wins and don't mind weathering a few quiet spins.
Max Win
Hula Balua offers an astounding max win of 25,000x the bet. So, if a player places a bet of €1, they stand a chance to win up to €25,000. This fantastic win potential makes each spin an exhilarating adventure, heightening the overall gaming experience.
Theme
Hula Balua whisks players off to a tropical paradise, akin to the captivating Hawaiian locales seen in the popular film Moana. The vibrant graphics, engaging theme, and the charming character of Elmo the Sloth, all contribute to creating a slot experience that's both immersive and visually delightful.
Features of Hula Balua's Online Slot
Immerse yourself in the rich feature set of Hula Balua, the captivating online slot from ELK Studios. This slot game boasts an array of innovative features, including Sticky Redrops, Merging Symbols, Multipliers, and an engaging Bonus Game. These unique features bring a dynamic twist to the gameplay, ensuring a thrilling experience for players.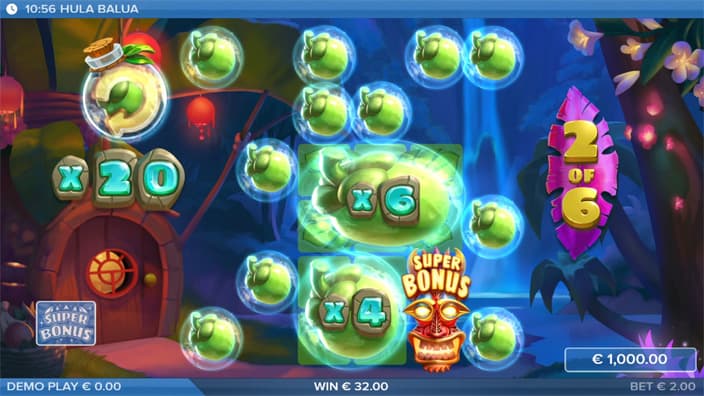 Sticky Redrops
This feature locks in one type of paying symbol, holding them in place for the next spin, and can result in additional spins when matching or wild symbols appear.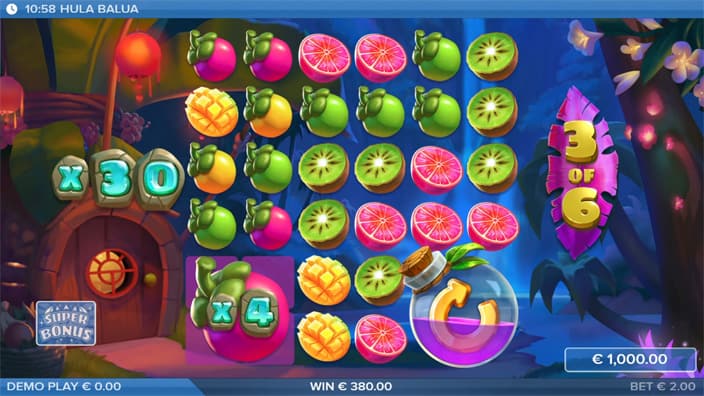 Elmo Redrops
Activated by Elmo, this feature distributes a random number of wilds across the grid, enhancing chances of forming winning combinations.
Big Symbols
These are large icons that occupy multiple spaces on the grid, offering bigger winning potential and a chance to merge for even higher rewards.
Merging Symbols
This mechanic allows identical symbols adjacent to each other to merge into bigger symbols, increasing the chances for bigger wins.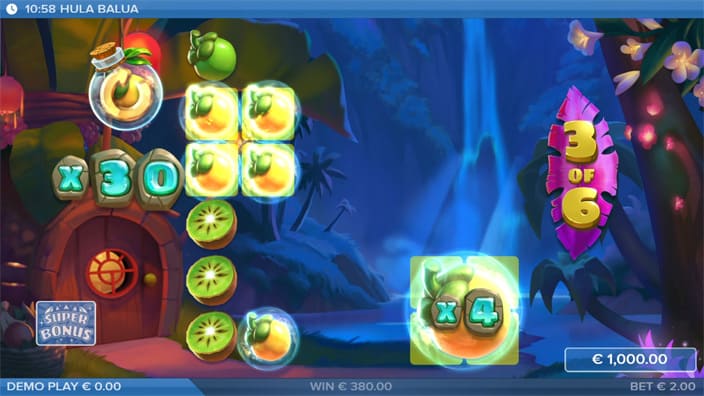 Bonus Game
The Bonus Game in Hula Balua offers free drops when landing 3 to 6 bonus symbols, with potential for Super bonus symbols when two align vertically. This triggers large symbols and keeps the global multiplier intact. More bonus symbols during the feature can retrigger extra free drops, enhancing winning opportunities.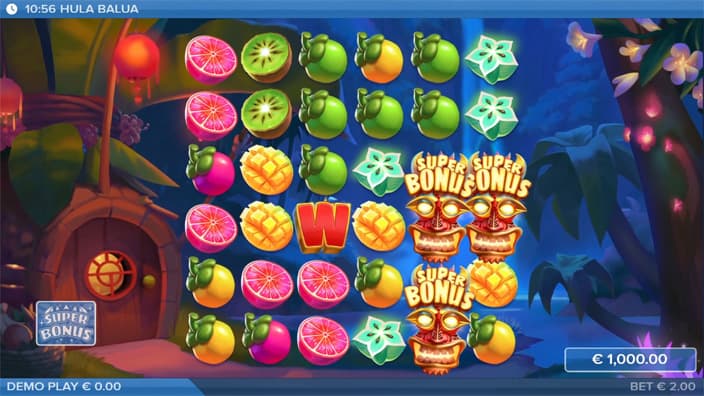 Buy Feature X-iter
The Buy Feature X-iter in Hula Balua offers various options for players:
Bonus Hunt: At 3x the bet, players can purchase a game round with higher chances of activating a bonus.
Big Symbol: By wagering 10x the bet, players secure a game round with a guaranteed big symbol.
Sticky Redrops: At 25x the bet, this option ensures a game round with sticky redrops.
Buy Bonus: For 100x the bet, players can directly buy access to the bonus game.
Super Bonus: The most premium option at 200x the bet, this purchase gives players immediate access to the super bonus game.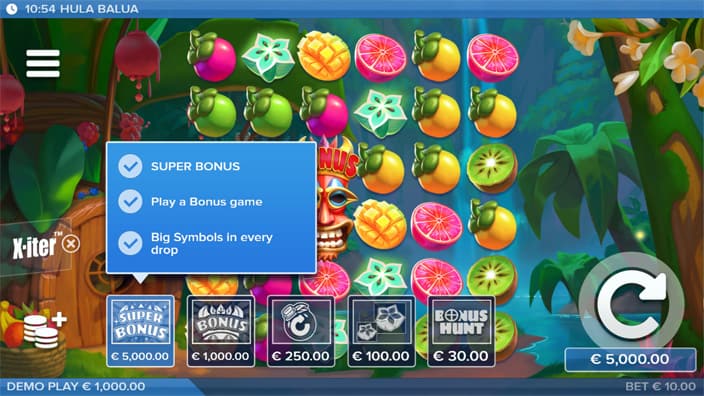 How to Play to Hula Balua's Online Slot
Embarking on the tropical adventure that is ELK Studios' Hula Balua slot begins with setting your preferred bet. The range offered extends from a minimum of 0.20 to a maximum of 100, catering to a variety of budgets. This vibrant game plays out on a 6×6 grid, using the Scatter Pays system. Unlike traditional paylines, in Hula Balua, you need to land 8 or more identical symbols anywhere on the reels to score a win.
The symbols to watch for in this game are anonymous fruits of green, yellow, and pink, sliced kiwi and mango fruits, pink fruit halves, and split star-shaped fruits. Also, keep an eye out for the wild symbols. These handy icons can substitute for any regular pay symbols, creating more opportunities to form winning combinations.
Once your bet is established, the gameplay is as simple as hitting the spin button. Winning symbols vanish from the reels and get replaced by those above, creating a cascade effect that can lead to successive wins. As you spin, you might encounter features like Sticky Redrops, Elmo Redrops, and Big Symbols, all of which enhance the gameplay and increase your chances of winning. Lastly, the X-iter feature is worth exploring. It gives you the option to purchase special game rounds or even gain immediate access to the bonus games.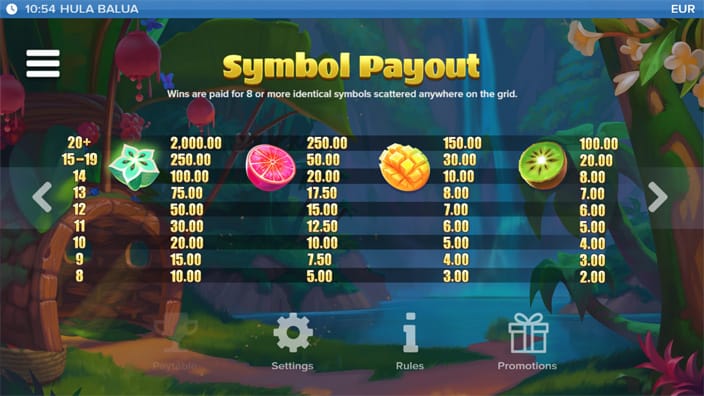 How to Win Real Money with Hula Balua Online Slot
For those eager to experience the thrill of Hula Balua slot, Stake Casino is the place to be. Offering a vast selection of premium online slots including ELK Studios' games, Stake ensures a top-tier gaming experience. Don't wait, dive into the tropical adventure of Hula Balua on Stake today!

Review of the Online Slot Hula Balua by Bonus Tiime
Dive into a tropical adventure with Hula Balua, an enticing online slot developed by ELK Studios. Its vibrant theme transports players to a paradisiacal island setting, complete with lush fruits and the charming Elmo the Sloth. The slot's engaging gameplay, coupled with its immersive design, contributes to a truly standout gaming experience.
The thrill factor in Hula Balua is significantly amplified by the potential of a 25,000x bet max win. This high win potential, paired with a range of innovative features like Sticky Redrops, Merging Symbols, and Elmo Redrops, adds a level of excitement that keeps players spinning for more. The chance to score such substantial winnings undeniably elevates the appeal of Hula Balua for high rollers and casual players alike.
ELK Studios has a track record of impressing the gambling community with innovative slots, and Hula Balua is no exception. The popularity of this game, as well as recent releases like Pirots and Toro Shogun, showcase ELK Studios' growing dominance in the online slot sphere. The developer's consistent delivery of high-quality, feature-rich slots continues to draw in more and more enthusiastic players.
Advices and Tips to Play Hula Balua
1. Try Out Demo Mode on Bonus Tiime
Like most online slots, Hula Balua comes with the option of playing free in demo mode. This opens up the game to potential players who wish to see what it is all about without having to risk any actual money. Demo mode is not just for the curious newbie, though. It gives any player an opportunity to discover the game mechanics and its special features for themselves. In this way, before a single cent is bet, a player can be familiar with Hula Balua's scatters and wild cards – and how these have an impact on the overall game. This leads us to the next pre-game tip for canny players: take a look at the pay table.
2. Relax and Entertain Yourself
Trying first the free slot demo is the perfect way to unwind, relax, and simply enjoy playing Hula Balua – without losing money or the stress to catch chasing wins.
3. Always Study the Paytable of the Slot
The pay table is the slot's equivalent of a price list. You will find here a complete list of all the symbols in the game, along with their value. You will also be able to discover the properties of all the wilds and golden wilds. Combined with spending a little time in demo mode, this preparation will allow players to place their first bet with confidence when beginning the proper game.
4. Plan a Betting Budget and Stick to it
Anybody concerned with promoting Responsible Gambling will offer one piece of advice first and foremost: don't bet more than you are prepared to lose. When it comes to play online slots for real money, then this manifests itself through sticking to a pre-agreed budget. If a player reaches their betting ceiling without a big win then it is time to call it a day. Stop playing as soon as you reach the budget limit.
5. Don't Be Dazzled by Huge Jackpots
Some expert gamblers spend their time online chasing those mega-jackpots. While there is nothing wrong with that, it is a fact that slots offering huge progressive jackpots normally have higher odds and less chance of paying out.