Introducing the tantalizing allure of Coba Reborn, the latest online slot offering by gaming virtuoso ELK Studios. Immerse yourself in a realm where the vibrant pulse of the jungle meets the thrill of high-stakes gaming, carefully woven into the exotic theme of this game. Coba Reborn brings a fresh perspective to the online gaming scene, with its high volatility, a return to player (RTP) rate of 94.0%, and a maximum win of a staggering 25,000x your stake. The design, ensconced in lush greenery and set amidst ancient ruins, redefines visual storytelling in the gaming world, ensuring an unparalleled player experience.
Moreover, the game's features further exemplify ELK Studios' knack for innovative gameplay. With a unique 7×7 grid layout, cluster pays win system, and a mesmerizing array of symbol values, players are guaranteed exhilarating game sessions. More than just a game, Coba Reborn is an adventure, where every spin unfolds an intricate tale of snakes, flowers, and gems, all contributing to an immersive online gaming experience.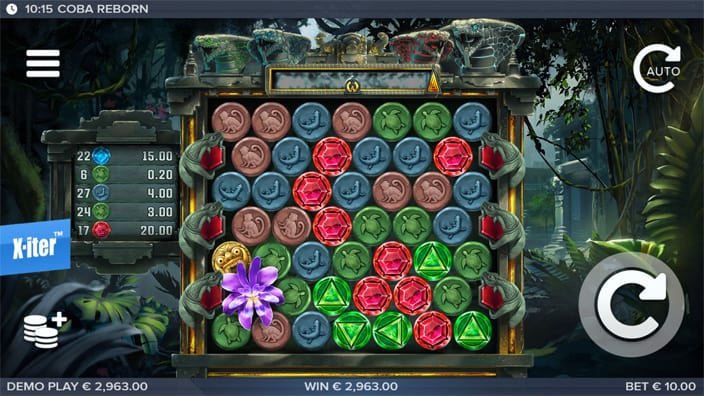 ELK Studios Online Slots Provider
ELK Studios, the renowned game developer behind Coba Reborn, continues to uphold its reputation as an industry pioneer. With an enviable portfolio of groundbreaking games like Pacific Gold and Voodoo Gold, ELK Studios is synonymous with high-quality gaming. They specialize in crafting memorable, feature-rich online slots that captivate players worldwide. Coba Reborn is yet another testament to ELK Studios' commitment to innovation, player satisfaction, and top-tier game development.
Specifications of Coba Reborn Online Slot
Unveiling the specifications of the Coba Reborn online slot, you find a 7-reel grid layout with 7 rows, offering a unique cluster pays system. This intricate design brings countless ways to win, amplifying the excitement and potential rewards of every spin, and setting a new benchmark in the world of online slots.
As a successor to the popular slot game Coba, Coba Reborn takes the original game mechanics to a new level, enhancing the gaming experience for all kinds of players. Whether you're a high-roller or a casual gamer, the flexible stake range of 0.20 to €100 allows you to adjust the stakes to suit your gaming style, ensuring a personalized gaming session each time.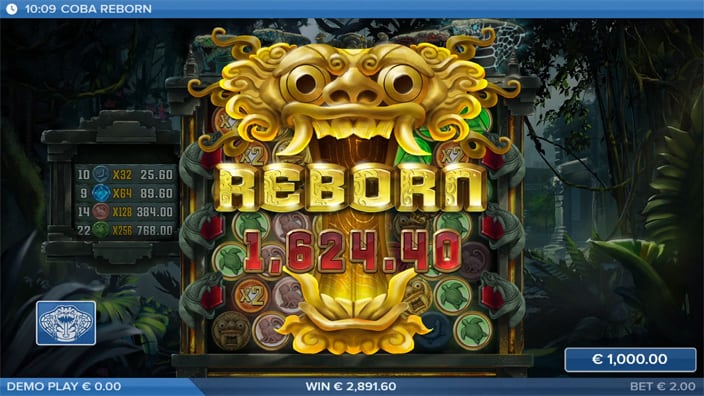 RTP
Coba Reborn showcases a RTP (return to player) of 94%, providing an enticing prospect for players in the long run. Despite being slightly lower than the industry average, it still promises substantial returns, making it an attractive option for those willing to take a leap into the exotic realm of this online slot.
Volatility
The high volatility of Coba Reborn adds an element of thrill to the game, making it a high stakes adventure. This feature is perfect for players who love the anticipation of big wins and are prepared for periods of lesser returns, adding an electrifying spark to each spin.
Max Win
With a maximum win of 25,000 times your bet, Coba Reborn certainly turns up the heat in the world of online slots. If, for example, a player places a wager of 1€, they have the potential to walk away with a staggering 25,000€, making every spin an opportunity for an impressive windfall.
Theme
Taking inspiration from the exotic allure of jungles and ancient ruins, the theme of Coba Reborn brings to mind the adventurous spirit of the Indiana Jones series. Its mystic design, combined with its gripping gameplay, ensures an immersive experience akin to a blockbuster adventure, right from your screen.
Features of Coba Reborn's Online Slot
Dive into the enthralling world of Coba Reborn and explore its innovative features. This online slot is a treasure trove of unique game mechanics, including the Snake Progress Meter, four distinctive Orchid symbols, and the X-iter modes. Each feature contributes to a dynamic gaming experience, making every spin an exciting adventure.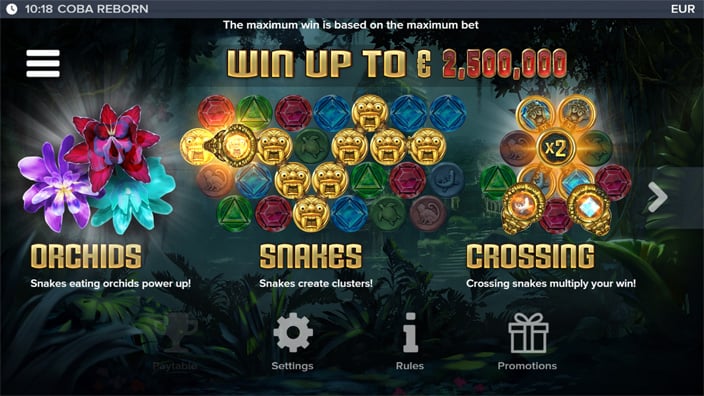 Avalanche Feature
The Avalanche feature in Coba Reborn triggers when you land a win. Winning symbols are removed, with new ones cascading from above, providing continuous winning opportunities in a single spin.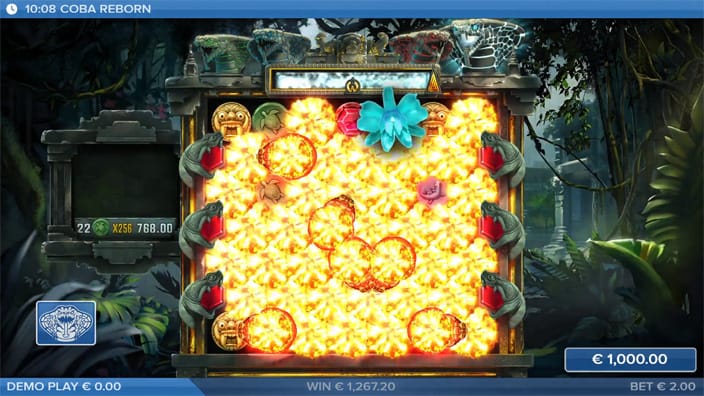 Eat and Grow
Snakes eat symbols of their current type, wilds, and orchids. This allows them to survive subsequent avalanche drops, grow in size, and create larger win clusters, adding depth and dynamism to the gameplay.
Wild Symbols
These versatile symbols substitute for any regular symbols, creating more winning opportunities.
Wild Multipliers
In Coba Reborn, when a snake crosses another, an x2 multiplier wild is generated at the intersection. The value doubles with additional intersections, and these wild multipliers can multiply each other within the same cluster.
Snake Progress Meter
This unique feature fills up as you collect winning symbols. Once half-filled, it randomly places wilds on the grid. A fully filled meter releases snakes, enhancing the potential for big wins.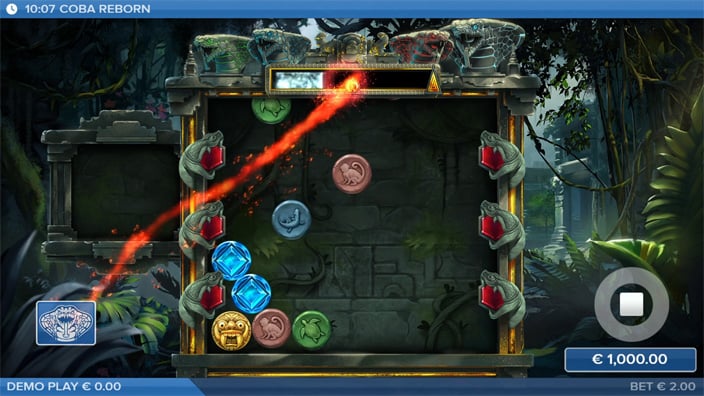 Snake Death
If a snake in Coba Reborn fails to consume its current type of symbol, a wild, or an orchid, or if it bites itself, it "dies" and is subsequently removed from the symbol grid.
Cluster Win
A winning cluster is defined as a group of five or more identical symbols connected together. This unique mechanic adds an extra layer of excitement and potential winnings to the gameplay.
Snakes
The Snakes in Coba Reborn are linear clusters of symbols that grow as they move across the grid. They form part of winning clusters, introducing a dynamic and interactive element to your gameplay, increasing your chances of landing substantial wins.
Orchids
The Orchids in Coba Reborn are unique symbols each unlocking special features that enrich the gameplay.
Blood Orchid: Spawns snakes from its position, infusing the game with unexpected twists.
Hydra Orchid: Spawns another snake behind the eating snake, escalating the gameplay.
Rebirth Orchid: Allows a snake to resurrect from the dead, adding a layer of suspense.
Ouroboros Orchid: Allows snakes to cross themselves without dying, introducing an interesting dynamic.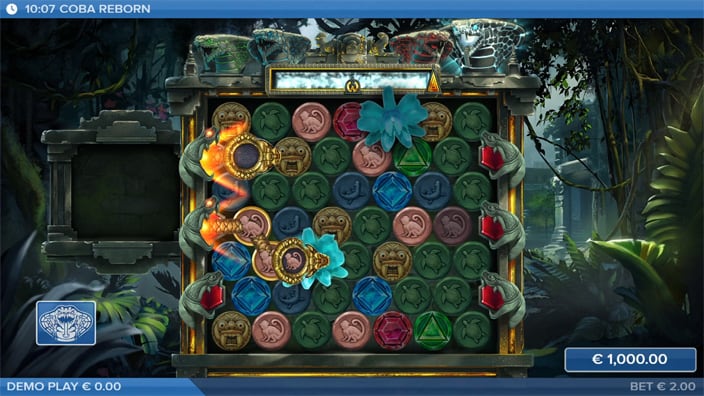 X-iter
This feature offers different game modes to amplify the player's gaming experience.
Boosted Chance: This mode increases the chances of reaching the first level on the snake meter.
Flower Power: Ensures at least 3 random orchids in one drop, enhancing the gameplay.
All Ouroboros: A game round with double blood orchids, enabling snakes to cross themselves.
Bali Boost: Guarantees reaching level 1 in a game round, increasing your odds.
Coba: A high-stake game round that starts on level 4, offering the thrill of 6 snakes.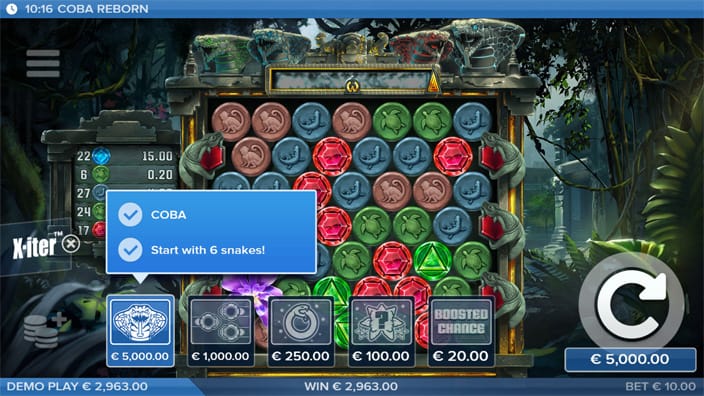 How to Play to Coba Reborn's Online Slot
Playing the Coba Reborn slot is an easy and enjoyable experience that begins with selecting your preferred bet size, which can range from 20 p/c to £/€100 per spin. Once your stake is set, simply click on the spin button to initiate the game. Your aim is to land at least five matching symbols anywhere on the board, which are connected to each other. This triggers the unique Avalanche feature, where winning symbols are removed from the board and replaced with new ones from above, providing the potential for continuous wins from a single spin.
When it comes to symbol values in Coba Reborn, they vary significantly. The game features both high and low paying symbols. Low paying symbols include the green turtle, blue lizard, and bronze monkey, while high paying symbols comprise of the green gem, blues gem, red gem, and a gold mask symbol. Payouts range from 0.05 to 50 times the bet, depending on the size of the cluster. Wild symbols are key in boosting your winnings as they can substitute for any regular paying symbol, thereby increasing your chances of creating winning combinations.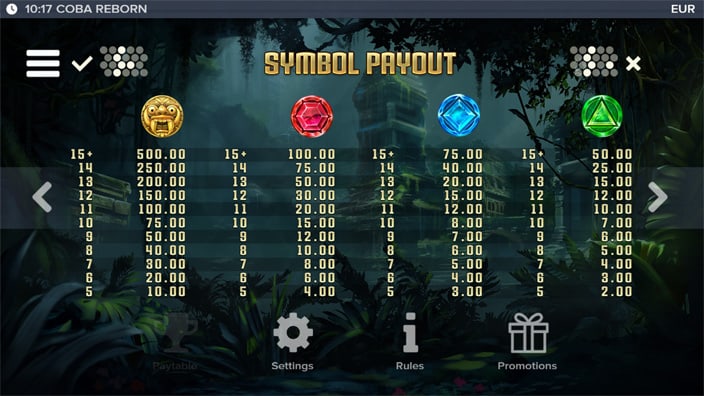 How to Win Real Money with Coba Reborn Online Slot
Can't wait to delve into the thrilling jungle of Coba Reborn slot? Stake Casino is your destination. With its impressive array of online slots, including the captivating Coba Reborn, you can start your adventure right away and potentially win big. Try your luck on Stake Casino today!

Review of the Online Slot Coba Reborn by Bonus Tiime
Coba Reborn by ELK Studios is a captivating online slot that masterfully blends high-stake gameplay with an intriguing jungle theme. The game's aesthetic plunges you into a vibrant world of mysterious ruins and exotic fauna, whilst its features offer an engaging, ever-evolving gameplay experience. The standout selling point is the tremendous maximum win potential of up to 25,000 times your bet, a figure sure to pique the interest of high-rolling slot enthusiasts in search of big wins.
ELK Studios continues to impress with their innovative approach to slot design. Each of their recent releases have demonstrated a keen attention to detail, and a commitment to immersive and intricate gaming experiences. Coba Reborn is no exception. With its unique serpent symbol mechanic, exotic theme, and lucrative win potential, it certainly lives up to the high standard set by its predecessors.
Given the compelling mix of features, aesthetic allure and high win potential, Coba Reborn is a slot worth paying attention to. Whether you're a seasoned player or a newcomer to online slots, this game promises to deliver an engaging gaming experience and potentially significant wins. As ELK Studios continues to grow its reputation with each new release, Coba Reborn stands as further proof of the studio's dedication to quality and innovation.
Advices and Tips to Play Coba Reborn
Get ready to improve your online slots experience! We offer a range of tutorials and articles for both beginners and seasoned players. These invaluable resources will guide you towards a more strategic and enjoyable gaming session. So, dive in and boost your online slot prowess today!