Venture into the magical world of Wild Unicorns, the latest online slot game from renowned developer Big Time Gaming. Released on September 27, 2023, this fantastical slot takes players on an enchanted journey through whimsical forests and offers an awe-inspiring array of features like free spins, multipliers, and more. With its vivid high-definition visuals and 4,096 paylines, Wild Unicorns offers a truly immersive gaming experience.
If you've ever dreamt of gallivanting through a wonderland teeming with mythical creatures and secret treasures, then this online slot is designed just for you. In this article, we provide an in-depth review of Wild Unicorns, as well as a chance to try the demo for free to fully understand the slot's mechanisms. From its high volatility to its max win of 56,800 times your bet, this game promises not just a visual treat but also plenty of opportunities for big wins. So saddle up for an adventure that blurs the lines between reality and fantasy, as we explore all that Wild Unicorns has to offer.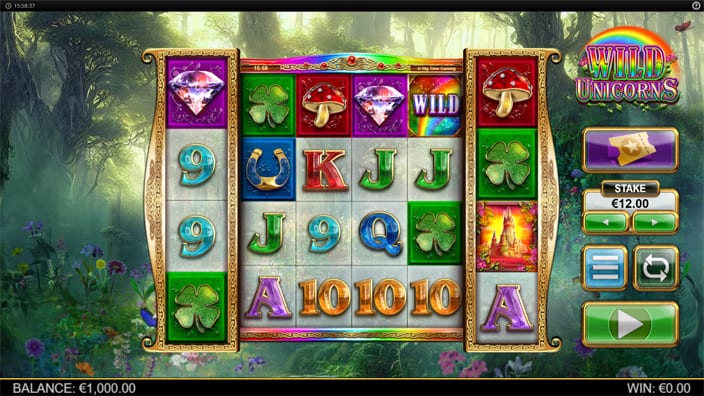 Demo Spotlight of Wild Unicorns by Bonus Tiime
Top Casinos to Play Wild Unicorns and Win Real Money



Big Time Gaming Online Slots Provider
Step into the world of innovation and high-quality gaming with Big Time Gaming, a leading developer in the online casino industry. Known for their cutting-edge slots and unique game mechanics like Megaways, this software provider consistently offers thrilling gameplay and lucrative winning opportunities for avid gamblers. With a diverse portfolio that spans various themes and features, Big Time Gaming sets the bar high for immersive and rewarding online gaming experiences.
Specifications of Wild Unicorns Online Slot
Dive into the intricate details of Wild Unicorns, an online slot boasting a 6-reel, 4-row layout with a staggering 4,096 ways to win. Developed by Big Time Gaming, this game is designed to engage players with its multiple avenues for potential payouts.
While not utilizing the typical Megaways mechanic seen in other titles like Max Megaways, Wild Unicorns does include a reaction feature that borrows from the genre's traits. This adds another layer of excitement as you adjust your stakes, ranging from a minimum of 0.20 to a maximum of 20, ensuring that this high-volatility slot suits all kinds of players.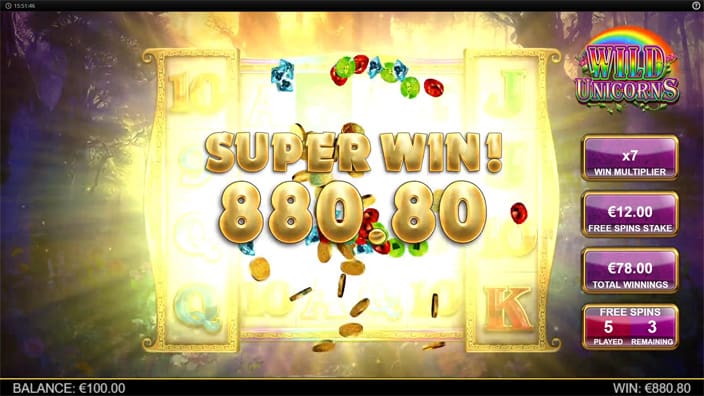 RTP

When it comes to Return to Player, Wild Unicorns offers a competitive RTP of 96.53%. This above-average rate enhances your long-term winning prospects, making it a lucrative choice for those who are keen on optimizing their gameplay for the highest potential returns.
Volatility
Navigating the mystical realms of Wild Unicorns comes with very high volatility, rated 5/5. This ensures a rollercoaster of an experience, filled with high risks but also the exhilaration of substantial wins, making it ideal for thrill-seekers in the online slot universe.
Max Win
Unlock the vault to unimaginable wealth with Wild Unicorns' max win of 56,800x your bet. Imagine placing a 1€ stake; you could potentially walk away with a life-changing sum of 56,800€, adding an extra layer of excitement to each spin.
Theme
Journey through a world reminiscent of fantastical settings like those found in the "Narnia" series. The theme of Wild Unicorns is enchanting, transporting players into a magical forest teeming with mythical creatures and untold treasures, creating a thoroughly immersive gaming experience.
Features of Wild Unicorns Online Slot
Step into the magical gameplay of Wild Unicorns, an online slot packed with a multitude of engaging features. From Reactions to Scatters and Free Spins, this game offers a complex landscape of opportunities for players to explore, elevating the traditional slot experience to new heights.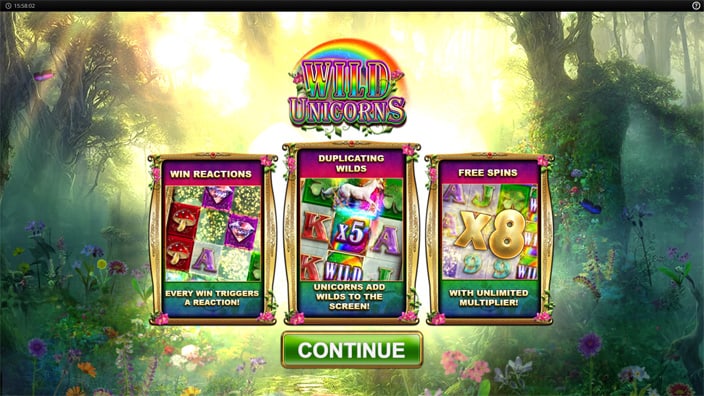 Reactions Feature
The Reactions Feature is a captivating element that springs into action when you land a win. Winning symbols are removed from the reels, allowing new symbols to drop down and fill the empty spaces. This can lead to a cascade of additional wins, increasing your chances for bigger payouts.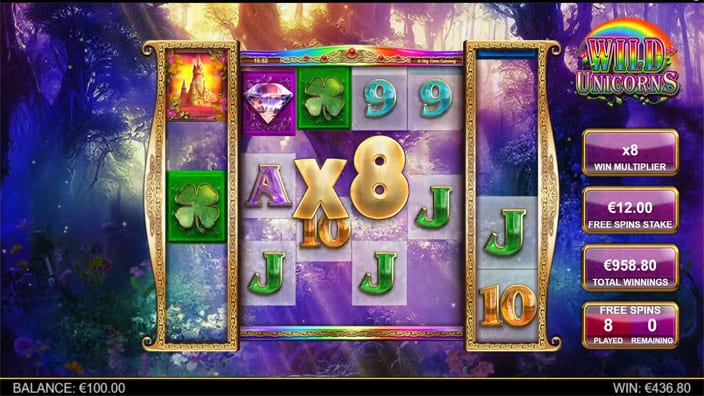 Scatters
Scatters are your ticket to the coveted Free Spins round. Appearing only on reels 1 and 2, landing two of these symbols grants you eight free spins, plus additional spins for each extra scatter symbol. These icons are crucial for unlocking the game's maximum potential.
Wild Unicorn Multiplier
The Wild Unicorn symbol serves as a substitute for other symbols and can significantly amplify your wins. Up to three added Wilds may turn into Multiplier Wilds with values up to x10, multiplying the total winnings for that particular spin.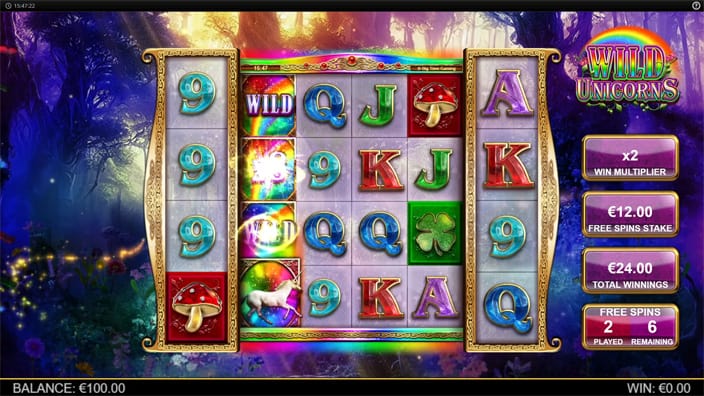 Free Spins
Once you've landed enough Scatters, you'll enter the Free Spins feature with an unlimited win multiplier. Starting at x1, the multiplier increases by +1 after each Reaction, boosting your chances of larger wins. Plus, during this feature, a Unicorn is guaranteed to land on every spin.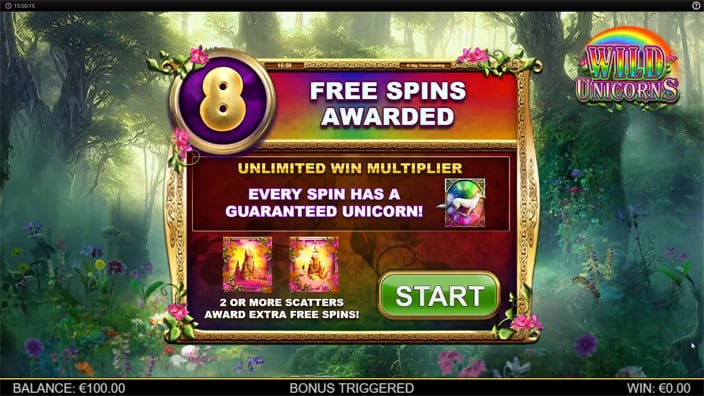 Win Exchange
If you manage to win 75 times your bet or more, the Win Exchange feature kicks in, allowing you to trade your win for eight free spins. This unique mechanism adds an interesting strategic layer to the gameplay, enhancing player engagement.
Bonus Buy
For those who prefer to jump straight into the action, the Bonus Buy feature lets you purchase eight free spins for 75 times your bet. This option allows players to bypass the base game and head directly to the potentially more lucrative Free Spins round.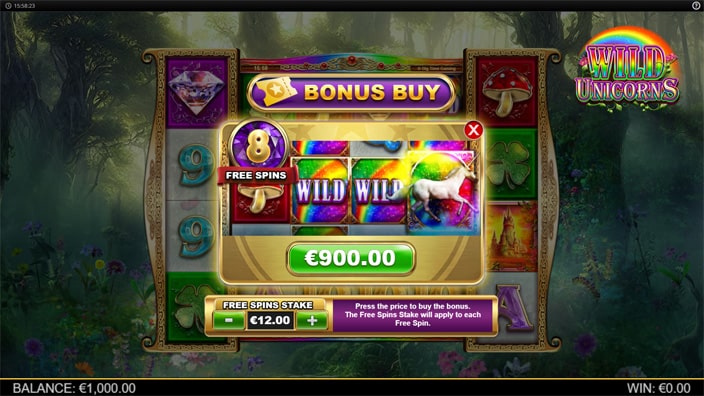 How to Play to Wild Unicorns Online Slot
Diving into the mystical world of Wild Unicorns is both effortless and thrilling. To begin your adventure, you'll first need to set your stake, which can range from as low as 0.20 to as high as 20. Once you've decided on your bet size, simply hit the spin button and watch the 6-reel, 4-row grid whirl into action. Landing a win triggers the Reactions Feature, which removes winning symbols and lets new ones fill the vacant spaces, offering the potential for cascading wins. With 4,096 ways to win, every spin holds the promise of creating multiple winning combinations, ramping up the excitement and your chances for a magical payday.
The symbols in Wild Unicorns also add layers of intrigue to the gameplay. On the lower end of the paytable, you'll find gem-styled card royals ranging from 9 to A. For the higher-value symbols, look out for thematic icons such as a four-leaf clover, a horseshoe, a mushroom, and a diamond. While the lower-value symbols require a minimum of three to create a win, diamonds pay out even when you get just two on a payline. When you hit a 6-of-a-kind winning way, the game pays out between 0.2x to 0.25x for the lower-value symbols and 0.3 to 5 times the bet for the higher-value symbols. With these diverse payouts, each spin is a new opportunity to land a significant win.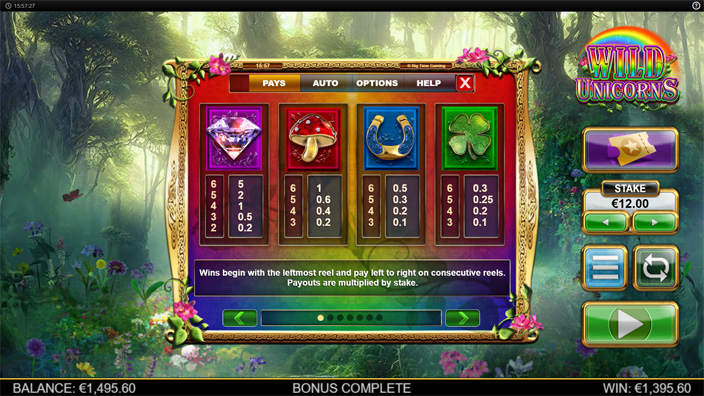 Review of the Online Slot Wild Unicorns by Bonus Tiime
Wild Unicorns by Big Time Gaming takes players on an enchanting journey through a magical forest teeming with mythical elements. The game stands out not just for its mesmerizing visuals and thematic depth, but also for its unique set of features, adding a twist to the traditional slot experience. The atmosphere is a lush blend of whimsical and majestic, setting the stage for exciting gameplay.
One of the most enticing aspects of Wild Unicorns is the jaw-dropping max win of 56,800x your bet. This feature adds a level of excitement and anticipation to each spin that is hard to match. Even though the game is high in volatility, the prospect of such a colossal payout keeps players coming back for more, making each spin a thrilling gamble.
If the theme of unicorns and mythical forests piques your interest, you might also enjoy other slots like Double Rainbow by Hacksaw Gaming and Unipopcorn by Popiplay. These games offer their own unique take on the unicorn and magical themes, but carry the same sense of adventure and possibility. Wild Unicorns offers an experience that is rich in both theme and features, ensuring it appeals to a broad spectrum of players.
Advices and Tips to Play Wild Unicorns
Get ready to improve your online slots experience! We offer a range of tutorials and articles for both beginners and seasoned players. These invaluable resources will guide you towards a more strategic and enjoyable gaming session. So, dive in and boost your online slot prowess today!