For avid slot enthusiasts looking for their next gaming adventure, the online slot world has been abuzz with the latest release from Print Studios – Royal Potato 2. Coming off the quirky success of its predecessor, this sequel delves deeper into the whimsical realm of potato royalty. With its meticulously crafted design and theme, players are transported to a vibrant universe where tubers rule the roost, making it a must-try for those who appreciate a mix of whimsy and high-quality slot design.
Royal Potato 2 is more than just an eye-catching slot; it's packed with riveting features that promise a thrilling gaming experience. This article provides a comprehensive review of the game, allowing players to try out the demo for free and understand every aspect of the game. From its stunning graphics to its unique gameplay mechanics, delve into the rich tapestry of Royal Potato 2 and discover why it's making waves in the online casino world.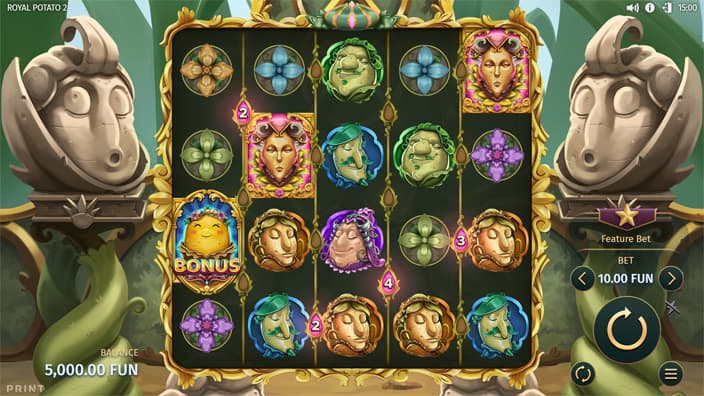 Demo Spotlight of Royal Potato 2 by Bonus Tiime
Top Casinos to Play Royal Potato 2 and Win Real Money



Print Studios Online Slots Provider
In the dynamic realm of online gaming, Print Studios stands out as a leading developer, crafting immersive slot experiences that resonate with players globally. Harnessing cutting-edge technology and innovative design, this trailblazing provider has swiftly risen to prominence, setting new standards in the online casino industry.
Specifications of Royal Potato 2 Online Slot
Royal Potato 2 takes the online slot universe by storm with its impressive 5-reel, 4-row structure, offering players 30 distinct paylines to secure their wins. With these mechanics, gamblers are presented with multiple ways to achieve victory, further enhancing the game's appeal.
Building on the legacy of its predecessor, Royal Potato, this sequel brings back familiar elements while introducing exciting nuances. For those wagering on Stake, a broad betting range awaits, starting from a modest 0.20, stretching up to 25, catering to both newbies and high rollers alike.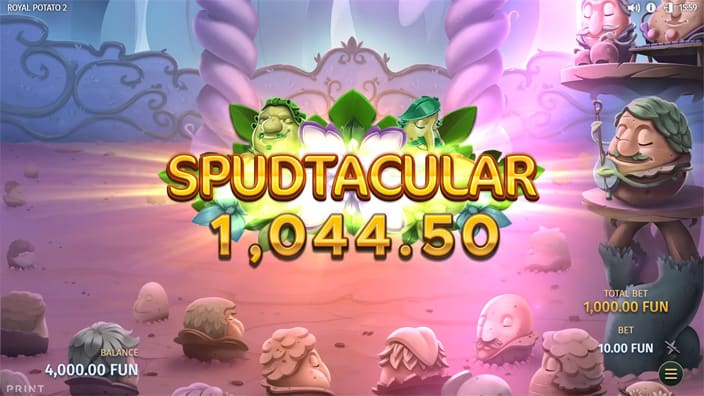 RTP
Royal Potato 2 boasts a generous 96.26% RTP, positioning it among the higher-returning slots in the online gaming sphere. Such an RTP ensures players get a fair shot at recouping their wagers, making this game a rewarding experience for those who spin its reels.
Volatility
For thrill-seekers in the slot universe, Royal Potato 2 offers very high volatility. This ensures that while wins may come less frequently, when they do, they're potentially massive. It's a perfect match for players who relish the exhilarating peaks and troughs of high-stakes gambling.
Max Win
One of the standout features of Royal Potato 2 is its staggering max win potential of 40,000x the bet. To put it in perspective, a player staking just 1€ could walk away with a whopping 40,000€ if luck shines their way. Such a reward amplifies the game's allure.
Theme
Diving into the world of Royal Potato 2, players are immersed in a quirky realm reminiscent of the whimsy found in Despicable Me's Minion universe. The slot's theme, populated by regal potatoes, offers a delightful blend of humor and fantasy, ensuring a memorable gaming experience.
Features of Royal Potato 2's Online Slot
Delving into the gameplay mechanics of Royal Potato 2 online slot, players are greeted with a plethora of enticing features. These elements not only enhance the gaming experience but also pave the way for remarkable rewards. Let's unpack these dynamic components that make Royal Potato 2 a must-spin slot.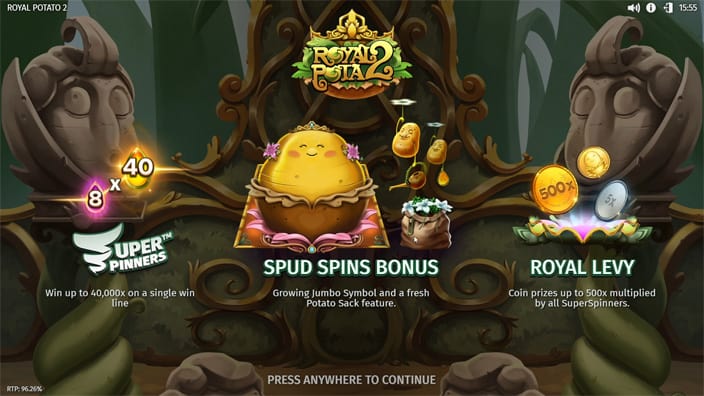 SuperSpinners
A distinctive trait from Print Studios, SuperSpinners are numeric values seen between the reels. When a winning combination traverses a SuperSpinner, the win gets multiplied by the displayed value. Wins involving multiple SuperSpinners receive a cumulative multiplier, further boosting potential payouts.
Royal Levy
A feature that can spontaneously activate in the base game, the Royal Levy triggers when two King or Queen symbols land. Once activated, these regal symbols spin, bestowing players with cash prizes up to 500x the bet or a free spins reward. Any active SuperSpinner values at this juncture amplify the prize.
Spud Free Spins Bonus
Securing 3, 4, or 5 scatter symbols in the base game activates 10, 12, or 14 free spins, respectively. This bonus round immerses players in an enhanced gameplay setting, providing more opportunities to secure significant wins.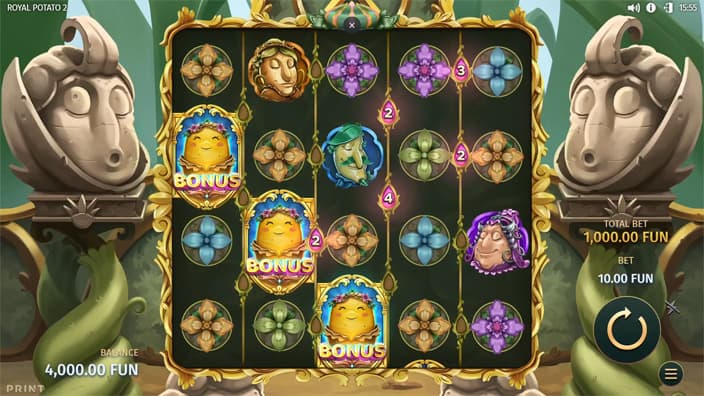 Jumbo Symbol
A cornerstone of the Spud Free Spins Bonus, the Jumbo symbol starts as a locked 2×1 icon in the center. As wins accumulate with active symbols, the Jumbo symbol grows in size, garners extra free spins, and substitutes for a broader range of symbols, amplifying the winning potential.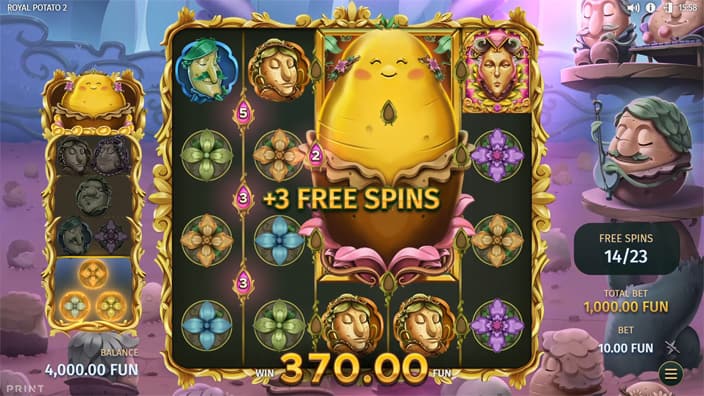 Potato Sack Feature
Exclusive to the Spud Spins Bonus, if the Potato Sack symbol lands on certain stages, it awards game modifiers. These can range from golden SuperSpinners with high multipliers, additional free spins, synchronized reels, or even activating symbols for augmented wins.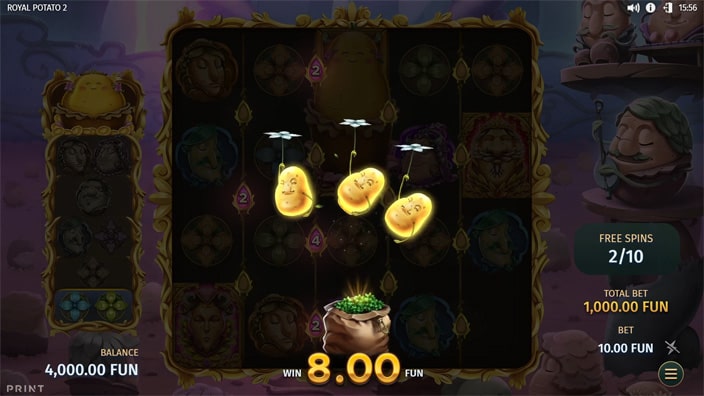 Bonus Buy
For those eager to dive straight into the action, Royal Potato 2 offers a Bonus Buy feature. Players can directly purchase access to specific game features, such as the Spud Spins Bonus or Royal Levy. Each buy comes with its RTP, offering diverse gameplay strategies for the discerning slot enthusiast.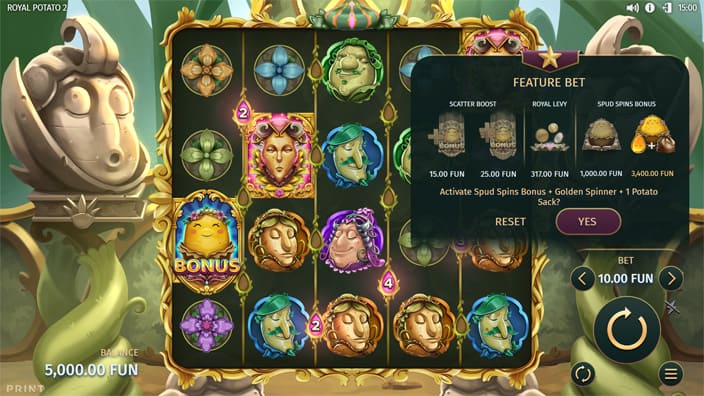 How to Play to Royal Potato 2's Online Slot
To begin your adventure in the potato kingdom, players should first set their desired bet size, which ranges from 0.20 to 25. Once the bet is configured to your preference, hit the spin button and watch the reels come alive. The layout of Royal Potato 2 is built upon a 5-reel, 4-row grid, encompassing 30 paylines. Wins are achieved by landing three or more matching symbols, and it's imperative to remember they must start from the leftmost reel and proceed to the right.
Royal Potato 2 encompasses a delightful assortment of symbols, each with varying values. On the lower spectrum, players will find vividly colored flowers like blue, green, orange, and purple, offering modest returns. However, the true essence of the game's rewards lies in the premium potato symbols. Landing five of these on a payline can award between 6 to 50 times the placed bet. Although the game doesn't frequently pepper its reels with wilds, the Spud Free Spins round introduces a captivating wild element that can significantly elevate the gameplay and potential wins.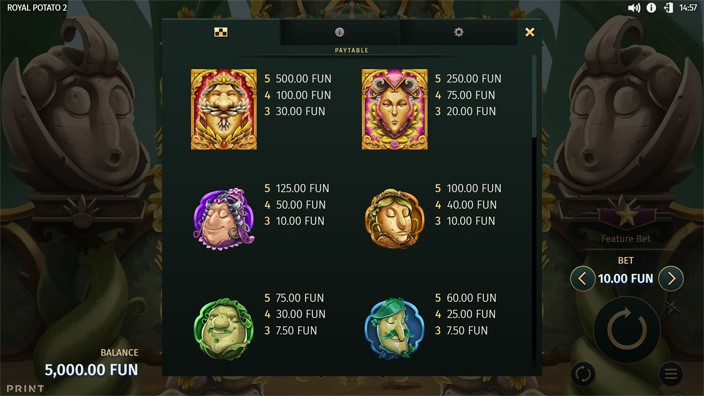 Review of the Online Slot Royal Potato 2 by Bonus Tiime
Royal Potato 2, crafted by Print Studios, serves as a delightful sequel that immerses players into a whimsical world dominated by regal potatoes. The slot's theme is intriguingly unique, drawing players into an eccentric yet charming realm filled with vibrant colors, expertly designed graphics, and distinctive potato characters that set it apart in the slot gaming world.
Where Royal Potato 2 truly shines is in its potential payouts. With an opportunity to secure wins up to a staggering 40,000x the initial bet, players are constantly on the edge, anticipating that monumental win. This significant winning potential means even modest bets can translate to substantial rewards, keeping the excitement alive in every spin.
Veteran slot enthusiasts might find a semblance in gameplay mechanics with titles like Fat Banker by Push Gaming and Sky Bounty by Pragmatic Play. While the core mechanics might echo these popular games, Royal Potato 2 seamlessly integrates these features into its unique thematic experience, ensuring both familiarity and novelty for its players.
Advices and Tips to Play Royal Potato 2
Get ready to improve your online slots experience! We offer a range of tutorials and articles for both beginners and seasoned players. These invaluable resources will guide you towards a more strategic and enjoyable gaming session. So, dive in and boost your online slot prowess today!