Immerse yourself in the whimsical world of Twilight Princess, the latest online slot game developed by Pragmatic Play. If you're a fan of anime and manga aesthetics or enjoyed the fantasy realms of earlier slots like Starlight Princess, this game offers another deep dive into a dreamy, ethereal atmosphere. High up in the clouds, a cartoonish femme character adds a touch of magic to your gaming experience, all set against a backdrop that occasionally turns to twilight gold.
As we explore in this comprehensive review, Twilight Princess is not just a visual spectacle. The game brings a fresh twist to the slot universe with its cluster pays system and a 5×5 gaming grid. While the game's high volatility and RTP ranging from 94% to 96.08% make it an exhilarating choice for risk-takers, features like wild multipliers and free spins amplify the thrill. Whether you're here to try the demo version for free or you want a deep understanding of what makes Twilight Princess tick, this article has got you covered.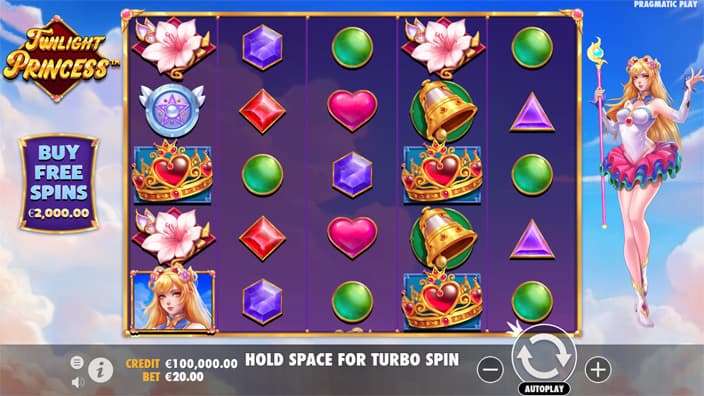 Demo Spotlight of Twilight Princess by Bonus Tiime
Top Casinos to Play Twilight Princess and Win Real Money



Pragmatic Play Online Slots Provider
Pragmatic Play stands as a leading name in the world of online gaming software development, delivering top-tier online slots that captivate players globally. Renowned for its innovative gameplay mechanics, high-quality graphics, and diverse range of themes, this developer sets industry standards for immersive and rewarding gaming experiences.
Specifications of Twilight Princess Online Slot
Twilight Princess is a captivating online slot from Pragmatic Play that channels the aesthetics of its predecessor, Starlight Princess, but incorporates gameplay mechanics more akin to Wild Bison Charge. This fresh addition keeps the 5×5 grid layout and introduces a cluster pays system, veering away from the standard paylines to offer a multitude of winning possibilities.
The distinctiveness of Twilight Princess is highlighted by its flexible betting options, especially when playing on the Stake platform. Gamblers can fine-tune their stakes from a modest 0.20 up to a staggering 1000, making it a versatile choice for casual players and high-stakes enthusiasts alike. With its high volatility and a diverse range of RTP options, Twilight Princess is set to capture the attention of a broad audience.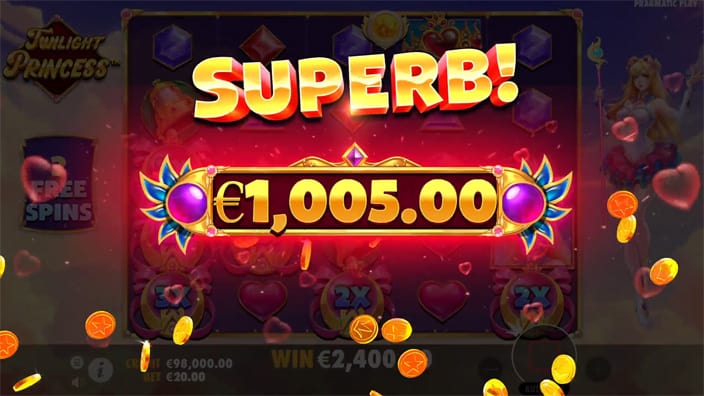 RTP
With a competitive RTP of 96.08%, Twilight Princess offers players a favorable return-to-player rate that stands above the industry average. This generous RTP increases the appeal of the game, elevating your odds of walking away with substantial winnings over time.
Volatility
The medium-high volatility of Twilight Princess adds an electrifying layer to your gaming experience. Perfect for those who relish a balance of risk and reward, the game's volatility ensures that there's never a dull moment, providing both frequent smaller wins and the potential for bigger payouts.
Max Win
When it comes to max wins, Twilight Princess doesn't hold back, offering a staggering 7,500x your stake. For example, if you're betting at 1€ per spin, a max win could land you a life-changing 7,500€. This impressive feature adds a layer of excitement to every spin.
Theme
In terms of theme, Twilight Princess offers a dreamy escapade into a world reminiscent of the ethereal settings in the popular anime series Sailor Moon. It's a visual delight for players who enjoy manga or anime, making the game more than just a slot—it's a thematic experience.
Features of Twilight Princess Online Slot
Dive into the captivating features of Twilight Princess online slot that elevate your gameplay to new heights. From the dynamic Wild Symbol with Multipliers to rewarding Free Spins and the Buy Free Spins option, this Pragmatic Play creation is brimming with exciting elements to keep you entertained.
Wild Symbol with Multipliers
The game features an exquisite pink orb as its wild symbol, designed to amplify your wins. When this wild symbol lands on the grid, it brings along multipliers ranging from x2 to x10, significantly boosting any winning combination it becomes a part of. Multiple wilds can combine their multipliers, increasing your reward potential exponentially.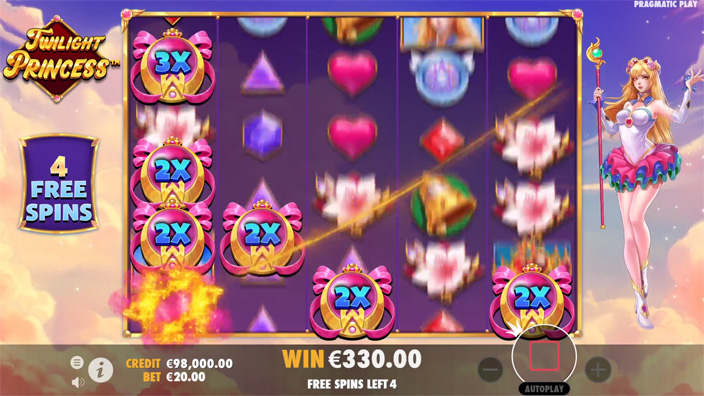 Free Spins
Golden orbs act as the scatter symbols, triggering the Free Spins feature when three or more land on the reels. During this bonus round, any wild symbol that appears becomes sticky, staying on the reels until the free spins end. This feature provides ample opportunities for substantial wins, making the Free Spins round a high point of Twilight Princess.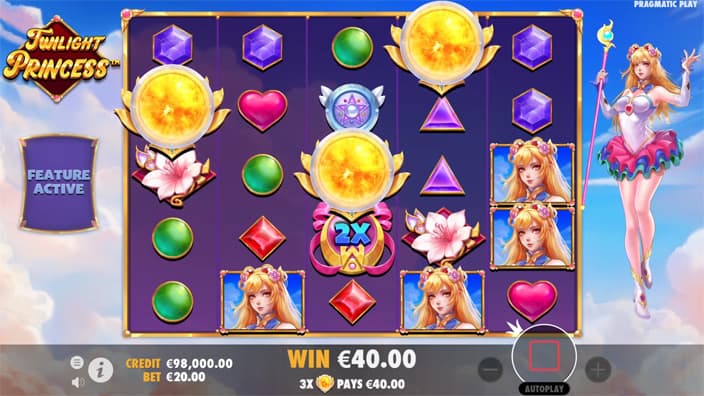 Buy Free Spins
For players eager to skip straight to the Free Spins feature, Twilight Princess offers a Buy Free Spins option. By spending 100 times your current bet, you can instantly trigger the Free Spins round, guaranteeing 3, 4, or 5 scatter symbols on the initial spin. This feature is ideal for those who want immediate access to the game's most rewarding segment.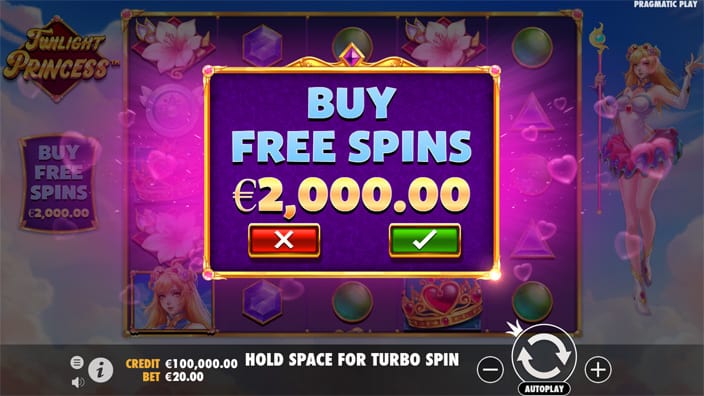 How to Play to Twilight Princess Online Slot
Playing Twilight Princess slot by Pragmatic Play is an effortless yet engaging experience that caters to a wide range of gamers. The game operates on a 5×5 grid, with winning combinations being formed through a cluster pays system. Players can aim for clusters of at least five matching symbols, connected either horizontally or vertically. The value of symbols varies, with the lower-paying ones represented by geometric shapes like circles, triangles, and diamonds. On the higher end of the paytable, you'll encounter more thematic icons like shields, flowers, bells, crowns, and the princess symbol. Landing larger clusters of these high-value symbols can yield significant rewards.
To get started, simply select your preferred bet size, which ranges from a minimum of 0.20 up to a maximum of 1000. The game's settings and controls are user-friendly, making it straightforward for both newcomers and seasoned players to navigate. Additionally, Twilight Princess offers an AutoPlay function, which allows for a more hands-off gaming experience. After setting your bet, press the spin button and watch as the symbols cascade, hoping to land clusters that activate the game's various features and bonuses. With its high volatility and a myriad of symbol values, each spin in Twilight Princess provides a new opportunity for sizable wins.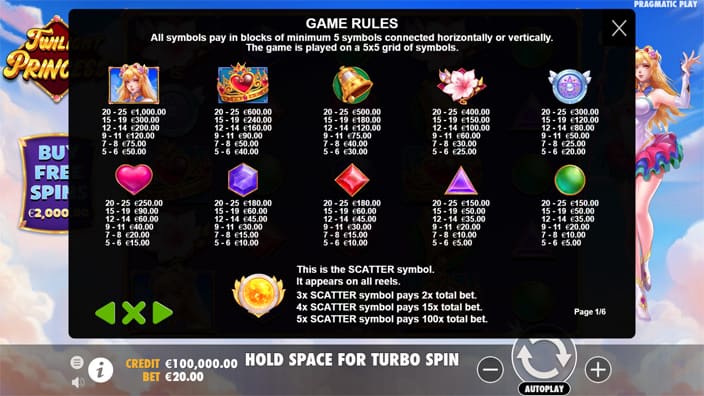 Review of the Online Slot Twilight Princess by Bonus Tiime
Twilight Princess by Pragmatic Play is a captivating online slot game that immerses players in a dreamy, anime-inspired world. The game's design captures a high-altitude, cloud-kissed environment where a cartoonish heroine stands beside a 5×5 gaming grid. Although the visual elements may not be groundbreaking, they still offer a visually pleasant experience that is reminiscent of popular titles like Moon Princess by Play'n GO. The game is perfect for those who enjoy fantasy and manga-inspired themes.
One of the most attractive features of Twilight Princess is its potential for enormous wins. With a maximum win of 7,500x your bet, the game keeps players on the edge of their seats. This makes each spin, especially during free spins rounds, a pulse-pounding adventure. The high volatility of the game combined with such a significant max win adds an element of risk and excitement that is sure to thrill high-stakes players.
Overall, Twilight Princess offers a perfect blend of charming visuals and rewarding gameplay mechanics. The game is rich in features, from Wild Symbols with Multipliers to Free Spins, offering various ways to score big. While it shares aesthetic similarities with games like Moon Princess, Twilight Princess sets itself apart with unique gameplay mechanics and high-win potential. This slot is a must-try for those looking to delve into an anime-themed world with the opportunity for significant rewards.
Advices and Tips to Play Twilight Princess
Get ready to improve your online slots experience! We offer a range of tutorials and articles for both beginners and seasoned players. These invaluable resources will guide you towards a more strategic and enjoyable gaming session. So, dive in and boost your online slot prowess today!