Play Sweet Bonanza Dice of Pragmatic Play for free on our page. This machine has a High volatility and a RTP of 96.5%. The minimum bet is €0.2 and the maximum bet is €1250.
This slot is available on Stake and on other casinos, discover them here to enjoy our exclusive casino bonuses.
For those with a sweet tooth for online casino thrills, Pragmatic Play's Sweet Bonanza Dice is here to sprinkle some sugary delights onto your gaming experience. Launched on 10.01.2023, this online slot is not just about its visually appealing candy theme, but it's a testament to the renowned software provider's commitment to innovative design and captivating gameplay. As you delve into this review, you'll discover how this game mirrors the charm of the well-received Sweet Bonanza, but with its unique twist.
Whether you're in it for the cluster pays, the cascading reels, or the enticing Bonus Bet feature, Sweet Bonanza Dice promises an above-average volatility ride. And for our readers, the cherry on top: an exclusive chance to try the demo for free. So, buckle up as we explore this game's RTP, max win potential, and all the juicy details to enhance your online casino adventure.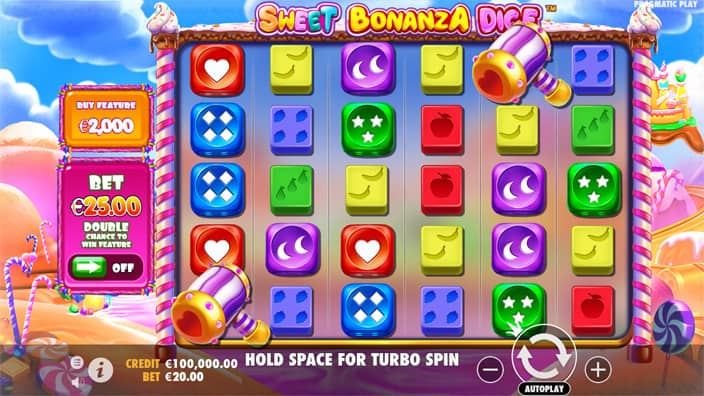 Demo Spotlight of Sweet Bonanza Dice by Bonus Tiime
Top Casinos to Play Sweet Bonanza Dice and Win Real Money



Pragmatic Play Online Slots Provider
Renowned in the online casino realm, Pragmatic Play stands tall as a leading software provider. With a consistent track record of delivering high-quality slots, their offerings seamlessly blend innovation with captivating design. When players spot the Pragmatic Play name, they know they're in for a premium gaming experience.
Specifications of Sweet Bonanza Dice Online Slot
Diving deeper into the specifics, Sweet Bonanza Dice is not your average online slot. With a distinct setup, this game boasts 6 reels and utilizes a unique cluster pays mechanism, offering numerous ways to score a win. Its above-average volatility ensures every spin carries a hint of exhilaration.
Building on its legacy, Sweet Bonanza Dice draws inspiration from the celebrated Sweet Bonanza. And for players who have stakes in mind, the betting range varies between 0.20 and 1250, accommodating both casual players and high rollers.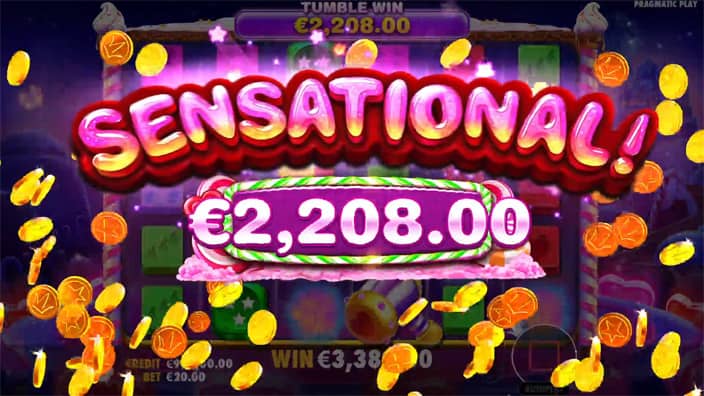 RTP
Sweet Bonanza Dice flaunts an impressive RTP, split into three variants: 96.49%, 96.48%, and 95.45%. This translates to a potentially higher return for players, making it a lucrative choice in the vast sea of online slots. It's a shining testament to the slot's player-friendly design.
Volatility
The volatility level of Sweet Bonanza Dice is above average. This implies that while wins may not appear on every spin, when they do materialize, they tend to be more significant. Players seeking thrilling peaks in their gameplay will find this slot incredibly rewarding.
Max Win
Boasting a max win of a staggering 21,100x the bet, Sweet Bonanza Dice stands out as a high-potential game. To put this in perspective: a wager of 1€ could potentially land a whopping 21,100€ in returns, making each spin a gateway to immense rewards.
Theme
The theme of Sweet Bonanza Dice is reminiscent of a candy wonderland, taking players on a sugary journey akin to the vibrant worlds seen in movies like Willy Wonka & the Chocolate Factory. Every spin immerses players in a delightful realm, filled with colorful candies and sweet wins.
Features of Sweet Bonanza Dice's Online Slot
Sweet Bonanza Dice offers more than just eye-catching visuals; it's packed with features that enhance gameplay and boost winning potential. Each feature is meticulously crafted, promising players an engaging and rewarding experience as they spin the reels.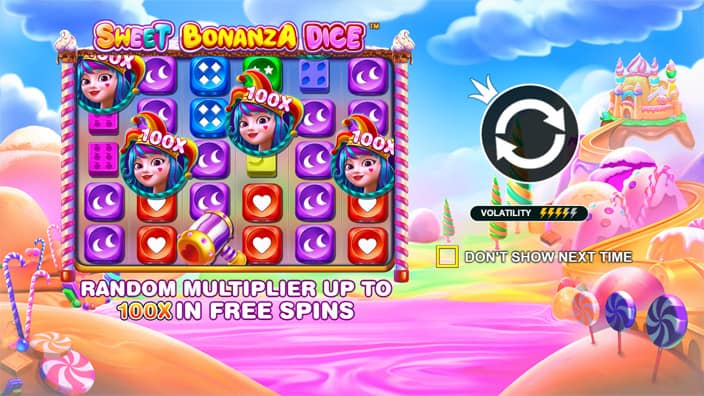 Ante Bet
The Ante Bet feature gives players the power to adjust their bet multiplier. By opting for this, they can increase their chances of triggering the Free Spins round or even modify the potential payouts. It's a strategic element, adding an extra layer to decision-making during gameplay.
Tumble Feature
Post a winning combination, the Tumble Feature comes into play. Winning symbols vanish, making way for new symbols to drop into their places. This process continues until no new winning combos are formed, offering players multiple chances to win on a single spin.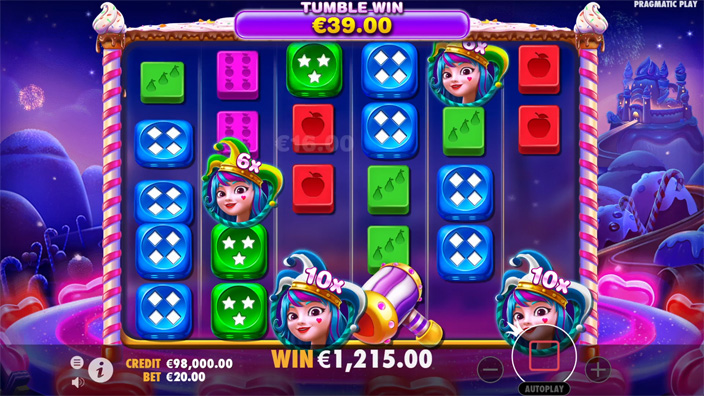 Multiplier Symbol
A pivotal component in the Sweet Bonanza Dice slot, the Multiplier Symbol magnifies your winnings. Whenever this symbol lands on the reels, it amplifies the payout, multiplying the win by the value displayed on the symbol itself, leading to potentially massive rewards.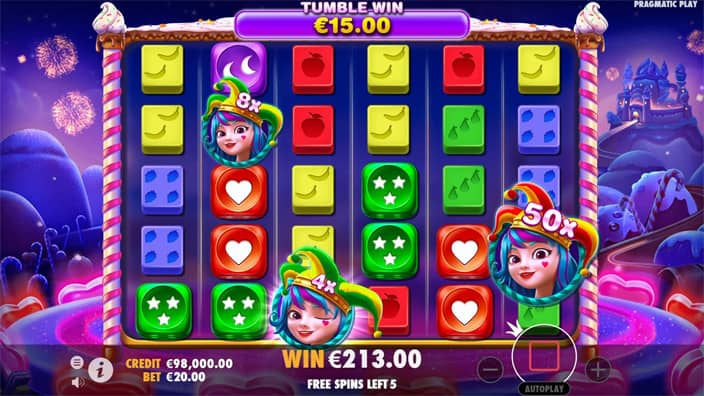 Free Spins
Free Spins are a slot lover's delight, and in Sweet Bonanza Dice, they're especially tantalizing. Triggered by specific symbol combinations, this feature awards a set number of free spins, allowing players to play without deducting from their balance, and often comes with added benefits to boost wins.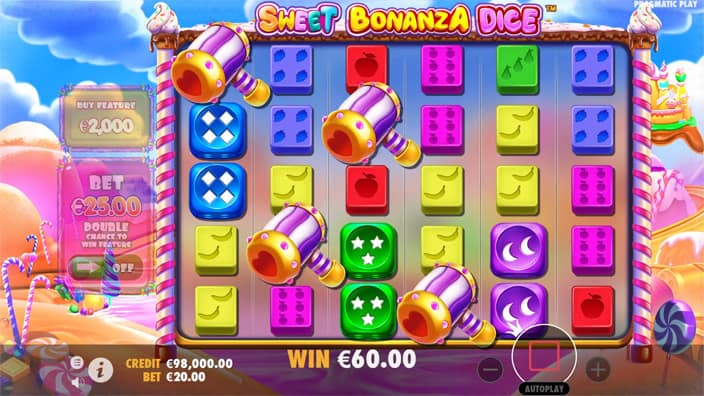 Bonus Buy
For those eager to jump straight into the action, the Bonus Buy feature is a blessing. By paying a predetermined amount, players can instantly activate the Free Spins round, bypassing the standard trigger mechanism. It's a shortcut to the slot's most thrilling moments.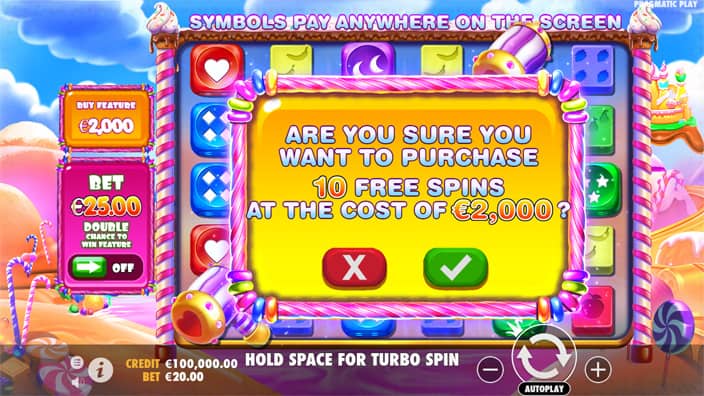 How to Play to Sweet Bonanza Dice's Online Slot
Embarking on the sugary journey of Sweet Bonanza Dice is a straightforward affair, designed to be intuitive even for casino novices. To begin, players need to select their preferred bet amount, which can range from a modest $0.20 to a more ambitious $125. Once settled on a stake, simply hit the spin button and watch as the 6 reels burst into a whirlwind of colorful symbols.
The value of each symbol is integral to understanding the potential rewards. In Sweet Bonanza Dice, the symbols are not just aesthetically pleasing; they carry specific values that dictate payouts. Matching symbols in clusters will yield wins, and the more valuable the symbol, the heftier the reward. It's essential to familiarize oneself with the paytable to grasp the significance of each candy or feature symbol. As you continue spinning, remember that the game's unique features, such as multipliers and free spins, can drastically amplify these symbol values, making every spin a potential jackpot.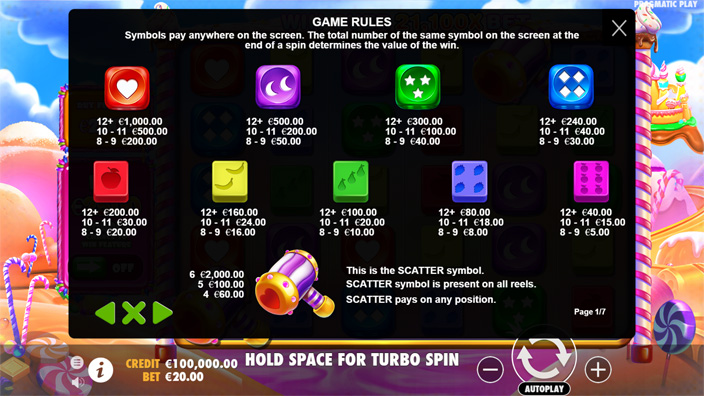 Review of the Online Slot Sweet Bonanza Dice by Bonus Tiime
Sweet Bonanza Dice, with its enchanting candy-laden theme, serves as a delightful escape for players seeking both visual appeal and thrilling gameplay. Every spin immerses you into a world filled with sugary delights, where vibrant colors and captivating graphics seamlessly merge with rewarding features. The design is more than just eye candy; it offers a player-centric experience, making every session memorable.
The standout highlight of this slot is undoubtedly its max win potential. With a staggering 21,100x bet on the line, Sweet Bonanza Dice positions itself among the high-potential games in the online casino sphere. This feature ensures that beyond the sheer entertainment value, players have a genuine shot at landing significant returns.
Over the years, Pragmatic Play has showcased remarkable evolution in its offerings. From the festive vibes of Sweet Bonanza Xmas to the mythical allure of Forge of Olympus and the enchanting realms of Starlight Princess 1000, their portfolio reflects a journey of innovation, creativity, and an unwavering commitment to player satisfaction.
Advices and Tips to Play Sweet Bonanza Dice
Get ready to improve your online slots experience! We offer a range of tutorials and articles for both beginners and seasoned players. These invaluable resources will guide you towards a more strategic and enjoyable gaming session. So, dive in and boost your online slot prowess today!
Pragmatic Play : Provider of Free Online Slot Machines
Pragmatic Play is a renowned online slot provider that has been delivering top-notch gaming experiences since its establishment in 2015. The company has grown rapidly to become one of the most respected names in the iGaming industry, catering to a global audience with its diverse portfolio of games.
Pragmatic Play's journey began with the release of its first game in 2015 and has since expanded to offer a wide range of online slots, table games, and live casino games. The company's commitment to innovation and player satisfaction has earned it numerous awards and accolades, establishing it as a leading name in the online gaming world.