Step into the cosmic realm of interstellar wins with Rocket Blast Megaways, an innovative online slot from renowned developers, Pragmatic Play. Launched on August 3, 2023, this game has taken the gambling universe by storm, redefining the norms of high volatility slots. With a staggering 117,649 paylines and an RTP ranging from 94.09% to 96.01%, players have a chance to go on a rollercoaster journey across the stars, while potentially landing a jackpot that could be as colossal as a supernova.
Rocket Blast Megaways offers a stunning design and theme, intertwining the mysteries of space with the thrill of slot gaming. Extraterrestrial entities dominate the paytable and their presence vibrates throughout the six-reel grid, complemented by the aesthetic charm of the cosmic background, celestial bodies, and a catchy otherworldly soundtrack. With high-definition graphics and intricate artwork, the game beautifully balances entertainment and aesthetics, creating an immersive gaming environment. Dive into the features and you will encounter tumbles, free spins, and an all-new Rocket Feature, all designed to elevate the player's gaming experience to a cosmic level.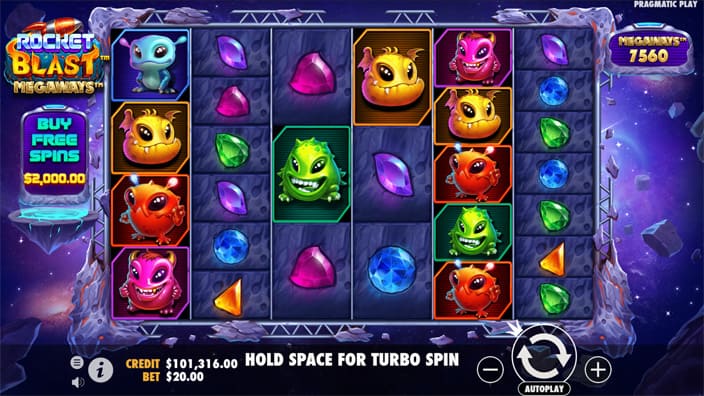 Demo Spotlight of Rocket Blast Megaways by Bonus Tiime
Pragmatic Play Online Slots Provider
Dive into the world of cutting-edge online gaming with Pragmatic Play, a top-tier software provider known for its unparalleled slot games. Recognized for its innovative game designs, immersive themes, and high payout ratios, Pragmatic Play consistently delivers thrilling, secure, and fair online gambling experiences that captivate players worldwide.
Specifications of Rocket Blast Megaways Online Slot
Experience galactic gaming like never before with Rocket Blast Megaways, a slot offering dynamic gameplay across its 6 reels, varying from 2 to 7 rows. This game promises a mind-blowing maximum of 117,649 paylines, presenting an array of chances to win. From seasoned slot veterans to novices exploring the cosmos of online gaming, the game caters to everyone with its versatile bet range.
Mirroring the game mechanics of the popular Power of Thor Megaways, Rocket Blast Megaways features similar gameplay, with a few innovative twists. With betting stakes starting as low as 0.20, stretching up to a maximum of 1000, the game ensures both casual gamers and high-rollers find their comfort zones. Dive into this enthralling cosmic expedition and witness your fortunes skyrocket.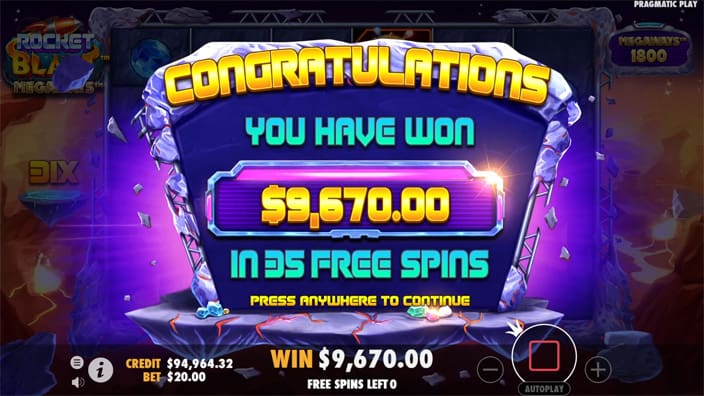 RTP
The Rocket Blast Megaways slot promises a substantial RTP (return to player) of 96.01%. This generous return-to-player rate makes it an attractive choice for slot enthusiasts, indicating that for every €100 wagered, players can expect an average return of €96.01 – a promising prospect for frequent players.
Volatility
With medium-high volatility, Rocket Blast Megaways presents an exciting balance of risk and reward. This means that while wins may not occur at every spin, when they do, they're often significant, making the gameplay thrilling and full of suspense.
Max Win
Rocket Blast Megaways offers a stellar maximum win of 10,000x the stake. So, if you're placing bets of €1 per spin, you could potentially walk away with a massive €10,000. This impressive win potential enhances the game's appeal, elevating the level of excitement with each spin.
Theme
The theme of Rocket Blast Megaways echoes the quirky charm of the animated series, Rick and Morty. The slot's vibrant, cosmic setting, replete with extraterrestrial creatures and space paraphernalia, will remind fans of the beloved show's adventurous interstellar travels. The blend of sci-fi and humor creates a uniquely immersive gaming experience.
Features of Rocket Blast Megaways' Online Slot
Embrace an interstellar adventure with Rocket Blast Megaways online slot, loaded with engaging features designed to enhance your gaming journey. Each element, from Tumbles to the Rocket Feature, contributes to an immersive and rewarding gameplay experience.
Tumble
After each win, the Tumble feature triggers, removing winning symbols and replacing them with new ones, thereby creating possibilities for consecutive wins.
Rocket Feature
Whenever a Rocket symbol appears, it transforms all symbols underneath it into wilds, adding to your chances of hitting a winning combination.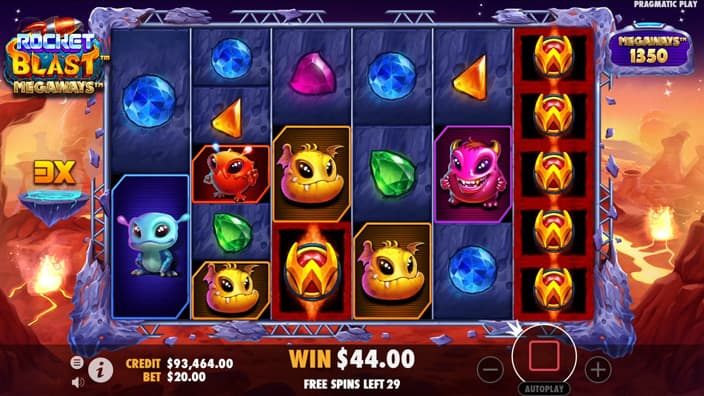 Win Multiplier
Each winning tumble increases the Win Multiplier by 1x, enhancing the potential for big wins during the free spins round.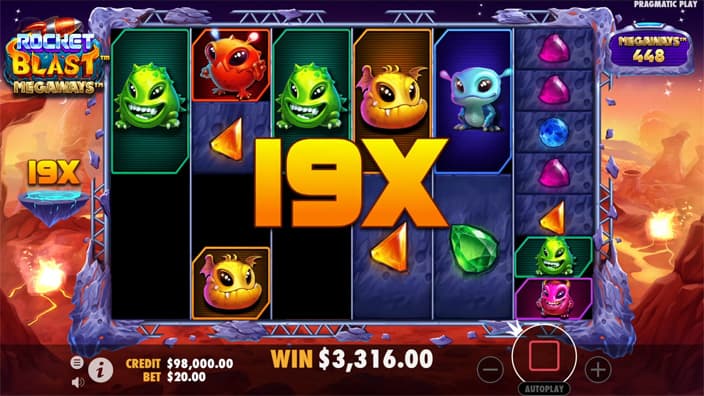 Free Spins
Collect scatter symbols to unlock the Free Spins round, leading to increased win potential and extended gameplay.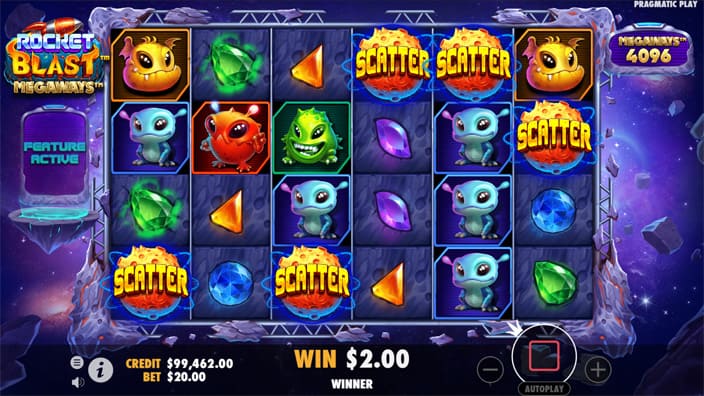 Gamble Feature
Gamble your winnings for a chance to increase your spins up to 35. However, beware, as you might lose it all if the gamble doesn't go in your favor.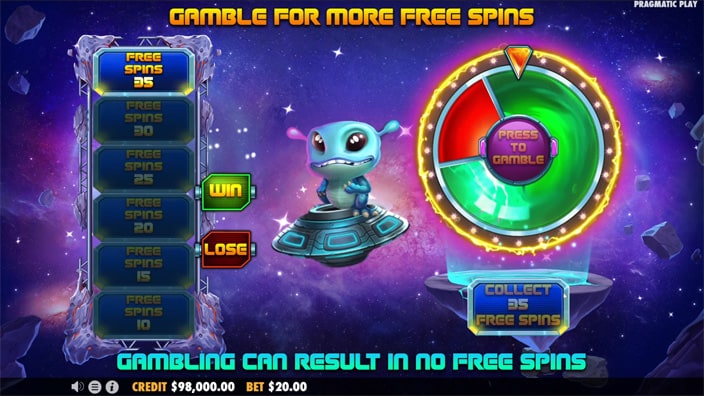 Bonus Buy
Use the Bonus Buy feature to directly access the Free Spins round, bypassing the need to collect scatter symbols, thus accelerating your gaming journey.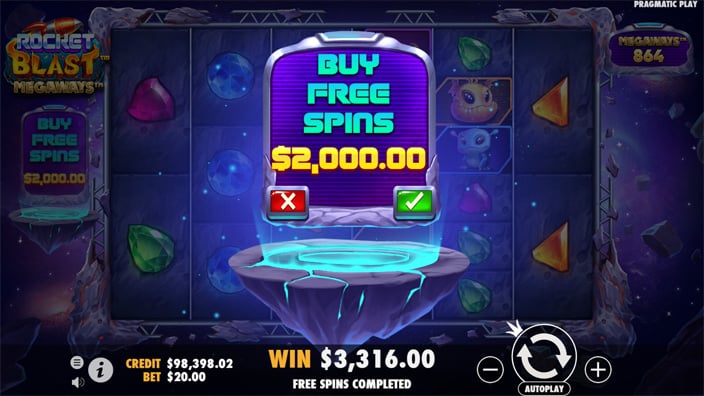 How to Play to Rocket Blast Megaways' Online Slot
Launching into the Rocket Blast Megaways slot game is a thrilling journey into the cosmic realm of online gaming. First, set your preferred bet amount, which can range from a minimum of 0.20 to a maximum of 1000 per spin, catering to different player budgets. Next, hit the spin button to set the six reels in motion. Each reel can land between 2 and 7 symbols, creating numerous ways to win, up to an astronomical 117,649.
Understanding the value of symbols in the game is crucial. The game's paytable is dominated by a host of intriguing aliens and glistening gemstones. The gemstones are low-paying symbols, offering between 0.5 to 1x the bet for a six-of-a-kind combination. On the other hand, the charming alien characters serve as high-paying symbols, offering wins from 1.5 to 20x the stake for a six-of-a-kind winning way. The game also features a wild symbol, represented by a Nova Corps helmet-like 'W', which can substitute for any regular pay symbol, increasing your chances of forming winning combinations. Thus, every spin in Rocket Blast Megaways offers an opportunity for an exciting payoff.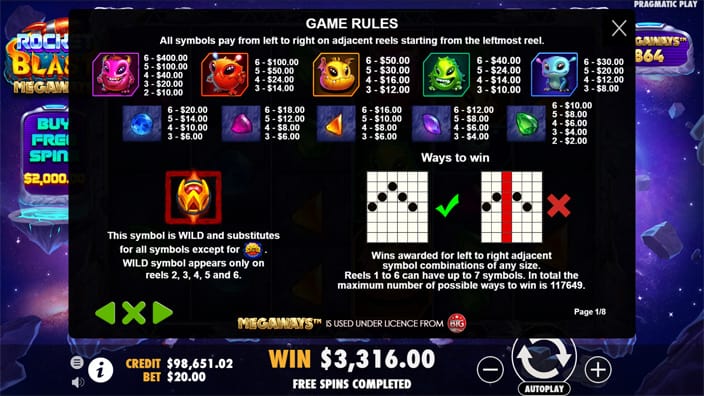 How to Win Real Money with Rocket Blast Megaways Online Slot
Can't wait to try Rocket Blast Megaways? Head over to Stake Casino, a premier online gaming platform where you can start your interstellar adventure right away. With its user-friendly interface and seamless gameplay, Stake Casino is the ideal place to experience the thrill of this exciting slot game.

Review of the Online Slot Rocket Blast Megaways by Bonus Tiime
Rocket Blast Megaways by Pragmatic Play is a fantastic slot game that takes players on an interstellar adventure, filled with vibrant alien characters and a captivating cosmic theme. The game's visual appeal is enhanced by its immersive soundtrack, perfectly capturing the essence of a thrilling space expedition, making it an engaging choice for both slot enthusiasts and sci-fi fans.
In terms of win potential, Rocket Blast Megaways impresses with a staggering maximum win of 10,000x the bet. This, paired with the game's medium-high volatility, ensures thrilling gameplay where every spin can lead to significant payouts. Whether you're betting €1 or going for the maximum stake, the possibility of such a massive win adds a layer of excitement to the game.
One of the standout features of Rocket Blast Megaways is the gamble feature, which brings a high-risk, high-reward aspect to the game. For players who thrive on risk and the thrill of the unknown, this feature offers the chance to increase their winnings substantially. However, it's worth noting that, as with all gambles, there's a risk of losing everything – but for many, it's this very element of risk that makes the gameplay experience of Rocket Blast Megaways that much more exciting and compelling.
Advices and Tips to Play Rocket Blast Megaways
1. Try Out Demo Mode on Bonus Tiime
Like most online slots, Rocket Blast Megaways comes with the option of playing free in demo mode. This opens up the game to potential players who wish to see what it is all about without having to risk any actual money. Demo mode is not just for the curious newbie, though. It gives any player an opportunity to discover the game mechanics and its special features for themselves. In this way, before a single cent is bet, a player can be familiar with Rocket Blast Megaways' scatters and wild cards – and how these have an impact on the overall game. This leads us to the next pre-game tip for canny players: take a look at the pay table.
2. Relax and Entertain Yourself
Trying first the free slot demo is the perfect way to unwind, relax, and simply enjoy playing Rocket Blast Megaways – without losing money or the stress to catch chasing wins.
3. Always Study the Paytable of the Slot
The pay table is the slot's equivalent of a price list. You will find here a complete list of all the symbols in the game, along with their value. You will also be able to discover the properties of all the wilds and golden wilds. Combined with spending a little time in demo mode, this preparation will allow players to place their first bet with confidence when beginning the proper game.
4. Plan a Betting Budget and Stick to it
Anybody concerned with promoting Responsible Gambling will offer one piece of advice first and foremost: don't bet more than you are prepared to lose. When it comes to play online slots for real money, then this manifests itself through sticking to a pre-agreed budget. If a player reaches their betting ceiling without a big win then it is time to call it a day. Stop playing as soon as you reach the budget limit.
5. Don't Be Dazzled by Huge Jackpots
Some expert gamblers spend their time online chasing those mega-jackpots. While there is nothing wrong with that, it is a fact that slots offering huge progressive jackpots normally have higher odds and less chance of paying out.