Dive into the world of high finance and swinish opulence with Piggy Bankers, an immersive online slot game from industry leaders, Pragmatic Play. This high volatility, 5-reel, 4-row slot game comes with a richly thematic design, wrapping players in a world where pigs control the bank and the winnings. The slot game is packed with 20 paylines, and with its impressive RTP of 96.05%, it's an enticing opportunity for seasoned players seeking a hefty payout.
The game's captivating features, including a unique Banknote Reel, wild respins, and free spins, augment the exciting gameplay, setting Piggy Bankers apart in the crowded online slot market. Its lavish design, coupled with features offering a maximum win of up to 10,000x the bet, invites players into a lavish world of high-stakes gambling. With every spin, players get a chance to break the piggy bank and walk away with the maximum jackpot.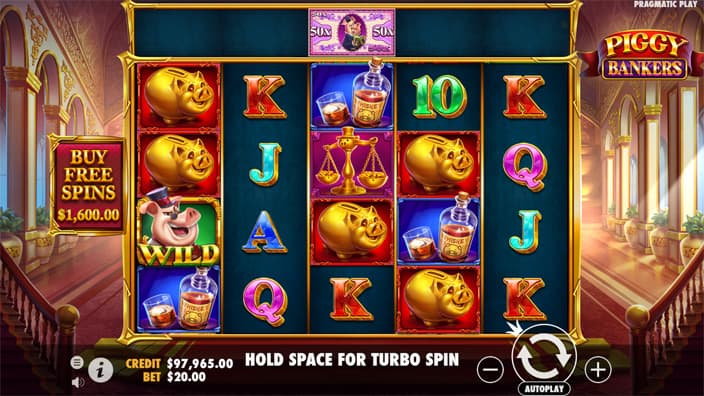 Demo Spotlight of Piggy Bankers by Bonus Tiime
Pragmatic Play Online Slots Provider
Renowned for their dynamic gaming solutions, Pragmatic Play has a well-earned reputation in the online casino industry. They deliver high-quality, innovative games, known for their creative themes, smooth gameplay, and impressive bonus features. Piggy Bankers exemplifies Pragmatic Play's commitment to providing engaging, feature-packed gaming experiences that captivate players worldwide.
Specifications of Piggy Bankers Online Slot
The Piggy Bankers online slot game comes to life with its 5-reel, 4-row structure, offering 20 enticing paylines to its players. This high-volatility slot game packs a punch, enticing players with numerous ways to win and earn substantial payouts.
Sharing the same delightful universe as the popular Piggy Bank Bills, Piggy Bankers also carries a reminiscent charm of the famous Fat Panda game. This game allows players to raise the stakes on Stake, providing an engaging, rich gaming experience sure to captivate both seasoned gamers and new enthusiasts alike.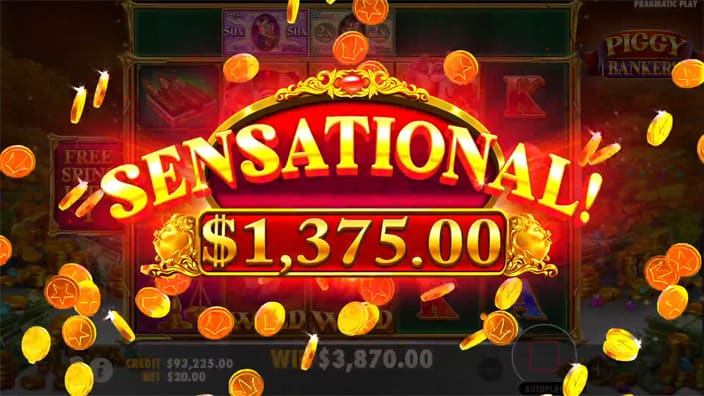 RTP
Piggy Bankers, with its enticing RTP (return to player) of 96.05%, offers players an edge, enhancing their potential winnings. This favourable RTP is an inviting characteristic for players seeking a game with consistent returns.
Volatility
Featuring medium-high volatility, Piggy Bankers provides an engaging balance between risk and reward. This volatility level ensures that while wins may not be frequent, when they do occur, they're likely to be substantial, adding a thrilling element to the gameplay.
Max Win
With a max win of 10,000x the bet, Piggy Bankers holds an allure for high-stakes players. For instance, a player staking €1 stands a chance to walk away with a massive €10,000 win, demonstrating the game's generous payout potential.
Theme
The theme of Piggy Bankers is reminiscent of the luxurious and opulent world portrayed in the popular TV series Billions. It's a high-stakes, high-reward scenario, filled with affluence and risk, much like the competitive Wall Street setting of the series.
Features of Piggy Bankers's Online Slot
Piggy Bankers online slot enthralls players with a suite of dynamic features. Ranging from Banknotes Reel to Free Spins, each feature adds a layer of excitement and potential winnings, enhancing the overall gaming experience.
Banknotes Reel
This special reel atop the main game grid adds an intriguing twist. Here, bet multipliers and Free Spins can land randomly, promising additional rewards.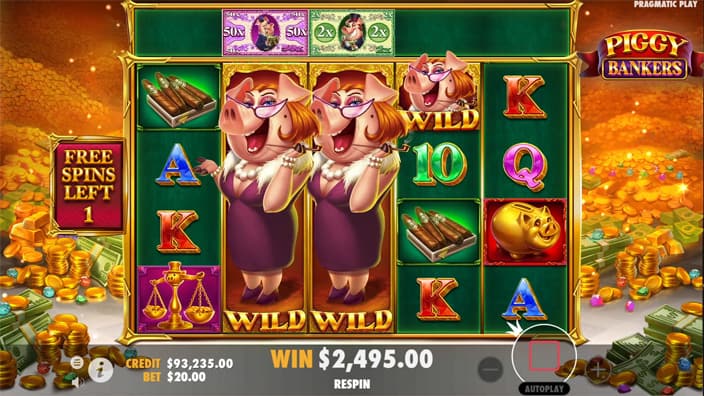 Wild Respins Feature
Triggered by a full vertical stack of wild symbols, this feature transforms the stack into a big wild, leading to respins and heightened win possibilities.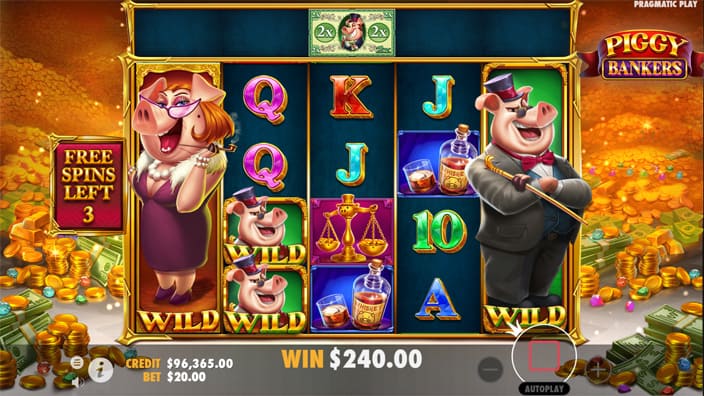 Free Spins
This feature is activated when the two different big wilds meet or when a Free Spins banknote is collected, awarding players with additional spins and increased winning chances.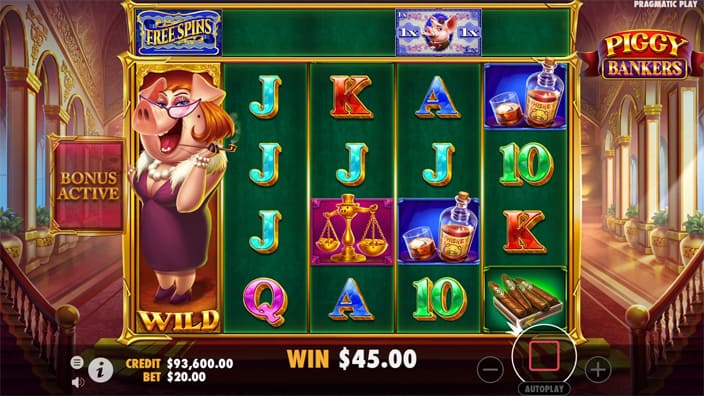 Bonus Buy
Players looking for instant access to the Free Spins round can leverage the Bonus Buy feature, which guarantees entry at 80x the bet.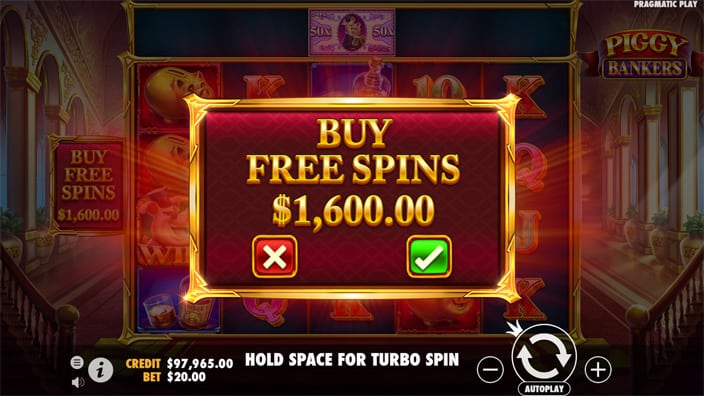 How to Play to Piggy Bankers's Online Slot
Embarking on the Piggy Bankers slot adventure is both straightforward and engaging. Start by setting your preferred bet size, which can range anywhere between 0.20 and 240. Once your wager is set, you'll launch the reels in motion, bringing the game to life. You aim to land matching symbols on one of the 20 paylines to secure wins. The game adheres to traditional rules, with wins being counted from left to right.
The symbols in Piggy Bankers exude affluence, with high-value symbols such as cigars, liquor bottles, scales, and a golden piggy bank representing the finer things in life. The lower-value symbols are the conventional playing card ranks, from 10 to Ace. The Piggy Banker and the Lady Piggy Banker serve as the game's wild symbols, able to substitute for any regular paying symbol to boost your chances of forming winning combinations. Keep an eye out for the special Banknote symbols that appear on the Banknote Reel, which can provide bet multipliers or trigger free spins. With each spin, the potential for substantial rewards adds an element of thrill and anticipation to the game.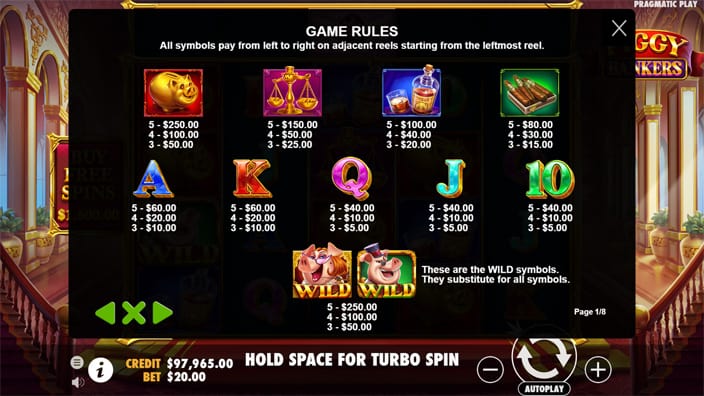 How to Win Real Money with Piggy Bankers Online Slot
If the luxurious and exciting world of Piggy Bankers slot has piqued your interest, you can dive right into the action at Stake Casino. Renowned for its diverse selection of top-notch games, Stake Casino offers an exceptional gaming experience, with Piggy Bankers ready to be explored and enjoyed.

Review of the Online Slot Piggy Bankers by Bonus Tiime
Piggy Bankers slot from Pragmatic Play delves into a whimsical world where affluence and pigs coexist in a unique gaming experience. The theme, imbued with elements of luxury and opulence, is brilliantly presented and coupled with engaging gameplay elements. High-value symbols and a luxurious backdrop augment the game's overall appeal, creating a delightful balance between visual aesthetics and gaming functionality.
The game's high volatility nature complements the maximum win potential of up to 10,000x the bet. This strikingly substantial payout brings an element of thrill and anticipation to every spin, making the Piggy Bankers slot an enticing choice for those looking for big wins.
However, the road to substantial winnings primarily relies on connecting the Piggy Banker or Lady Piggy Banker under the rare 1,000x banknote. While it's a challenge to align these elements, achieving it could result in an unprecedented windfall. All things considered, Piggy Bankers proves to be an engaging slot game that merges an intriguing theme with substantial win potential.
Advices and Tips to Play Piggy Bankers
1. Try Out Demo Mode on Bonus Tiime
Like most online slots, Piggy Bankers comes with the option of playing free in demo mode. This opens up the game to potential players who wish to see what it is all about without having to risk any actual money. Demo mode is not just for the curious newbie, though. It gives any player an opportunity to discover the game mechanics and its special features for themselves. In this way, before a single cent is bet, a player can be familiar with Piggy Bankers's scatters and wild cards – and how these have an impact on the overall game. This leads us to the next pre-game tip for canny players: take a look at the pay table.
2. Relax and Entertain Yourself
Trying first the free slot demo is the perfect way to unwind, relax, and simply enjoy playing Piggy Bankers – without losing money or the stress to catch chasing wins.
3. Always Study the Paytable of the Slot
The pay table is the slot's equivalent of a price list. You will find here a complete list of all the symbols in the game, along with their value. You will also be able to discover the properties of all the wilds and golden wilds. Combined with spending a little time in demo mode, this preparation will allow players to place their first bet with confidence when beginning the proper game.
4. Plan a Betting Budget and Stick to it
Anybody concerned with promoting Responsible Gambling will offer one piece of advice first and foremost: don't bet more than you are prepared to lose. When it comes to play online slots for real money, then this manifests itself through sticking to a pre-agreed budget. If a player reaches their betting ceiling without a big win then it is time to call it a day. Stop playing as soon as you reach the budget limit.
5. Don't Be Dazzled by Huge Jackpots
Some expert gamblers spend their time online chasing those mega-jackpots. While there is nothing wrong with that, it is a fact that slots offering huge progressive jackpots normally have higher odds and less chance of paying out.