Heist for the Golden Nuggets has been ranked Top 9 by our experts in our Top 10 Wild West Slots in 2023
Embark on a thrilling digital adventure with Pragmatic Play's new online slot game, Heist for the Golden Nuggets. This Wild West-themed slot offers a unique, immersive gaming experience, transporting players back in time to an era of gold miners and daring heists. Released on June 22, 2023, this high volatility game is sure to captivate players with its rich visual design, engaging theme, and bountiful in-game features.
Heist for the Golden Nuggets captivates with its meticulously crafted 5×3 reel design and 20 paylines, offering a high hit frequency of one in four and an impressive RTP of 96%. With enticing features such as Money symbols, free spins, and a bonus buy, players can revel in the excitement of striking virtual gold. Engaging in this virtual quest for precious nuggets, players won't just enjoy the aesthetics of this Western-themed slot, but also its innovative features that enhance the gaming experience.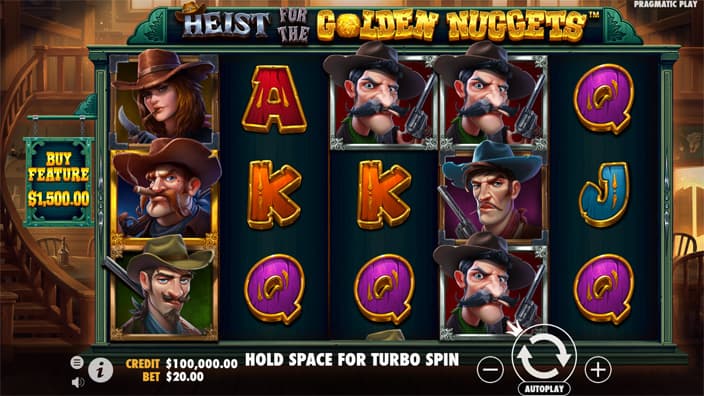 The Top 3 Casinos to Play Heist for the Golden Nuggets and Win Real Money
Stake Casino
For those enthusiastic slot enthusiasts raring to try out Heist for the Golden Nuggets, Stake Casino is your go-to platform. With an intuitive interface and reliable service, Stake Casino offers a seamless gaming experience and the chance to strike it rich with this captivating slot game.

Cresus Casino
If Heist for the Golden Nuggets has piqued your interest, Cresus Casino is an excellent choice to kickstart your gaming journey. Known for its trusted platform and a wide variety of slots, Cresus Casino provides the perfect backdrop for your thrilling quest for virtual gold nuggets.

Horus Casino
Eager to experience the thrilling quest of Heist for the Golden Nuggets? Look no further than Horus Casino. Offering a smooth, immersive gaming experience, Horus Casino invites you to try your luck on this captivating new slot game by Pragmatic Play. Don't miss out on this golden opportunity!

Pragmatic Play Online Slots Provider
Pragmatic Play, a leading content provider in the iGaming industry, is renowned for its diverse portfolio of innovative, regulated, and mobile-optimized games. With a commitment to delivering premium entertainment, Pragmatic Play continues to drive player engagement through their high-quality slots, live casino games, bingo, and more.
Specifications of Heist for the Golden Nuggets Online Slot
Heist for the Golden Nuggets online slot boasts a dynamic 5-reel, 3-row configuration with 20 rewarding paylines. This high volatility game, enriched with a 96% RTP, brings the thrill of the Wild West and the chance for a major windfall right to your screen.
Echoing the gameplay of popular slot Treasure Wild, Heist for the Golden Nuggets presents its unique features and engaging narrative. At Stake Casino, players can venture into this captivating slot with stakes ranging from a minimum bet of 0.20 to a high roller max bet of 1000, promising something for everyone.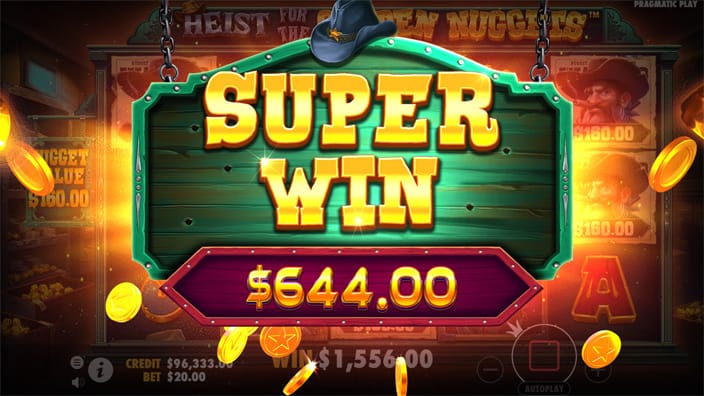 RTP
Heist for the Golden Nuggets stands out with its rewarding 96% RTP (return to player). This impressive return to player percentage signifies a higher likelihood of returns over time, promising an exciting and potentially lucrative gaming experience for players.
Volatility
With its medium volatility, Heist for the Golden Nuggets presents a balanced mix of risk and reward. This balanced volatility provides a steady blend of smaller and larger wins, making the gaming journey thrilling yet approachable for players of all experience levels.
Max Win
The golden opportunity in Heist for the Golden Nuggets lies in its maximum win of 5,000x the bet. So, for a player betting 1€ per stake, there's a chance to secure a staggering win of 5,000€. It's a tantalizing prospect that adds to the thrill of this gold rush adventure.
Theme
Drawing inspiration from the captivating spirit of the Wild West, the theme of Heist for the Golden Nuggets is strikingly similar to the gritty atmosphere of the movie Unforgiven. The slot takes players on a gripping journey reminiscent of a time of daring heists and gold miners, enriching the player's experience with its engaging storyline and vibrant visual elements.
Features of Heist for the Golden Nuggets' Online Slot
Heist for the Golden Nuggets online slot captivates players with its innovative features that add a new dimension to the gaming experience. From Money Symbols to Free Spins, Special Money Symbols, and Bonus Buy, these features enhance gameplay and offer unique opportunities for winnings.
Money Symbol
This is a unique element in Heist for the Golden Nuggets. On each spin, Money Symbols possess random values ranging from 0.5x to 250x the total bet, creating additional avenues for wins and increasing the game's potential payouts.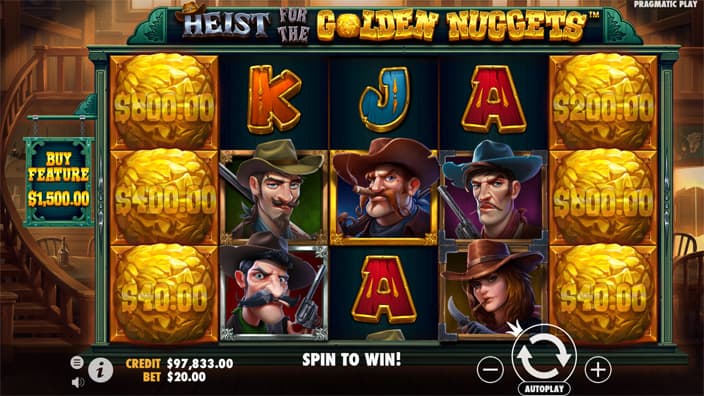 Free Spins
Landing at least three Money Symbols on reels 1, 3, and 5 triggers five free spins. This feature enhances the potential for major wins, adding an extra layer of excitement and increasing the player's chances of striking virtual gold.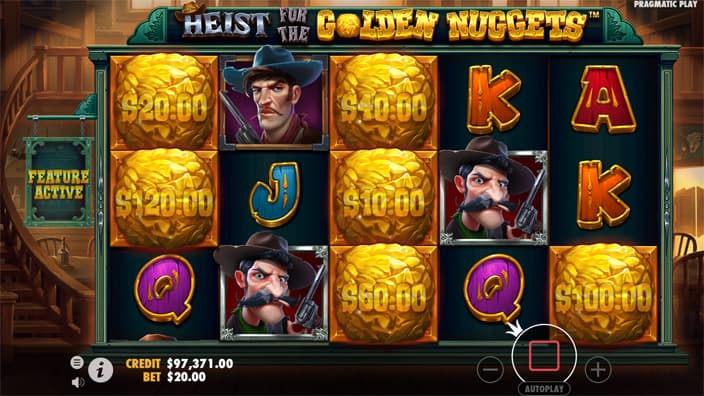 Special Money Symbol
At the start of the free spins round, a high-paying symbol is randomly chosen to be the Special Money Symbol. When this symbol appears during the free spins, each instance of it awards the Nugget Value, thereby increasing your chances of hitting the maximum win.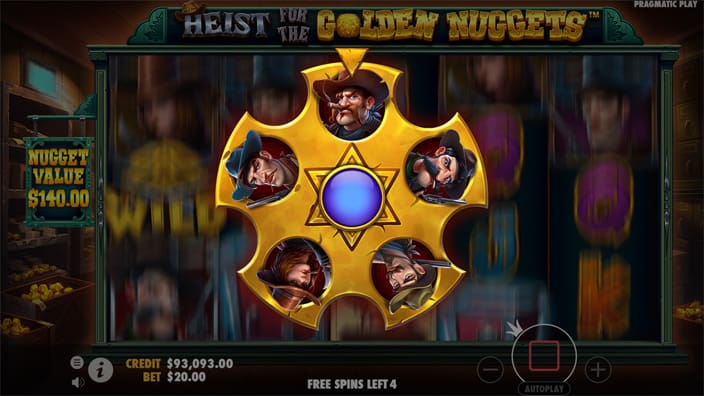 Bonus Buy
This unique feature allows players to directly buy into the Free Spins round at a cost of 75x the bet. The Bonus Buy feature enables players to bypass the base game and jump straight into the high potential reward zone of free spins.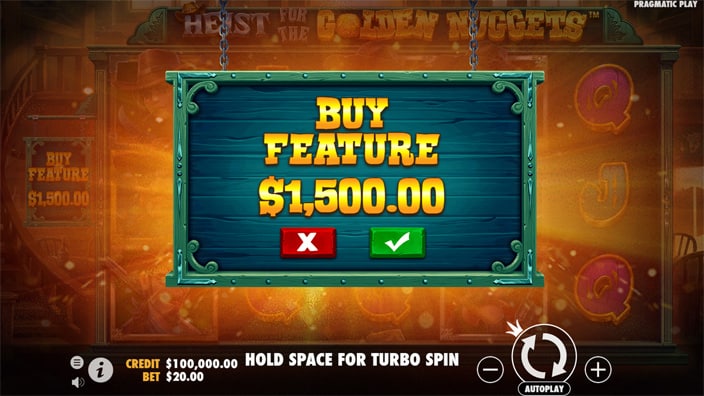 How to Play to Heist for the Golden Nuggets' Online Slot
Embarking on the Heist for the Golden Nuggets slot journey begins with setting your desired stake, which ranges from a minimum bet of 0.20 to a maximum of 1000, making it suitable for both casual gamers and high-rollers. The 5-reel, 3-row layout is user-friendly, and the aim is to land at least three matching symbols along one of the 20 paylines from the leftmost reel to secure a payout.
Symbols in the game vary in value. Lower-paying symbols are represented by the classic card ranks J to A, rewarding 1 to 2 times the bet when landed. Higher-paying symbols include a range of character symbols, which can yield 2.5 to 20 times the bet for hitting five of them. The wild symbol also holds significant value. When 2, 3, 4, or 5 wilds land in the same winning combo, they multiply the win by x2, x4, x8, or x16, respectively, adding an extra layer of excitement to the gameplay.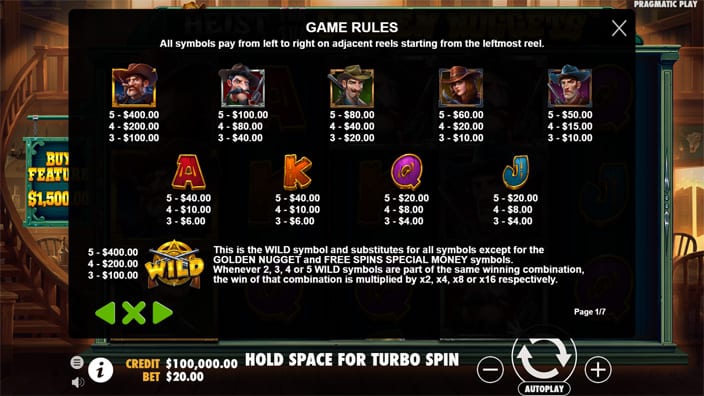 Review of the Online Slot Heist for the Golden Nuggets by Bonus Tiime
Heist for the Golden Nuggets is a riveting online slot game that transports players to the era of the Wild West, complete with thrilling heists and coveted gold nuggets. The game's theme is well-executed, immersing players in an environment of audacious outlaws and gold miners. The visual design and sound effects work together to create an immersive gaming experience, reminiscent of the tough yet rewarding life in the western frontier.
The enticing aspect of this slot is its potential for big wins. The game offers a max win of 5,000x the bet, making it a highly attractive choice for those seeking significant rewards. When the stakes are set high, the potential return could be substantial, creating a sense of anticipation and excitement every time the reels spin.
Heist for the Golden Nuggets does share some similarities with other popular slots such as John Hunter and the Tomb of the Scarab Queen, particularly in its mechanics. However, it stands out with its unique Money Symbol and Special Money Symbol features. The way these symbols work together to enhance the gameplay adds a distinct and enjoyable dynamic to this slot, ensuring that it is not just another run-of-the-mill game in the market.
Advices and Tips to Play Heist for the Golden Nuggets
Get ready to improve your online slots experience! We offer a range of tutorials and articles for both beginners and seasoned players. These invaluable resources will guide you towards a more strategic and enjoyable gaming session. So, dive in and boost your online slot prowess today!