Unleash your inner gambler with the latest enthralling online slot game, Cyclops Smash, brought to you by the acclaimed developer Pragmatic Play. Immerse yourself in an engaging blend of ancient mythology and modern gaming mechanics, all designed to provide a thrilling experience and attractive payouts. A high-volatility slot with a Return to Player (RTP) of 96.06%, Cyclops Smash promises a high-octane experience for seasoned gamers and beginners alike.
Cyclops Smash is a testament to Pragmatic Play's knack for innovative design, with its visually appealing and dynamic 7×7 grid set on a picturesque beachside. The game's primary feature, the Smash mechanic, stands ready to shake the reels and rearrange symbols, enhancing the potential for significant wins. Coupled with free spins, cluster pays, and a tantalizing 10,000x max win, Cyclops Smash ensures that every spin is filled with anticipation and excitement. Experience the world of cyclopes like never before and prepare for a smashing good time!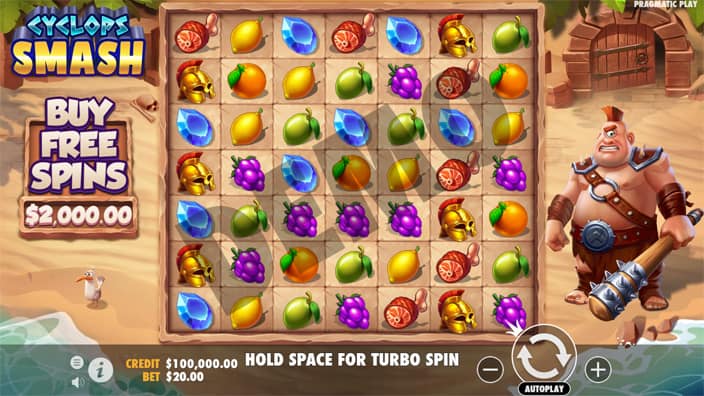 Demo Spotlight of Cyclops Smash by Bonus Tiime
Top Casinos to Play Cyclops Smash and Win Real Money



Pragmatic Play Online Slots Provider
Pragmatic Play stands as an industry-leading provider in the world of online gaming, renowned for crafting high-quality, immersive slot games. Their innovative approach to design and mechanics consistently elevates the player experience, solidifying their reputation as a key player in the rapidly expanding iGaming landscape.
Specifications of Cyclops Smash Online Slot
Meet Cyclops Smash, an exhilarating online slot game developed by Pragmatic Play. It boasts an expansive 7×7 reel layout, employing the popular cluster pays system that provides abundant winning combinations, enhancing your gaming thrill at every spin.
What sets Cyclops Smash apart is its unique fusion of features. It borrows the enticing multiplier element from Power of Merlin Megaways, but infuses it with a Smash feature reminiscent of Push Gaming's Retro Tapes' Magnet Feature. Such a thrilling blend of mechanics means you're in for a captivating gaming experience at Stake Casino, where exciting stakes await you.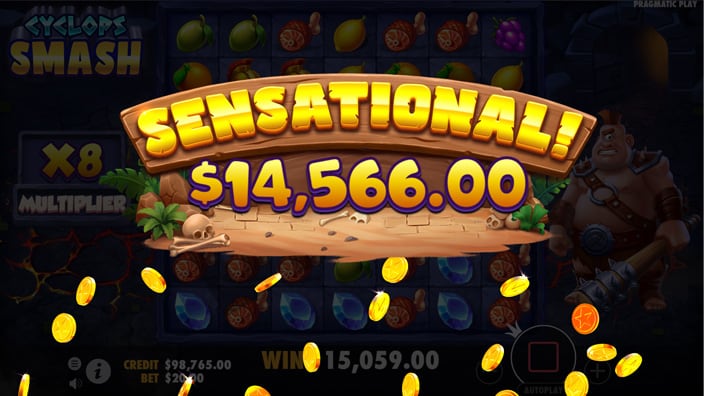 RTP
The RTP (return of player) of Cyclops Smash stands at a competitive 96.06%, a figure that indicates a favorable return potential for players over extended gameplay. This percentage is a reassuring testament to the game's rewarding nature.
Volatility
Cyclops Smash's high volatility makes it a thrilling choice for those seeking significant wins. While it means winnings may not appear on every spin, the potential for large payouts in a single hit adds an exhilarating layer of anticipation to each game session.
Max Win
With a maximum win of 10,000x the bet, Cyclops Smash offers a tantalizing reward potential. For instance, a stake of 1€ could potentially translate into a staggering win of 10,000€, providing an exciting prospect for both casual gamers and high rollers alike.
Theme
Cyclops Smash is a captivating fusion of Greek mythology and animated beachside fun, reminiscent of the popular animated series Hercules. The game captures the essence of this theme, providing an immersive and exciting mythological gaming experience.
Features of Cyclops Smash's Online Slot
Immerse yourself in the exciting features of the Cyclops Smash online slot, a game crafted meticulously by Pragmatic Play. The game incorporates innovative mechanics like the Tumble Feature, Smash Feature, and Free Spins with Increasing Multiplier, as well as an enticing Bonus Buy option, all of which elevate the overall gaming experience.
Tumble Feature
This dynamic mechanic enhances winning potential by removing winning symbols from the board when they form a cluster. Subsequent symbols then tumble down to fill the empty spaces, potentially creating new clusters. This process repeats until no new wins are formed.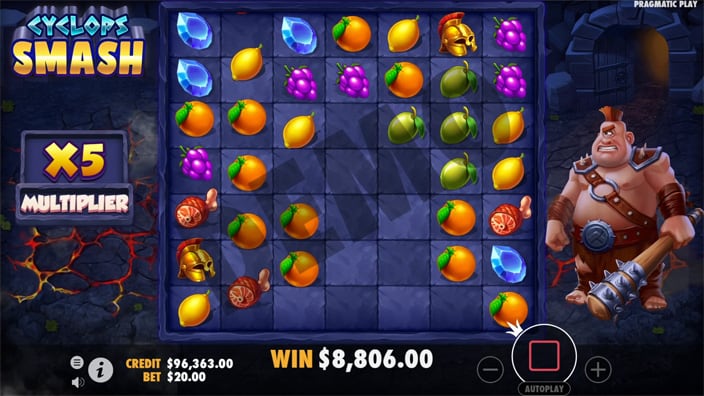 Smash Feature
Triggered randomly when there are no more wins, either at the end of a spin or a tumble. The Smash feature rearranges symbols on the grid, moving them up or down based on their pay value. This rearrangement can lead to new winning combinations.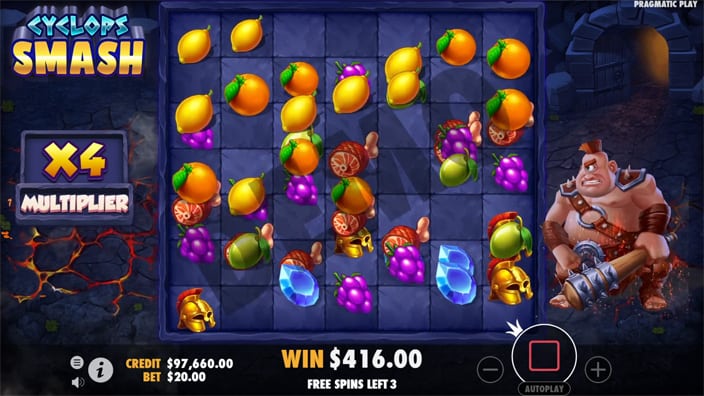 Free Spins
Activated by landing four or more scatter symbols, the Free Spins feature gives players a pre-determined number of free spins. These spins can lead to more generous payouts and also offer the chance to retrigger additional free spins.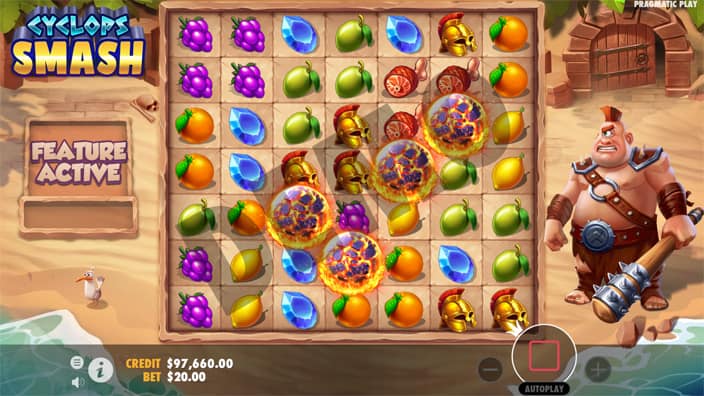 Increasing Multiplier in Free Spins
In the Free Spins round, every Smash that results in a win leads to an increase in the win multiplier by +1. This multiplier applies to all subsequent wins until the end of the feature, significantly boosting the potential for substantial wins.
Bonus Buy
The Bonus Buy feature allows players to instantly access the Free Spins round from the base game at a cost of 100 times the bet. This feature is particularly appealing to those who prefer not to wait for scatter symbols to land naturally.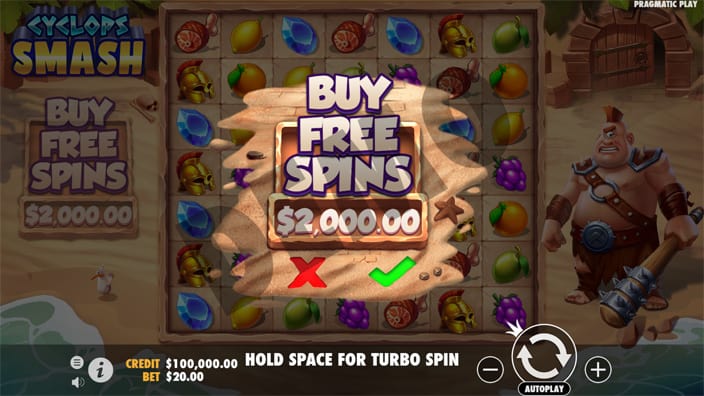 How to Play to Cyclops Smash's Online Slot
Playing the Cyclops Smash slot game by Pragmatic Play is an engaging experience that combines simplicity with captivating gameplay mechanics. To begin your mythological adventure, first select your preferred bet size, ranging from as low as 0.20 to a hefty 1000 per spin, making it suitable for all types of players. Then, simply hit the 'spin' button to set the 7×7 grid in motion. Winning combinations are formed when you land clusters of at least five identical symbols, connected either horizontally or vertically.
The game features a varied assortment of symbols, with food items constituting the majority. From lemons and oranges to green fruits and grapes, these lower value symbols make up the base level of the paytable. The higher-value symbols include a chunk of meat, a precious gemstone, and a helmet. Hitting a winning cluster of 15-49 symbols of these high-value icons can yield up to 1000 times your stake. Despite its lack of a wild symbol, Cyclops Smash ensures the action remains high with its unique feature set and the promise of hefty rewards.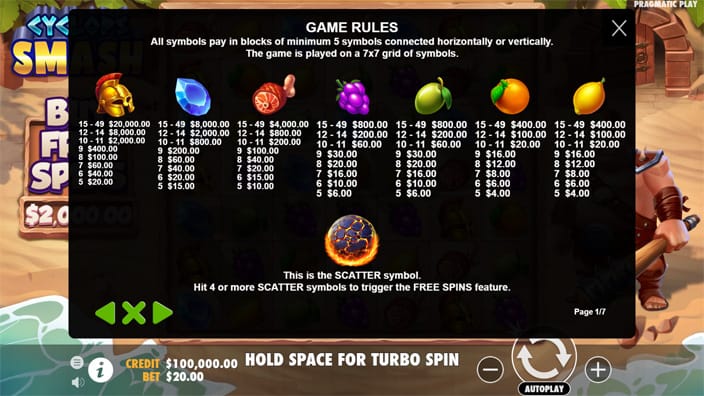 Review of the Online Slot Cyclops Smash by Bonus Tiime
Cyclops Smash, developed by Pragmatic Play, is a delightful blend of mythology and entertainment. With its beachside setting and an intimidating, cudgel-wielding cyclops, this game carries a distinct theme that makes for an immersive gameplay experience. The vibrant cartoon-style graphics and the unique interpretation of a classic mythological creature all contribute to the game's distinctive appeal.
The potential of a 10,000x bet max win makes Cyclops Smash a highly rewarding choice for players. This enticing feature, coupled with the game's high volatility, offers a thrilling gaming journey, with the promise of significant wins. With a spin, players can look forward to reaping rewards that truly reflect the might of the cyclops!
Despite carrying some similarities to popular titles like Power of Thor Megaways and Rocket Blast Megaways, Cyclops Smash stands out due to its unique mechanics. Pragmatic Play has yet again demonstrated their knack for innovation, delivering a fresh take on slot gameplay that promises to captivate and entertain players in equal measure.
Advices and Tips to Play Cyclops Smash
Get ready to improve your online slots experience! We offer a range of tutorials and articles for both beginners and seasoned players. These invaluable resources will guide you towards a more strategic and enjoyable gaming session. So, dive in and boost your online slot prowess today!