Big Bass Bonanza Hold & Spinner is a free online slot game developed by Pragmatic Play. As part of the Big Bass Bonanza series, this game features a fishing theme and colorful imagery that's sure to please. With high volatility and the possibility of substantial wins, players can activate the Ante Bet, Buy Free Spins and Buy Hold & Spinner functions to boost their chances of success. The game's unique fishing net feature adds an element of risk and reward, making it a thrilling gaming experience. For a chance to win big while enjoying a fun fishing adventure, try Big Bass Bonanza Hold & Spinner today.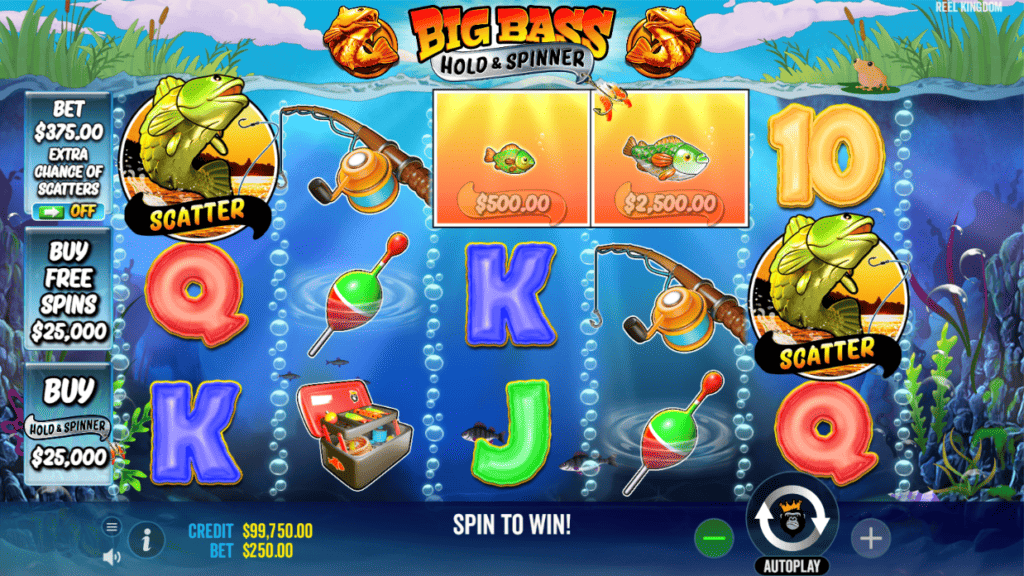 Specifications of the Hold & Spinner : Theme, RTP, Volatility, Max Win
Looking for an exciting online slot game? Look no further than the Big Bass Bonanza series by Pragmatic Play! With engaging fishing themes and unique gameplay features, these online slot machines are sure to keep you entertained. The latest addition to the series, Big Bass Bonanza Hold & Spinner, offers a fishing theme, high volatility, and an RTP of 96.07%, making it an excellent choice for those looking to win big. With a maximum win of 10,000 times the bet, this game offers plenty of potential for substantial payouts.
Other games in the series include the original Big Bass Bonanza, Bigger Bass Bonanza, Big Bass Bonanza Megaways, and Big Bass Splash, each offering their own unique features and gameplay mechanics. At Stake casino, players can enjoy these online slot machines with stakes ranging from 10 cents to €1000 per spin (or 15c to €1250 with Ante Bet), making them accessible to players of all levels. With so much to offer, the Big Bass Bonanza series is a must-try for online slot enthusiasts.
How to play to Big Bass Bonanza : Hold & Spinner slot
Big Bass Bonanza Hold & Spinner is a fun and engaging online slot game with a fishing theme. To start playing, players need to choose their desired bet size and spin the reels. The game follows a standard format of a five-reel, three-row slot, with 10 fixed paylines. The game's symbols feature fishing-related items, with the highest value symbols being the Fishing Float, Fishing Rod, Dragonfly, and Tacklebox. The lower value symbols are represented by the typical royal cards in a standard deck.
The game's payout system depends on the value of the symbols that appear on the reels. Players must land three or more matching symbols from left to right to win. A five-of-a-kind winning line can result in payouts ranging from five to 10 times the bet amount for low-value symbols or between 20 and 200 times the bet for high-value symbols. To trigger the game's Hold and Spin feature, players must land six or more golden fish symbols on the reels. This feature locks in place the golden fish and resets the remaining reels for three respins. With each spin, players can potentially win more payouts or retrigger the feature with more golden fish symbols. Overall, Big Bass Bonanza Hold & Spinner is a thrilling online slot game that is easy to play and offers great chances to win big.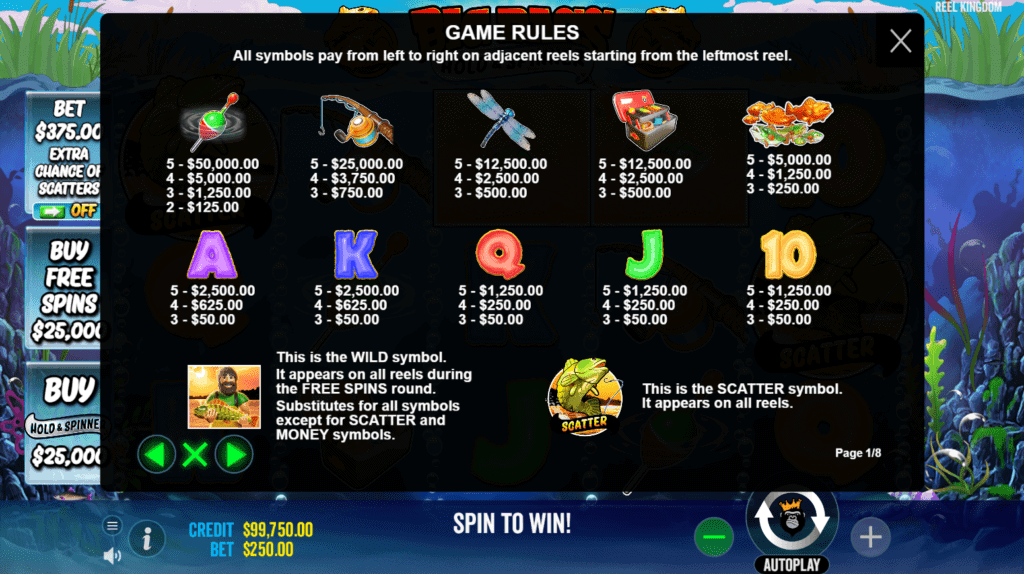 Features of Big Bass Bonanza : Hold & Spinner
Slot's Free Spins
One of the most exciting features of Big Bass Bonanza Hold & Spinner is the possibility of triggering the Free Spins round. This can be achieved by landing three or more scatter symbols on the reels. During the Free Spins round, players can earn additional free spins by landing more scatter symbols. What's more, all wins during the Free Spins round are multiplied by a 3x multiplier, giving players the chance to earn even bigger payouts.
Additionally, if there are fisherman symbols present but no fish on the screen, an animation featuring a bazooka may appear. This animation randomly reveals fish money symbols on the reels.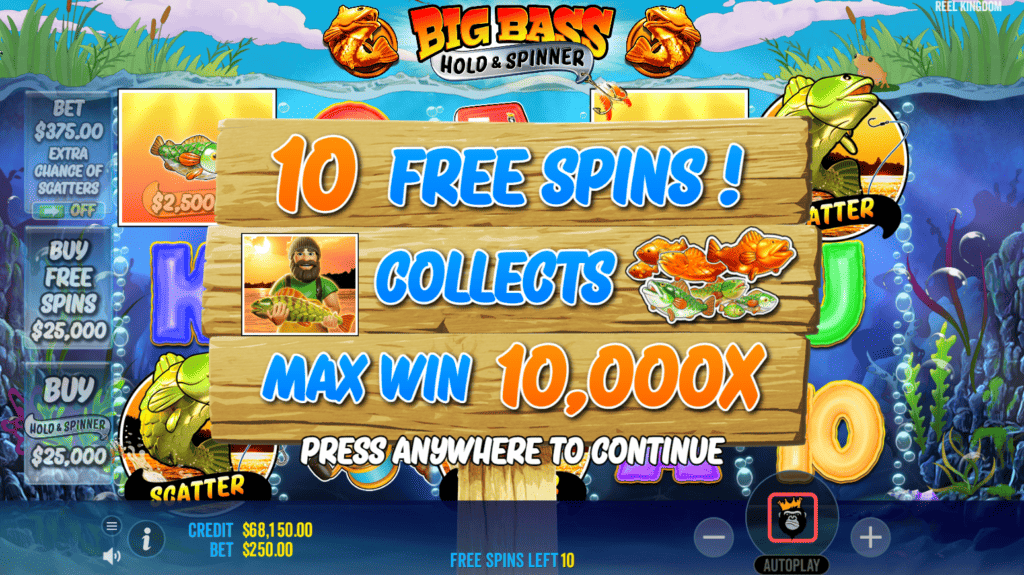 Slot's Hold & Spinner
In addition to the standard reel-spinning action, this game features a Hold & Spinner feature. This feature is triggered by landing three or more goldfish symbols, and allows players to hold certain symbols in place while spinning the remaining reels. The goal is to collect as many goldfish symbols as possible, as each one has a cash value. At the end of the feature, the cash values of all collected symbols are added up and awarded to the player.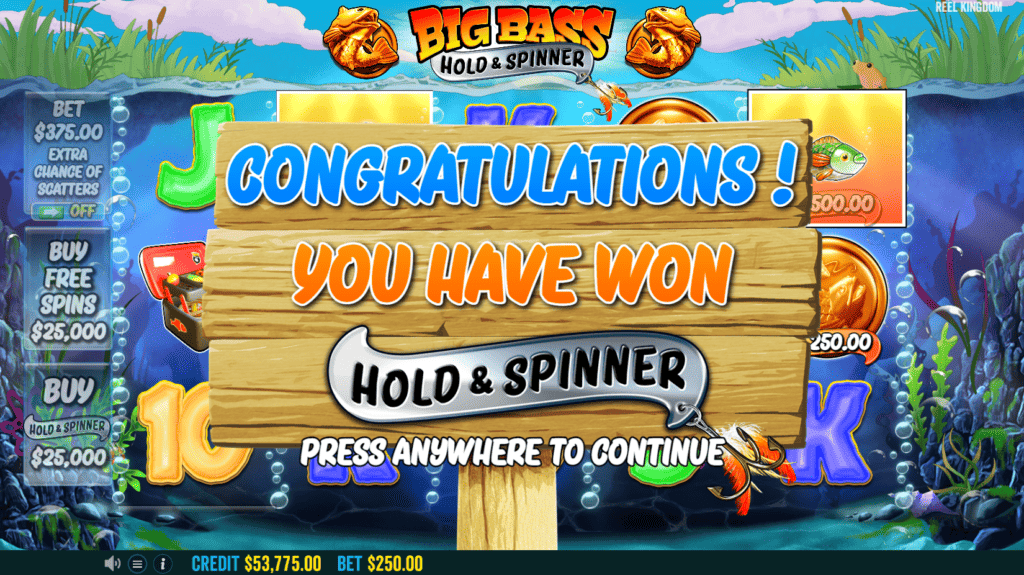 Slot's Bets & Devices
Another great feature of Big Bass Bonanza Hold & Spinner is the wide range of betting options available. Players can place bets as low as €0.10, or as high as €1000.00 per spin, making this game a great choice for both casual and high-roller players. Moreover, this game is available to play on desktop, tablet, and mobile devices, so players can enjoy the excitement of Big Bass Bonanza Hold & Spinner wherever they go.
Slot's Multipliers
Big Bass Bonanza Hold & Spinner Slot offers players a chance to increase their winnings with value multipliers. The game allows players to collect wilds and golden wilds that increase the free spins round. If a player collects four wilds or golden wilds, they receive 10 free spins, which can be further multiplied by the number of fish symbols collected. This means that players can multiply their free spins two, three, or even ten times, resulting in higher payouts.
Unfortunately, this feature will not retrigger upon reaching the final round. However, Big Bass Bonanza Hold & Spinner Slot has three extra features, the Ante Bet, Buy Free Spins and Buy Hold & Spinner functions.
Ante Bet, Buy Free Spins and Buy Hold & Spinner
Found on the left of the reels, activating the Ante Bet function allows players to add more scatters to the reels and to set the slot's RTP at 96,09%. In exchange for this, the players betting amount increases by 50%. When Buy Free Spins and Buy Hold & Spinner are enabled, free spins can be purchased in exchange for upping the bet by 100x. In both of these cases, the slot's RTP remains unchanged at 96.71%.
Autoplay
Autoplay is a popular feature among online slot players, including Big Bass Bonanza Hold & Spinner, as it allows for a more comfortable and smooth experience. With Autoplay, gamblers can simply set the number of spins they wish to play and sit back while the game takes care of the rest. This means that they can play more spins in a shorter amount of time, potentially increasing their chances of hitting a big win.
However, it is important to note that Autoplay also comes with some inconveniences. Players may miss some of the excitement and anticipation that comes with manually spinning the reels, as well as the opportunity to adjust their strategy based on the outcome of each spin. Additionally, it can be easy to lose track of how much money is being wagered when using Autoplay, so players should always gamble responsibly and set limits on their play.
Advices and tips to play Hold & Spinner
1. Try out Demo mode on Bonus Tiime
Like most online slots, Big Bass Bonanza Hold & Spinner comes with the option of playing free in demo mode. This opens up the game to potential players who wish to see what it is all about without having to risk any actual money. Demo mode is not just for the curious newbie, though. It gives any player an opportunity to discover the game mechanics and its special features for themselves. In this way, before a single cent is bet, a player can be familiar with Big Bass Bonanza Hold & Spinner's scatters and wild cards – and how these have an impact on the overall game. This leads us to the next pre-game tip for canny players: take a look at the pay table.
2. Relax and Entertain yourself
Trying first the free slot demo is the perfect way to unwind, relax, and simply enjoy playing Big Bass Bonanza Hold & Spinner – without losing money or the stress to catch chasing wins.
3. Always study the 'price list' of the slot
The pay table is the slot's equivalent of a price list. You will find here a complete list of all the symbols in the game, along with their value. You will also be able to discover the properties of all the wilds and golden wilds. Combined with spending a little time in demo mode, this preparation will allow players to place their first bet with confidence when beginning the proper game.
4. Plan a betting budget and stick to it
Anybody concerned with promoting Responsible Gambling will offer one piece of advice first and foremost: don't bet more than you are prepared to lose. When it comes to play online slots for real money, then this manifests itself through sticking to a pre-agreed budget. If a player reaches their betting ceiling without a big win then it is time to call it a day. Stop playing as soon as you reach the budget limit.
5. Don't be dazzled by huge jackpots
Some expert gamblers spend their time online chasing those mega-jackpots. While there is nothing wrong with that, it is a fact that slots offering huge progressive jackpots normally have higher odds and less chance of paying out. Big Bass Bonanza Hold & Spinner faces some criticism for its lack of a big jackpot, but this actually makes it ideal for players who want more chance anyways to win.
Review of the online slot Big Bass Bonanza Hold & Spinner by Bonus Tiime
Big Bass Bonanza Hold & Spinner is another hit from Pragmatic Play's popular series of games. The slot is set against a backdrop of a beautiful lake, which adds to the overall fishing experience. The gameplay is straightforward, making it easy for beginners to enjoy, while the high volatility makes it a perfect game for high rollers.
One of the highlights of Big Bass Bonanza Hold & Spinner is the Hold and Spin feature. This feature allows players to hold their winning symbols while they respin, increasing their chances of hitting a winning combination. The game also offers a Buy Free Spins feature, which enables players to buy their way into the bonus round. However, players should be cautious when using this feature as it comes at a cost.
Overall, Big Bass Bonanza Hold & Spinner is a solid addition to the Big Bass Bonanza series. With its exciting gameplay, beautiful graphics, and generous payouts, this slot is definitely worth a try for both novice and experienced players.