Engage in a gripping quest for undiscovered riches with the newly released Store Wars online slot game by Popiplay. Released on the 28th of July, 2023, this action-packed slot game encapsulates the thrilling journey of hunting for vintage treasures amidst the cluttered storage lockers. With its vibrant graphics and unique theme, Store Wars immerses players into an unpredictable world of hidden gems, presenting an engaging gambling experience like no other.
Store Wars comes loaded with exciting features such as Free Spins, Wild symbols, Bonus Buy options, and the innovative Sticky Wild. These lucrative features, combined with a very high volatility and an impressive RTP of 95.96%, guarantee exhilarating gaming sessions. As you rummage through the virtual lockers, be prepared for some stunning wins, with the possibility to multiply your bet up to 3,520 times! Indeed, with Store Wars, every spin can unearth a potential treasure trove, adding an irresistible element of surprise to the gameplay.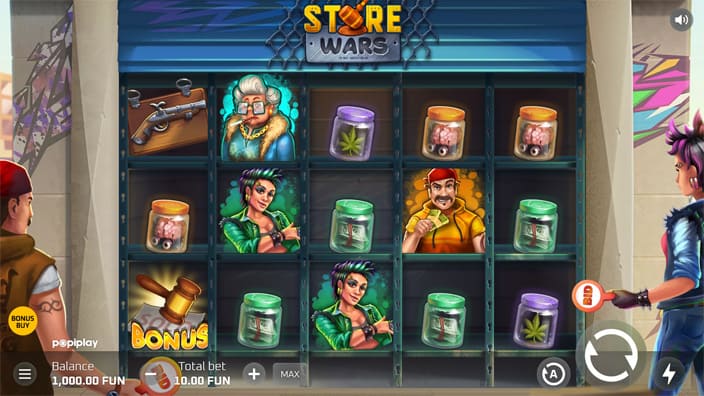 The Top 3 Casinos to Play Store Wars and Win Real Money
Stake Casino
If the thrill of treasure hunting entices you, head over to Stake Casino to play Store Wars slot game. Unveil the hidden riches and test your luck right now, as this highly-anticipated slot is available and waiting for you at Stake Casino.

Cresus Casino
Eager to start your vintage treasure hunt? Cresus Casino brings the excitement of Store Wars to your screen! Jump into the captivating universe of hidden gems, and experience the exhilarating gameplay of this unique slot instantly at Cresus Casino.

Horus Casino
Can't wait to try the much-hyped Store Wars slot? Horus Casino is the perfect destination for you. With Store Wars now live on their platform, embark on a riveting treasure hunt at Horus Casino today, and spin your way to extraordinary wins.

Popiplay Online Slots Provider
Discover the world of immersive gaming with Popiplay, a leading online slot game provider renowned for its innovative designs and engaging gameplay mechanics. Known for their high-quality graphics and creative themes, Popiplay consistently delivers captivating gaming experiences, enriching the online casino landscape and thrilling players worldwide.
Specifications of Store Wars Online Slot
Delve into the unique world of Store Wars, an exceptional online slot game developed by Popiplay. With a well-structured grid of five reels, and innovative gameplay mechanics, this thrilling slot offers countless ways to win. The betting range suits all levels of players, making it an exciting prospect for both newcomers and seasoned punters.
Interestingly, Store Wars operates in a similar manner to popular slots like Sons of Monarchy and Dogmasons. This implies an exhilarating gaming experience, enhanced by a captivating theme. On Stake Casino, you can adjust your stakes to fit your gaming style, promising an adaptable and personalized slot experience for all players.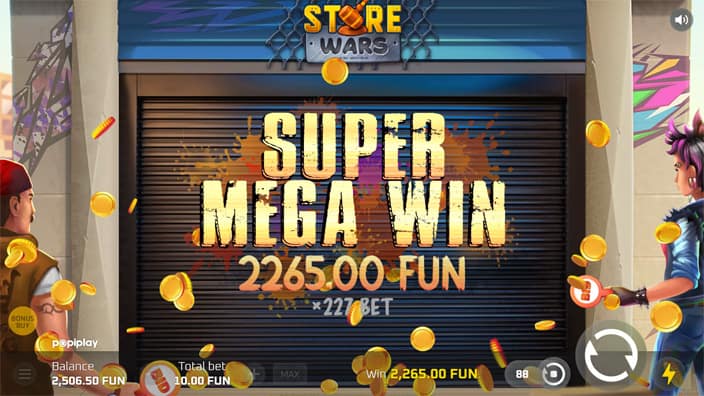 RTP
Offering a highly favourable Return to Player (RTP) of 95.96%, Store Wars promises substantial payback opportunities over extended playtime. This commendable RTP enhances your chances of successful treasure hunting, making your virtual rummaging experience worthwhile.
Volatility
Store Wars boasts medium volatility, striking a balance between risk and reward. This means the game offers regular payouts, without excessively long dry spells, ensuring a satisfying mix of wins to keep your gaming experience exciting and rewarding.
Max Win
Ready for some astounding wins? With Store Wars, you can secure a staggering maximum win of 3,520x your stake. For instance, a bet of just €1 could potentially yield a remarkable return of €3,520, bringing monumental wins within your reach!
Theme
Immerse yourself in the adventure-laden theme of Store Wars, reminiscent of the popular series 'Storage Wars'. With each spin, you dive into a world of hidden treasures and vintage gems, echoing the thrill and unpredictability of storage locker auctions in an enjoyable gaming setting.
Features of Store Wars's Online Slot
Dive into the exhilarating universe of Store Wars online slot, where a trove of exciting features await. Developed by Popiplay, the game includes enticing features like the Sticky Wild Symbol, Free Spins, Free Spins Choice, and Bonus Buy, all of which significantly enhance the gameplay and potential rewards.
Wild Symbol
The Wild Symbol appears on the middle three reels and substitutes all regular symbols except the Scatter. It carries a random 2x or 3x multiplier, enhancing potential wins.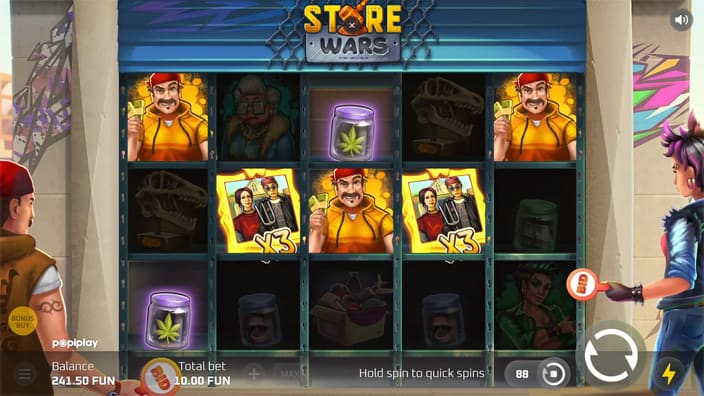 Sticky Wild Symbol
The Wild symbol becomes a Sticky Wild during Free Spins. Landing on the middle three reels, it stays in place until the Free Spins round concludes, replacing all regular paying symbols and boosting winning potential.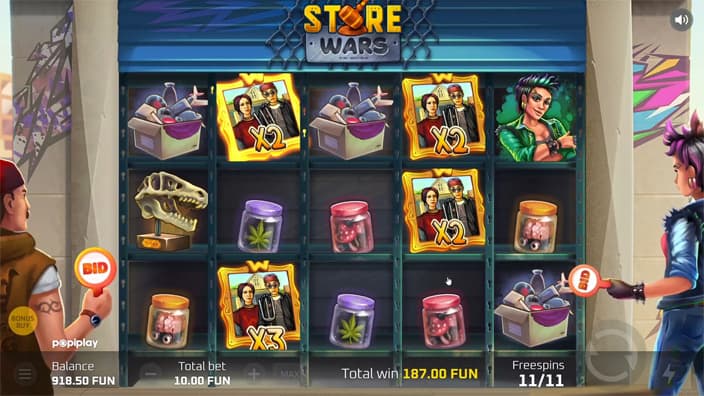 Free Spins
Free Spins are triggered when Scatter symbols appear on reels 1, 3, and 5. This feature not only extends your gameplay but also opens up more opportunities for significant wins, contributing to the game's overall allure.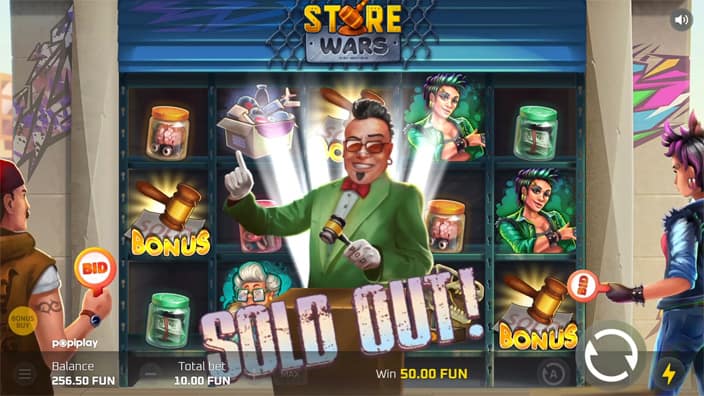 Free Spins Choice
Once the Free Spins are triggered, players have the chance to select from three boxes. Each box reveals a different number of free spins, ranging from 9 to 18. This interactive feature adds an element of strategic play and suspense to the game.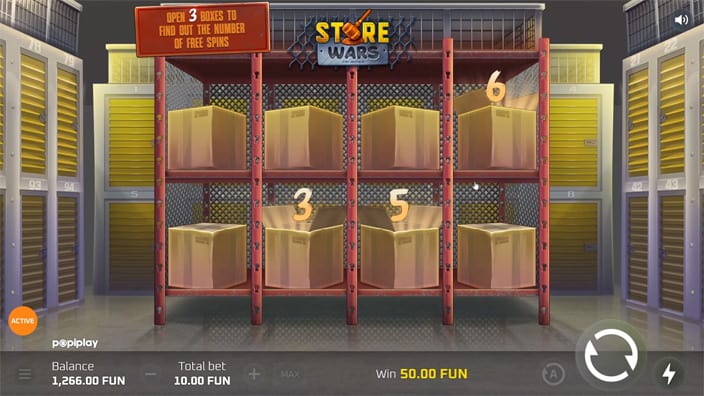 Bonus Buy
For those eager for instant action, Store Wars offers a Bonus Buy feature. This allows players to directly enter the Free Spins round for x75 the bet, bypassing the base game. By purchasing this feature, players can fast-track their way to potential big wins, adding to the game's excitement.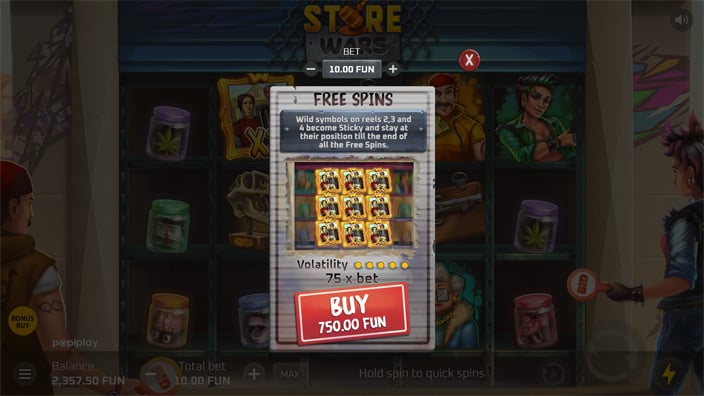 How to Play to Store Wars's Online Slot
Embarking on your treasure hunt with the Store Wars online slot by Popiplay is a straightforward process, designed to welcome both novice and experienced players. To begin your game, select your desired bet value using the controls at the bottom of the screen. The values can range according to your preference and the casino's settings. Once your bet is set, you can either manually spin the reels using the 'Spin' button or use the 'Auto Play' option for continuous spins.
As you delve into the game, you will encounter various symbols. The value of each symbol varies, contributing to the overall potential win. The Wild symbol, appearing on the middle three reels, can replace any regular symbol to form winning combinations and carries a randomly generated multiplier of 2x or 3x. The Scatter symbol triggers the Free Spins round, which also includes the Sticky Wild feature. Learning the value of each symbol and their roles in the game is crucial to strategize and maximize your winning potential in this exciting treasure hunt.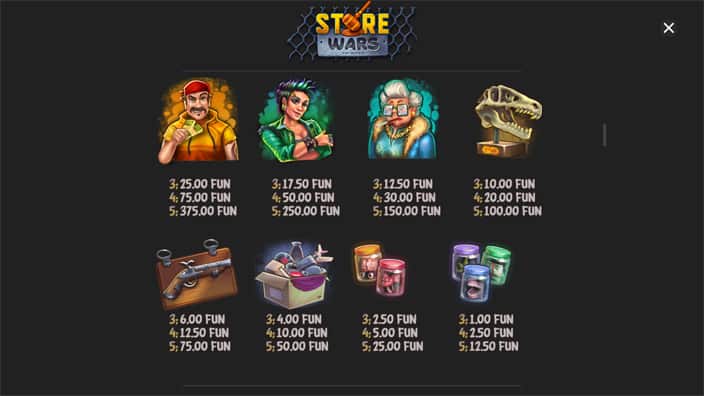 Review of the Online Slot Store Wars by Bonus Tiime
Stepping into the world of Store Wars online slot, you're instantly enveloped by its exciting treasure hunting theme. Developed by Popiplay, this game invites players to rummage through packed storage lockers for a chance to discover hidden gems and secure impressive wins. The game's immersive design, rich graphics, and suspenseful soundtrack perfectly encapsulate the thrill and unpredictability of a real-life treasure hunt.
The most alluring aspect of Store Wars is undoubtedly its potential max win of a staggering 3,520x your bet. This possibility of a life-changing win keeps players engaged and on their toes, enhancing the overall thrill of the gaming experience. With the added allure of features like Free Spins and Sticky Wilds, Store Wars manages to keep the gameplay entertaining and rewarding.
Store Wars is another engaging slot game from Popiplay, echoing the charm of the popular Dog House series by Pragmatic Play. With the latest release in the series being The Dog House Multihold, Popiplay continues to draw on successful elements from these games while infusing their unique creativity, resulting in an enticing and enjoyable gaming experience for players.
Advices and Tips to Play Store Wars
Get ready to improve your online slots experience! We offer a range of tutorials and articles for both beginners and seasoned players. These invaluable resources will guide you towards a more strategic and enjoyable gaming session. So, dive in and boost your online slot prowess today!