Welcome to the bustling world of mobile food service in Fred's Food Truck, an online slot game developed by the acclaimed Hacksaw Gaming. With an engaging culinary theme, this online slot game spins up a flavorful experience, transporting players to the heart of a vibrant food truck festival. Showcasing the creative mastery of Hacksaw Gaming, this game combines the lively ambiance of a food cookery service with the thrill of a digital slot machine, resulting in a deliciously exciting gaming experience.
Fred's Food Truck offers a unique blend of dynamic gameplay and appetizing features. Designed around a 5×5 gaming grid with 15 paylines, the game is perfectly seasoned with free spins, a global multiplier, and an array of bonus buy options. Its design stands out with an array of food-themed symbols and decals, representing other popular Hacksaw Gaming slots, making it a feast for the eyes and a playground for the seasoned gambler. Get ready to hit the road with Fred's Food Truck, where each spin is a journey into the heart of culinary excitement and the potential for tasty winnings.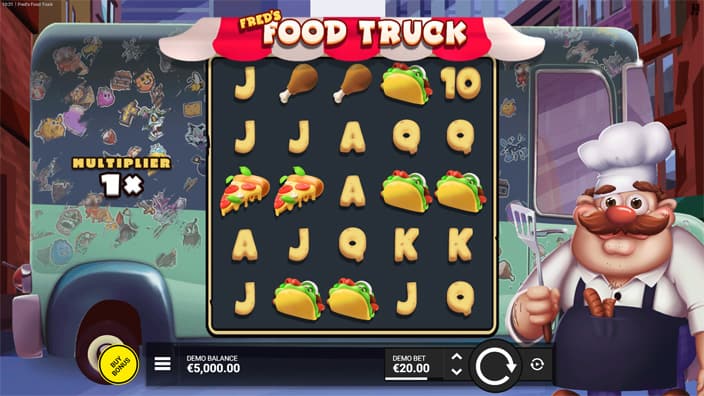 Hacksaw Gaming Online Slots Provider
Hacksaw Gaming, a top-tier software developer, is revolutionizing the online gaming landscape. Renowned for its unique, player-centric approach and innovative designs, this Malta-based provider delivers a portfolio teeming with dynamic slots and scratch card games. With Hacksaw Gaming, every gaming experience is a new adventure of immersive gameplay and high winning potential.
Specifications of Fred's Food Truck Online Slot
Fred's Food Truck, a popular online slot game developed by Hacksaw Gaming, drives onto the scene with a 5×5 gaming grid and 15 interactive paylines. Offering numerous ways to win, this slot game artfully combines engaging gameplay mechanics and appealing aesthetics for an unrivaled gaming experience.
The lively backdrop of Fred's Food Truck is adorned with decals, referencing some of Hacksaw Gaming's fan-favorite slots, such as Chaos Crew, RIP City, King Carrot, Pug Life and more that you can try finding. With a wide range of stakes, this game offers an exhilarating ride for all players on Stake, providing numerous opportunities to taste success.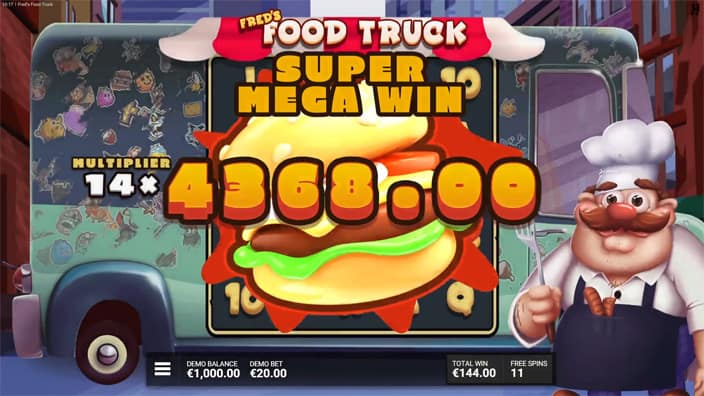 RTP
Boasting an impressive RTP (return to player) of 96.33%, Fred's Food Truck ensures a favorable odds balance. This rewarding RTP percentage indicates a solid return potential, offering players an enticing incentive to join the culinary journey.
Volatility
Fred's Food Truck, with its high volatility, spices up the gaming experience. It invites thrill-seekers to a roller coaster ride of significant wins and losses, offering a high-risk, high-reward game that's perfect for players who crave an adrenaline rush.
Max Win
With Fred's Food Truck, the stakes are deliciously high. The game offers a maximum win of 10,000x the bet, transforming even a modest €1 stake into a potential €10,000 feast. It's a testament to the game's generous payout potential and its thrilling gameplay.
Theme
The theme of Fred's Food Truck is a tasteful fusion of culinary delight and gambling thrill. By encapsulating the fast-paced energy of a bustling food truck into an engaging slot game, Hacksaw Gaming has served a unique gaming experience, sizzling with excitement and big wins.
Features of Fred's Food Truck's Online Slot
Step into the sizzling world of Fred's Food Truck's features, where every spin is an opportunity for excitement and wins. From global multipliers and free spins to bonus buy options, Hacksaw Gaming has masterfully crafted an array of captivating features that make this slot game a culinary adventure of thrilling gambling opportunities.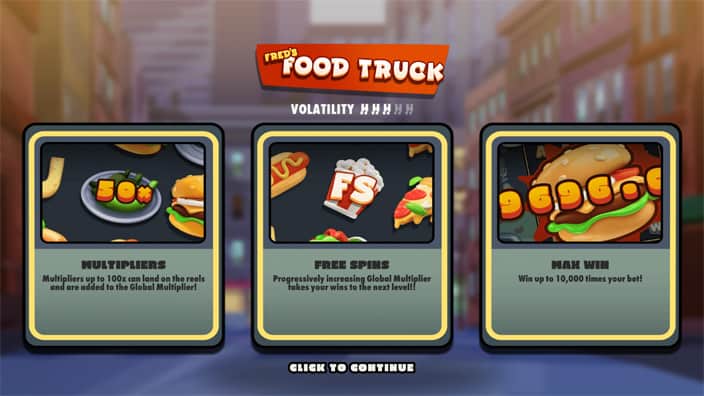 Bonushunt Feature Spins
The Bonushunt Feature Spins in Fred's Food Truck drastically increase your bonus chances, making each spin five times more likely to trigger an exhilarating bonus game for heightened gameplay excitement.
Global Multiplier – Green Chillies
Fred's Food Truck slot introduces the exciting Global Multiplier feature, using Green Chilies as multipliers. When part of a winning combination, these symbols reveal a value ranging from 1x to an impressive 100x. This value contributes to the Global Multiplier, significantly magnifying the winnings of the round, adding an extra layer of thrill to the game.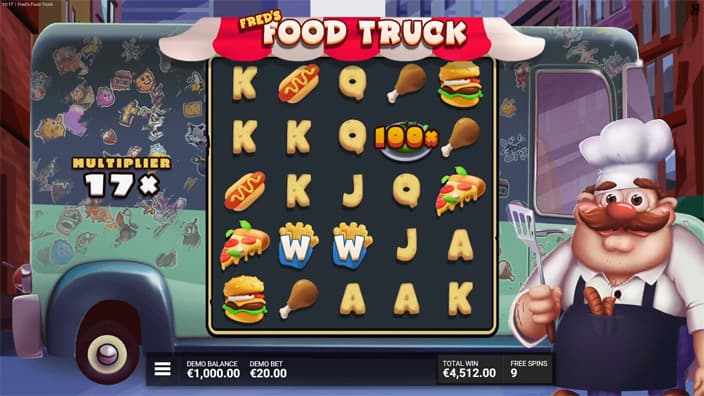 Free Spins
Landing 3 or 4 FS scatter symbols triggers the Small Menu or Big Menu free spins feature respectively. These free spins incorporate the Green Chili multipliers, progressively increasing the Global Multiplier, which notably does not reset between spins, making each spin more rewarding.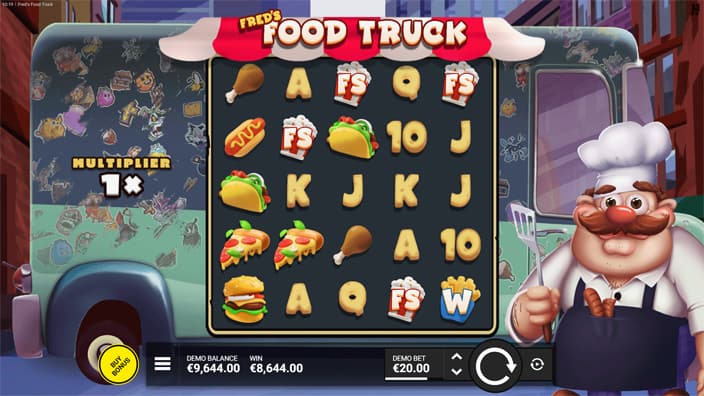 Bonus Buy
Fred's Food Truck allows players to directly purchase special features via the Bonus Buy option. By clicking the Buy Bonus button, players can activate FeatureSpins™, which guarantee certain features on each spin, enhancing the gameplay based on the current bet level.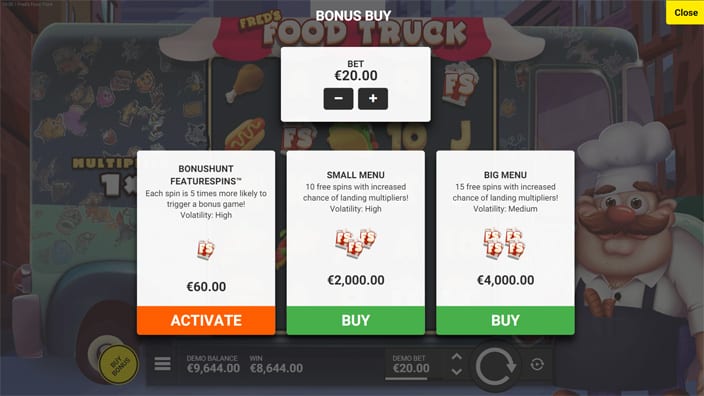 How to Play to Fred's Food Truck's Online Slot
Navigating Fred's Food Truck slot by Hacksaw Gaming is as straightforward as it is entertaining. The game features a 5×5 grid with 15 paylines where the aim is to land three to five matching symbols from the leftmost side of the grid. Winning combinations cause the corresponding symbols to vanish, being replaced by new ones dropping from above, and triggering potential cascades of wins. The gaming round concludes when no new win appears, awarding the accumulated total winning value, and setting the stage for the next exciting spin.
The symbols in Fred's Food Truck are as tempting as the dishes they represent. The low pay section consists of the 10-A card ranks, while high-paying symbols include mouthwatering illustrations of a drumstick, hot dog, taco, slice of pizza, and a burger. A line of five low pays is worth 5 times the bet, whereas a five premium symbol win awards 10 to 20 times the bet. The wildcard is the French fries symbol which can substitute for any regular pay symbol and grants a generous 40 times the bet for a 5 wild symbol winning line. Get ready for an epic culinary journey filled with delicious wins in this captivating slot game.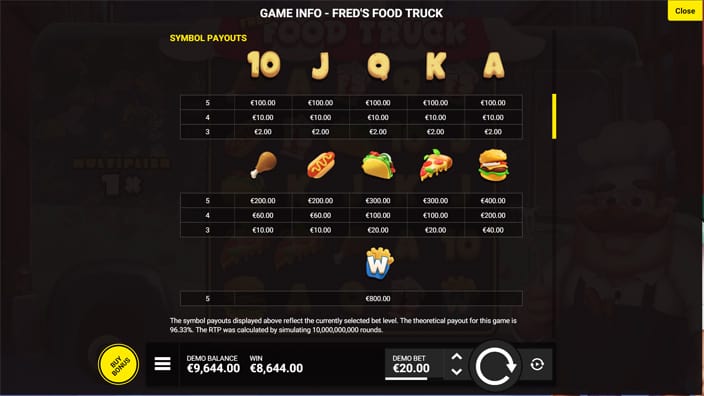 How to Win Real Money with Fred's Food Truck Online Slot
Ready to experience the culinary thrill of Fred's Food Truck slot? Jump into this delicious adventure today on Stake casino. Stake offers a seamless gaming experience that ensures you can spin the reels on this exciting slot and get a taste of the tantalizing wins it serves up.

Review of the Online Slot Fred's Food Truck by Bonus Tiime
Fred's Food Truck is a delightful concoction from Hacksaw Gaming, presenting an engaging theme that meshes the culinary world with a high-rewarding slot experience. The allure of potentially winning up to 10,000x your bet adds an irresistible sizzle to the gameplay, promising rewarding sessions for those lucky enough to hit the jackpot. The vibrant visuals and immersive theme create a slot experience that's as appetizing as the food Fred serves from his truck.
Interestingly, Fred's Food Truck also pays homage to Hacksaw Gaming's portfolio of games, as evidenced by the plethora of slot decals adorning the food truck in the game's backdrop. These tags reference popular Hacksaw slots such as Joker Bombs, Magic Piggy, and Cash Quest, showcasing the successful and widely appreciated gameplay mechanics that Hacksaw Gaming has become renowned for. This nod to its past successes is a clever touch, and a testament to the company's dedication to creating engaging, fun, and rewarding slot games for its players.
In essence, Fred's Food Truck is a testament to Hacksaw Gaming's enduring creativity and commitment to excellence. It cleverly integrates time-tested gameplay mechanics from its popular predecessors, delivering a unique yet familiar gaming adventure. With its delightful fusion of enjoyable gameplay and significant winning potential, Fred's Food Truck is bound to captivate and thrill slot enthusiasts far and wide.
Advices and Tips to Play Fred's Food Truck
1. Try Out Demo Mode on Bonus Tiime
Like most online slots, Fred's Food Truck comes with the option of playing free in demo mode. This opens up the game to potential players who wish to see what it is all about without having to risk any actual money. Demo mode is not just for the curious newbie, though. It gives any player an opportunity to discover the game mechanics and its special features for themselves. In this way, before a single cent is bet, a player can be familiar with Fred's Food Truck's scatters and wild cards – and how these have an impact on the overall game. This leads us to the next pre-game tip for canny players: take a look at the pay table.
2. Relax and Entertain Yourself
Trying first the free slot demo is the perfect way to unwind, relax, and simply enjoy playing Fred's Food Truck – without losing money or the stress to catch chasing wins.
3. Always Study the Paytable of the Slot
The pay table is the slot's equivalent of a price list. You will find here a complete list of all the symbols in the game, along with their value. You will also be able to discover the properties of all the wilds and golden wilds. Combined with spending a little time in demo mode, this preparation will allow players to place their first bet with confidence when beginning the proper game.
4. Plan a Betting Budget and Stick to it
Anybody concerned with promoting Responsible Gambling will offer one piece of advice first and foremost: don't bet more than you are prepared to lose. When it comes to play online slots for real money, then this manifests itself through sticking to a pre-agreed budget. If a player reaches their betting ceiling without a big win then it is time to call it a day. Stop playing as soon as you reach the budget limit.
5. Don't Be Dazzled by Huge Jackpots
Some expert gamblers spend their time online chasing those mega-jackpots. While there is nothing wrong with that, it is a fact that slots offering huge progressive jackpots normally have higher odds and less chance of paying out.