Immerse yourself in the untamed beauty of Africa with Fantasma Games' thrilling online slot game, Safari Sun. Released on August 24, 2023, this highly volatile game takes you deep into the heart of the African savannah, where exotic animals roam freely under the vast expanse of the sun-bathed sky. With its enchanting graphics and exciting gameplay, Safari Sun brings the allure of a wild African safari right at your fingertips.
Featuring a unique 5-reel layout with 3-4-4-4-3 rows, Safari Sun offers an impressive 576 paylines, ensuring numerous ways to secure big wins. The slot game captures the essence of Africa, beautifully enhanced by a calming soundtrack and an immersive backdrop depicting the majestic Mt. Kilimanjaro. Prepare for a rollercoaster ride of unique features, including the Expanding Symbol feature, Mystery Sun feature, and rewarding Free Spins with a choice of volatility levels, all perfectly designed to cater to every slot enthusiast's taste. With an RTP of 96% and a maximum win of 18,792x, Safari Sun ensures an unforgettable safari journey unlike any other in the online slot landscape.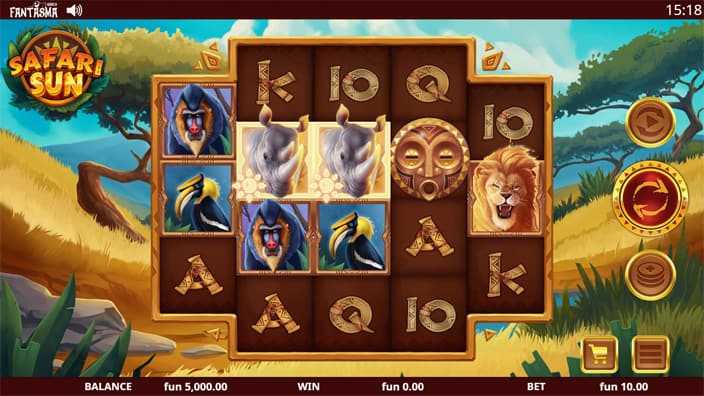 Demo Spotlight of Safari Sun by Bonus Tiime
Top Casinos to Play Safari Sun and Win Real Money



Fantasma Games Online Slots Provider
Fantasma Games is a premier software provider renowned for creating innovative online slots that captivate players globally. With its unique blend of stunning graphics, immersive gameplay, and impressive features, Fantasma Games has carved a niche in the competitive iGaming industry, offering players engaging and rewarding digital entertainment experiences.
Specifications of Safari Sun Online Slot
Dive into the captivating world of Safari Sun, a striking online slot game by Fantasma Games. This unique game features a 5-reel layout with 3-4-4-4-3 rows, offering players 576 distinct ways to win. Its unusual configuration and dynamic payline structure make every spin an exciting adventure in the wild African savannah.
Experience the thrill of its special features, including the innovative Expanding Symbol feature reminiscent of Wanted Dead or a Wild and RIP City. Whether you're a high roller or a casual player, Safari Sun offers a range of betting options from 0.20 to 50, suiting every type of player on Stake Casino. The game's high volatility and compelling features guarantee a riveting gaming experience.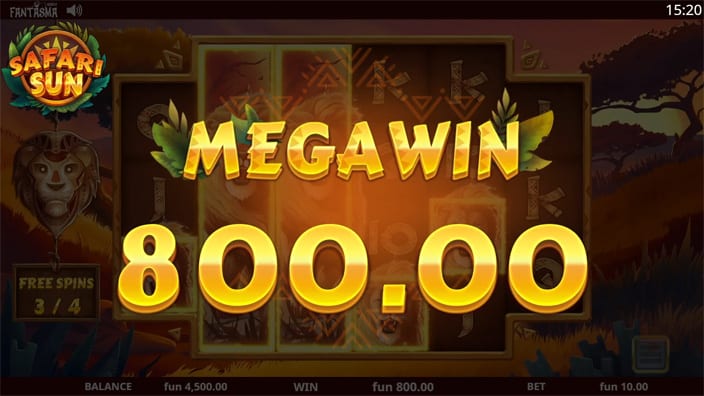 RTP
With an RTP (return to player) of 96.0%, Safari Sun is a promising slot game offering players a fair chance at substantial returns. This above-average return to player percentage means more opportunities to recoup bets, creating an appealing prospect for avid slot enthusiasts.
Volatility
Safari Sun's high volatility promises an exhilarating gaming experience, full of suspense and thrill. While the rewards may not occur frequently, when they do hit, they tend to be substantial – an exciting prospect for players who appreciate the thrill of high-risk, high-reward gameplay.
Max Win
The maximum win on Safari Sun is an incredible 18,792x your bet. For example, if you play at €1 per stake, this means you could potentially walk away with a staggering €18,792 from a single spin – a truly life-changing sum!
Theme
Transporting players into the wilds of Africa, Safari Sun's theme is reminiscent of the epic movie 'The Lion King' or the riveting series 'Safari Brothers'. Its stunning graphics and immersive sound effects beautifully replicate the exotic charm of the African wilderness, offering players a virtual safari experience.
Features of Safari Sun's Online Slot
Dive into the heart of the African wilderness with Safari Sun online slot's dynamic features. Fantasma Games takes player engagement to new heights with an array of features designed to enhance gameplay and boost winning potential.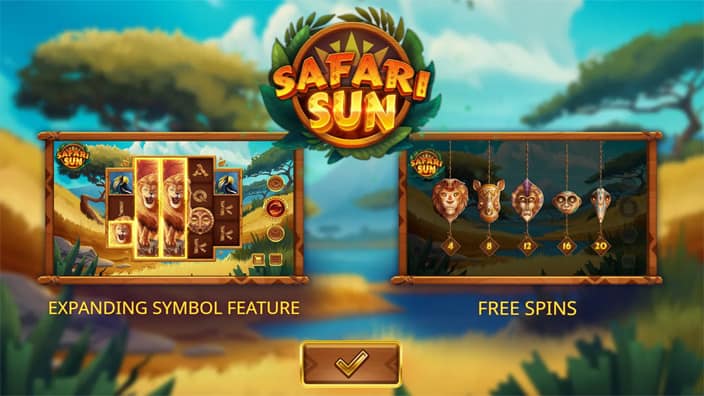 Mystery Sun Feature
This feature is triggered randomly during a win in the base game. It marks 1 to 3 symbols on reels 2, 3, and 4, causing them to expand and cover their entire reels, enhancing the chances of forming winning combinations.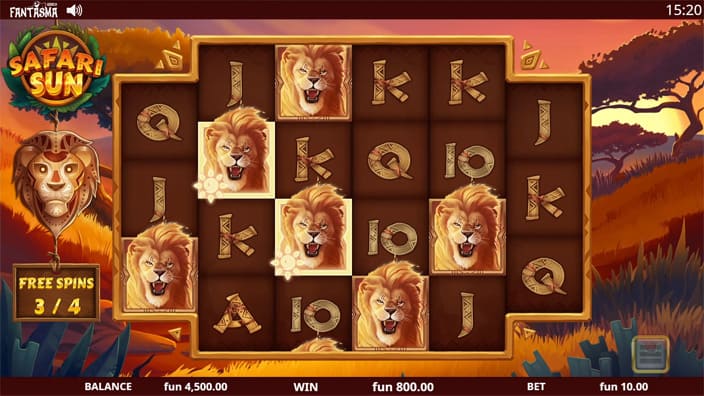 Expanding Symbol Feature
Certain symbols may land with a sun mark on them. If these symbols participate in a winning combination, they expand to cover all positions on their reel, increasing the potential for more significant wins.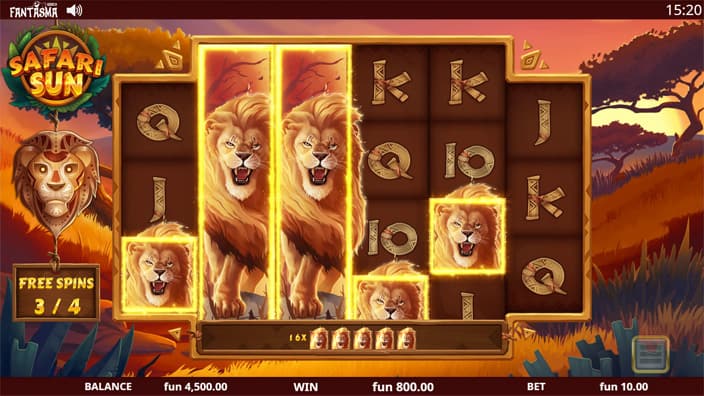 Free Spins
Triggered by landing three scatter symbols on the middle reels, this feature extends the gaming grid to 6 reels. This amplifies the excitement and increases the chances of landing winning combinations.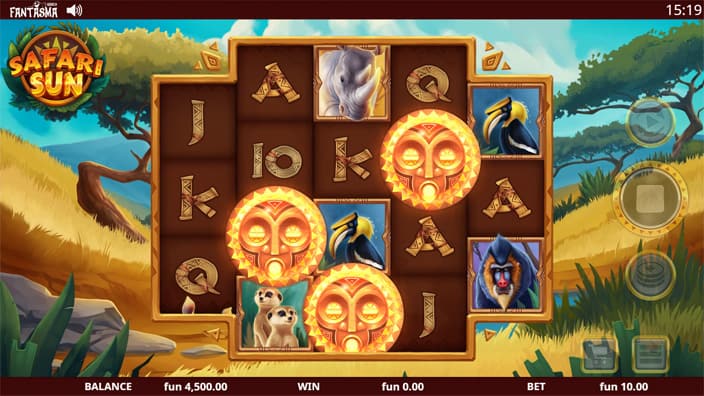 Bonus Choice
During the free spins feature, players get to choose one of five options, each represented by a high pay symbol and a different number of free spins. This selection influences the game's volatility during the free spins round.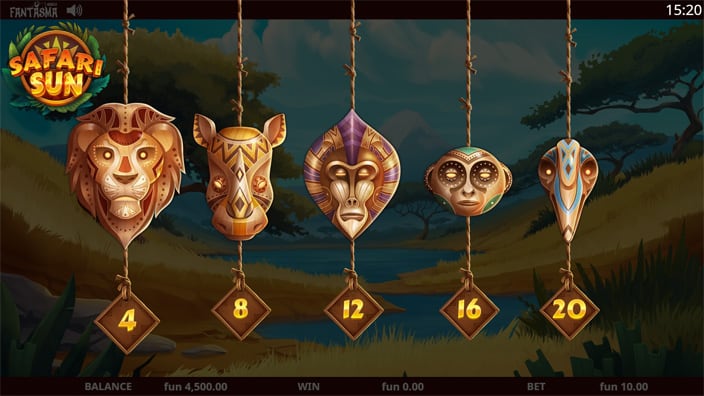 Bonus Buy
This feature allows players to buy into the free spins round for 50 times their bet. It bypasses the base game and offers a slightly higher RTP of 96.06%, presenting an attractive option for those who prefer to cut to the chase.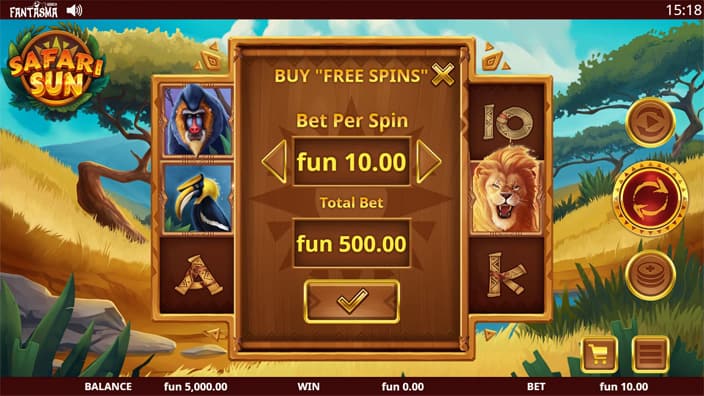 How to Play to Safari Sun's Online Slot
Embarking on your African adventure with Safari Sun slot is easy. To start, you'll need to select your bet amount, ranging from a minimum of 0.20 to a maximum of 50. Once your stake is set, hit the 'Spin' button to set the reels in motion. You'll want to watch out for winning combinations that pay from left to right, in any row, starting from the leftmost reel. You have 576 ways to land these combinations, providing ample opportunities for wins.
In the base game, Safari Sun's symbols consist of lower value 10-A card ranks and higher value animal icons like a toucan, meerkats, a baboon, a rhino, and a lion. Lower value symbols payout up to 1x the bet for a 5 of a kind (5OAK) winning way, while the animal symbols offer from 1.5 to 5 times the bet for a 5 symbol winning way. The symbols' value increases during free spins when a sixth reel is added to the grid. The payouts then go up to 1.5x the bet for the lower value symbols and 3 to 8 times the stake for the higher value symbols, creating opportunities for even more significant wins.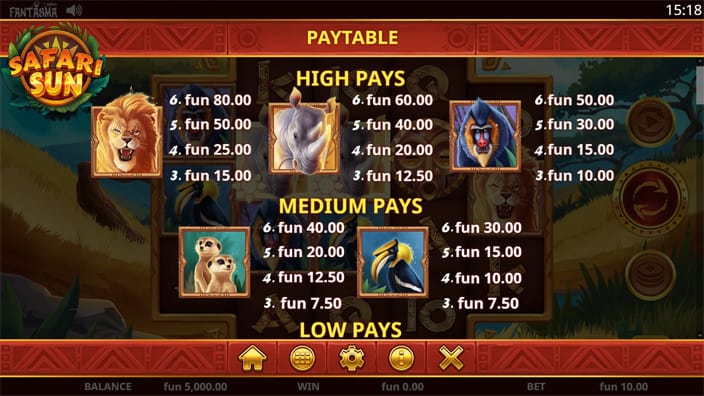 Review of the Online Slot Safari Sun by Bonus Tiime
In Safari Sun, Fantasma Games has once again hit the mark, delivering a slot that beautifully blends an engaging theme with an impressive potential win of up to 18,792x your bet. The African safari setting provides a scenic backdrop, complete with ambient sounds and expertly crafted visuals, immersing players in a virtual journey across the wild African savannah. This slot is a testament to Fantasma Games' knack for creating visually appealing games with intriguing themes.
The sizable potential max win is undoubtedly one of the game's major draws. The prospect of bagging up to 18,792 times your stake is indeed tantalising and shows Fantasma Games' commitment to creating slots that offer substantial rewards. This, combined with the high volatility, ensures a thrilling gaming experience that is both entertaining and potentially profitable.
What sets Safari Sun apart is how it borrows and enhances popular slot mechanics. The expanding symbol feature reminiscent of Zeus vs Hades: Gods of War and the bonus choice from Lucky Phoenix Megaways have been innovatively integrated and fine-tuned to suit the safari theme. This display of creativity and ingenuity further cements Fantasma Games' reputation as a developer that consistently delivers well-thought-out and player-focused slots. Whether you're a veteran slot enthusiast or a newcomer, Safari Sun is well worth a spin.
Advices and Tips to Play Safari Sun
1. Try Out Demo Mode on Bonus Tiime
Like most online slots, Safari Sun comes with the option of playing free in demo mode. This opens up the game to potential players who wish to see what it is all about without having to risk any actual money. Demo mode is not just for the curious newbie, though. It gives any player an opportunity to discover the game mechanics and its special features for themselves. In this way, before a single cent is bet, a player can be familiar with Safari Sun's scatters and wild cards – and how these have an impact on the overall game. This leads us to the next pre-game tip for canny players: take a look at the pay table.
2. Relax and Entertain Yourself
Trying first the free slot demo is the perfect way to unwind, relax, and simply enjoy playing Safari Sun – without losing money or the stress to catch chasing wins.
3. Always Study the Paytable of the Slot
The pay table is the slot's equivalent of a price list. You will find here a complete list of all the symbols in the game, along with their value. You will also be able to discover the properties of all the wilds and golden wilds. Combined with spending a little time in demo mode, this preparation will allow players to place their first bet with confidence when beginning the proper game.
4. Plan a Betting Budget and Stick to it
Anybody concerned with promoting Responsible Gambling will offer one piece of advice first and foremost: don't bet more than you are prepared to lose. When it comes to play online slots for real money, then this manifests itself through sticking to a pre-agreed budget. If a player reaches their betting ceiling without a big win then it is time to call it a day. Stop playing as soon as you reach the budget limit.
5. Don't Be Dazzled by Huge Jackpots
Some expert gamblers spend their time online chasing those mega-jackpots. While there is nothing wrong with that, it is a fact that slots offering huge progressive jackpots normally have higher odds and less chance of paying out.