24 Stars Dream Slot Review and Free Demo - Fantasma Games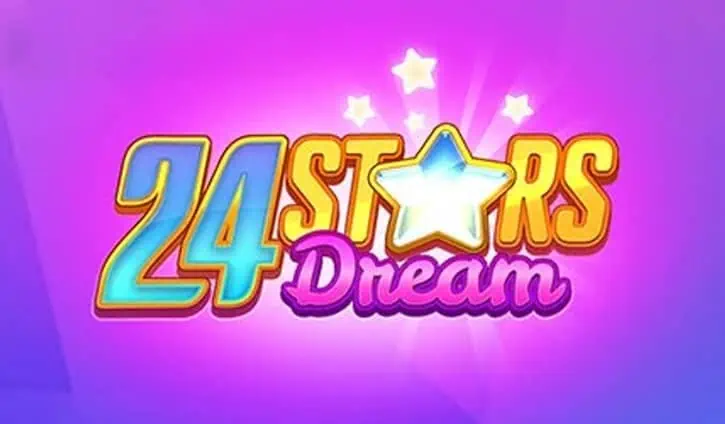 Play for Free
Best Casinos to Play 24 Stars Dream and Win Real Money!
Immerse yourself in the exhilarating world of 24 Stars Dream, expertly designed by Fantasma Games. Offering both captivating gameplay and bountiful rewards, it's a slot game you won't want to miss. Explore top casinos and enhance your chances of winning big!
18+
|
Gamble Responsibly
|
T&C's Apply
×
Bonus and Terms Conditions
Before enjoying welcome bonuses, read the terms in the site footer.
Play responsibly; click here for help.
18+
|
Gamble Responsibly
|
T&C's Apply
×
Bonus and Terms Conditions
Before enjoying welcome bonuses, read the terms in the site footer.
Play responsibly; click here for help.
Fantasma Games has once again captivated the online slot game community with its latest creation, 24 Stars Dream. This game stands out with its vibrant and funky design, featuring a delightful blend of pink, purple, and blue hues, complemented by a touch of anime-inspired artistry. The central character, a stylish pink-haired lady, adds a unique flair to the game. Unlike typical offerings from Fantasma Games, 24 Stars Dream surprises with its unconventional yet appealing aesthetic, combining classic slot symbols with a modern twist.
24 Stars Dream is not just about its eye-catching design; it offers an immersive gaming experience with its innovative features. Set on a 6×4 grid, the game boasts a Star Level Meter and four jackpot values, enhancing the thrill of the gameplay. Players can look forward to a highly volatile experience with an RTP of 96%, whether they opt for the bonus round or not. The slot also offers a free demo, allowing players to get a taste of its unique slot features and engaging theme before diving into the full experience. With 4,096 ways to win and a variety of special symbols, 24 Stars Dream promises an exciting adventure for every slot enthusiast.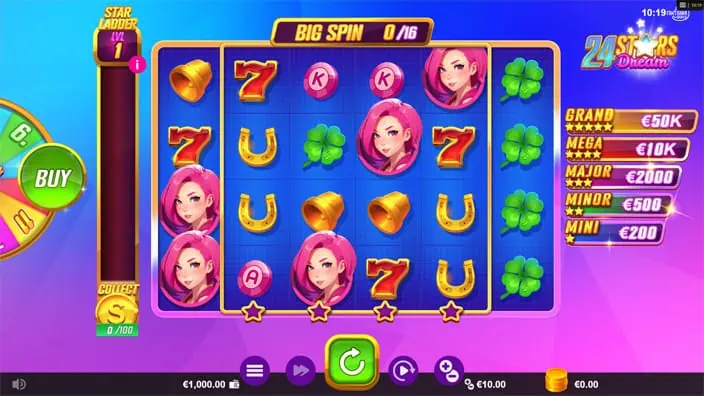 24 Stars Dream Free Demo Play – A Bonus Tiime Spotlight
Dive into the captivating world of 24 Stars Dream, a Fantasma Games slot that combines stunning graphics with unique gameplay mechanics. This demo video, brought to you by Bonus Tiime, offers a hands-on preview, showcasing the game's vibrant visuals, innovative features, and the potential for impressive wins. Witness firsthand the engaging mechanics and the thrill of chasing substantial rewards. Watch this video to experience the allure of 24 Stars Dream and see why it's a top pick among slot game enthusiasts. Don't miss out – explore the game's features and join the adventure!
Fantasma Games: The Slot Provider Behind 24 Stars Dream
Fantasma Games, a renowned slot provider in the online casino industry, has carved a niche for itself with its high-quality and captivating online slot games. Known for their innovative approach, they have garnered a global player base, thanks to their commitment to creating engaging and immersive gaming experiences. 24 Stars Dream is a testament to Fantasma Games's dedication to inventive themes and engaging gameplay. This slot not only showcases their creative prowess but also their commitment to fair and reliable gaming experiences. Fantasma Games continues to set the bar high in the world of online slots, making them a standout name among slot enthusiasts.
24 Stars Dream Slot Specifications: RTP, Volatility, Max Win & Theme
24 Stars Dream brings a unique structure to the online slot world, featuring a 6×4 reel configuration. This setup is complemented by an innovative payline system, offering players 4,096 ways to win. This expansive approach to winning combinations sets the stage for an engaging and dynamic gameplay experience, appealing to a wide range of slot enthusiasts.
Comparing 24 Stars Dream to 'Alice in Adventureland' from Fantasma Games, both slots share a penchant for imaginative themes and rich graphics. However, 24 Stars Dream stands out with its unique anime-inspired aesthetic and a more intricate jackpot system, offering a distinct experience while maintaining the high-quality gameplay Fantasma Games is known for.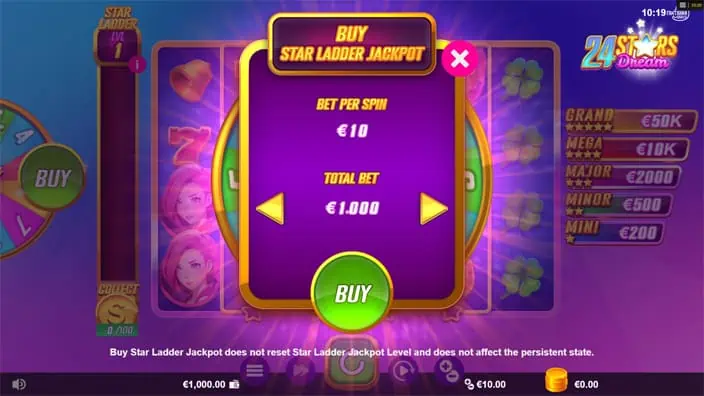 RTP (Return to Player)
24 Stars Dream boasts an RTP of 96%, a figure that reflects the game's fairness and potential for player returns. This RTP percentage is a strong indicator of the game's appeal, offering a balanced mix of entertainment and fair winning opportunities, making it an attractive choice for players seeking a rewarding slot experience.
Volatility
The volatility of 24 Stars Dream is categorized as high. This level of volatility means that while wins may not occur as frequently, they are often more significant when they do. This high-risk, high-reward gameplay appeals to players who relish the thrill of chasing big wins, providing an exhilarating experience for those who enjoy a more adventurous slot game.
Max Win
24 Stars Dream offers a maximum win potential of up to 5,015x the bet. To put this into perspective, a €1 bet could potentially translate into a €5,015 win. This substantial win potential is a major draw for players, highlighting the game's capacity for delivering significant rewards and adding to the excitement of each spin.
Theme
The theme of 24 Stars Dream is a vibrant blend of modern and fantastical elements, evoking the spirited and imaginative world of "Sailor Moon," a classic and beloved anime. Its unique aesthetic, with a mix of bright colors and whimsical designs, mirrors the magical and lively atmosphere found in the anime's universe. This theme not only enhances the visual appeal but also immerses players in a gaming environment that is both captivating and playful, much like the enchanting adventures of Sailor Moon and her friends.
Exciting Features of 24 Stars Dream Slot Explained
24 Stars Dream is not just a visually stunning slot game; it's packed with unique and exciting features that enhance gameplay and increase the chances of winning. This article delves into the various in-game features that players can experience during spins, including special symbols, free spins, unique bonuses, and any retrigger mechanics. These elements are crucial in making 24 Stars Dream a thrilling and dynamic game.
Coin Symbols and Star Level Meter
24 Stars Dream features unique Coin symbols that play a pivotal role in the gameplay. Each time a Coin symbol hits, it adds points to the Star Level Meter. This meter, when filled, can trigger the Star Ladder Jackpot, increasing the potential for big wins. These symbols add an extra layer of excitement to every spin, as players watch the meter fill up.
Big Spin Feature
The Big Spin feature in 24 Stars Dream is triggered when all 16 positions on reels 2-5 are marked by Coin symbols. This feature activates a 4×4 sized game grid, spinning as one reel, and can include Big Coins, Jackpot, Grand, or blank symbols. The Big Spin adds a thrilling twist to the gameplay, offering players the chance for substantial wins.
Star Ladder Jackpot
24 Stars Dream includes an engaging bonus round in the form of the Star Ladder Jackpot. Triggered by landing scatter symbols, this feature offers players a chance to win big by locking Stars in place over a series of spins. The number of Stars locked determines the prize, with the potential to hit the game's maximum payout.
Retrigger Mechanics
In 24 Stars Dream, the retrigger mechanics are primarily linked to the Big Spin and Star Ladder Jackpot features. These can be retriggered by fulfilling specific conditions within the game, such as marking all positions or landing additional scatter symbols, respectively.
Additional Unique Features
One of the additional unique features in 24 Stars Dream is the absence of a wild symbol, which is uncommon in most slot games. Instead, the game relies on its innovative Star Level Meter and Big Spin features to create excitement and winning opportunities.
Bonus Buy Feature
24 Stars Dream also includes a Bonus Buy feature, allowing players to directly purchase access to the Star Ladder Jackpot round. This feature lets players jump straight into the action, offering a faster route to the game's exciting bonus rounds and potential big wins.
Navigating 24 Stars Dream: Understanding Paytables and Game Info Before You Play
Navigating the intricacies of 24 Stars Dream's paytable and game information is a crucial step for any player looking to enhance their gaming experience. Understanding these elements not only enriches your strategy but also maximizes your enjoyment of the game. Being well-informed about the mechanics and features of 24 Stars Dream is essential for a strategic and fulfilling gaming experience.
Decoding the Paytable
The paytable of 24 Stars Dream is a key element to understand before playing. It details the value of each symbol, showing how winning combinations are formed. The game features a variety of symbols, including lower-value casino chip symbols (9-A) and higher-value symbols like the four-leaf clover, horseshoe, bell, 7, and the lady character. Understanding the value of each symbol is crucial, as it influences decision-making during gameplay. Additionally, the absence of a wild symbol in 24 Stars Dream makes it even more important to understand how these symbols interact on the reels.
In-Depth Look at Game Features
24 Stars Dream is packed with unique features that directly interact with the paytable. The Coin symbols and Star Level Meter are central to the game's mechanics. Each Coin symbol hit adds points to the Star Level Meter, which can lead to the Star Ladder Jackpot – a feature that offers significant winning potential. The Big Spin feature, triggered by marking all positions on reels 2-5, presents an opportunity for big wins with its 4×4 grid. Understanding how these features work in tandem with the paytable is vital for developing effective gameplay strategies. By mastering these elements, players can better navigate the game and enhance their chances of securing wins.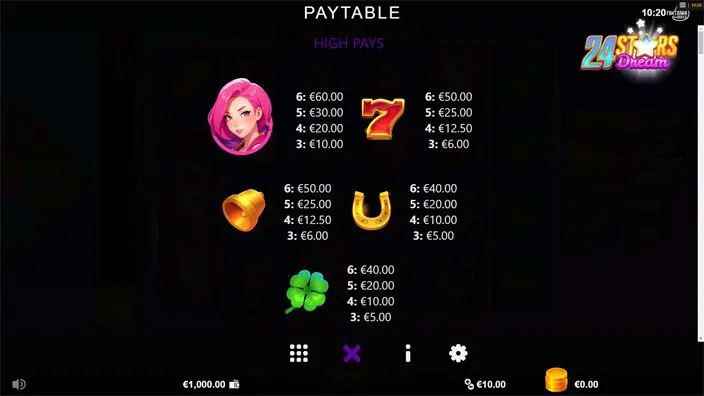 Comprehensive Review: 24 Stars Dream Slot by Bonus Tiime
24 Stars Dream by Fantasma Games immerses players in a visually stunning and unique gaming environment. The game's theme is a vibrant mix of modern and fantastical elements, with a color scheme dominated by bright pinks, purples, and blues. This lively palette, combined with the anime-inspired design, creates an engaging and playful atmosphere. The symbols, including the stylish pink-haired lady, four-leaf clovers, horseshoes, and bells, add to the game's charm. The background music and sound effects complement the visual elements, enhancing the overall immersive experience of the game.
Exploring the Theme
The theme of 24 Stars Dream is a standout feature, offering a fresh and engaging aesthetic. The symbols are a mix of classic slot icons and unique designs, all rendered in a vibrant, anime-inspired style. The background is equally captivating, with a dynamic blend of colors that add depth to the gameplay. The audio elements, including the upbeat soundtrack and well-timed sound effects, work in harmony with the visuals to create a cohesive and enjoyable gaming experience.
Potential Max Win
24 Stars Dream offers a significant maximum win potential, up to 5,015 times the player's bet. This high win potential is achieved through the game's various features, such as the Star Ladder Jackpot and the Big Spin feature. Compared to other slots, this max win places 24 Stars Dream in a competitive position, offering both excitement and the possibility of substantial rewards for players.
Similar Slots Comparison
Comparing 24 Stars Dream to other slots in the market, 'Spinions Beach Party' by Quickspin shares a similar vibrant and playful theme. Like 24 Stars Dream, it features a colorful and engaging aesthetic. Another comparable slot is 'Fruit Zen' by Betsoft Gaming, which, while more subdued in its theme, offers a visually pleasing experience with its fruit-themed design and tranquil backdrop. Both of these slots appeal to players who enjoy 24 Stars Dream for its lively theme and engaging gameplay. Each game, while similar in certain aspects, brings its unique twist to the online slot experience, making them appealing alternatives for fans of 24 Stars Dream.
24 Stars Dream FAQs: Answers to Your Top Questions About Fantasma Games's Popular Slot
How Do You Play 24 Stars Dream?
Playing 24 Stars Dream is straightforward. The game is set on a 6×4 grid with 4,096 ways to win. Players need to set their bet size and then spin the reels. The aim is to land matching symbols on adjacent reels, starting from the leftmost reel. The Star Level Meter and Coin symbols add unique elements to the gameplay, with the potential to trigger the Star Ladder Jackpot and Big Spin features.
What Are the Betting Options and Payouts in 24 Stars Dream?
24 Stars Dream offers a range of betting options to suit various player preferences. The minimum and maximum bet limits cater to both casual players and high rollers. The game's payout structure is based on the paytable, which details the value of each symbol. The maximum win potential is up to 5,015 times the bet, offering substantial payouts for lucky players.
Can You Explain the Special Features and Bonuses in 24 Stars Dream?
24 Stars Dream includes several special features and bonuses. The Star Level Meter fills up with each Coin symbol hit, potentially triggering the Star Ladder Jackpot. The Big Spin feature is activated when all positions on reels 2-5 are marked, offering a 4×4 grid spin with high win potential. These features not only add excitement but also increase the chances of significant wins.
Is 24 Stars Dream Compatible with Mobile Devices?
Yes, 24 Stars Dream is fully compatible with mobile devices. The game is designed to adapt to various screen sizes, ensuring a seamless gaming experience on both desktop and mobile platforms. This compatibility allows players to enjoy the game anytime and anywhere.
What Are Some Tips for Playing 24 Stars Dream?
While 24 Stars Dream is a game of chance, a few tips can enhance the playing experience. Firstly, familiarize yourself with the paytable and game features. Setting a budget and sticking to it is also crucial. Lastly, playing the free demo version can help players understand the game mechanics better before playing with real money. Remember, the key is to enjoy the game responsibly.
Expert Tips for Playing 24 Stars Dream Slot
Get ready to improve your online slots experience! We offer a range of tutorials and articles for both beginners and seasoned players. These invaluable resources will guide you towards a more strategic and enjoyable gaming session. So, dive in and boost your online slot prowess today! All Free Slots by Fantasma Games
Other Free to Play Fantasma Games Slots Machines on Bonus Tiime
5 Reasons to Start Playing Free Online Slots
Online slots offer a plethora of benefits, whether you're playing for fun or staking real cash. Here at Bonus Tiime, we have a penchant for sampling new slots in their free versions before diving into real-money play. This approach grants us a risk-free window to explore all the features, given that the mechanics of free slots mirror those of their real-money counterparts. So, why should you consider giving free slots a spin? Here are 5 compelling reasons:
1. Experience Zero Risk with Maximum Entertainment
Engaging in free online slots allows you to fully immerse in the game's excitement, all while being free from the anxieties of potential monetary losses. It's the perfect blend of unadulterated entertainment without any financial drawbacks.
2. Sharpen Your Gameplay with Strategic Insights
Using free slots as a practice ground provides an unparalleled opportunity to refine your gaming tactics. Delve deep into the intricacies of game features, bonus rounds, and paylines, all without the burden of any monetary commitments.
3. Explore an Expansive and Diverse Game Library
The realm of free online slots is impressively vast, featuring a spectrum of themes from the classic to the avant-garde. With such a wide array of options, you're assured of a fresh experience every time, catering to an array of aesthetic preferences.
4. Skip the Registration and Dive Straight into the Action
A significant number of platforms present free slots that don't require tedious sign-ups. This equates to immediate gaming pleasure, sans the hassle of prolonged registration processes or the need to share personal details.
5. The Ideal Training Ground for Novice Players
For those making their initial foray into the online casino world, free slots present an invaluable learning platform. They offer a hands-on opportunity to grasp game dynamics, internalize the mechanics, and establish a foundation of confidence before transitioning to real-money stakes.
Discover exclusive bonuses
Frequently Asked Questions about 24 Stars Dream Free Online Slot Game
What's a slot machine?
A slot machine is a casino game which has spinning wheels that contains paylines. There are different types of slots.
Different types of slots: Progressive Jackpot, 3 colonnes, Megaways, Bonus Buy Slot, Grid,…
What's the Return to Player (RTP)?
The RTP (return to player) is the redistribution rate from a slot machine. It's based on an infinity of connections, and therefore over the very long term. It's the percent of money paid back from a slot machine compared to the money bet on it. If the slot machine has a 94% RTP, it's supposed to pay back 94€ from 100€ gained, but to the all the different players and not only what you're betting yourself.
What does Max Win mean?
The Max Win of a Slot machine is determined by its provider. Some providers like No Limit or Push Gaming usually have a Max Win above ten thousands your bet. (Fire in the Hole x60,000 for example). Other providers tend to have thousands times your bet, like Pragmatic Play with usually x5,000 your bet.
Once the max win is reached, you can win no more earnings. Even if the connection is worth more.
What does Volatility mean?
The slot machine's volatility is its payment's potential. The higher the volatility is, the higher the earning can be while playing. Usually, higher earning means rarer wins aswell. And the lower the volatility is, the higher the frequency of the win is. The volatility depends on the provider and is different on every slot machine.
For example, Tome of Madness from Play'N Go has a Max Win of x2000 your bet, its volatility is lower and gives you more regular little earnings.
Compared to San Quentin from No Limit which has a Max Win of x150 000 your bet,its volatility is higher and gives you rarer big earnings.
What's a Bonus Free Spins on slot machine?
In most slot machines, there's a chance to unlock a bonus free spins. In general, it's by finding 3 symbols scatters. After finding them, you start some, usually 10, free spins which cost nothing but allow you to accumulate a more or less substantial gain.