Moon Princess Trinity is an exciting free online slot game created by Play'n Go. This game takes players on an epic adventure through a mystical world of magic, moonlight, and princesses. With its engaging theme, stunning graphics, and immersive sound effects, Moon Princess Trinity offers players an unforgettable gaming experience.
Overall, Moon Princess Trinity is an exciting and visually stunning online slot game that offers players the chance to win big while enjoying an immersive gaming experience. Whether you're a seasoned player or new to the world of online slots, this game is sure to provide hours of entertainment and excitement.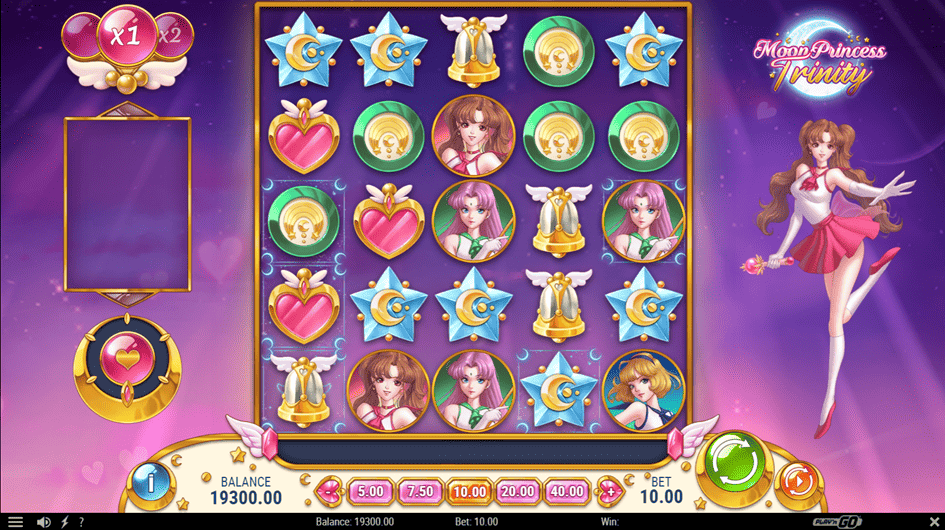 Moon Princess Trinity online slots provider
Play'n Go is a reputable provider of online gaming solutions that offers a diverse selection of captivating games to players worldwide. With an emphasis on innovation, quality, and player satisfaction, Play'n Go has earned a prominent position in the industry. Their games boast remarkable visuals, captivating audio effects, and a variety of unique features, making them a popular choice for players of all proficiency levels.
Specifications of Moon Princess Trinity online slot
Moon Princess Trinity is the latest addition to the Moon Princess series by Play'n Go, which also includes the original Moon Princess, Moon Princess Christmas Kingdom and Moon Princess 100. These games have evolved over time, with each new iteration adding exciting new features and gameplay mechanics to keep players engaged. As the series continues to evolve, players can expect even more thrilling features and innovative gameplay mechanics to be added in the future.
At Stake casino, players can enjoy these online slot machines with stakes ranging from 20 cents to €1000 per spin, making them accessible to players of all levels. With so much to offer, the Moon Princess series is a must-try for online slot enthusiasts.
RTP
Moon Princess Trinity offers a maximum return to player value of 96.2%, which is a good indicator of the game's potential payout to players. While the game's RTP can be set lower due to its five RTP configurations, players can still expect a fair chance to win big
Volatility
Moon Princess Trinity is a highly volatile online slot game, which means that it offers the potential for players to win big payouts. However, this also means that players may experience longer periods of gameplay without hitting a winning combination.
Max win
The maximum payout for Moon Princess Trinity is 4,000x the bet, which means that players have the potential to win substantial payouts. For example, if someone plays at 1€ per stake, they could potentially win up to 4,000€ in a single spin. The previous Moon Princess' online slots offered higher volatility, but this means that more frequent wins can be expected on this one.
Theme
Moon Princess Trinity is a visually stunning online slot game that features a magical and mystical theme. The game's storyline revolves around three powerful princesses, each with their own unique magical abilities. The stunning graphics and immersive sound effects help to transport players to a mystical world of moonlight and magic, making Moon Princess Trinity a popular choice for online casino players who enjoy engaging and captivating themes in their gameplay.
Features of Moon Princess Trinity's online slot
Moon Princess Trinity does not introduce an entirely new concept, but rather reworks and repositions features from previous versions. The first concepts here is that there are randomly placed highlighted areas. If a connection of any symbol located in this square occurs, it increases the win multiplier by +1. The second one is explained in the Trinity feature explained below.
Girl Power
Moon Princess Trinity features three powerful princesses, each with their own unique reel modifying powers that can help players increase their chances of winning big. During non-winning spins, there's a chance that one of the princesses will trigger their power:
Love: converts a set of symbols.
Star: adds 1 or 2 wild symbols to the board.
Storm: removes two sets of symbols.
These powers are triggered randomly during normal spins but during the Trinity Free Spins, they are triggered one by one and in the order Love, Star then Storm.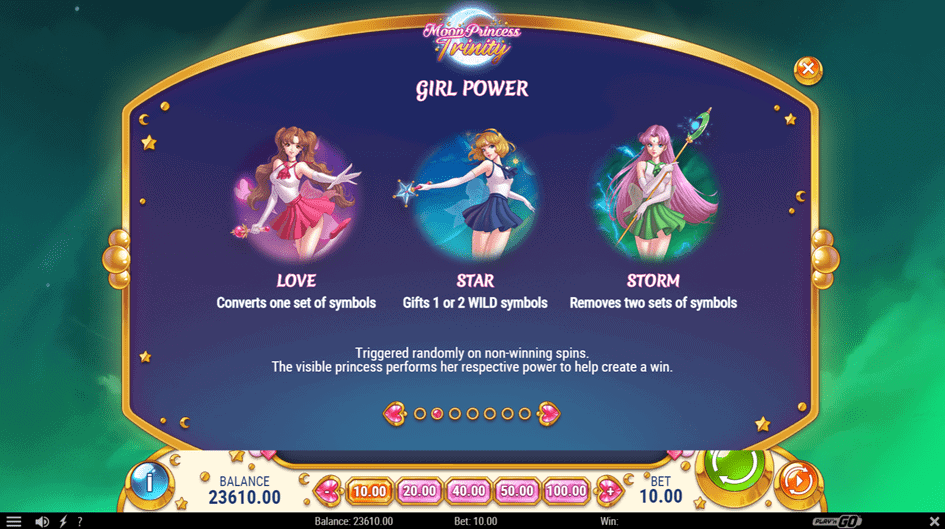 Trinity Free Spin
To trigger the Trinity Free Spin feature in Moon Princess Trinity, players must fill the golden meter located to the side of the reels with six segments. Landing a 3, 4, or 5-of-a-kind princess symbol win fills 1, 2, or 3 segments, respectively. Once the meter is completely filled, players will be awarded one free round of Trinity Free Spins, where Love, Star, and Storm each perform their respective Girl Powers.
If players clear the grid during the Trinity Free Spins, the feature will be triggered again, and the win multiplier will not be reset. What's more, if the meter continues to be filled during the Trinity Free Spins round, the feature will continue for even more chances to win big.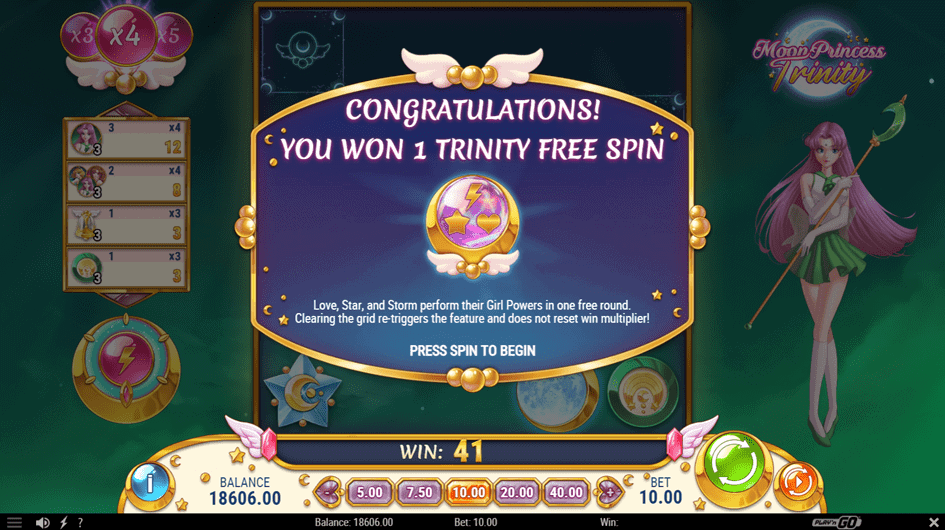 Clear Grid
Clearing the game grid out of the Trinity feature offers a potential payout of up to 50 times the bet, making it a great opportunity for players to win big. It's worth noting that if only wild symbols are present on the grid, they will be removed.
How to play to Moon Princess Trinity's online slot
Moon Princess Trinity is an exciting online slot game that features a 5-reel, 5-row grid where players must aim to land winning combinations of at least three symbols in length. The symbols in Moon Princess Trinity include the three princesses, each with their own unique abilities, as well as a golden moon that serves as the game's wild symbol. There are also lower value symbols represented by mystical objects like bells, hearts, stars, and moons.
The golden moon wild is the most valuable symbol in the game, as it can substitute for any other symbol to create winning combinations. Understanding the value of each symbol can help players make informed decisions when placing their bets and increase their chances of winning substantial rewards.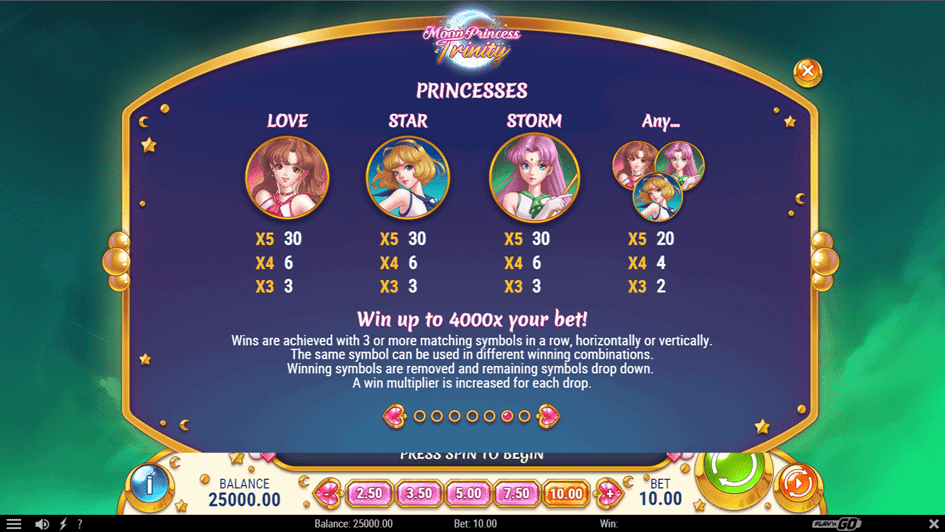 How to win real money with Moon Princess Trinity online slot
If you're looking to play Moon Princess Trinity right away, head to Stake casino. Register now and enjoy this thrilling online slot with its magical princesses and potentially lucrative bonus features. With a high RTP, you might even win some real money while experiencing the excitement of this popular game. So, sign up today and give Moon Princess Trinity a spin!
Review of the online slot Moon Princess Trinity by Bonus Tiime
Over the years, Play'n Go has improved the Moon Princess theme, just like Rise of Olympus series. The two series get better and better with every new version released. It's a winning formula that has kept players engaged and coming back for more.
An innovation appreciated is the removal of free spins. The Trinity spin becomes the main focus, showcasing the three princesses' powers. It's also interesting that though the game offers less winning potential than its predecessor, with a max win of 4,000x compared to 5,000x and 15,000x, it still provides plenty of entertainment.
Advices and tips to play Moon Princess Trinity
1. Try out demo mode on Bonus Tiime
Like most online slots, Moon Princess Trinity comes with the option of playing free in demo mode. This opens up the game to potential players who wish to see what it is all about without having to risk any actual money. Demo mode is not just for the curious newbie, though. It gives any player an opportunity to discover the game mechanics and its special features for themselves. In this way, before a single cent is bet, a player can be familiar with Moon Princess Trinity's scatters and wild cards – and how these have an impact on the overall game. This leads us to the next pre-game tip for canny players: take a look at the pay table.
2. Relax and entertain yourself
Trying first the free slot demo is the perfect way to unwind, relax, and simply enjoy playing Moon Princess Trinity – without losing money or the stress to catch chasing wins.
3. Always study the paytable of the slot
The pay table is the slot's equivalent of a price list. You will find here a complete list of all the symbols in the game, along with their value. You will also be able to discover the properties of all the wilds and golden wilds. Combined with spending a little time in demo mode, this preparation will allow players to place their first bet with confidence when beginning the proper game.
4. Plan a betting budget and stick to it
Anybody concerned with promoting Responsible Gambling will offer one piece of advice first and foremost: don't bet more than you are prepared to lose. When it comes to play online slots for real money, then this manifests itself through sticking to a pre-agreed budget. If a player reaches their betting ceiling without a big win then it is time to call it a day. Stop playing as soon as you reach the budget limit.
5. Don't be dazzled by huge jackpots
Some expert gamblers spend their time online chasing those mega-jackpots. While there is nothing wrong with that, it is a fact that slots offering huge progressive jackpots normally have higher odds and less chance of paying out.
Play'n GO : Provider of Free Online Slot Machines
Play'n GO is a leading provider of online slot games, founded in 1997 and headquartered in Sweden. Over the years, the company has established a strong reputation for delivering high-quality games that are enjoyed by players all over the world. Play'n GO's portfolio features a diverse selection of games, including classic fruit-themed slots, as well as more contemporary video slots that are packed with special features and bonuses.
The company is known for its innovative approach to game design, and its commitment to delivering games that are engaging and entertaining for players of all levels. With its focus on technology and player experience, Play'n GO has become a preferred choice for many online casinos and players alike.